I'm thrilled to be featured on Oprah.com as part of Holiday 2009 celebrations. Come see our favorite holiday recipes!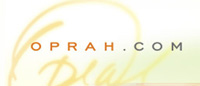 As you know from my last post, we are in the middle of the 12 Days of Sharing, being hosted by In Jennie's Kitchen–an event to raise awareness about childhood hunger in America and to support the efforts of the organization Share Our Strength in doing something about it.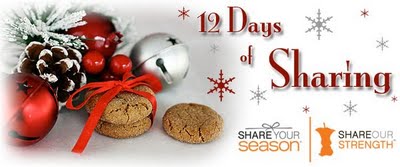 Please get involved! You can participate in the virtual cookie swap and/or donate to Share our Strength. Every donation you make to Share Our Strength using the 12 Days of Sharing donation link secures a giveaway ticket for some awesome gifts, including a brushed chrome Cuisinart Stand Mixer, gift bags from the Food Network, products from Calphalon, Microplane, Wusthof and copies of Linda Collister's Holiday Cookies cookbook from publishers Ryland Peters Small.
Today's fact about childhood hunger:
Did you know that hunger has lasting consequences? It's likely that a child will endure lifelong consequences as a result of having limited access to nutritious foods. They're more likely to suffer:
Weaker immune systems
More stomachaches
Headaches
Colds
Ear infections
Fatigue
More hospitalizations
Behavioral difficulties
Impaired performance in school-academically, athletically and socially
A whole host of other lifelong consequences
Even if all you have is five dollars to spare, each dollar goes such a long way in making a difference in a young child's life. Just $25 can feed a child 3 meals a day for an entire month! So if you are able, please consider making a donation to help us fight the battle against hunger.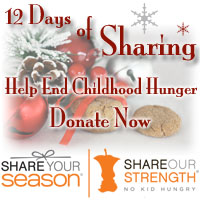 This time of year seems to be a time for non-stop goodies. Not that I'm complaining, because I'm not! Anyone who knows me will tell you that I love my sweets, especially if chocolate is involved in any way, shape, or form. However, if all you've got is goodies to munch on and nothing to wash it down with, you're not going to be enjoying those goodies as much.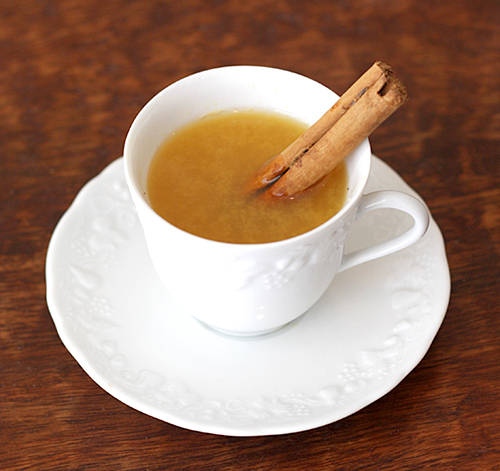 Last month when we went to Utah for my grandmother's funeral, I went with my mother-in-law and one of my sisters-in-law to see a movie at Thanksgiving Point, a really fun place just south of Salt Lake City that has restaurants, shops, a theater, a garden, a dinosaur museum, and more. After our movie we stopped in at one of the gift shops to look around and they were giving out free hot apple cider and cookies. The cider was so good that we asked if they were selling a mix or a recipe so that we could go home and recreate it. They explained that the kitchen from Harvest, the restaurant next door, made it and brought it over. So we went over to Harvest and asked the maître d' if the restaurant would be willing to share the recipe. He called the kitchen and they were kind enough to give verbal instructions on how they make it. We went home and made some the next day, and I've already made a batch since returning home.
It is so simple to make! All you do is mix some apple cider and freshly squeezed orange juice in a large pot and throw in the peel of one of your juiced oranges,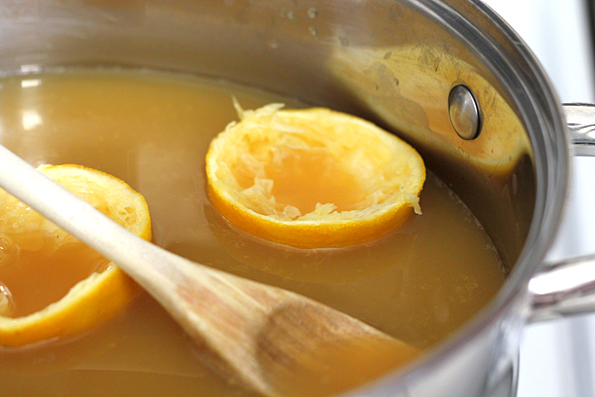 then add some cinnamon sticks and apple wedges, bring the mixture to a boil, then reduce the heat and simmer everything together for a while.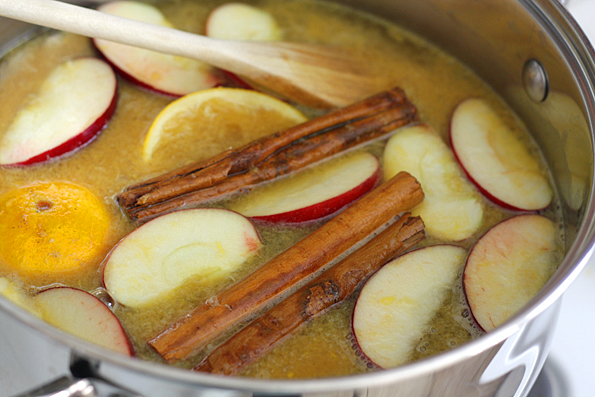 That's it! The recipe calls for apple cider. Apple cider is basically unprocessed apple juice. The apples are cored, chopped, mashed, and pressed into a liquid and the result is an unfiltered form of apple juice. Apple juice is the result of apple cider being filtered and is milder than apple cider. If you can't find apple cider, you can use apple juice, but you might want to add some extra apple slices and an extra cinnamon stick to add a bit more flavor.
This spiced cider is delicious, and just gets better the longer it has been sitting around. You can make it ahead of time and store it in the refrigerator and it will actually taste even better reheated because the flavors will have developed even further. I've got a jug of it currently sitting in my refrigerator, and I plan on going and reheating myself a cup as a reward for finishing this post. This cider is perfect for a party, keeping on hand to serve to unexpected visitors, or by itself as a treat on a cold winter's day.
Simple Spiced Apple Cider
Adapted from recipe of Harvest Restaurant
Makes 11 cups (approximately 16 servings)
8 cups apple cider
3 cups fresh squeezed orange juice (reserve the peel of one orange when juicing the oranges)
3 cinnamon sticks
1 apple sliced into thin wedges (peel on)
1. Pour the apple cider and the orange juice into a large pot and mix them together. Add the reserved orange peel, cinnamon sticks, and apple wedges.
2. Place the pot over medium-high heat and bring the mixture to a boil. When the mixture comes to a boil, reduce the heat to low and simmer the mixture for a minimum of 30 minutes. Serve hot or store in a container in the refrigerator and reheat.
==================================================================
Help!
I'm still figuring out a few things on this new site. For one, my spam filter marks 90% of your comments as spam. So I am going through and manually approving many of them. If your comment doesn't show up right away–don't worry, it will soon! I've also had some indications that sometimes my comment section isn't working. If you've ever had a problem commenting, will you let me know? Either send me an email or use my "Contact Me" button in the toolbar. Hopefully with your help I can figure out what is going on and fix it! THANK YOU!
==================================================================