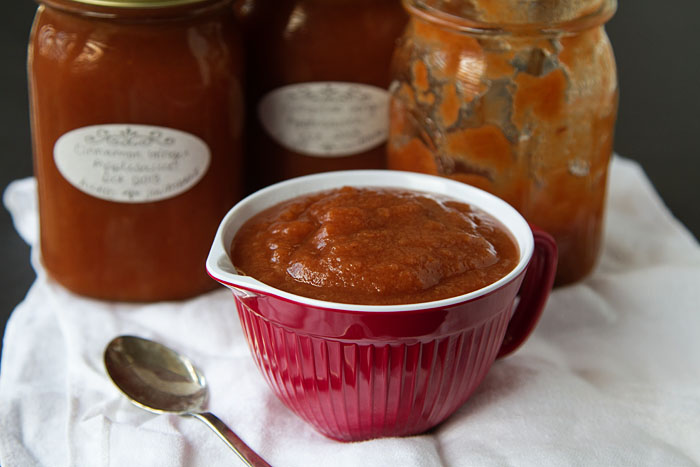 We are at the tail end of apple season and I am sad to see it go.  We have a fantastic source for apples here in Utah—Allred Orchards in Payson, Utah grows 8 different varieties of apples and sells them at a farmstand in Provo, Utah.  Last month Bug and I drove down to the farmstand and bought a box of Jonagold apples.  Over the course of a week I slowly turned that big box of apples into applesauce, which I then bottled and canned and set on storage shelves so that we can enjoy homemade applesauce through the winter.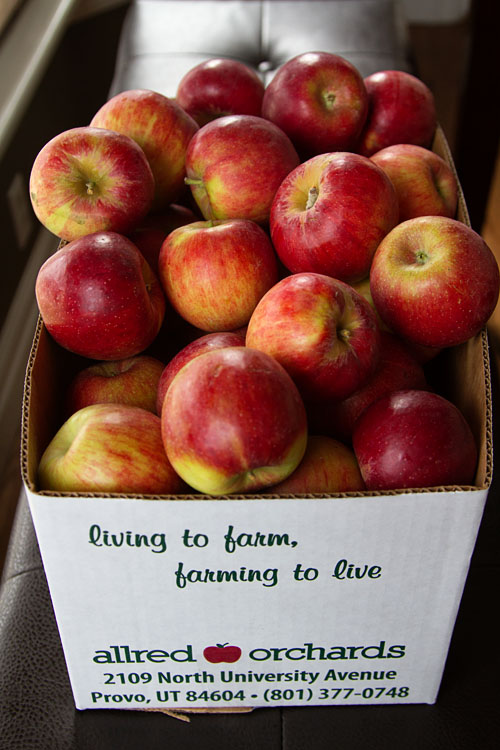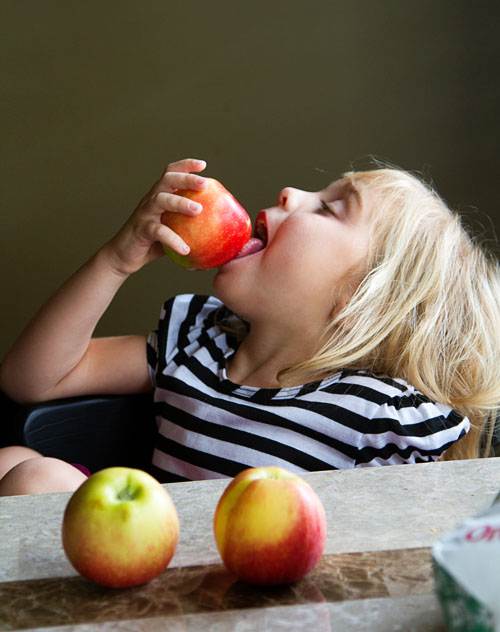 I make applesauce the easiest way possible.  I'm lazy, what can I say?  You start out by peeling, coring, and slicing your apples.  This is the hardest part.  Growing up, my mom always used a handy device that peeled, cored, and sliced the apples at the same time.  After I had been married for about a year she gave me one of my own.  I don't know how I would live without it!  It makes applesauce making a cinch, as well as any other apple dish.  Once I have prepped my apples I throw them into my slow cooker along with some water, lemon juice, brown sugar, fresh ginger, ground cinnamon, and ground ginger, give everything a stir, set the lid on the slow cooker, turn the heat on low, and forget about the whole thing.  I give everything a stir after a few hours, to help the apples start to break up.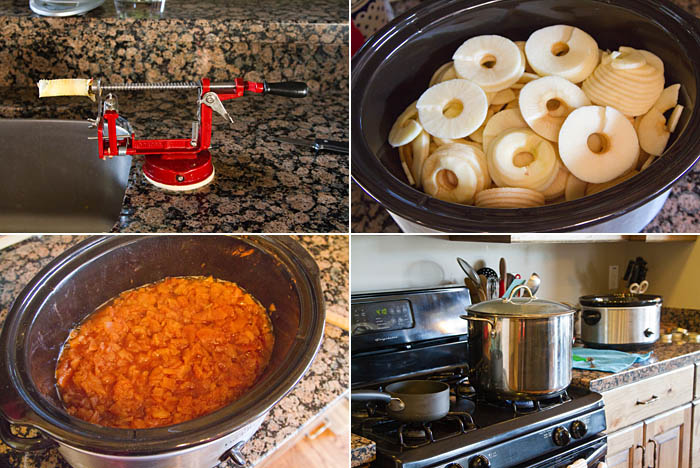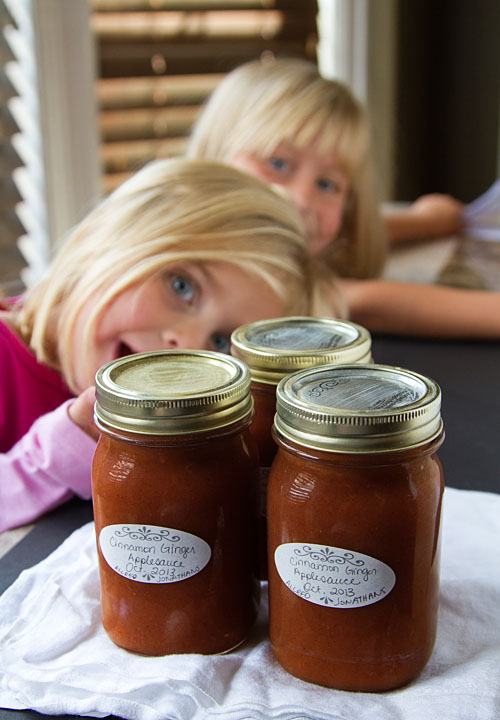 7 to 9 hours later (usually 9 hours on my part, because something is always going on during hours 7 and 8 around here it seems) I open up my slow cooker, give the apples a good mash and voila! Homemade applesauce!  All that's left is to ladle it into jars or other containers to keep in the refrigerator or freezer, or can the applesauce in a boiling water canner!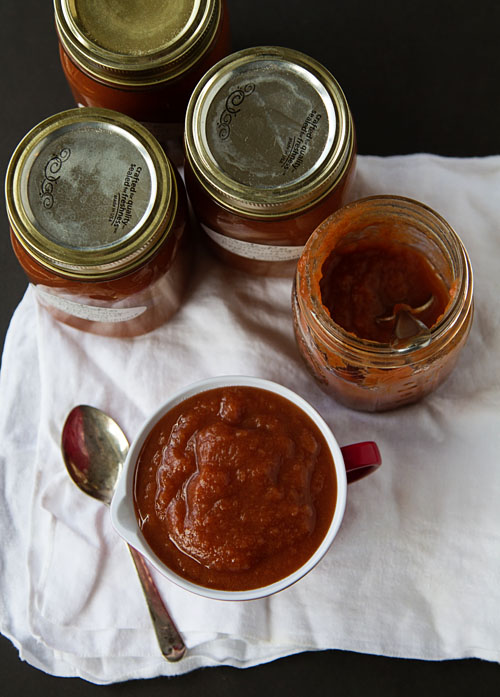 If you have any apples on hand, you have got to make a batch of applesauce!  It would make a fantastic side dish to add to your Thanksgiving dinner menu and is the perfect pick-me-up for someone suffering the winter blues.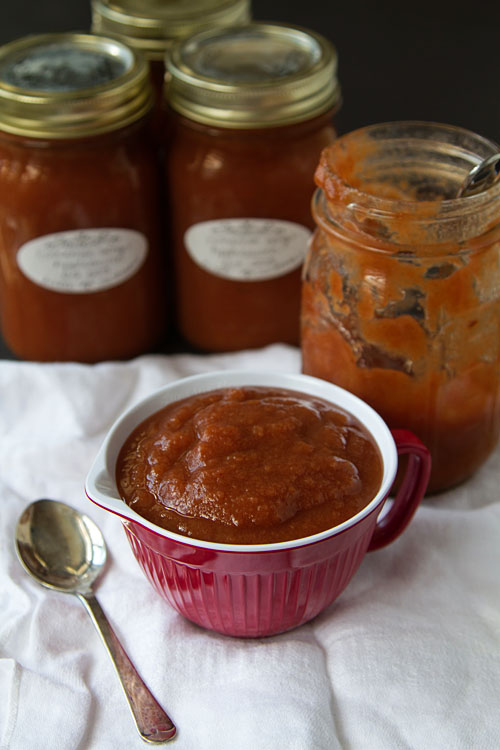 Print This Recipe
Slow Cooker Cinnamon Ginger Applesauce
*Recipe Notes: If you have a large slow cooker (6 quart), then you can double the recipe.  You can also leave out the ginger if you want to make cinnamon applesauce instead of cinnamon ginger applesauce!  If you make it with the ginger, it's best served warm.  Some of the best apples for making applesauce out of are Fuji, Golden Delicious, Granny Smith, Jonagold, Jonathan, Mcintosh, and Gravenstein.
Makes about 4 1/2 cups
3 pounds apples, peeled, cored, and thinly sliced
3/4 cup water
3 tablespoons fresh lemon juice
1/3 cup light brown sugar, packed
1 inch piece fresh ginger, peeled and grated
2 teaspoons ground cinnamon
1 teaspoon ground ginger
1. Put all the ingredients into a slow cooker, cover, and cook on low heat for 7 to 9 hours, stirring once half way through the cooking time to break up the apples.
2. After cooking, the apples should be tender are starting to break down, stir the apples, breaking up any remaining large chunks, until it reaches your desired consistency, using a fork or potato masher. If you want smooth applesauce you can process it in a blender or food processor, or use an immersion blender. Transfer the applesauce into mason jars and store in the refrigerator.
If you want to freeze your applesauce:
Let the applesauce cool to room temperature, then pour it into Ziploc freezer bags, or other freezer appropriate containers and put it in the freezer.
If you want to can your applesauce:
1. Bring water to a boil in a boiling water canner. Set the bands aside. Heat the jars and lids in simmering water until you are ready to use them (do not let the water come to a boil).
2. Ladle hot applesauce into the hot jars, leaving 1/2 inch headspace. Remove any air bubbles, then wipe the jar rims clean. Top the jars with the hot lids, then screw on the bands until they are fingertip tight.
3. Process the jars in the boiling water canner for 20 minutes, adjusting your processing time for altitude if necessary. (I have to add 10 minutes to my processing time due to our altitude here in Utah!)
4. Remove the jars from the boiling water canner and let them cool. Check the lids to make sure they have sealed after 24 hours. (The lids should not flex up and down when the center is pressed.)