The challenge for the Washoku Warriors this past month was to make a few recipes in Washoku that pertain to New Years so that we could make them at the proper time of year.*  The Warriors were asked to make one or more of the following:
1. New Year's Salad (Kohaku Namasu), p.220
2. Fiery Parsnips (Kimpira), p.215: A way to use up leftover radish and carrot strips from the New Year's Salad!
3. "Smashed" Burdock Root Tossed with Crushed White Sesame (Tataki Gobo), p.200
This is such a busy time of year, but I'm pleased that a few of our Warriors still manage to try out some of these recipes!
====================================================================
Fuji Mama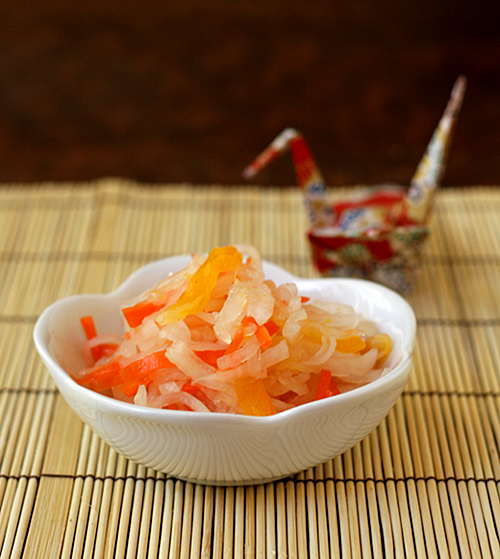 My family especially enjoyed the New Year's Salad from this challenge.  It is tangy, sour, and sweet all at the same time.  I loved the addition of shredded dried persimmon (or apricot).  It gave an extra bit of sweetness that really rounded out the flavors nicely.  The salad uses amazu, a simple Japanese sweet-and-sour sauce that uses rice vinegar, sugar, salt, and a piece of kombu (kelp)—so simple and easy to make.  The only difficult part of this dish was having the patience to sit and cut the daikon radish and carrot into thin julienne strips.
====================================================================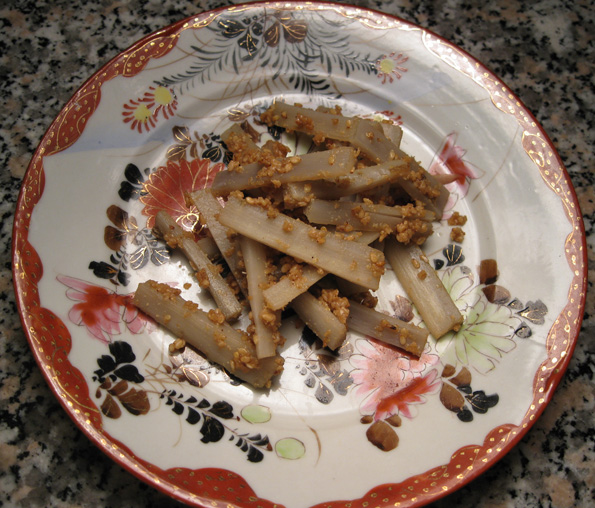 I decided to try the Smashed Burdock Root Tossed with Crushed White Sesame.  I wasn't looking for a New Year's meal so I made this just a bit ago.  I started with the burdock.  Because there wasn't any super thin at the market, I cut it a bit more than the recipe says.  I wasn't sure how it was suppose to appear when cut and then when tossed in the dressing so am glad I looked on line.  This helped a lot with making this dish.  I did follow the Washoku recipe but it helped to know things like the reason for soaking the burdock right away was to keep it from turning brown.  As for taste, it turned out better than I expected based on the way the burdock and sesame smelled to me while I prepared this.  It's not something that I plan on making again given that I can't pound things much.  I did it because I want to challenge myself with cooking things I wouldn't normally cook.  Anyway, here is my photograph and I plan to eat this in a bit with miso soup I am making.
====================================================================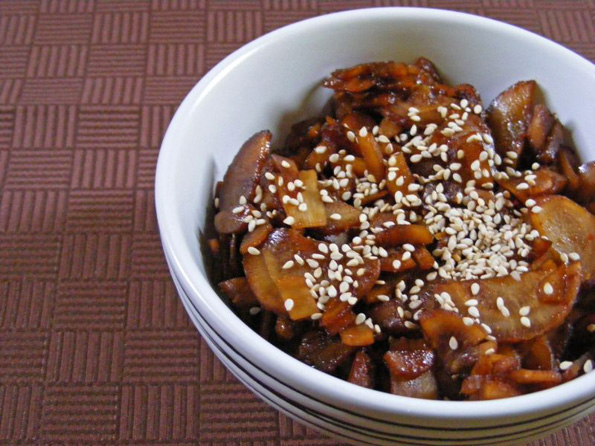 For December the Washoku Warriors were given a choice of recipes which are typically prepared at or around New Year. I choose to make fiery parsnips (substituting root parsley for the parsnips, because the former was available from a local farmer at the green market), which are quickly fried in sesam oil and then subsequently braised in sake and soy sauce. It's really a quick and tasty dish, where the required cooling down to room temperature before eating takes up most of the time. I simply sliced the root parsley instead of cutting julienne strips because once halved and quartered the pointy end of the root would bend outwards into almost a "J" shape, making it impossible to slice lengthwise.
Read Andreas's full report here!
====================================================================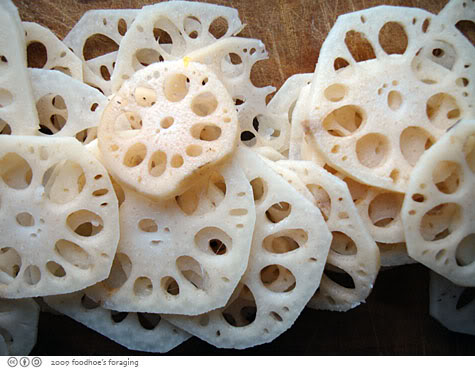 I was excited when I read the Washoku Warriors challenge for January. My family loves the traditional Japanese new years feast, but none of us really know how to cook any of the dishes, so this was a great opportunity for me to learn some new recipes. I thought it was interesting that Andoh sensei adds dried apricots to the new years salad to sweeten it rather than plain sugar. The one regret is that I should have used the mandoline for some of the chopping because that slowed me down. Oh, and somehow I messed up and made the sweet and sour lotus root recipe instead of the smashed burdock root…
Read Foodhoe's full report here!
====================================================================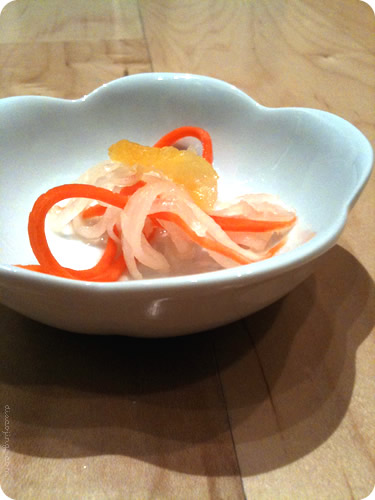 I made the kinpira for my family's New Year celebration. Everything seemed to be going really well until I added in the soy sauce. Right when the soy sauce hit the pan, it caramelized and made the whole pan give off a burnt smell. The parnips tasted fine themselves, with a nice root-y flavor, but I couldn't get over that burnt smell. I made the namasu a few days later and I love it! The fruit in the salad mixes with the "dressing" gives it a nice pleasant sweetness reminiscent of dessert. I will definitely make this again because it doesn't have many ingredients and it only takes a few minutes to make and it is a colorful, healthy bento-filler.I'm glad that I finally found a recipe from Washoku that I absolutely love and is easy and fast!
Read Nicole's full report here!
===================================================================
*New Years is a wonderful time of year in Japan.  If you are unfamiliar with the New Years traditions, you should read up! For a good starting place, read here.