A lone sweet potato sat on my counter looking forlorn and unloved.  It made me feel guilty every time I looked at it.  I needed to use it . . . I
wanted
to use it, but was feeling wholly uninspired.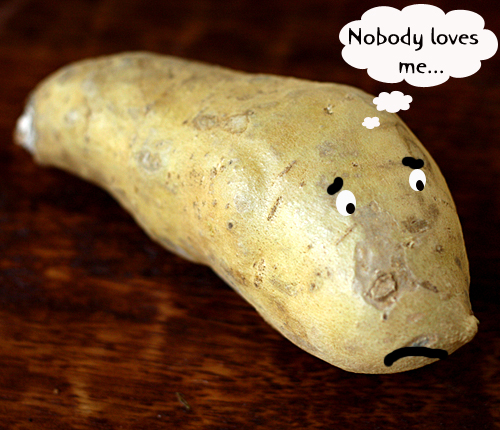 Then a happenstance trip to the grocery store changed the fate of the sweet potato.  As I was wandering down the aisle that contained all the Asian ingredients I noticed that my favorite brand of coconut milk was on sale (Chaokoh), and so I added several cans to my grocery cart, along with a container of my favorite red curry paste (Mae Ploy) because I had just finished up the one I had at home.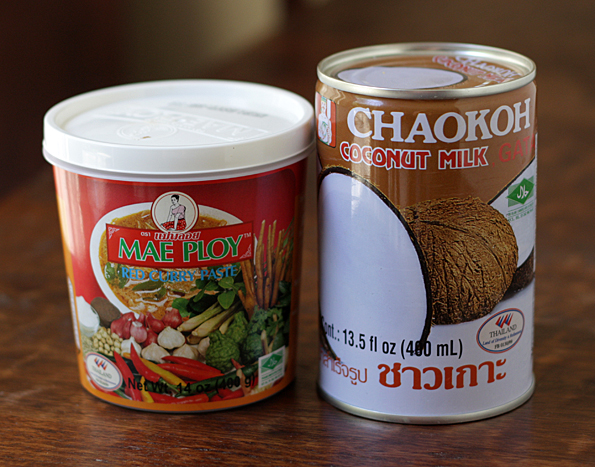 As I drove home I remembered the sweet potato, and then a thought occurred to me—I had been meaning to try a soup recipe from the cookbook Super Natural Cooking, by Heidi Swanson, that happened to call for coconut milk, red curry paste, and yep, you guessed it, sweet potato!  Dinner was quick and easy to make—done and on the table in about an hour.  Squirrel was especially delighted with the color, exclaiming, "Ooooh, beautiful!  It's sunshine!", when she came to sit at the table.  She was right, the soup is beautiful!  It is bright yellow, just like a burst of sunshine—a wonderful way to end the day on a cold and dreary winter's day.  The soup tastes even better than it looks.  Creamy and flavorful, with just a hint of spice from the curry paste.  Wild rice gives great texture to the soup and little sweet potato "croutons" sprinkled on top add some extra sweetness and texture.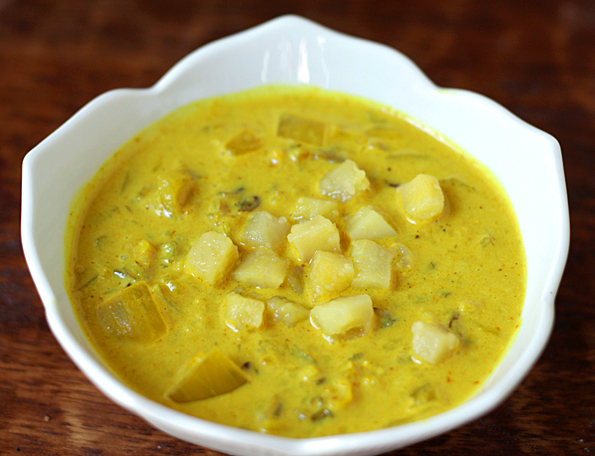 Print This Recipe
Coconut Curry Wild Rice Soup, aka "Sunshine Soup"
Adapted from Super Natural Cooking, by Heidi Swanson
Makes 5 to 6 servings
2 tablespoons olive oil
2 teaspoons red curry paste
2 large cloves garlic, minced
2 yellow onions, chopped
1 cup wild rice, rinsed
4 cups water
1 yellow-fleshed sweet potato, peeled and cut into 1/4-inch dice
1 1/2 teaspoon fine grain sea salt
2 teaspoons ground turmeric
1 tablespoon granulated sugar
1 tablespoon soy sauce
1 (14-ounce) can coconut milk
Juice of 1 lime
1. Heat 1 tablespoon of the olive oil in a heavy pot over medium-high heat.  Add the curry paste, garlic, and onions and saute for 3 to 4 minutes, until the onion begins to soften.  As everything sautes, make sure to mix well so that the curry paste is mixed evenly.
2. Add the wild rice and 3 cups of the water and stir.  Bring the mixture to a simmer and then lower the heat to medium-low.  Cover the pot and cook for about 40 minutes, or until the wild rice is tender.
3. While the soup is cooking heat the remaining 1 tablespoon of olive oil in a pan over medium-high heat.  Add the diced sweet potatoes and 1/2 teaspoon of the sea salt.  Toss the sweet potatoes to coat them in the olive oil.  Cook for several minutes until they start to brown on the bottom, then toss.  Toss every couple of minutes until the sweet potatoes are cooked through.  If needed at any point during cooking, add a bit more oil.  When the sweet potatoes are finished set them aside.
4. When the wild rice is tender, add the turmeric, sugar, soy sauce, coconut milk, and remaining teaspoon of sea salt.  Stir, return to a simmer, and then cook for an additional 5 minutes.  Remove the pot from the heat and stir in the lime juice and additional salt if needed.  Serve topped with a scoop of sweet potatoes.
===================================================
I just have to share a fabulous calendar I just printed off a couple of days ago.  It is designed by the talented Cameron Blazer who writes Cottage Industrialist and is available to download for free here.  Why do I love it so much?  Not only is it gorgeous, but it lists out some of the produce that is in season during each month of 2010.  What a fantastic idea!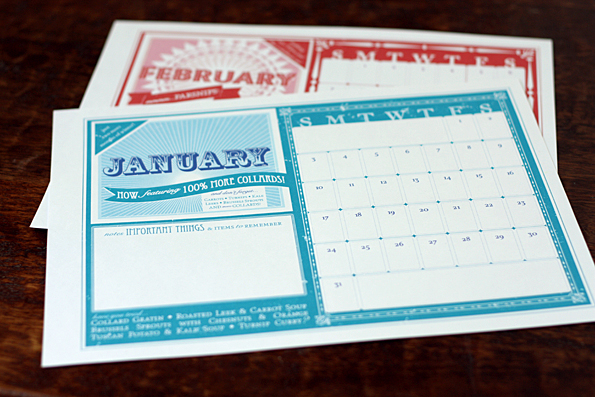 We could all benefit from eating more of what's in season.  January lists carrots, turnips, kale, leeks, brussels sprouts, and collards.  How many of those have you had this month?  Go download your own calendar and thank Cameron for such a wonderful gift!
Coming Next: Washoku Warriors celebrate the New Year!