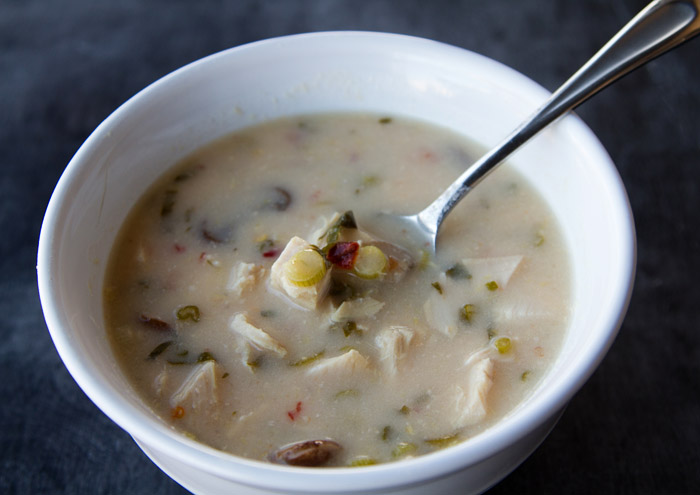 Last week I pulled out the turkey carcass left over from our Thanksgiving feast and stuck it in a large stock pot, along with some yellow onion, carrots, kombu, celery, peppercorns, salt, ground black pepper, and water and let everything simmer for a good part of the day until the entire house smelled of Thanksgiving dinner all over again.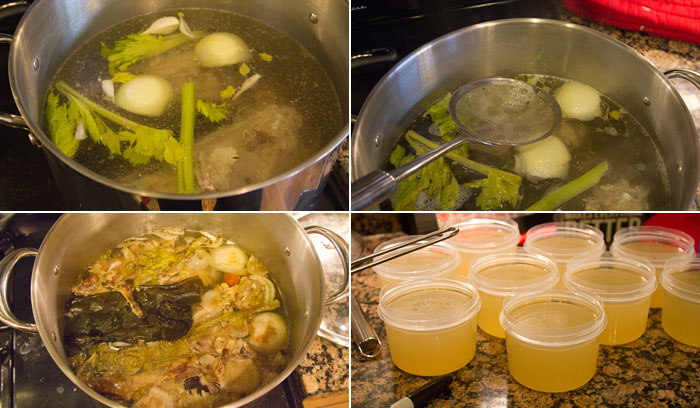 Then I poured the golden liquid into containers, labeled them, let the stock cool, and then moved them into the freezer for future use.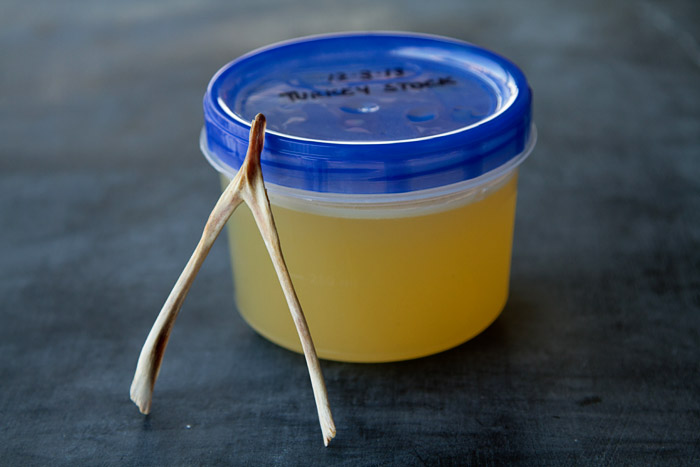 I used some of the stock, in addition to the remaining leftover turkey meat to make a twist on one of my favorite soups, Thai coconut chicken soup, or Tom Kha Gai.  I had been craving the bright flavors of this soup and thought that the turkey stock and leftover turkey meat might be a fun change.  The soup was an even bigger success than I had guessed it would be, as evidenced by everyone, including the Fujilings, having multiple helpings.  The soup was so good, in fact, that I decided it would be a shame not to share it with you.  I know that Thanksgiving has come and gone and Christmas is well on its way.  But if you happened to freeze your turkey carcass or are making a turkey for Christmas, then this recipe is for you!  Otherwise, tuck it away for next year.  It is so good that you really shouldn't miss out.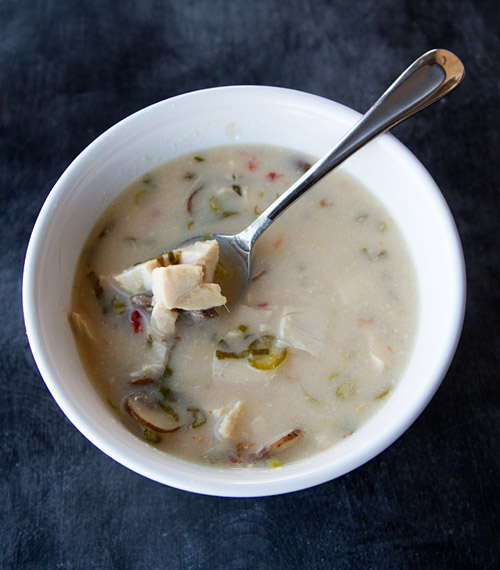 Print This Recipe
Turkey Tom Kha Gai
Makes 6 servings
2 (14-ounce) cans light unsweetened coconut milk
3 cups turkey stock (recipe below)
4 ounces thinly sliced crimini mushrooms
6 tablespoons finely chopped lemongrass
1/4 cup fish sauce (nam pla)
2 tablespoons minced fresh ginger
1 to 2 Serrano chilies, sliced into rounds (use 2 for a spicier soup)
2 to 3 teaspoons chili-garlic sauce (use more for extra heat)
3 cups chopped leftover turkey meat
1/2 cup thinly sliced scallions
1/4 cup thinly sliced basil
1/4 cup freshly squeezed lime juice
1. Combine the coconut milk, turkey broth, mushrooms, lemongrass, fish sauce, ginger, Serrano chili, and chili-garlic sauce in a large saucepan.
2. Heat the mixture over medium high heat. When it begins to boil, reduce the heat and cover the pot and allow it to simmer for 10 minutes, so that the flavors blend.
3. Add the turkey, and continue to let the soup simmer until the turkey is heated through, about 3 to 5 minutes.
4. Mix in the scallions, basil and lime juice. Serve.
Turkey Stock
Makes approximately 4 quarts of stock (depending on the size of the turkey carcass and how much water you add to cover it)
1 turkey carcass, leftover from carving a whole turkey
cold water
1 large yellow onion, quartered
2 carrots, roughly chopped
1 (6-inch long) piece kombu
3 celery ribs (include celery tops if present), cut into large pieces
10 peppercorns
1 teaspoon salt
1/2 teaspoon pepper
1. Remove all the usable turkey meat from the turkey carcass to add to the soup. Put the leftover bones in a large stock pot, breaking them up as necessary to fit them in the pot.  Fill the pot with enough cold water to cover the carcass by 2 inches. Add the yellow onion, carrots, kombu, celery tops, and peppercorns.
2. Heat the pot over high heat. Just before the water comes to a boil, reduce the heat to bring the stock to a bare simmer. (Avoid letting the stock start to boil, as the kombu will become bitter.) Skim off any foam that may float to the surface of the stock. Then stir in the salt and pepper.
3. Simmer for at least 4 hours, uncovered or partially covered (so the stock reduces), occasionally skimming off any foam that comes to the surface.
4. Remove the bones and vegetables and strain the stock through a fine mesh strainer. Pour the stock into heatproof containers. Let cool to room temperature and then refrigerate or freeze. (If freezing, leave at least 1/2 inch of head space in the containers to allow for liquid expansion.)