Guess what?  The Washoku Warriors group is now one year old and counting and this challenge was our 12th challenge!  We continue to add new members from around the globe.  It has been a wonderful year and I have thoroughly enjoyed working through the book with fellow Warriors.  I find their experiences, writeups, and pictures inspiring, and they definitely help me stay the course.  I can't wait to see what the next year of battling holds for the Warriors.  I will cook every recipe in Washoku, and it will be thanks to my Warriors.  For this challenge I decided to break out of the normal mold and do things a bit differently.  To celebrate a year of Japanese cooking I left the challenge open to the Warriors.  I told them to pick one or two things that they had been dying to try out of the book, or that were their favorite things they made during the past year.  It was really fun to see each writeup show up in my inbox—fabulous variety!!  So check out what the Warriors choose to tackle when they are left to their own devices . . . .
====================================================================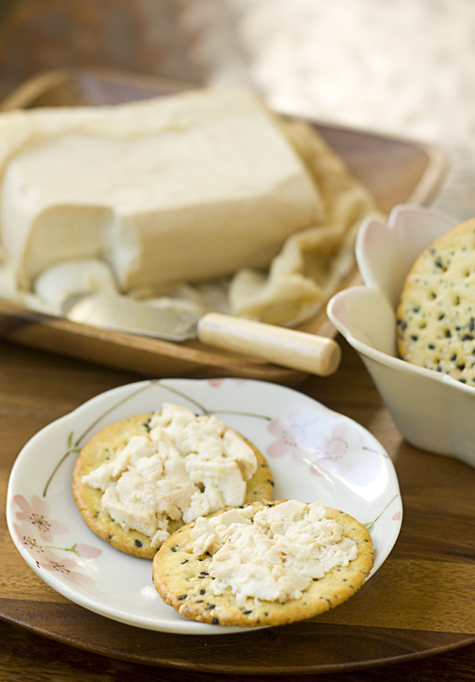 I had grand plans for celebrating the completion of one year of challenges.  But I quickly simplified those plans and then simplified them again, as my month got more and more hectic.  What is it about the end of summer?  Just when you think things should be relaxing and slow, the calendar starts to fill up and that free time you were hoping for turns out to be just a nice thought.  Oh well.  Squirrel started preschool again last week, and I must say that it is nice to be getting back into a more regular structured routine.  Despite the crazy month it turned out to be, I was determined to make at least one thing out of the book that I had been dying to try—tofu no miso-zuke, aka, tofu "cheese" (page 284).  As Andoh points out in the book, despite the fact that this sounds like a "new wave or fusion fare" dish, it's actually a way of preparing tofu that is at least several hundred years old, showing up in a Japanese cookbook in the eighteenth century.  Tofu is drained and then pressed to squeeze out extra moisture, resulting in a denser, more firm block of tofu.  Then you marinate the tofu in a miso mixture for a minimum of 8 hours.  The marination ferments the tofu, giving it a wonderful flavor that is reminiscent of cheese (thus the use of the word "cheese" in the English name translation).  We kept things simple and spread the flavorful creamy tofu on toasted multigrain crackers—a delicious treat!  Simple, but a wonderful way to celebrate a great year.
====================================================================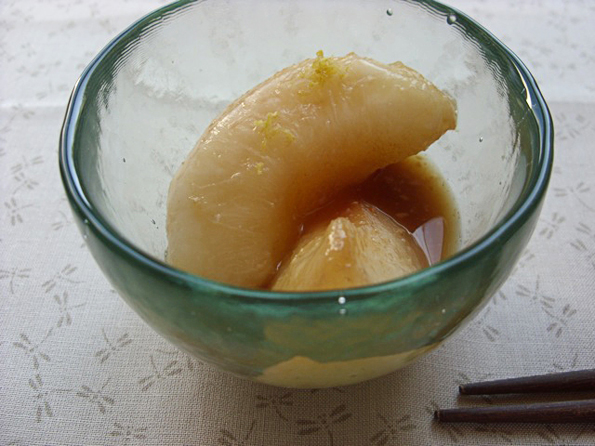 I've chosen the poached peaches on p. 306, which the Warriors were proposed to make in 'miso' challenge #3, and the ginger-stewed eggplant, p.192, simply considering that they would fit the season well. Making the peaches in miso sauce was neither very difficult nor a lot of effort, however, it is not a quick dessert. On the other hand you can easily prepare them in advance.  The recipe taught me a lesson in cutting and peeling stone fruits. The other tricky thing was that I didn't have saké at home. (And it seems impossible to get any here in my town in Germany that is affordable and at the same time consumable.). I substituted the saké and a part of the sugar by (hon) mirin where, in this case, I mixed in a very little bit of vodka. That's not the elegant way, but it was ok. The colour of this dessert isn't overwhelming, so that you may need to save the optical impression with some suitable dishware. It's taste surely is different from that of western sweet foods, but it's a light and fresh, yet satisfying dessert. For those who prefer it less exotic I suggest to serve the peaches with a sauce made with chocolate instead of the neri miso, that could be awesome, I think. I can imagine to make this recipe again, possibly having the fruits after a summerly Japanese style dinner. The eggplants went well and turned out to be a nice side dish.
Read Tamara's post about the challenge: peaches and eggplants
====================================================================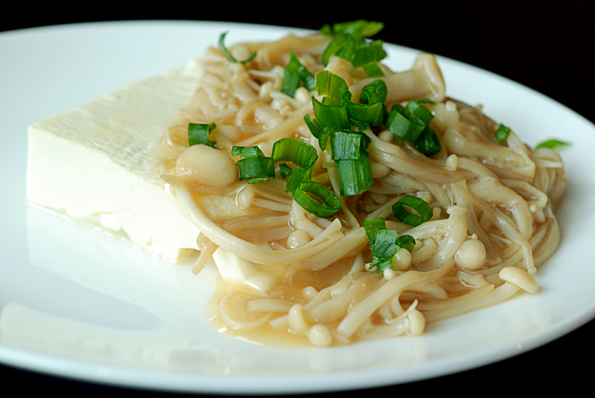 I am delighted to join the Warriors for this challenge as my first.  I know that there are many delicious recipes in Washoku, but one of my tried-and-true favourite staples is Silken Tofu Topped with Enoki Mushrooms.  This is one of my favourite dishes, especially when enoki mushrooms are on sale, as the silky, melt-in-your-mouth tofu is paired with pale, tender, enoki mushrooms smothered in a delicate, subtle dashi broth flavoured with soy sauce, mirin and sake. It is a snap to put together. This is simplicity at its finest, very much the quintessential trait of Japanese cuisine. Depending on the mushroom you choose, this dish vary from delicate as I described with the enoki mushrooms, to more robust with maitake mushrooms.
Read Janet's post about the challenge: Silken Tofu Topped With Enoki Mushrooms (Tofu no enoki an kake)
====================================================================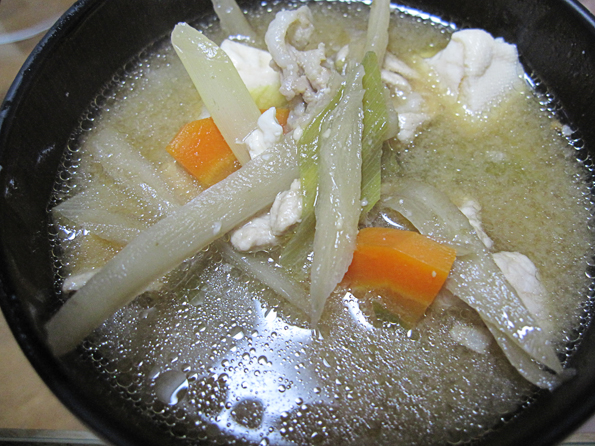 I didn't think I was going to make this challenge, and when it comes down to it, I guess I didn't actually – the cooking this month wasn't done by me but by my boyfriend.  My excuse is that after getting back from a week in Indonesia I was hit by some nasty bug or bugs and left without much energy or appetite.  U came to the rescue, however, and cooked up a big batch of tonjiru (miso-based soup with pork and veggies) that was both gentle on my fragile stomach and full of goodness to give me some much needed energy.  Hardly the celebration of a year of Washoku Warriors that I had been hoping to put together, but perhaps the best way of symbolizing a year for U and I.
Read Sarah's post about the challenge: One Year
====================================================================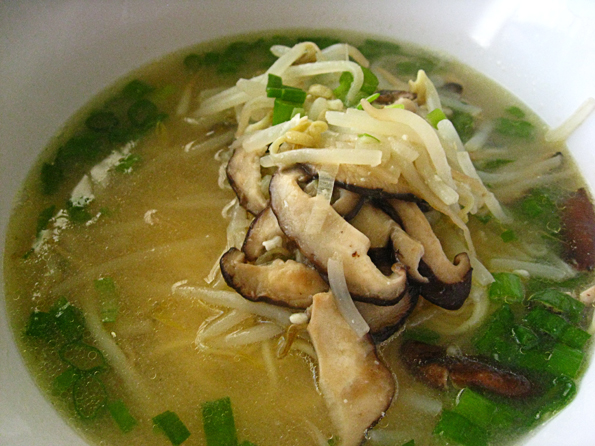 I've been OBSESSED with ramen for some time now so I was pretty excited about making the Miso Ramen for this month's challenge..  I was a little apprehensive about making the broth from scratch because of the time involved, but it turned out to be fine because I had a friend over who helped me cook the broth while I made some gyoza to eat with the ramen.  I enjoyed the final product, it was light and flavorful and I liked all the vegetables.  I was not able to find mugi miso in my local Japanese grocery store – I substituted with shiro miso since that's what I like.  I will keep an eye out for mugi miso so I can use it next time.  I have lots of noodles left over and I look forward to making this dish again.  I'm feeling inspired to try making other types of ramen!
====================================================================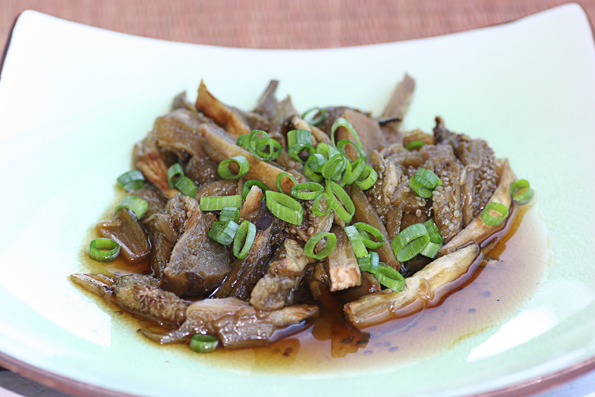 For Challenge #12, I had an opportunity to choose any recipe from my new cookbook, Washoku: Recipes from the Japanese Home Kitchen by Elizabeth Andoh. I chose Yaki Nasu, a chilled roasted eggplant dish because I LOVE eggplant.  Plus, the recipe required three ingredients (yes, only THREE!) and looked easy to whip together.  This was the perfect starter recipe for me. :)  Since I already had sea stock and seasoned soy sauce, this dish came together quickly and easily. The hardest part was waiting 24 hours to allow the eggplant to marinate in the sauce.  It was worth the wait and oh so good!  ENJOY!
Anne's post about the challenge: Yaki Nasu: Chilled Roasted Eggplant
====================================================================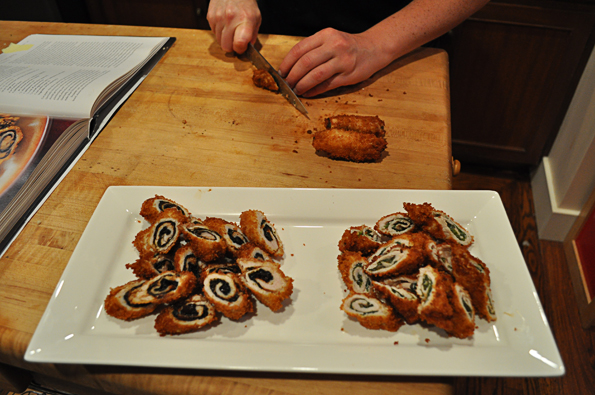 'What's for dinner tonight?' My husband yelled as he was running out the door with our daughter on his hip.  'Washoku' I muttered, head buried in the cookbook of the same name.    I selected 3 recipes that I had to make.  One was made, the rest merely fantasy.   The one I chose was the Tonkatsu recipe—you know the picture on the back overleaf?  That's it!!  It was far easier to make than I anticipated and absolutely delicious.  Instead of the traditional heavy Tonkatsu sauce, the pork is divided into two portions and rolled with two very different fillings.  One, with umeboshi plum paste and shiso leaves, the other with nori and leek miso.  They were both delicious and very different.  The leek miso and nori gave an exotic, brooding quality to the Tonkatsu.  The shiso and plum paste was my favorite—I found these flavors to be particularly haunting.  The Tonkatsu made in this fashion was lovely to look at too.  They would be a fantastic hors d'oeurve at a dinner party.  It ended up being thumbs up all around.  I will definitely make this again.