This month's Washoku Warriors challenge was all about tempura!  For the challenge, the Warriors were asked to make
Shojin Kaki Age (Tempura Pancakes), p.210.  Then they had the option of also making:
Five Flavored Salt, pp.112: for dipping the pancakes in!
Tempura Soba (Soba Noodles with Tempura in Soup), p.177
Tendon (Rice Topped with Tempura), p.154
Tempura sometimes gets the reputation of being a tricky dish.  Instead of light and crisp pieces of seafood or vegetables that have been battered and deep fried, people get heavy oil-laden and gloppy pieces that are less than appetizing.  So how did our Warriors fare this month in the face of such a challenge?  Although they are few in numbers for this challenge, they were mighty in results.  I think some of them even surprised themselves, proving that with a little bit of helpful instruction from Andoh-sensei, even tempura can be easy and delicious!
====================================================================
Fuji Mama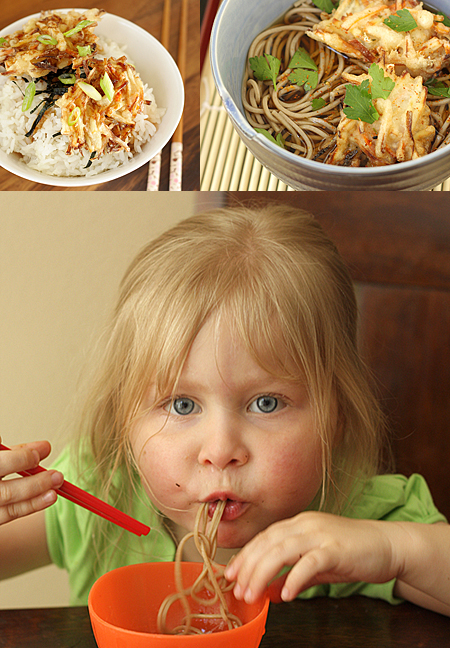 I loved this challenge on so many levels.  I haven't made tempura recently, partially due to frustration.  The last time I made tempura in the US, I just couldn't get the light crispy coating that I liked, and had been able to achieve while living in Japan.  When I was reading through the recipes and information for this challenge, a couple of sentences popped out at me: "When making tempura batter, I prefer using a low-gluten wheat flour for the tender, light texture it gives the coating.  Available in many American markets, self-rising flour (which has salt and baking soda already mixed in) works well."  (Washoku, p.14)  Aha! With that information in hand, I decided to go all out for this challenge and really test the information Andoh-sensei gives in the book.  I started out by making the tempura.  This ended up being a piece of cake and I was delighted by the texture of my finished pancakes–delightfully light and crispy!  Woot!  With some dipping sauce and sesame salt, the tempura was a fantastic treat.  I made extra so that I could test wrapping them up and storing them in the refrigerator, to be reheated later per Andoh-sensei's instructions.  I have had leftover tempura before, but it never made for very good leftovers, because it lost its crispyness.  Following the instructions given, it was just as good the next day as it was freshly made!  We had the tendon one day for dinner, and the tempura soba the next day for lunch.  Any guesses as to what Squirrel's favorite dish was?
====================================================================

I was very excited to join Washoku Warriors after seeing the wonderful looking dishes everyone else had created in the past challenges.  I must admit that my excitement was dampened by a bit of fear when I saw that the challenge was tempura.  I'm a bit nervous working around anything involving hot oil after a deep fryer incident I experienced during my fast food cook days.  However, I decided to use this as a opportunity to get over my fears and make some tasty tempura to boot!  I also made three of the five flavoured salts to dip our tempura in.  I'm very lucky to live near a city where I was able to get all of the ingredients.  Some of the ingredients were labeled differently (Szechuan Peppers = Sansho and Gobo = Burdock) but I took an educated guess.  The three salts I made were the green tea, fragrant pepper and black sesame.  Fragrant pepper was the clear winner in our house with both my husband and my daughter giving it two thumbs up!  The pancakes themselves turned out well.  I did find that the recommended times and temperatures were a little on the high side so I reduced both with success.  For the record, after the first few successful pancakes, I forgot about my fears of the hot oil! Although everyone in my family really enjoyed the tempura, I found the chopping a little tedious and I think I'll stick to bigger slices next time.  Oh yes – there will be a next time for this dish!
Read Dawn's full report here!
====================================================================

I was apprehensive about this challenge – cooking tempura at home has a bad reputation in Japan, everybody will tell you it is messy and dangerous.  Besides, tempura is so easy to find here – from the good and expensive to the cheap and well… fast food version.  But having my worries proven wrong before with a challenge I wasn't about to give up, and so forged ahead – we made kakiage (with carrot, burdock root, sweet potato, and lotus root) as well as shrimp and sweet potato slices.  I also made up the goma salt (with white sesame seeds instead of black) and sansho salt to go along with the matcha salt I had in my cupboard already.  The sweet potato slices – freshly made and still piping hot – were the hands down favourite but the kakiage were delicious too, and I'm looking forward to trying out the other two challenge recipes with all the left over kakiage now in my freezer!
Read Sarah's full report here!
====================================================================

Hi fellow warriors! This was our first foray into Japanese cooking and it was an absolute blast. We had never made tempura pancakes, but honestly figured 'how hard could they be'? Well my friends it was definitely a FUN challenge, but you'll have to wait a couple more years for my very own Japanese cookbook. :-) Our technique needs lots of mastering! The vegetables were probably the best I've ever had…anything fried is usually better, no?! Unfortunately, we missed the boat on making them visually look like pancakes. They ended up being more like tempura vegetable "shreds". That was more than fine in our book because the taste & texture was addicting and the dipping sauce (oh..yeah..I think I could have drank that alone!). We did make one slight substitution though. We weren't able to find burdock root so we substituted a rutabaga. An extremely tasty dish and one we will definitely make again.
Read Sara's full report here!
====================================================================

I was equally excited and apprehensive about making Tempura. I've never had great luck with Tempura batter. I was also excited to use Burdock Root, Sweet Potato, Parsnip, and Carrot to make the vegetarian style tempura pancakes. With the pancakes, we decided to make the Rice Topped With Tempura (Tendon) and all I can say is the dish was absolutely delicious. The combination of vegetables made for an interesting flavor (I love burdock root, I was a bit concerned how my guests and husband would like it, and no worries, they loved it), a blend of roots, sweet and woodsy. The dish was easy to prepare after the tempura pancakes were made, and I was very happy with how the tempura pancakes reheated the next day. Knowing this, I would heartily recommend making the tempura ahead of time, instead of making it right before eating (less mess, less clean up after eating). I give this dish a big thumbs up, and I detailed my experience making the tempura, and the changes I made to the recipe at my blog.
Read Kim's full report here!