Happy Macaron Day!  I can't believe that a year has passed since the last Jour du Macaron.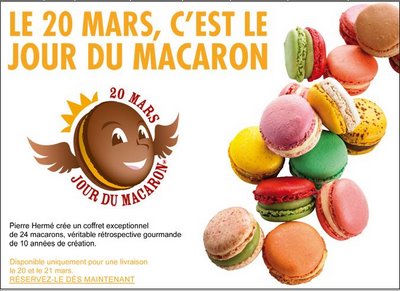 A year ago I never would have guessed that Helen would be coming out for a visit to teach us all about proper macaron making.  It's amazing how much can happen in a year.  Helen's visit was perfect—just in time for us all to hone our skills so that we could properly celebrate today!  This is not a holiday that can be celebrated at the last minute if you are making your own macarons.  My preparations for today's celebration began several days ago with separating the egg whites for my macarons.  They aged for 24 hours at room temperature, and then for about another 46 hours in the refrigerator.  Yesterday I ground my almonds, and proceeded with making my macaron batter.  Then I carefully piped out little circles of batter onto my silpat and let them rest.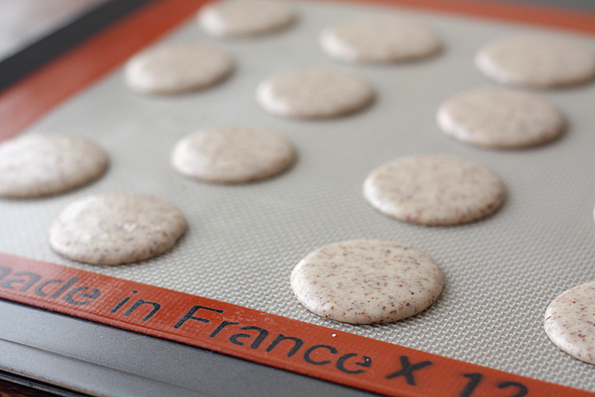 Finally they went into the oven and I did a little giddy dance as they grew feet, and then grew less giddy as the feet turned into skirts.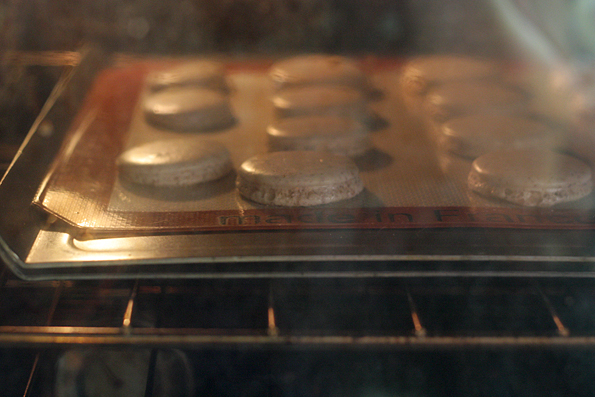 I had a problem with my macarons sticking to my silpat, so I used a trick that Helen taught me a while back.  I put them back into the still hot oven, closed the oven door, and turned off the heat.  There the macarons stayed until the end of the day.  While I waited, I mixed up a batch of chocolate ganache and a batch of white chocolate plastic (like chocolate modeling clay).  Finally it was time to assemble my macarons.  Their time in the cooling oven had worked its magic, and the macarons peeled qoff of the silpat easily.  They're not perfect, but they'll do!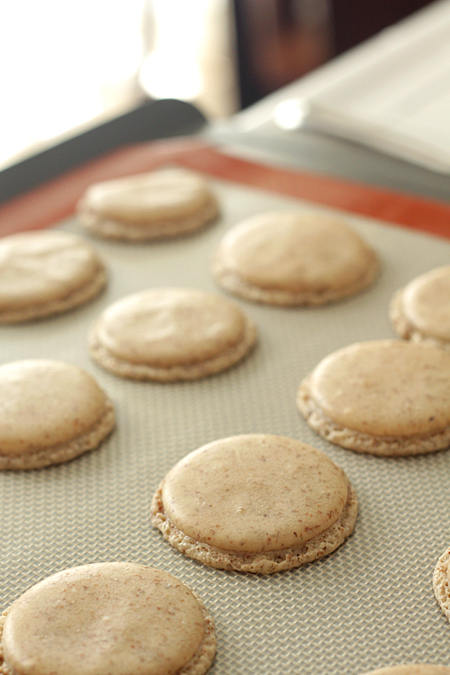 Today is no ordinary macaron day, so I wanted to do something extra special. Now that Spring has arrived (at least it has here in Southern California!), my thoughts have been turning to picnics, and outdoor barbecues.  So today's macarons are inspired by those thoughts and the most recent Mac Tweets challenge.  I've affectionately named them "Big Macs" (pun intended).  I sprinkled the "buns" with sesame seeds.  The hamburger patties are made from chocolate ganache, and the lettuce and tomato are made from the white chocolate plastic (with red and green food coloring kneaded in it).  Ok, enough talking, I'm craving a Big Mac.  I'm off to celebrate!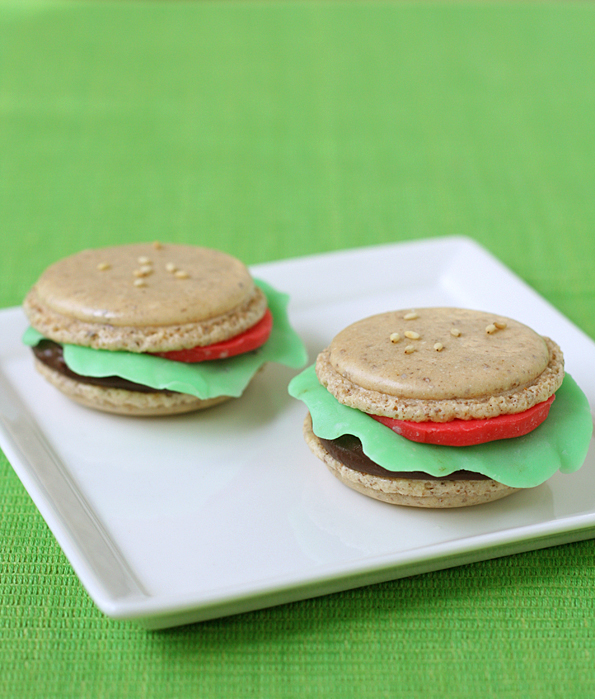 "Big Mac" Macarons
Macarons: Helen's recipe (with the powdered food coloring omitted, and the swirling decoration skipped) for swirly macarons
Chocolate Ganache Hamburger Patties: Helen's recipe for Bittersweet Ganache (I used semisweet chocolate instead)
Lettuce & Tomatoes: Chocolate Plastic recipe from Baking Obsession (I made a half batch, which makes plenty)