How many of you had your mom tell you that eating your carrots would help keep your eyes healthy?  Carrots are one of those foods that you want your children to love—full of all kinds of good things like beta-carotene and fiber.   Luckily I don't have to worry about my girls because they are carrot lovers.  In fact we all are carrot lovers.  One of the snacks we always bring when we go on a road trip is a bag of carrots to munch on.  I love finding ways to incorporate carrots into a meal.  This salad is a very simple Japanese salad, made to be used as a light side dish.  Carrots are peeled into long thing ribbons and then dressed in a simple vinaigrette made of soy sauce, rice vinegar, sesame oil, sesame seeds, and a bit of sugar. I find that using a "Y"-shaped peeler works well for the carrots, but use whatever works best for you!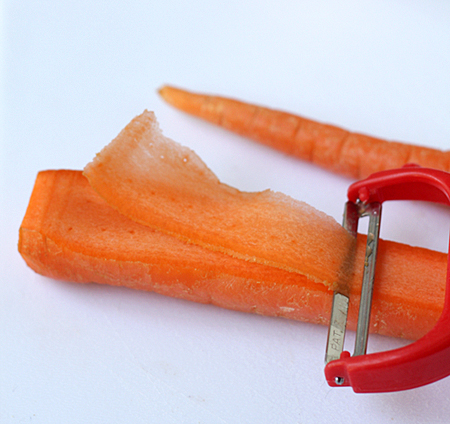 The result is a slightly crunchy salad, that is a bit nutty from the sesame oil and sesame seeds, and tangy from the soy sauce and rice vinegar.  It's delicious!  The carrot ribbons make it fun and different and provide a great opportunity for kids to practice their chopsticks skills.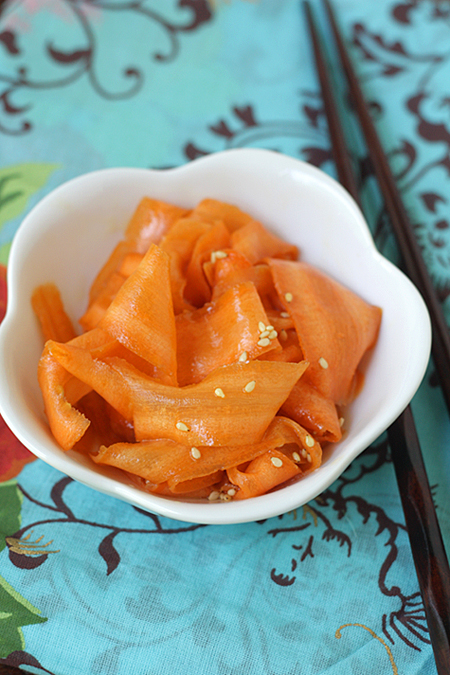 Print This Recipe
Carrot Sesame Salad
Makes 4 servings
3 – 4 medium size carrots (about 7 ounces total), washed and peeled
2 tablespoons soy sauce
2 tablespoons seasoned rice vinegar
2 tablespoons toasted sesame oil
2 teaspoons toasted white sesame seeds
1 teaspoon granulated sugar
1. With a vegetable peeler, slice the carrots into long ribbons.  Set the ribbons aside in a serving bowl.
2. In a separate bowl, or liquid measuring cup, mix together the soy sauce, vinegar, oil, sesame seeds, and granulated sugar.  Pour over the carrot ribbons, and toss the ribbons to coat them in the dressing.  The salad can be served immediately, or can be refrigerated up to a day before serving.