A huge thank you to all of the warriors who participate each month.  Not only is it nice to know that others are making the same dishes during the month, but I gain so much inspiration from your writeups for every challenge!  Keep 'em coming!  For April's Washoku Warriors challenge we tapped into Spring, using some of the ingredients that are popping up fresh in our markets.  The challenge was to complete one or more of the following:
Temple Garden Chowder (Unpen-Jiru), p.126
Spinach Steeped in Broth (Horenso no Ohitashi) p.190
Citrus-and-Soy-Glazed Swordfish (Kajiki Maguro No Yuan Yaki), p.227
====================================================================
Fuji Mama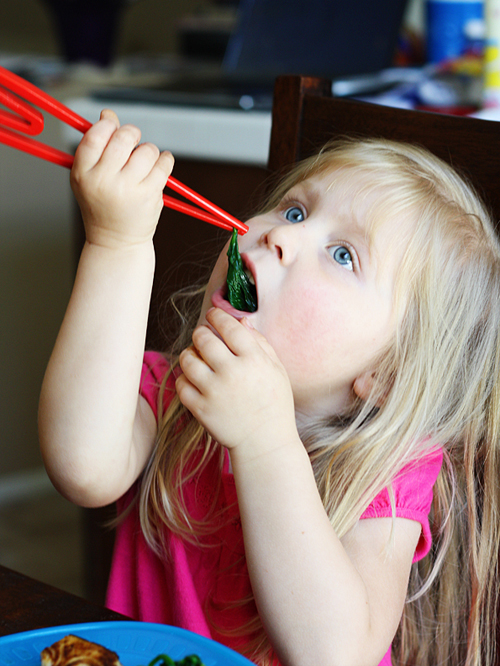 We loved all of the recipes this month, but there was a clear favorite.  I have always loved horenso no ohitashi (spinach steeped in broth), but this particular recipe took the dish to new heights.  It's amazing how such a simple dish can deliver so much "wow."  Spinach is blanched and then marinated in some dashi (sea stock) and a seasoned soy concentrate called banno-joyu.  When you are ready to serve it, you lift the spinach out of the marinade and press out the excess moisture, then cut up the spinach, drizzle it with a bit of the banno-joyu and sprinkle it with whatever garnishes you want (like sesame seeds).  This dish is light but extremely flavorful—with a fabulous smokey flavor to it.  Squirrel inhaled the spinach.  If I had let her, she would have eaten it all!  But because I'm selfish, I made her save some for me and the rest of the family.
====================================================================

I always love a good fish recipe, so I was excited to see that this months challenge was a citrus and soy glazed swordfish. Since I live in the midwest (nowhere near the ocean!) I have little experience buying fresh fish, so I decided to go with an alaskan salmon filet I had in my freezer. I loved this dish because it came together so quickly and took minimal ingredients, most of which I already had on hand. I actually had some frozen yuzu peel left over from another Washoku Warrior challenge and used it to garnish the fish instead of the lemon zest. I'm so glad I did because the yuzu gave the dish such a distinctive flavor, it was unique and I feel it really made the dish! I served the fish with our favorite brown rice and steamed green beans, it was such a delicious Sunday dinner, everyone gave it two thumbs up!
Read Amber's full report
here
!
====================================================================

Horenso no ohitashi is one of my favourites – I love spinach, and this is a simple and delicious way of serving it.  But it wasn't until I set about making it according to Andoh-sensei that I suddenly realized I had been making it the wrong way!  If you include all the time (including leaving to marinate) to make all the ingredients it is a rather lengthy process, but such a delicious end result – complex almost smoky flavour that is also very simple at the same time… yum!  The chowder turned out much better than either of us had anticipated, but it was undoubtedly the swordfish that stole the show – WOW!  The tangy-sweet-salty glaze (I combined fresh-squeezed pink grapefruit juice with yuzu peel garnish) and the meaty swordfish were matched perfectly, and it was so delicious we were both pretty close to licking the plates clean!  The dish – both as it is, and likely the sauce in some other incarnation as well, will definitely be making a reappearance in our kitchen.
Read Sarah's full report here!
====================================================================

Spring is in the air and was also chosen as the theme for the Washoku Warriors. I went for the temple garden chowder, which is a dashi-based broth to which I added carrots (as a winter staple), leeks (as a winter vegetable), red radishes (as an early spring vegetable) and ramps (as a later spring vegetable). The carrots and leeks get fried in a bit of sesame oil before being added to the broth to soften them up. The final soup should be thickened with cornstarch, but I completely forgot to do that. ;)
Read Adreas's full report here!
====================================================================

This month I decided to try making the Citrus and Soy Glazed Swordfish, or Kajiki Maguro No Yuan Yaki.  Since I don't think swordtail around here is as nice, I went with a bit of very nice yellowtail (buri).  I also made Braised Sea Vegetable (Hijiki No Nimono) from Elizabeth Andoh's book "At Home with Japanese Cooking.  Found the book at the library the other day luckily.  Since this was a lunch meal, I also included a Shiro Miso Soup with Daikon.  No real recipe for that since I take ideas from different places for making miso soup.  This all was really fitting for the cold spring weather we are having.  Nothing was overwhelming in taste; all worked together yet each had a nice bright flavor.  The fish was not difficult to make and was interesting and delicious with the lime seasoning yet with the lemon zest as a slight contrast.  I don't have a zester so got to try using a knife to cut the peel.  I have to try this again.  The meal turned out just right and was well liked!
Read Julie's full report here!
====================================================================

Well friends, I'm afraid my procrastination side got the best of me AGAIN! I had hoped to look at this month's challenge weeks ahead of time and get all the ingredients…but well…that just didn't happen. On the plus side, I did have all the ingredients (with some minor variations) for the Temple Garden Chowder. While the recipe called for daikon radish, I had some beautiful radishes in the crisper drawer. In the spirit of frugal cooking, I decided to use what I already had on hand. These radishes were amazing in the soup and a wonderful substitute for the daikon. I also decided to add some shitake mushrooms (dried, then rehydrated) to the soup. The soup had a great "meatiness"  that I attribute to the mushrooms and I loved the asparagus and other vegetables in the soup. This had a fantastic flavor and I loved how easy it was to pull together. Definite winner!
Read Sara's full report here!
====================================================================

Spring has finally arrived and I was looking forward to celebrating by preparing some of the spring recipes that we were challenged with.  Although I didn't get a chance to try all three recipes, I did get a chance to try one.  I made the Citrus and Soy Glazed Swordfish.  Sorta.  I actually made Citrus and Soy Glazed Pork.  We don't eat a lot of fish in our household. Partly because it's hard to get fresh fish when the nearest ocean is 1000 miles away and partly because I don't like the smell of cooked fish!  I will however eat sashimi every chance I get – go figure!  I thought that the glaze for this dish sounded delicious so I decided to try it with pork tenderloin from a local farmer.  It turned out beautifully!  I did have to cook it longer than I would have had to cook the fish but the pan searing technique described in the book kept the pork nice and juicy.  My family and I really enjoyed the citrus flavours mixed with the pork.  I served it with some bok choy sprouts that I just quickly steamed.  Ms. Andoh talks about the importance of kitchen harmony throughout her book. For me, I find cooking to be a more enjoyable – and harmonious- process when I allow myself to be flexible and creative in the kitchen. Using her recipe as a starting point I was able to make a dish that contained ingredients that were fresh and local to me but also allowed us to experience new flavours.  Thank you to Ms Andoh for the wonderful recipes and thank you to La Fuji Mama for the challenge!
====================================================================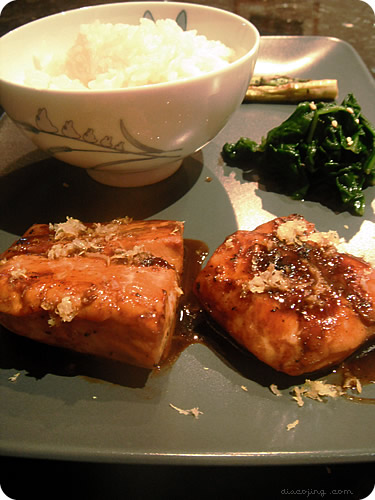 Dishes made: Swordfish w/ Citrus Glaze (subbed Mahi-Mahi) & Spinach Ohitashi
Thoughts: The fish was surprisingly very tasty! The texture of the fish was made much softer through the marinating process and the flavors were simple and great. Next time I'll double the citrus amount or cut the soy sauce to make it have a weaker shoyu flavor, which was the prominent flavor this time around. I didn't have soy sauce concentrate on hand for the ohitashi, and wanted to make this dish very quickly, so I estimated the ratios of salt to sugar and added some dashi. The result was a little too ocean-y and far too salty. I used the leftover glaze and zest from the fish and mixed it in with the spinach and it became more palatable. Unfortunately, I don't think the ohitashi is for me, but it may just be my dislike for leafy greens. The bright green color after blanching was very attractive though.
Read Nicole's full report here!
====================================================================

I had no idea about how the Unpen-Jiru (Temple Garden Chowder) would turn out. In the cookbook, there are seasonal options and I chose the Spring time option using burdock root, asparagus, daikon, snow peas, and carrot.  Our local store was out of daikon, but had organic watermelon daikon (which I was told was a tad bit sweeter). I opted to use it, and was pleasantly surprised when I cut into it, the  outer rim had a green tinge, and the inner portion was white with red streaks – beautiful.  I am in love with the flavors of the chowder – this dish is incredibly healthy and tasty.
Read Kim's full report here!