This has been such a fun giveaway for me, because I have loved reading about all of your favorite Italian dishes!  What was funny, was that on Tuesday I made Spaghetti alla Carbonara (using a recipe from one of my most trusted Italian food resources) for dinner, and so many of your comments that day and the next mentioned that one of your favorite Italian dishes was spaghetti alla carbonara!  I think I'm going to be trying new Italian recipes for the next year because many of you were kind enough to share recipes with me.  Anyways, on to the winner of the Into the Heart of Italy Pasta Party Giveaway!  Our trusty Random Number Generator picked comment #173: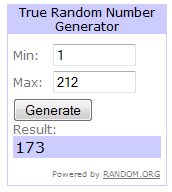 Comment #173 was made by Brandie!

Congrats Brandie, I'll be in touch today to get your info so that we can get your prize to you!