This past Saturday 26 different Food Blogger Bake Sales took place across the nation.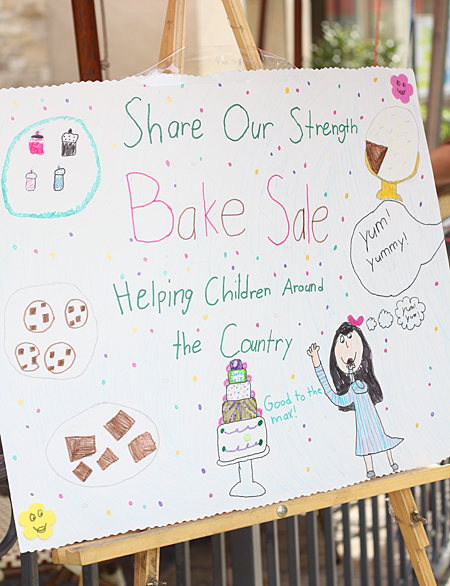 I participated in the L.A. Food Blogger Bake Sale and what a day we had!  Squirrel and I joined forces to bake loaves of Amish White Bread for the sale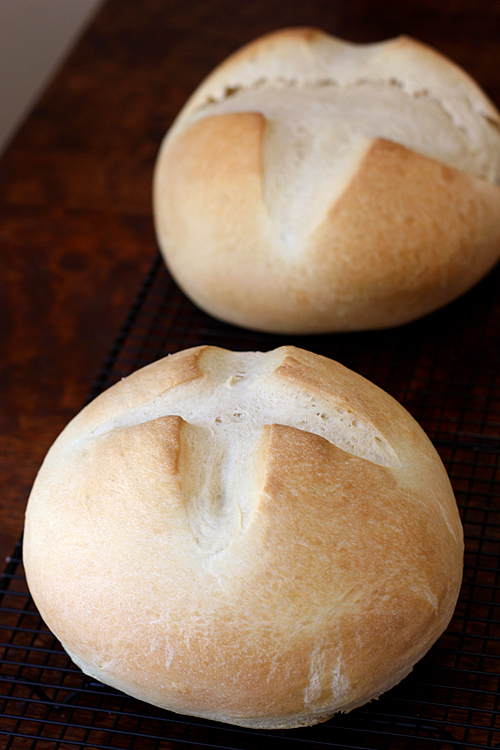 and then I went solo on making Fuji Nana's Deadly Chocolate Almond Toffee (3-year-olds and hot caramel just don't mix well).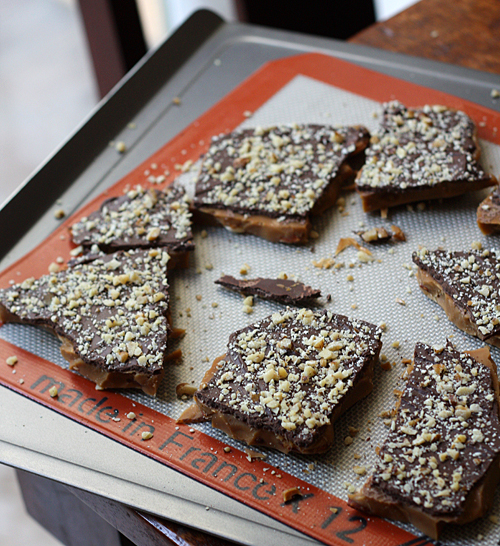 C&H Sugar very kindly provided Squirrel and I with a $25 gift card to help pay for some of the costs of what we made ( C&H Sugar is the presenting sponsor for Share our Strength's Great American Bake Sale).  We used it to purchase a big bag of sugar, almonds, chocolate, and other necessities for the items we made!  Squirrel was very excited to put her apron on and model our bag of sugar (wooden spoon in hand, of course).  Thank you C&H!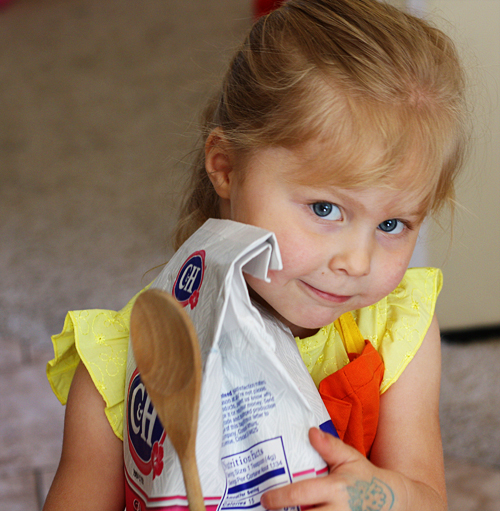 Everything went well, until I went to pull 2 loaves of bread out of the oven and badly burned one of my fingers on the bottom of the hot baking sheet.  I was using oven mitts and everything!  After nursing my throbbing hand for a while, I got back to baking and making toffee, but didn't end up making as much toffee as I was planning.  It was just too painful to sit stirring hot caramel over high heat with that hand!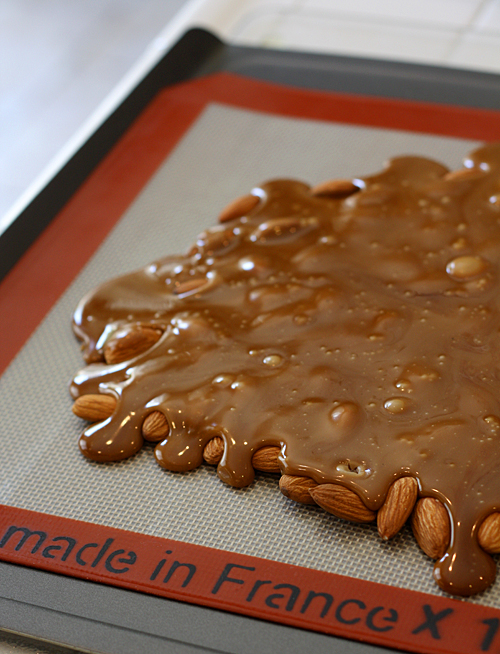 I was also able to take a variety of items that other people made as well.  I put out a call on Facebook for donations and several sweet friends came to my rescue.  My friend Stacy made a loaf of walnut bread and a loaf of banana bread, my friend Amanda made 4 little mini loaves of whole wheat sweet potato bread, my friend Susan made 2 big loaves of whole wheat bread, and my own sweet mother made 8 mini loaves of lemon blueberry bread.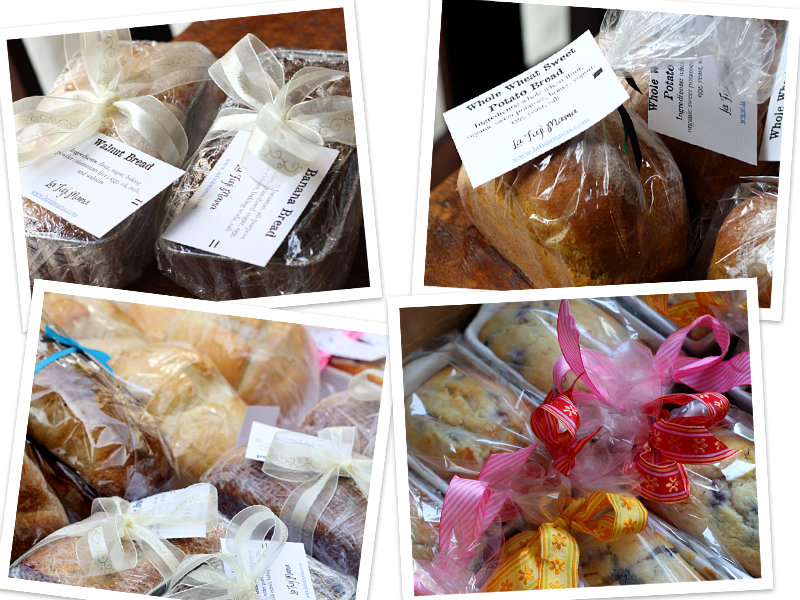 Let's zoom in on that lemon blueberry bread.  Look at those little ceramic loaf pans that she made the loaves in!! Aren't they awesome?  Mom, you rock.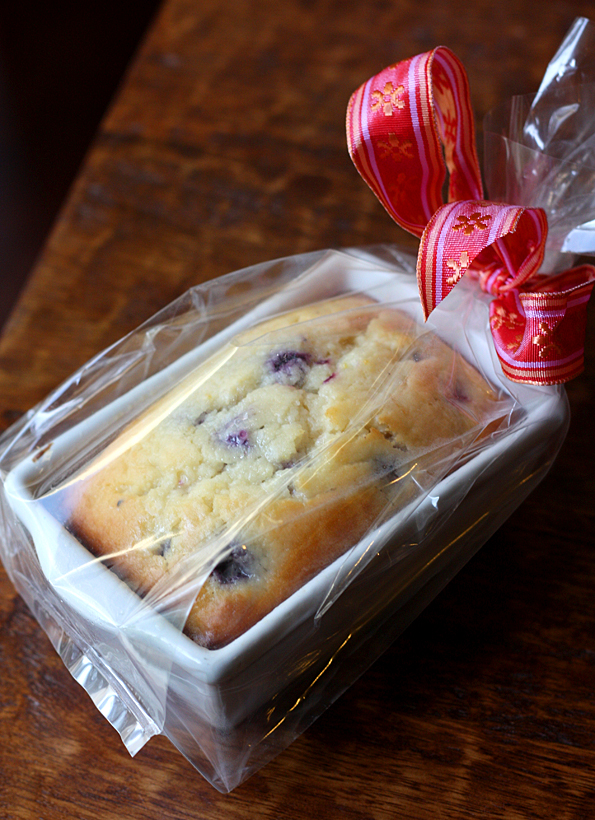 The day of the sale was a gorgeous day.  We held the sale on the 2nd floor of Morel's French Bistro where we had a fantastic view of The Grove.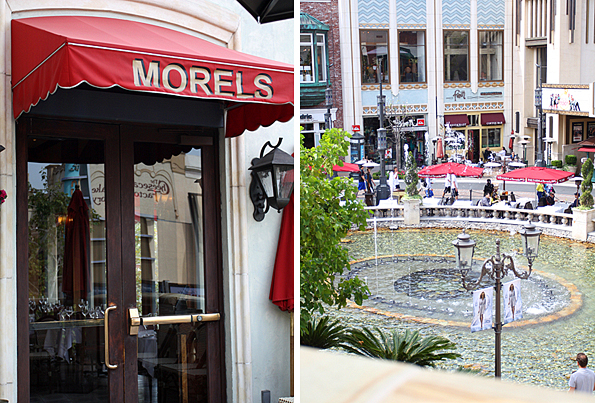 I can't say enough nice things about the wonderful people at Morel's.  Not only is the restaurant gorgeous,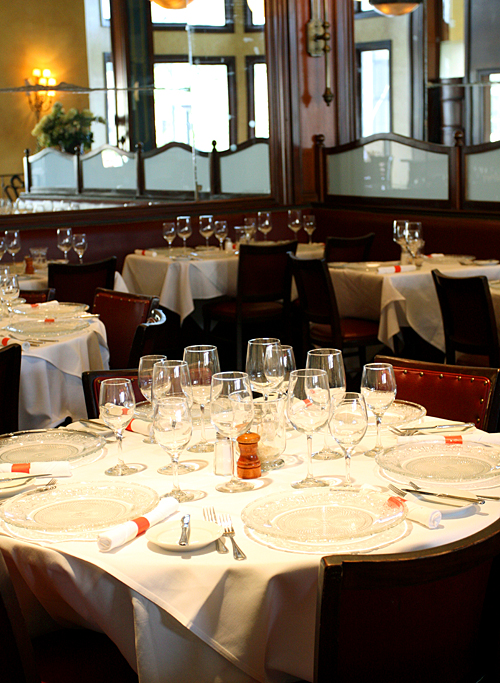 but they treated us wonderfully.  They provided long tables and linens for us to load all of our goodies onto,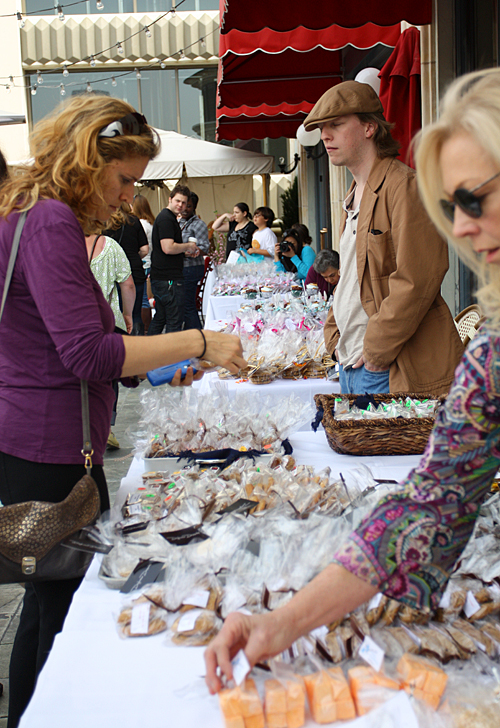 they set up this gorgeous table that people saw as they walked out onto the balcony,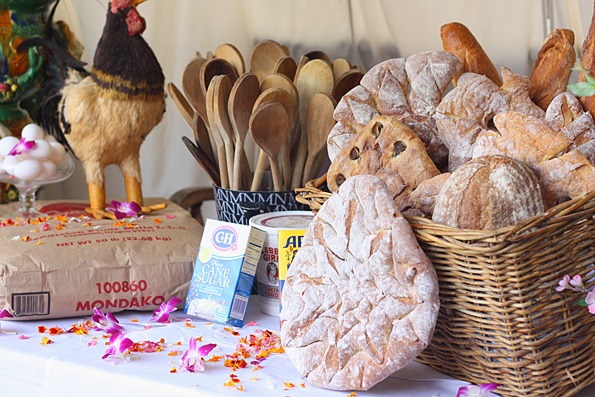 the pastry chef at Morel's made a fabulous selection of goodies to contribute to the sale,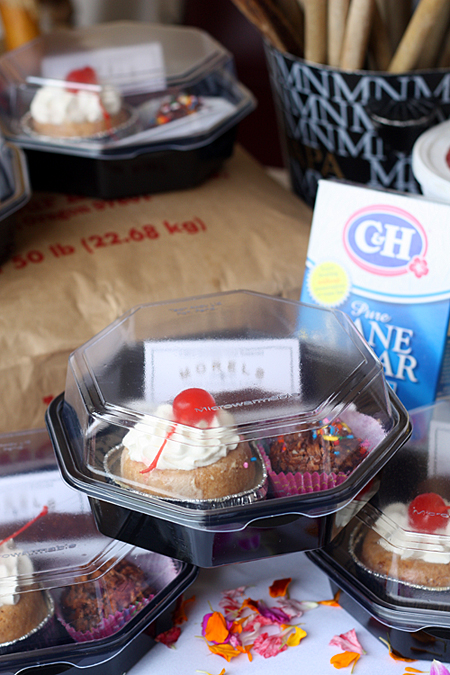 and they even went around sprinkling gorgeous edible flowers on all of our tables.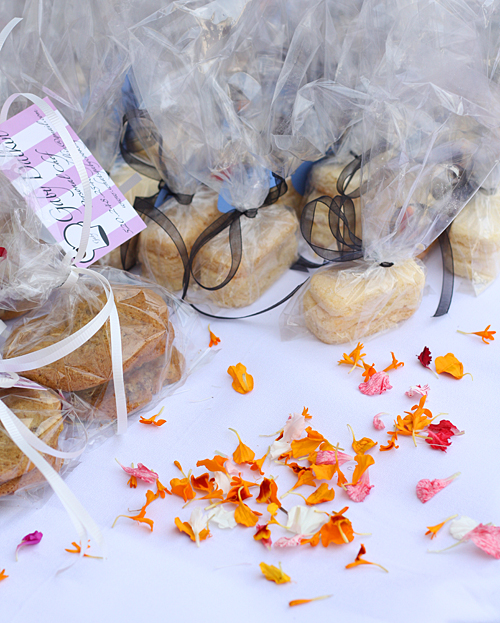 Not once did anyone grumble about us being in their way (which I'm sure we were).  They treated us with nothing but generosity and patience.  On top of it all, their food is absolutely fabulous.  At one point a few of us were about to pass out from hunger and so we ordered a quick lunch off of their menu.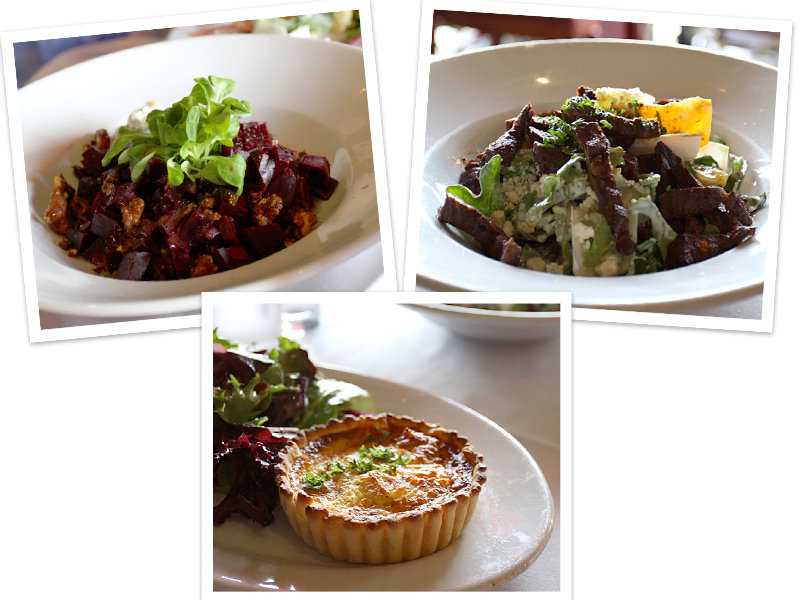 The bake sale was a great success.  Our tables were literally overflowing with an assortment of baked goodies (6 long tables worth) and we managed to sell an incredible amount of it.  One especially fun moment was when the Sherry Yard (pastry chef at Spago and author of Desserts by the Yard) walked in carrying a massive box of cookies and caramels that she made to contribute.  Not only did she contribute by bringing items to be sold, but she then went around grabbing an assortment of our items to sample.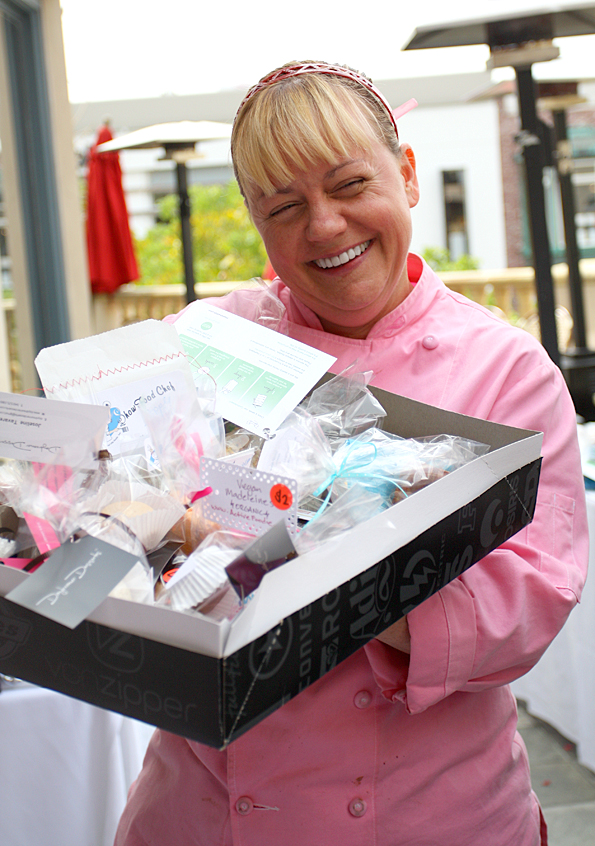 The day was an absolute blast.  It was fun to see some of my favorite people and meet some new ones.
(Jenny, of Picky Palate, showing off her awesome cookies)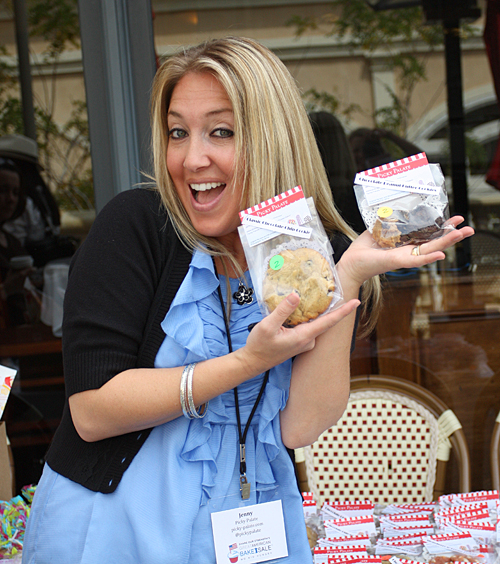 (Lucy Lean and her gorgeous kids Minty and Rémy, of Ladles and Jellyspoons, showing off the awesome cookie pops they made.)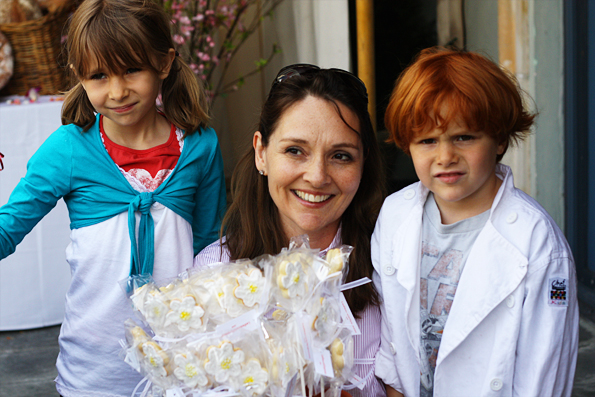 (Brooke, of Food Woolf, bringing in her Spiced Caramel Corn.)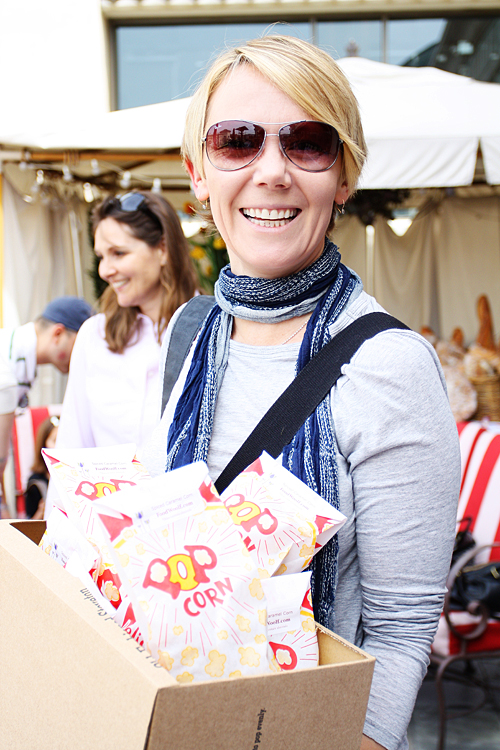 (Cathy, of Show Food Chef, bringing in her drool-worthy Nutella Hand Pies.)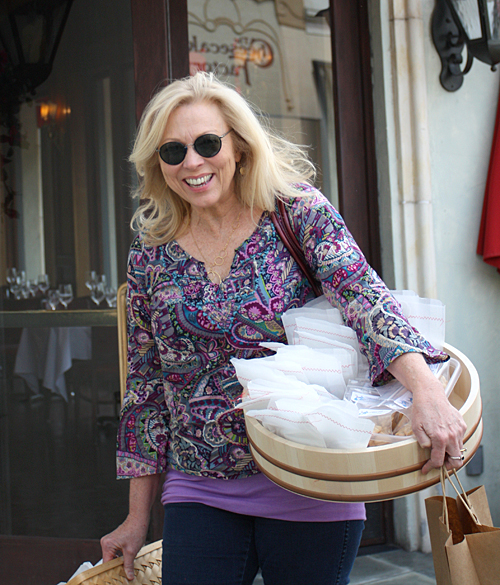 (Marla, of Family Fresh Cooking, showing off one of our awesome tables.)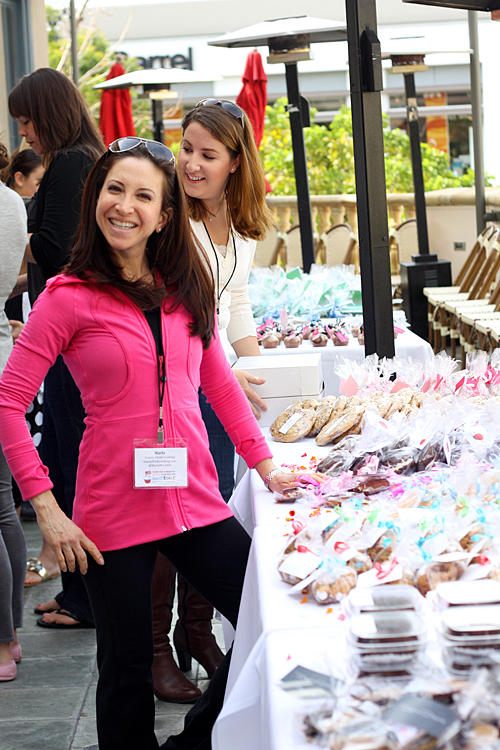 One of the results of food bloggers having a bake sale, is that we help contribute to the dollar amount raised because we are all so excited to try each other's treats!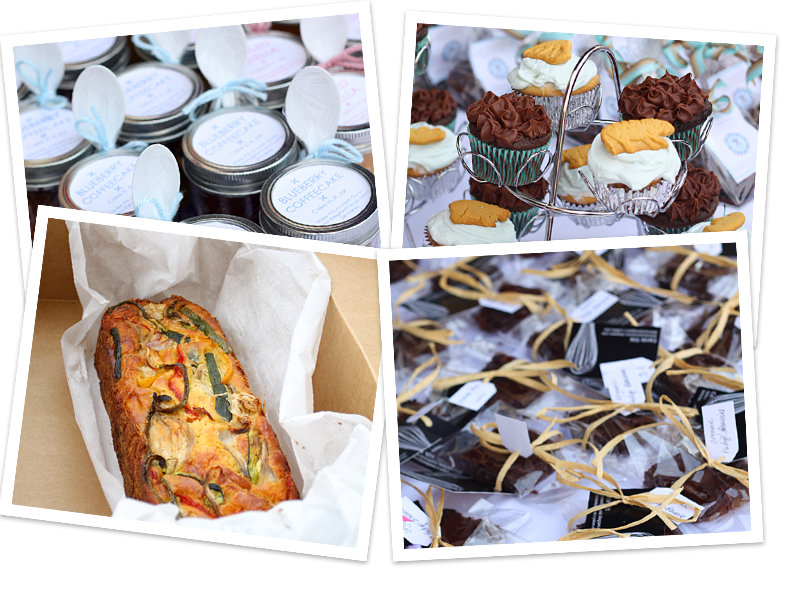 I must say that I was especially impressed with Josie's (Daydreamer Desserts) contributions.  Not only did she make a whole tray of gorgeous espresso black and tan cookies, but she made an insane number of perfect macarons in about 5 different flavors.  Josie lives in the same city I do, and I'm trying to convince her to open up her own Patisserie just so I can go in and buy her macarons.
The end result of all that hard work and fun was an impressive $2,456.50 ($16,500 was raised nationwide from all of the Food Blogger Bake Sales) that will all be going to Share Our Strength to help in the fight to end childhood hunger here in America.  But if you didn't make it out to the bake sale, it's NOT too late to contribute!  If the thought of a child going hungry hurts, please consider making a donation.  Finally, I have to say a huge thank you to Gaby, of Whats Gaby Cooking, for all of her hard work in pulling this nationwide food blogger effort together, and in organizing our bake sale—I had an absolute blast and am thankful to have had the opportunity to dig in and help!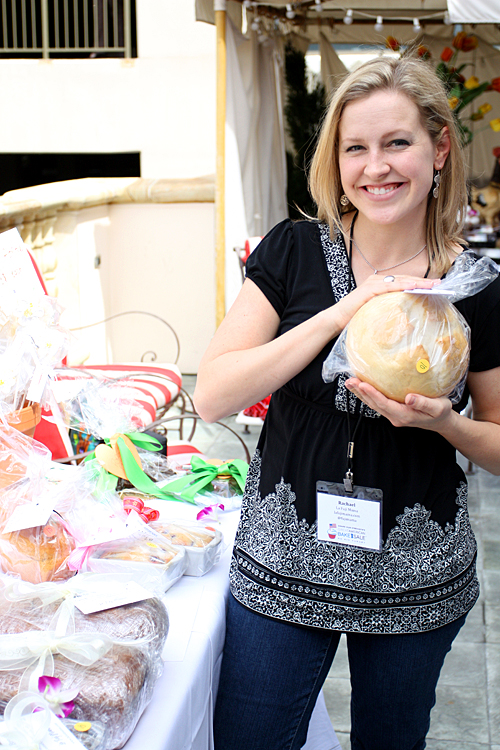 ===============================================================