The last time I made lasagna completely from scratch (including the noodles) was over a year ago for the March 2009 Daring Bakers Challenge.  I have hand rolled pasta my whole life.  That's not to say that I've been making LOTS of homemade pasta.  I have to admit that hand rolling my noodles has been a big deterrent in me making homemade pasta on a frequent basis.  I find hand rolling tedious.  In fact lately the only time I ever do it is to make Mr. Fuji's grandma's recipe for noodles to go in chicken noodle soup.  They are so good that I am extra motivated to spend the time and effort making them.  I now no longer have any excuses, because last week I made lasagna from scratch using a pasta maker for the first time and it was EASY and heavenly!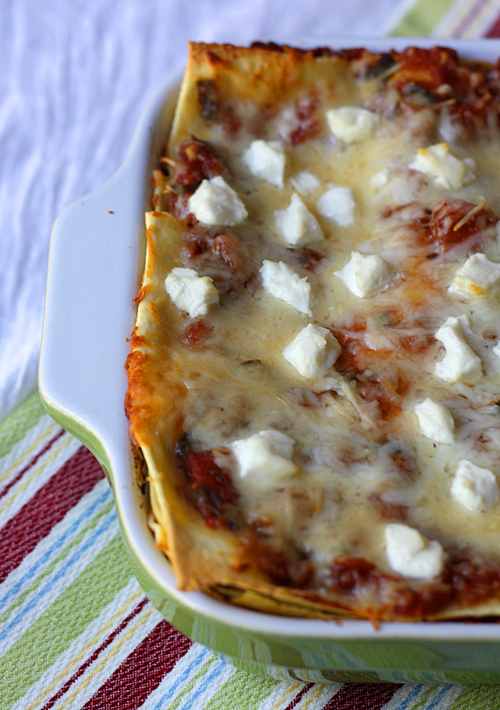 This past week Squirrel attended her first day of preschool and her first day of a dance class (ballet/tap/jazz).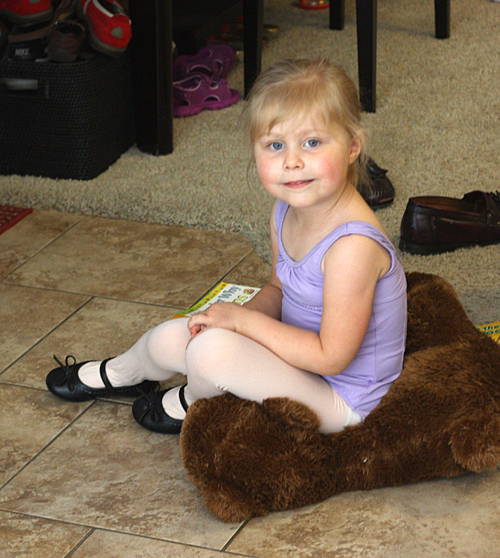 It was a big week for both her (and me!), and so I decided it called for a celebration.  Squirrel and I threw ourselves a pasta making party. We used a recipe for Spinach Goat Cheese Lasagna from Italian Food Forever.  I figured I couldn't go wrong with ingredients like spinach and goat cheese!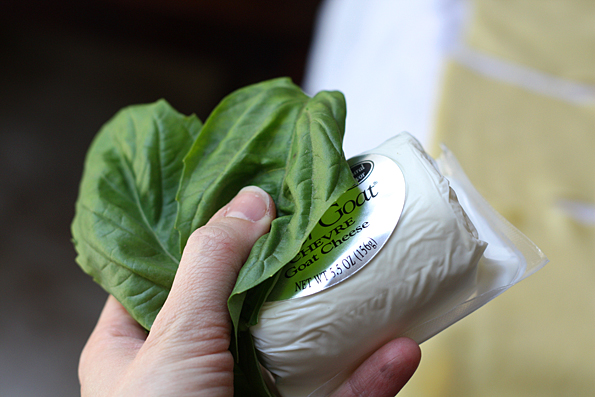 Making the dough was extremely easy—the instructions in the recipe were very approachable.  I substituted 1/2 cup of semolina flour for 1/2 cup of the all-purpose flour, because Deborah writes that this gives the pasta more texture and firmness.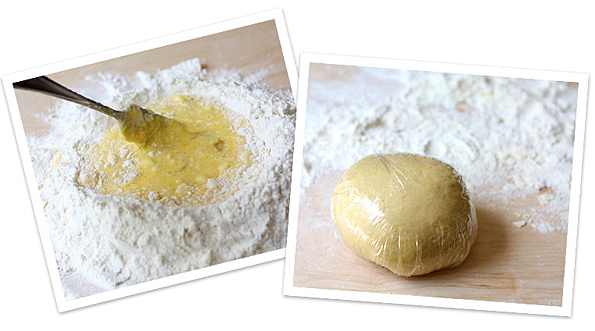 As opposed to what I have experienced in the past, rolling out the dough was the best part of making this lasagna.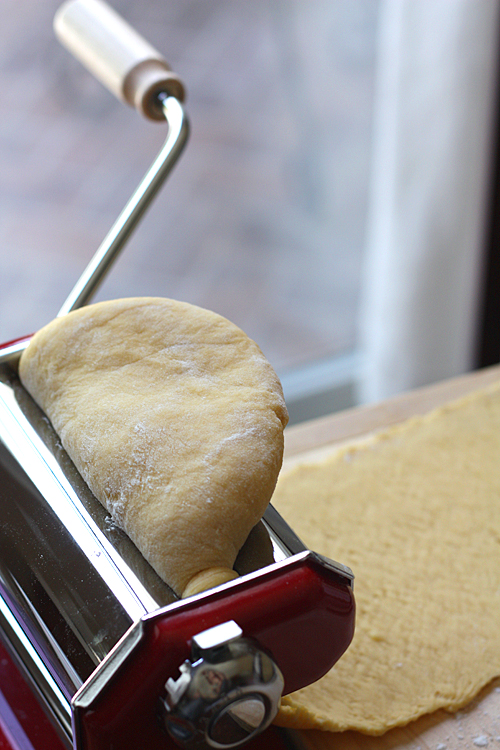 Squirrel even got to help with this part and was very proud of her beautiful noodles.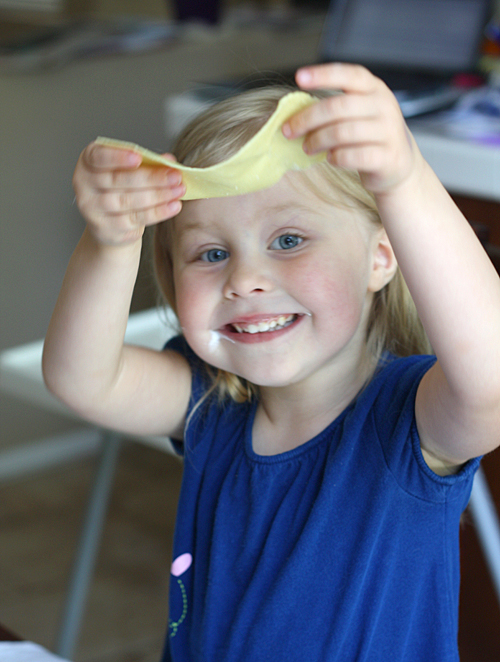 After we let the dough rest we ran it through the pasta machine, cut the strips, boiled them briefly, and then set them out to dry.  Then we made the tomato sauce and started building the lasagna!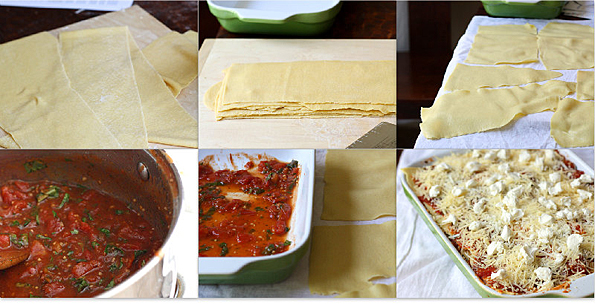 The lasagna came out beautifully and was delicious.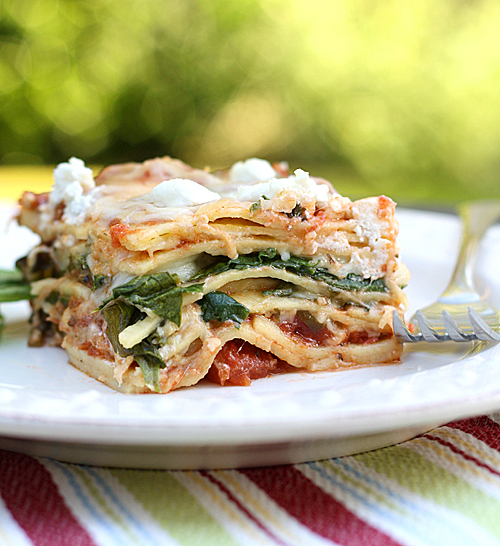 Definitely a great way to celebrate a big week!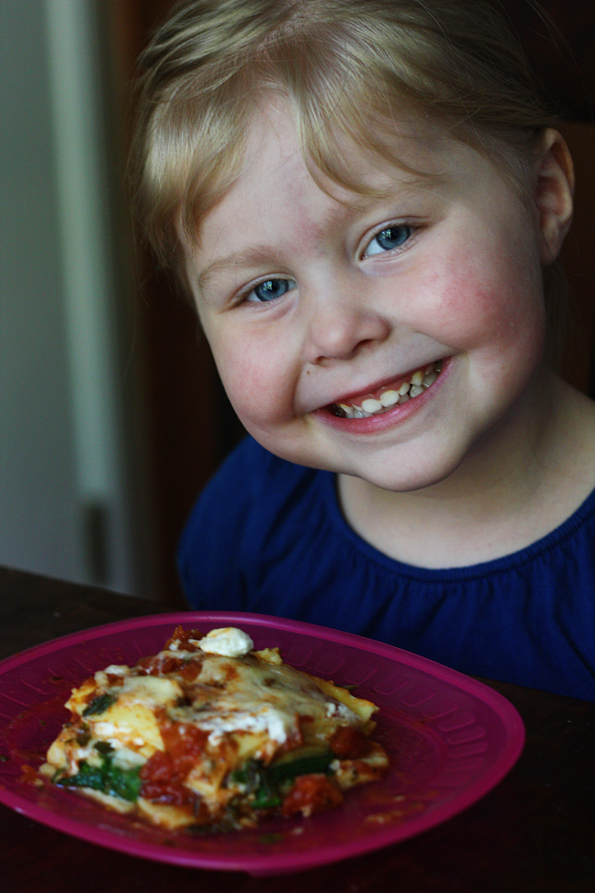 One of you can throw your own pasta party!  To celebrate the third "Webisode" of Into The Heart Of Italy, Bertolli is offering one La Fuji Mama Reader a Pasta Prize Package worth $125!  The winner will receive: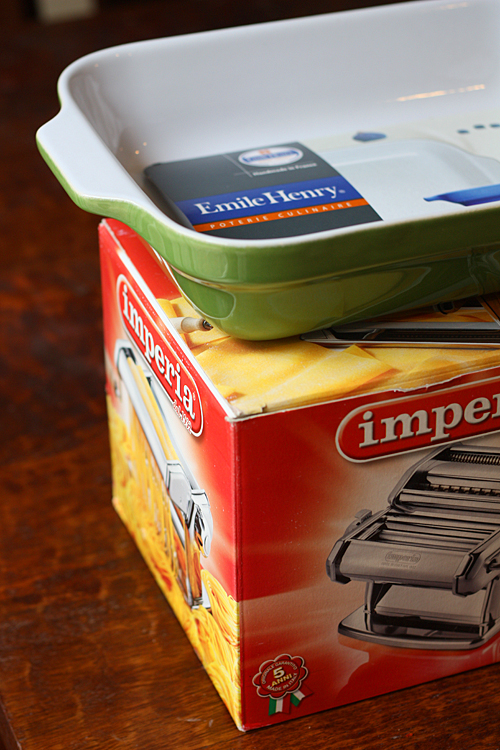 To Enter: Leave a comment here telling me what your favorite Italian dish is.  The contest will end on Thursday, April 22, 2010 at 10pm PST.  The winner will be announced on Friday, April 23, 2010.  US Residents only please.  The winner will be chosen using Random.org.
====================================================
If you need some lasagna inspiration, the third webisode Into The Heart Of Italy premiered last week: The Secrets of the Pollaio. In this webisode, Chef Rocco DiSpirito, Marisa Tomei and Dan Cortese track down Italy's "Egg Man" and learn to cook a traditional rustic dinner.  There is one particularly hilarious moment in this webisode.  See if you can guess which one I'm talking about!
Disclosure: The nice folks at Bertolli sent me the same prize package as the winner will receive.  Thanks Bertolli!