1st things first, I need to announce the winner of the Jamie's Food Revolution Cookbook and assorted goodies!  Our trusty Random Number Generator picked comment #151: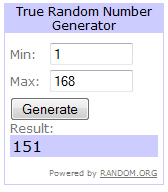 Comment #151 was Brian Lew!  Congrats Brian, I'll be in touch today to get your info so that we can get your prize to you!  Now let's keep the momentum going for this very important movement.

In other news, tomorrow I'm going to be in L.A. participating in the First Annual National Food Blogger Bake Sale!  The bake sale is part of the Great American Bake Sale—a national campaign that mobilizes Americans to end childhood hunger by holding bake sales in their communities.  We are raising money for Share Our Strength (SOS), a national organization fighting to end childhood hunger in the United States.  Nearly 17 million (almost one in four) children in America face hunger.  Despite the good efforts of governments, private-sector institutions and everyday Americans, millinos of our children still don't have daily access to the nutritious meals they need to live active, healthy lives.
Gaby Dalkin of Whats Gaby Cooking has worked tirelessly to make this event happen, and because of her hard work, the bakes sale promises to raise thousands of dollars to help this cause.  It also promises to be a fun event where people can come and buy treats from some of their favorite bloggers (here in Los Angeles we have almost 50 bloggers donating).  If you are in the area, I would love to see you!  I'll be there for the whole event, and will be bringing Deadly Chocolate Almond Toffee, as well as an assortment of breads made by me and some dear friends and family.  If you aren't in the area, or can't make it, but would still like to contribute, donations can be made through our Share Our Strength page!  In addition, there are bake sales occurring in twenty-five other locations around the nation.  So go take a look—there may be one in your area!
National Food Blogger Bake Sale
Saturday, April 17, 10:30 am to 1:30 pm at Morel's French Bistro at The Grove, 189 The Grove Drive, Los Angeles, CA 90036
100% of the proceeds from the bake sale will go to Share Our Strength.