Are you looking for that perfect gift for the food lover in your life?  I have compiled a list of my top 11 favorite things to help you in your hunt.  Each of these items is something that I personally own, use, and love.  So without further ado, here is the Top 11 Fuji Holiday Gift Ideas for 2011!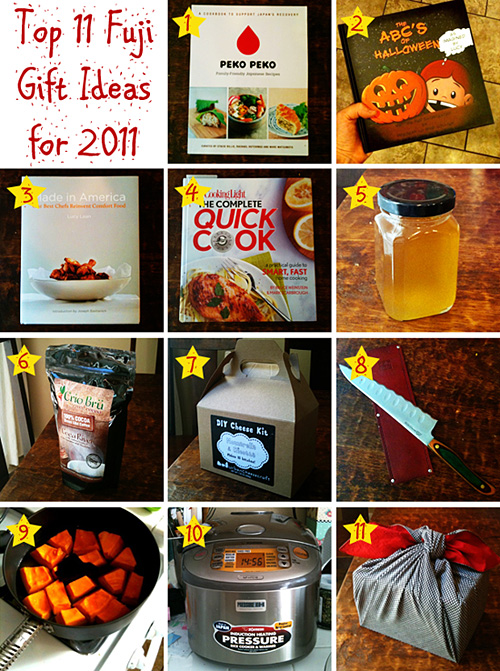 1. PEKO PEKO: Family Friendly Japanese Recipes—This first suggestion is a bit biased, since I helped write and compile this cookbook.  But if you need a gift for someone who loves Japanese food, then this book is a fantastic pick!  It's full of approachable recipes and helpful information.  Plus, 100% of the profits are donated to the GlobalGiving Japan Earthquake and Tsunami Relief Fund.  The book is available for purchase on Blurb.com.
2. The ABCs of Halloween—Please indulge me, as this is another biased suggestion, but a good one!  This is my only non-food related gift idea, but it will keep your kiddos busy while you're cooking, so that counts, right?  This children's book was written by my dear friend Deborah Collins and illustrated by her husband Mike Collins.  The main character, Lucy, will have you grinning from ear to ear as she imagines her way through the ABCs, using each letter as inspiration for what she might dress up as for Halloween.  The books are available for purchase from Tiki Machine, the publishing company for $15.00 USD, a steal of a deal!
3. Made in America: Our Best Chefs Reinvent Comfort Food—This cookbook, by Lucy Lean, is one of my favorites of 2011.  It's a beautiful book filled with contemporary twists on classic recipes from some of the most accomplished chefs working in the US today.
4. Cooking Light The Complete Quick Cook—Everyone should have a copy of this cookbook, written by Bruce Weinstein and Mark Scarbrough.  Not only is it full of recipes, but it's an invaluable guide to becoming a more efficient cook, no matter how advanced your skill level might be.
5. Honey from Tulipwood Farm—This honey, harvested by a small family farm, makes store bought honey taste like flavorless sugar water.  Pair a jar with a loaf of homemade bread for a gift that will warm the heart and the tummy.
6. Crio Brü—Hi, my name is Rachael and I'm a chocoholic.  If you're a chocolate lover like me, then you'll love these roasted cocoa beans that you brew like coffee to make a rich and healthy drink that is full of good things like antioxidants, but low in bad stuff, like calories.
7. DIY Cheese Kit from Urban Cheesecraft—Is there a cheese lover in your life? If so, then they would love a kit from Urban Cheesecraft that will have them making homemade cheese in their own kitchen in a matter of minutes!  My first ball of mozzarella didn't last very long, there are lots of cheese lovers in the Fuji household!
8. New West KnifeWorks Super Bread Knife—I won this knife a couple of years ago in a contest, and it is my favorite knife out of any knife I own.  It cuts through the crustiest of breads like butter, and makes slicing cakes into thin layers a breeze!  Not only is it functional, but it's beautiful too.
9. ManPans Sauce Pans—My ManPans sauce pans get a ton of use.  I especially love my 6 quart sauce pan because the base is larger in diameter than other 6 quart sauce pans.  This provides a larger surface area so that if you're making a soup, you can saute your vegetables and make the soup in the same pan, giving you less to clean up.  Yes please!
10. Zojirushi Rice Cooker—If you love rice and don't have a rice cooker, then you are missing out!  Zojirushi is a brand that I fell in love with while living in Japan the first time.  Their cookers last for years and make perfectly steamed rice every time.  Plus, you can make extra and the cooker will keep it warm, as if it was freshly cooked, so that you can have rice later!
11. Lulu Wraps—So you've picked the perfect gift for that special someone, but what to wrap it in? Skip the wrapping paper and wrap the gift in a beautiful, eco-friendly fabric wrap that can be reused again and again.