*Disclosure: This post contains Amazon affiliate links that earn me a small commission, at no additional cost to you.  I only recommend products I personally use and love, or think my readers will find useful.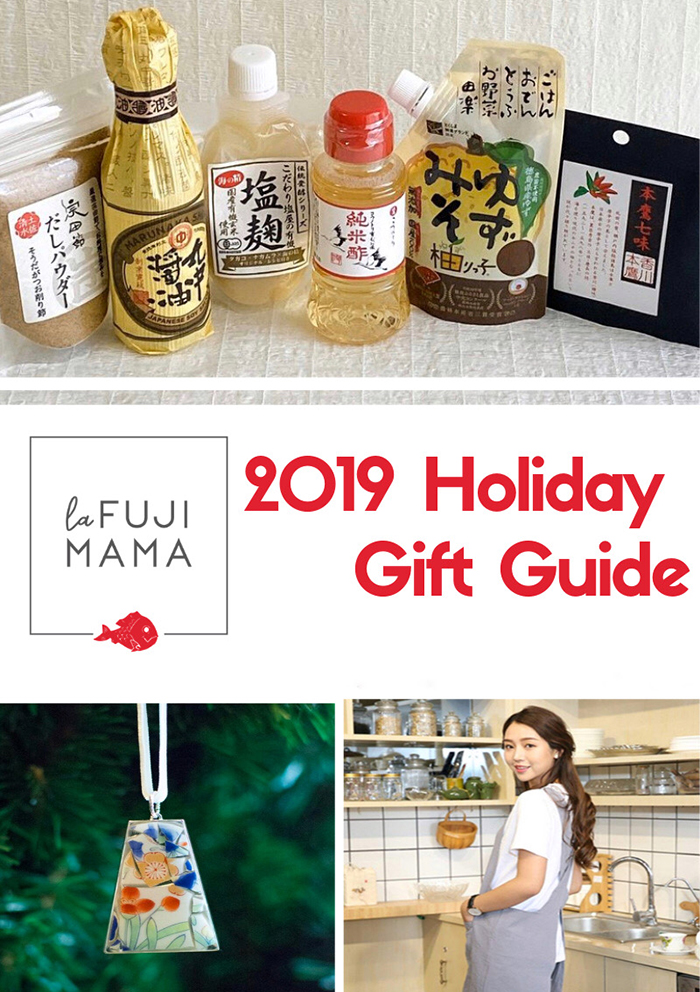 Are you still looking for a gift for any food lovers/cooks in your life?  There are some things that I have really loved this year that would make great gifts (or stocking stuffers), so I thought I would share!
I love the Japanese-style aprons that cross in the back, removing the need for a tie at the waist.  They are super comfortable and I love the look.  They are often  made out of linen, making them a bit more on the pricey side for an apron, but this particular one is made from a cotton/linen blend.  I ordered one earlier this year and it has been through a lot of use already and still looks great.

—————————————-
Give a gift of a beautiful, unique piece of Jewelry made from shards of Japanese pottery and also help with a great cause.  The Nozomi Project employs women living in Ishinomaki, Japan, the town hit hardest by the 2011 Tohoku Earthquake and Tsunami.  These women make jewelry, Christmas ornaments, magnets, keychains, etc. with shards of pottery leftover after the disaster.  Nozomi means hope in Japanese, so the gift of one of these beautiful pieces carries with it a beautiful meaning as well.
—————————————-
I have had this particular tofu press for about 4 years.  I went back and forth on getting it for a long time because it's pricey for what it is.  I am so glad that I finally bought it!  If you cook with tofu, this is a great tool to have.  It's super easy to use, easy to clean, and cuts down pressing time by at least 50%.
—————————————-
I have had a longtime love affair with Zojirushi rice cookers.  This Japanese brand produces high quality products using state of the art technology and their rice cookers are the best example of that.  They tend to be a bit pricier than other brands of rice cookers on the outset, but ultimately they will save you money as you will not have to replace the one you get for years to come.  Not only do they last, but they make perfectly cooked rice, grains, etc.  You can't go wrong with the one you choose and they have lots of options.  When choosing which cooker is the one for you, or the gift recipient, take into account which features are important for you, like cooking capacity.
—————————————-
The Zojirushi toaster oven is a new favorite in the Fuji kitchen.  We love it because it can be both a toaster and a small oven, it's lightweight if you want to store it someplace other than the kitchen counter, and easy enough for kids to use.
—————————————-
These shears have been one of my favorite kitchen tools for many years.  They are super durable and can cut through basically anything, all while being comfortable to use.  Cutco provides a Holiday Shipping Schedule on the top right of its blue toolbar so that you can know when your gift will be delivered.
—————————————-
Kokoro Care Packages delivers specially curated boxes of premium-quality, all-natural Japanese foods straight from Japan to your door. They have one-time care package options, as well as subscription options.  I am a huge fan of these boxes as they deliver specialty, artisan products that you can't normally find outside of Japan, as well as the stories behind the products and ideas for how to use them.
—————————————-
If you are looking for a gift for someone who loves to cook and loves Japanese food, this is a great option.  This is the newest product from Kokoro Cares–a box of the essential building blocks of Japanese cuisine to help get you cooking beautiful Japanese dishes in your own kitchen.  Express shipping is available for this care package until December 11th!
—————————————-
A diet book might seem like a strange choice for a gift guide, but if someone in your life is interested in health and nutrition, this would be a great gift.  Dr. Michael Greger is a powerhouse of information and this book promises to be a wealth of information and inspiration on the science of nutrition, diet, and weight-loss.
—————————————-
Looking for a bento box option?  I love MonBento's various bento boxes.  They have different shapes and sizes and colors, they are very durable, and leakproof.  We love the ones we own!
—————————————-
If you are looking for a stainless steel bento box option, the ECOlunchbox is a great way to go!  This isn't a leak-proof box, as it doesn't use rubber gaskets, but it does provide a very sustainable option for any eco-minded gift recipients.
—————————————-
If you have a game lover in your life, this is a great one!  It is a fast-playing card game where the goal is to grab the best combination of sushi dishes as they go by. Score points for doing things like making the most maki rolls or for collecting a full set of sashimi.  Gather the most points and consider yourself the sushi master!
—————————————-
This may seem like another strange choice for a gift guide, but if you know someone who loves cooking or has younger children that love to help in the kitchen, this is a really fun tool to add to their kitchen tool kit.  It would also make a fun stocking stuffer!  I picked one of these up earlier this year out of shear curiosity, not knowing how much I would love it!  It makes breaking down cauliflower, and other stemmed vegetables, into florets quick and easy, without the risk of cutting oneself with a sharp blade.
—————————————-
We love putting fun/unique snacks in stockings.  There was one year that my mom put a different bag of chips in everyone's stockings.  These chips have become a favorite at our house, and more than one person in my family will be getting them in their stocking.  They have great bacon flavor without any of the cholesterol, as they are made from mushrooms (though you would never guess it).  They've got a variety of flavors to choose from: Original, Cheddar, Kansas City BBQ, and Chipotle.  We love them all, though the Original and Kansas City BBQ flavors are probably our favorites.
—————————————-
Another delicious stocking stuffer idea.  These Dang Sticky-Rice Chips are like mini rice cakes, but way better.  They are highly addictive!  There are 5 flavors to choose from: Original Recipe, Sriracha Spice, Coconut Crunch, Savory Seaweed, and Aged Cheddar.  Our favorites are Original Recipe and Coconut Crunch.