*This post is brought to you in collaboration with Nasoya.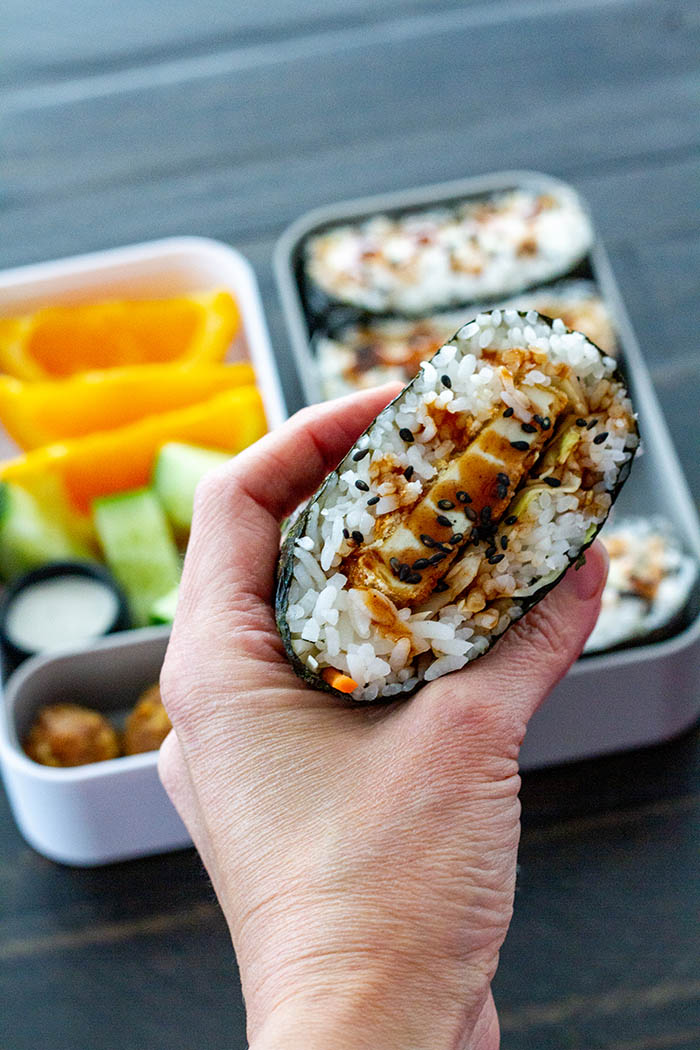 We are huge fans of Nasoya's products—not only because they're easy to find (even Walmart has their products!), but they are super high quality, using simple and clean ingredients like water, soy, and salt.  They have been a leading provider of natural and organic foods for over 30 years and are passionate about authentic, wholesome products and using the highest quality ingredients.  When they reached out to see if I wanted to collaborate on a tofu recipe, it was any easy YES!  We are huge tofu fans at our house.  Monkey may actually be the biggest fan.  When I'm cutting up tofu to put in something she always seems to know and will be hovering next to me hoping for scraps.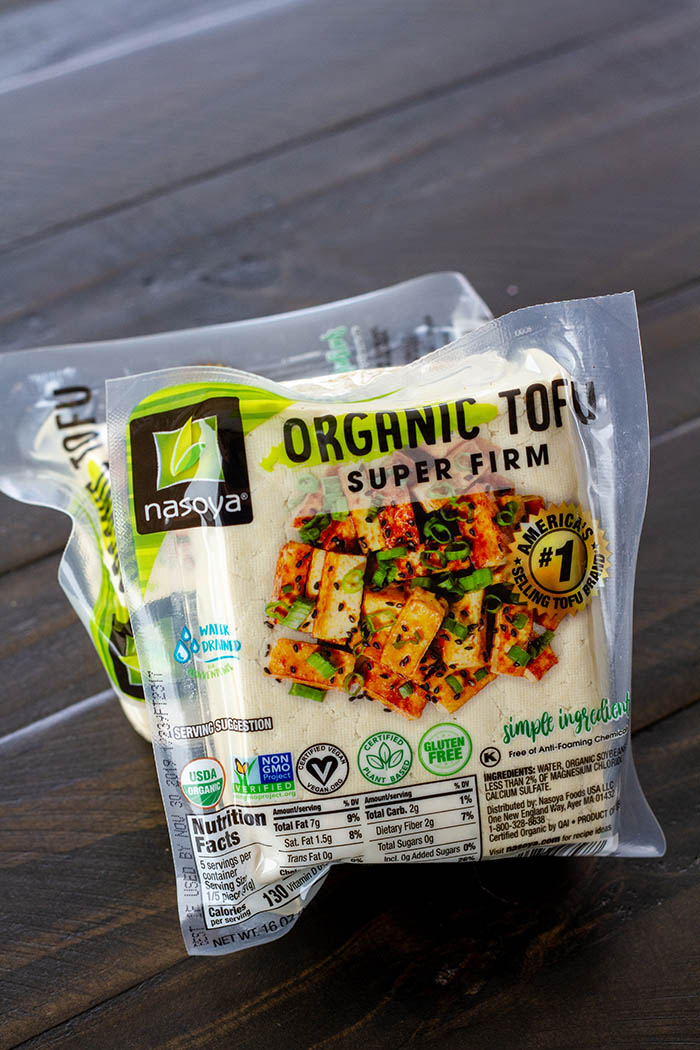 I've been working on new ways to add tofu to dishes for the Fujilings, because I know that Monkey will eat them if tofu's involved.  I recently was thinking about katsu sando (カツサンド), a popular Japanese sandwich made with tonkatsu, juicy, breaded pork cutlets.  I decided to whip up a twist on katsu sando.  Instead of a regular sandwich, I decided to make an onigirazu, a rice sandwich.  Instead of tonkatsu, I made tofu katsu.  To do this I chose Nasoya's Organic Super Firm Tofu.  This is different than a lot of the tofu you see that is packed in a tub with water and needs to be pressed.  It is vacuum packed and doesn't need to be pressed. It has fantastic firm texture and 9.3 grams of protein for 1/8th of the block (which is what goes into each onigirazu in this recipe).  In fact, if you tried, it would be pretty pointless because you wouldn't see much in the way of results.  It's super firm—thus the name!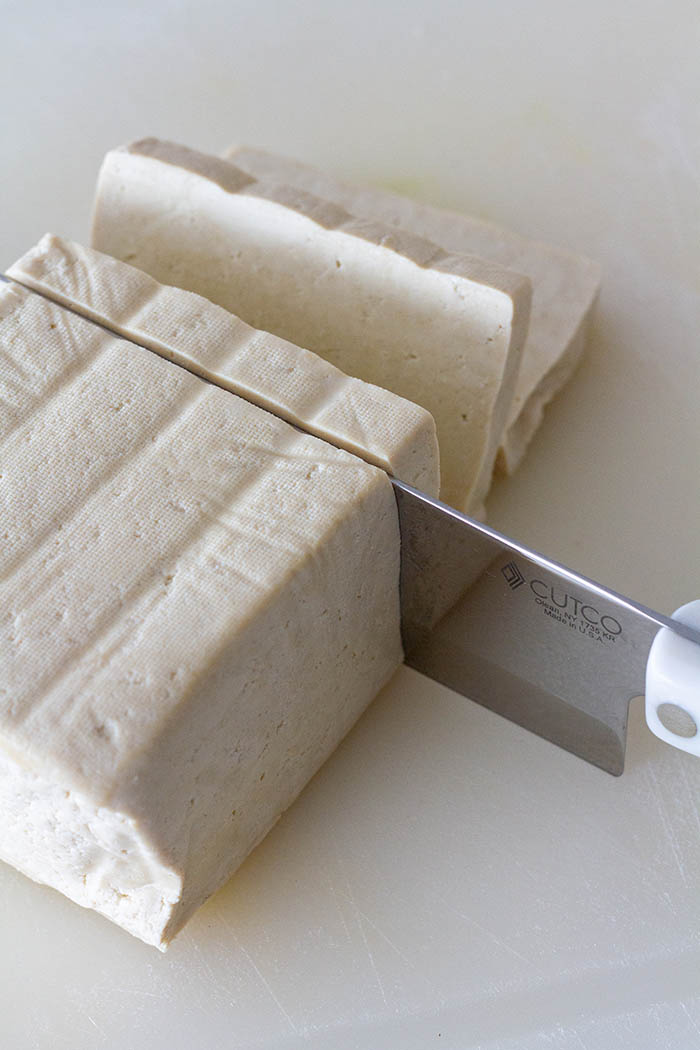 I cut the block of tofu into 8 slices which I then dredged in cassava flour (you could also use all-purpose flour), then soy milk, and then in panko (regular or gluten-free both work).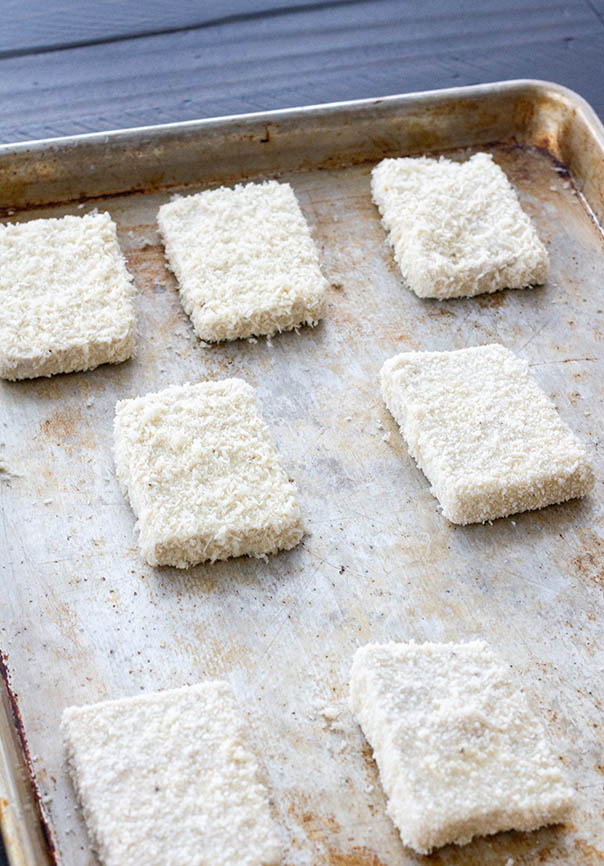 I chose to air-fry my tofu cutlets, but have included instructions for pan-frying them as well!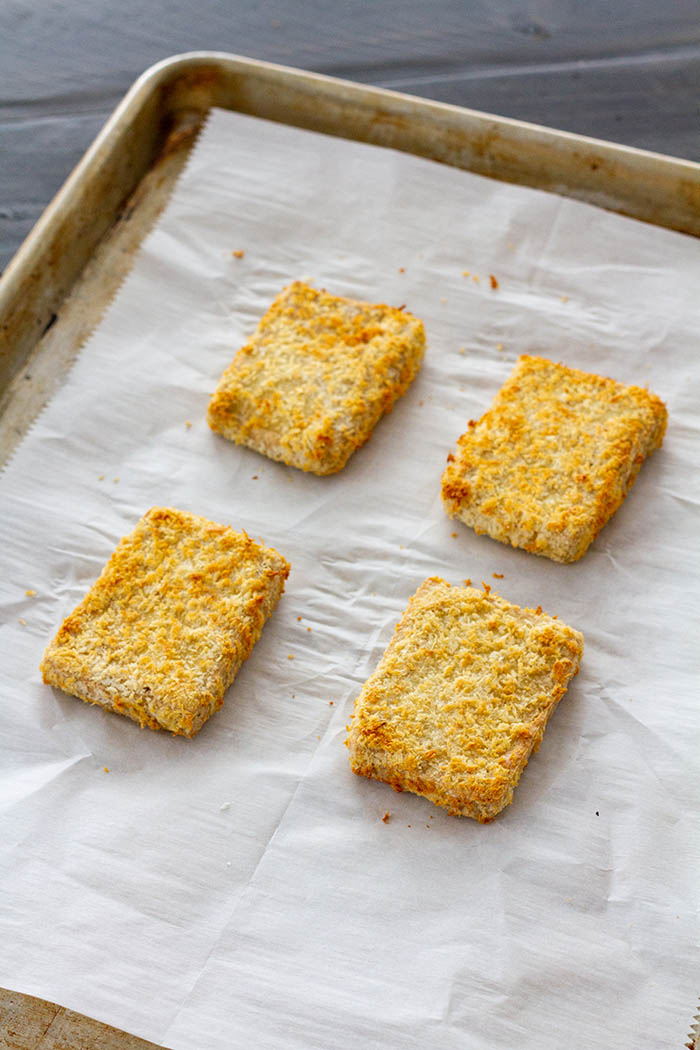 Then I put them into onigirazu, along with some shredded coleslaw mix, because I happened to have a bag in the refrigerator (but you can shred some cabbage instead!) and katsu sauce.  If you don't have any, you can make your own.  It's easy!  There are lots of recipes out there.  I also have a super delicious Pomegranate Molasses Katsu Sauce recipe that you can use.  Perfect for the season!  If you want some visual help with putting together your onigirazu, in addition to the instructions included in the recipe, I've got step-by-step pictures here.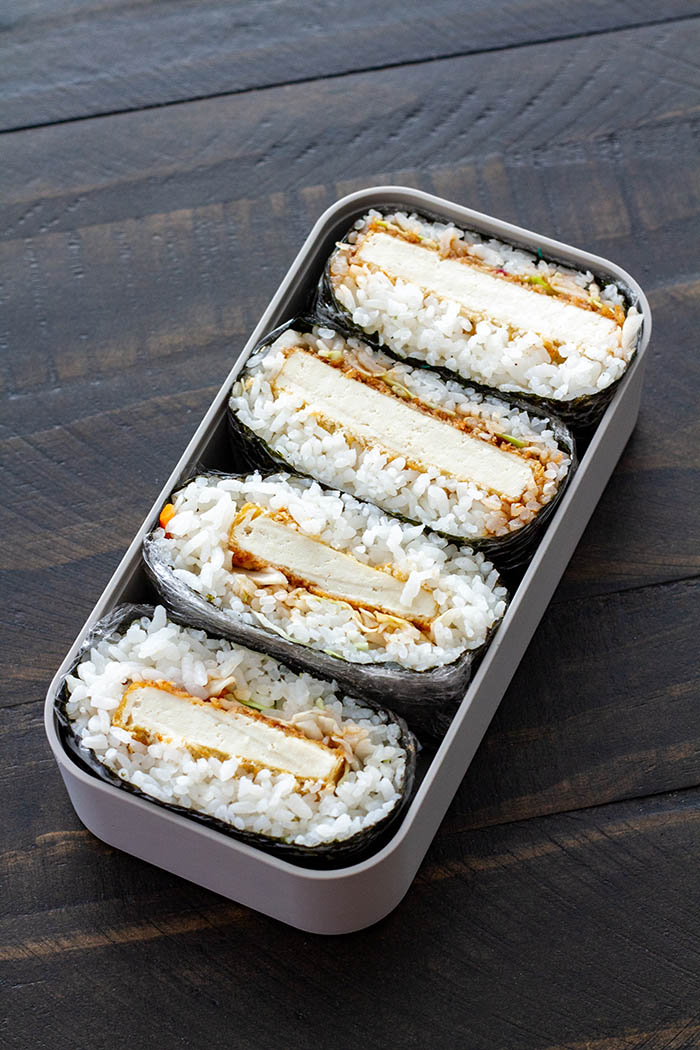 These are perfect for packing in bentos, as part of a picnic, or an afternoon snack.  If you are serving them right away, I recommend drizzling them with a bit of extra katsu sauce and giving them a sprinkle of toasted black sesame seeds.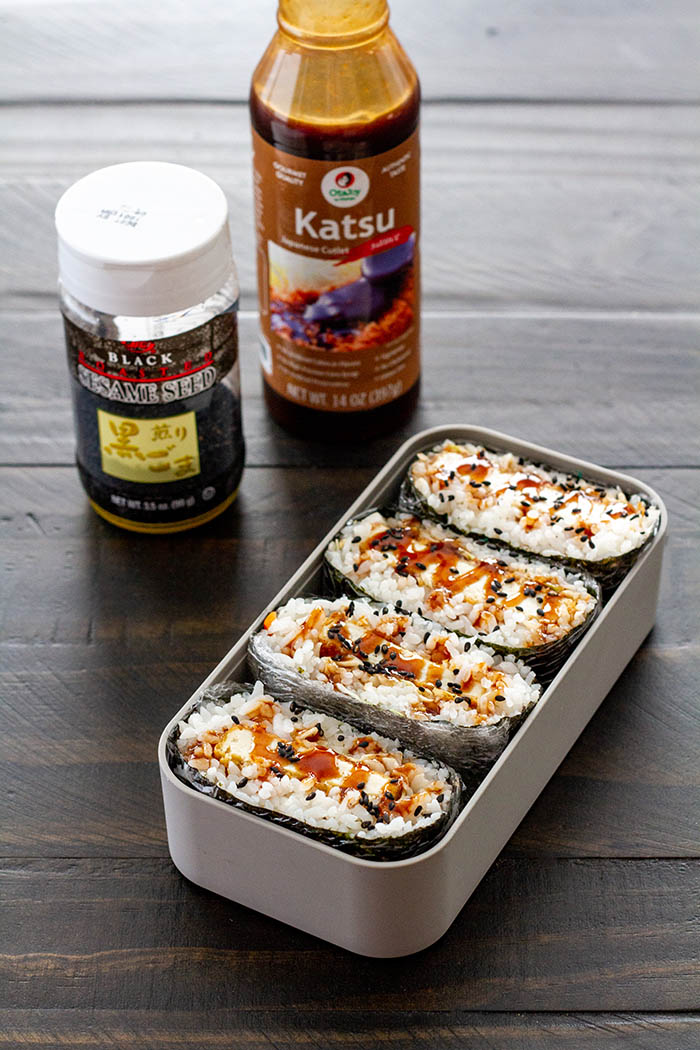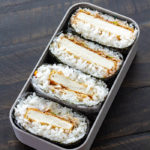 Tofu Katsu Onigirazu (Tofu Cutlet Rice Sandwich)
Japanese rice "sandwiches" stuffed with tofu katsu (breaded and fried pieces of tofu) with a sweet and tangy, savory sauce.
Ingredients
For the Tofu Katsu:
2

tablespoons

cassava flour (all-purpose flour would also work)

1/4

cup

unsweetened soy milk

1/2

cup

panko (regular or gluten-free)

1

teaspoon

fine grain sea salt (I use Redmond Real Salt)

1/2

teaspoon

onion powder

1/4

teaspoon

freshly ground black pepper

1

package

(16 ounces) Nasoya Organic Super Firm Tofu
For the Onigirazu:
5 1/3

cups

steamed Japanese rice (often labeled Calrose rice or sushi rice), tossed with several pinches of fine grain sea salt

8

sheets

nori (seaweed)

2

cups

shredded cabbage (you can use pre-shredded coleslaw mix is well!)

1/2

cup

katsu sauce, plus more for drizzling or dipping, if desired

3

tablespoons

toasted black sesame seeds, optional
Instructions
Make the Tofu Katsu:
Place the cassava flour, soy milk, and panko in 3 separate bowls. Season the flour with the salt, onion powder, and black pepper.

Cut the tofu into 8 (1/2-inch thick) slices, so you have small rectangles. Pat them dry with a paper towel.

Place a piece of tofu in the flour, making sure each side is well coated, then do the same in the milk and then the panko. Gently shake off the excess breadcrumbs and set aside. Repeat with the remaining pieces of tofu.

To make in an air fryer: Preheat your air fryer to 390 degrees Fahrenheit. Line the basket with parchment paper. Cook the tofu in 2 batches, 4 -- 5 minutes on each large side, or until golden brown.

To make on the stove: Heat 2-3 tablespoons of oil (I prefer avocado oil) in a frying pan over medium-high heat. Once hot, place the breaded tofu in, one or two pieces at a time, depending on the size of your pan. Fry on each side for a few minutes until golden brown, using tongs or cooking chopsticks to carefully flip the tofu pieces over. Place the tofu pieces on layers of paper towel to soak up any excess oil.
Make the Onigirazu:
Lay out a square of plastic wrap that is larger than the sheets of nori on a clean work surface. Put one sheet of the nori, rough side facing up, with one of the corners pointing towards you, on top of the plastic wrap.

Put 1/3 cup of the steamed rice in the middle of the plastic wrap and spread it out into a square that measures approximately 4 inches by 4 inches and lightly pat it down. (Shape the square so that the corners are pointing towards the sides of the nori, not the corners of the nori.)


Place one piece of the tofu katsu on top of the rice. Spread 1 tablespoon of katsu sauce over the tofu, then top it with 1/4 cup of shredded cabbage, then add another 1/3 cup of the steamed rice to the top of the stack, pressing gently so that it stays in place.

Starting with the left corner of the nori, bring it up and over the rice stack and hold it with your finger. Take the right corner of the nori and fold it so that it overlaps slightly with the first corner. Continue folding with the bottom and top corners until the rice stack is completely wrapped in the nori. Set it aside for 5 minutes.


Repeat with the remaining ingredients. At this point the onigirazu are ready to eat or be packed into a bento. If you want them to be more visually appealing, carefully unwrap them and cut them in half with a sharp knife, then wrap each half separately in plastic wrap. Include a small container of extra katsu sauce for dipping.


If you are going to serve the immediately, cut them in half and place them cut side up on a plate or serving platter. Drizzle each cut side with a bit of extra katsu sauce and sprinkle them with toasted black sesame seeds.
*Disclosure: I received product from Nasoya, at no cost to myself, to sample. I am being compensated for my work in developing this recipe, the photography, and writing of this post. All thoughts and experiences are my own.