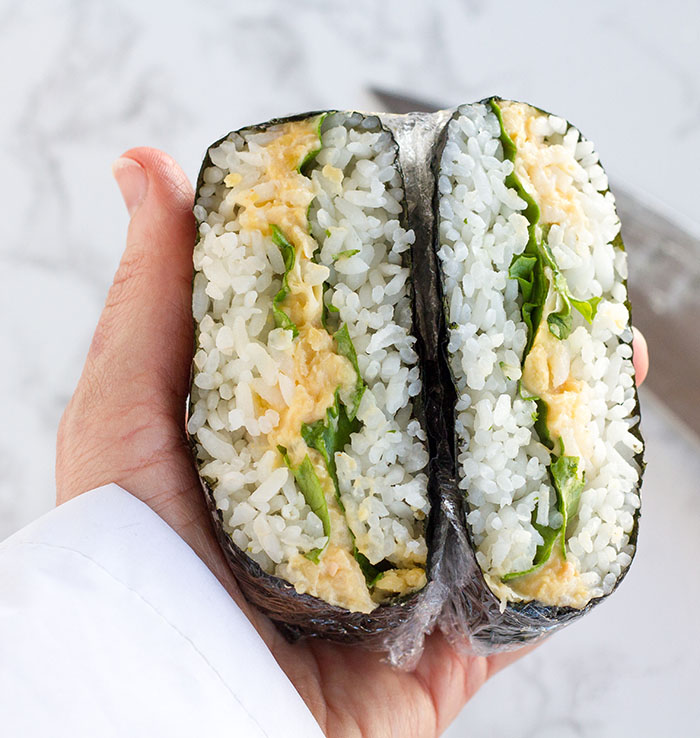 A few months ago on Periscope someone asked me for meatless protein ideas to pack in school bentos. I threw out a couple of ideas for her, but have been thinking about it every since. A few weeks ago as I was falling asleep (or at least trying to fall asleep), the idea came to me to try making a tuna-less salad using chickpeas to use as a filling in onigirazu (Japanese rice "sandwiches"). The result?  DELICIOUS!
So what would you call a tuna-less take on tuna salad? Chickpea of the Sea Salad? Chickpea Sea Wannabe Salad?  No matter, what really matters is how delicious and easy this is!  I recently received some samples from Hampton Creek of Just Mayo, their egg-less, vegan friendly mayonnaise (non-GMO, glutenfree, soy free, dairy-free, lactose-free) and thought this salad would be the perfect way to give it a test drive.  Just Mayo is available in four flavors: original, sriracha, chipotle and garlic.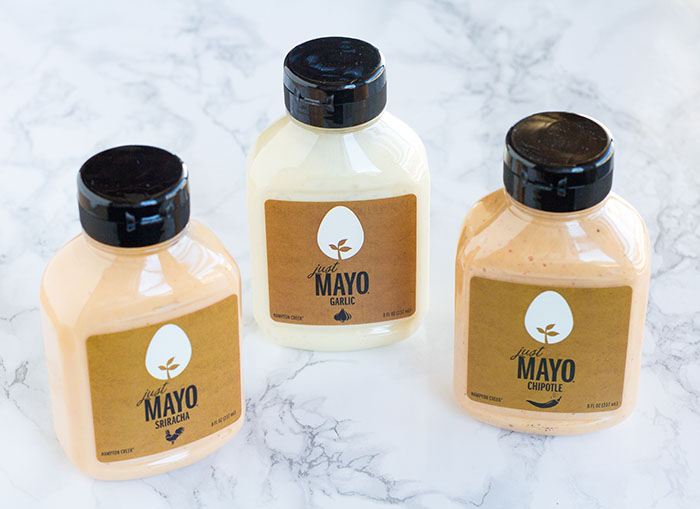 Because I'm a chili-head, I went with sriracha for my first batch of chickpea salad.  Making the salad is super easy.  All you have to do is to mash some chickpeas up in a bowl until it's kind of the consistency of canned tuna after you've taken a fork to it, then stir in the rest of the ingredients and season to taste!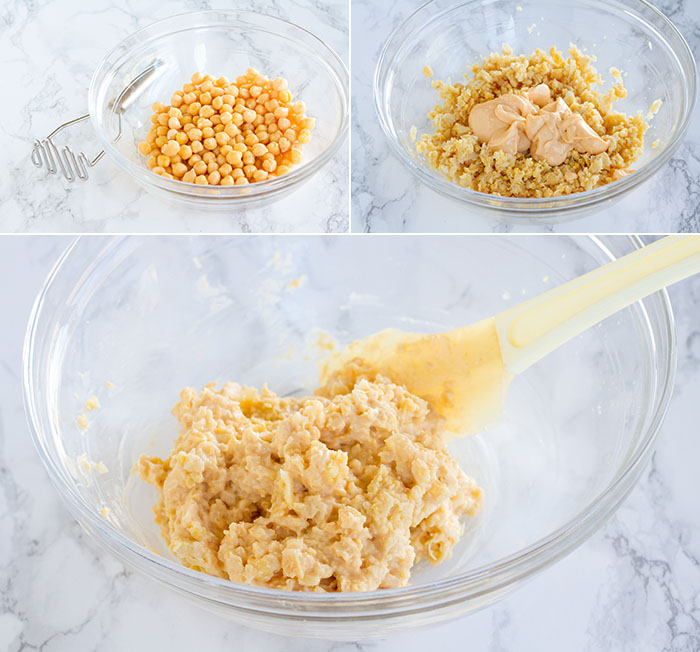 Once the chickpea salad is ready to go, you are ready to gather the rest of your ingredients and assembly your onigirazu!  We've talked about onigirazu before, but here's a visual refresher on how they are assembled: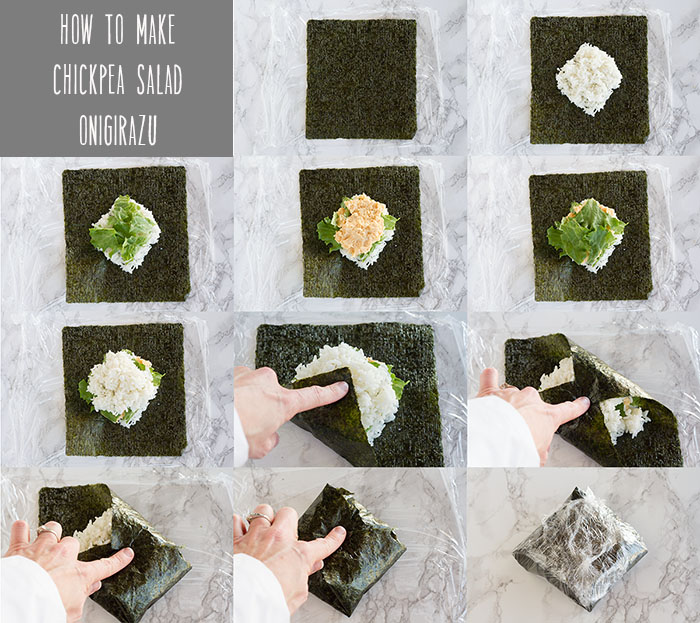 These onigirazu are absolutely delicious.  You could add other sandwich toppings too—slices of tomato, sprouts, whatever you want!  Just make sure not to add anything too wet, as this will affect the structural integrity of the onigirazu.  (Who knew architectural concepts would be part of cooking?)  These onigirazu make for a delicious bento item that also happens to be meatless, whether you are packing a lunch on meatless Monday, are trying to add more plant-based options into your diet, or any other reason you might have!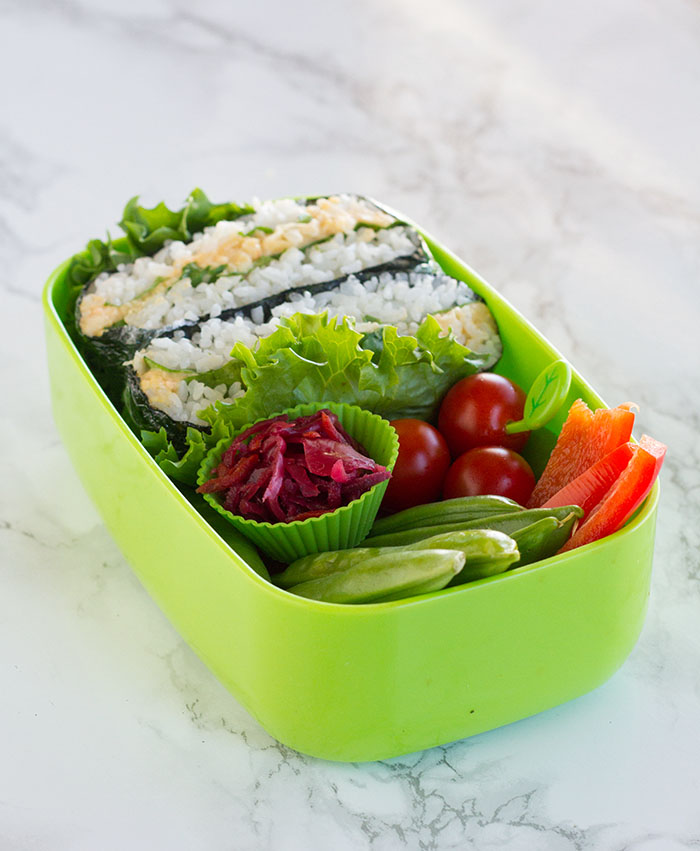 Print This Recipe
Chickpea (Tuna-less) Salad Onigirazu
………………………
Makes 2 onigirazu, plus leftover chickpea salad for future onigirazu
Ingredients:
1 (15-ounce) can chickpeas, rinsed and drained
2-4 tablespoons mayonnaise (use a vegan mayonnaise like Just Mayo if you are trying to keep your onigirazu plant-based)
1 teaspoon unseasoned rice vinegar or fresh lemon juice
1/4 teaspoon fine grain sea salt, plus additional salt for seasoning rice
2 sheets nori (Japanese seaweed used for rolling sushi)
1 1/3 cups steamed Japanese short grain rice (often labeled Calrose rice or sushi rice)
2-3 green lettuce leaves, torn into large pieces
Directions:
1. Use a potato masher to mash the chickpeas in a large bowl. Mash the chickpeas until they are broken down into various sized pieces, but not mashed into a puree. Add 2 tablespoons of the mayonnaise, the rice vinegar (or lemon juice), and the 1/4 teaspoon fine grain sea salt, then mix everything together. If you want your chickpea salad to be a bit wetter, add additional mayonnaise until it reaches your preferred consistency. Taste for seasoning and add additional salt as needed.
2. Lay out a square of plastic wrap that is larger than the sheets of nori on a clean work surface. Put one sheet of the nori, rough side facing up, with one of the corners pointing towards you, on top of the plastic wrap.
3. Put 1/3 cup of the steamed rice in the middle of the plastic wrap and spread it out into a square that measures approximately 4 inches by 4 inches and lightly pat it down. (Shape the square so that the corners are pointing towards the sides of the nori, not the corners of the nori.) Sprinkle the rice with a pinch of salt.
4. Arrange several pieces of the torn green lettuce on top of the rice, followed by a couple tablespoons of the chickpea salad, then another layer of torn green lettuce, pressing down lightly as you add each layer. Add another 1/3 cup of the steamed rice to the top of the stack, and sprinkle the rice with another pinch of salt.
5. Starting with the left corner of the nori, bring it up and over the rice stack and hold it with your finger. Take the right corner of the nori and fold it so that it overlaps slightly with the first corner. Continue folding with the bottom and top corners until the rice stack is completely wrapped in the nori. Set it aside for 5 minutes.
6. Repeat steps 2 through 5 with the remaining ingredients. At this point the onigirazu are ready to eat or be packed into a bento. If you want them to be more visually appealing, carefully unwrap them and cut them in half with a sharp knife, then wrap each half separately in plastic wrap. Put the extra chickpea salad in an airtight container in the refrigerator and save for future onigirazu, or switch things up and use it in sandwiches!
*Recipe Notes: Letting the onigirazu sit for several minutes before cutting into them will make this step easier because the nori will hold together better. You can also pack the cut halves without wrapping them in plastic wrap, but I find that plastic wrap protects the halves from things like kids dropping their lunchbox, etc.
——————————————————-
*Disclosure: I received samples of Just Mayo from Hampton Creek at no cost. I was not required to write about Just Mayo, nor was I compensated for writing this post. All opinions and experiences are my own, as usual!