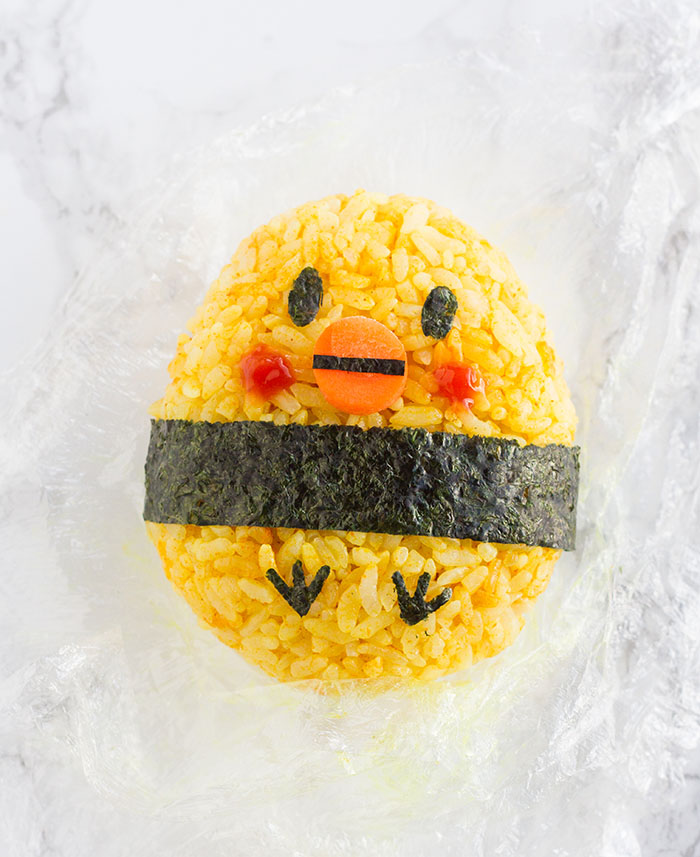 Spring is here!! Things are slowly warming up here in Utah. We had several days of temperatures in the 60s, but then it has snowed the past 2 days. Oh well, we'll get there! Although the first official day of spring was last Sunday, March 20th, St. Patrick's Day always feels like spring to me! Our St. Patrick's Day celebrations seem to grow a bit larger every year, partially due to the fact that the girls are building more and more elaborate leprechaun traps, but also because they are both doing Irish dance this year and the big recital for the year is always scheduled to be the weekend before or after St. Patrick's Day! So last Saturday we enjoyed a super fun day of Irish dance. Squirrel is in her second year and Bug is in her first and they are a blast to watch.
In years past we have made always made corned beef and cabbage for our St. Patrick's Day meal, but this year we departed from that and made a delicious slow cooker vegetable stew (I substituted short-grain brown rice for the pearl barley called for in the recipe), a green salad with a creamy avocado vinaigrette (recipe for that dressing coming in a few weeks!), and some Irish soda bread (not pictured).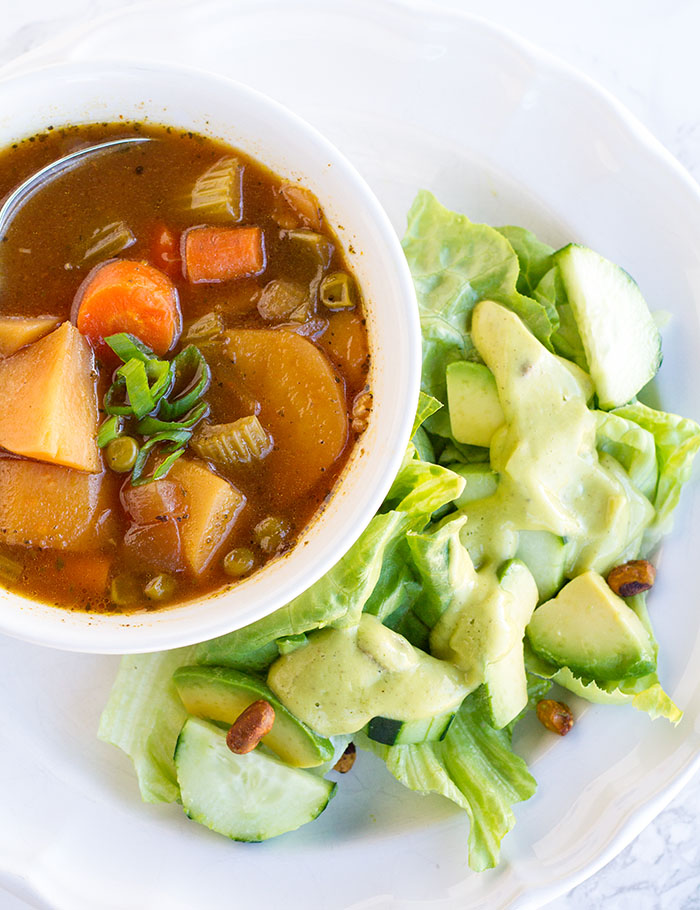 But now that spring has officially arrived and Easter is just a few days away, we are jumping into full-blown celebrations which translated into Easter-themed bentos today! I started by making a baby chick onigiri (Japanese rice ball). For more information on how to make them you can check out my previous onigiri posts!  To make the onigiri I tinted hot steamed short-grain Japanese rice with a bit of ground turmeric and seasoned it with some fine grain sea salt. I cut a thin slice of carrot then used a small circle food cutter to cut it into a smaller circle to make the beak. I used nori (sheets of seaweed used to roll sushi) to make most of the other details. I cut the thin beak line and band that goes around its waste with small scissors and I cut the eyes and feet using nori punches. I used tweezers to place the nori pieces (lay them rough side down so that they will stick), but you can use your fingers too. The tweezers just make it easier to place small pieces! To make the rosy cheeks I dipped a toothpick in some ketchup and dabbed it on. I was very happy with how it turned out!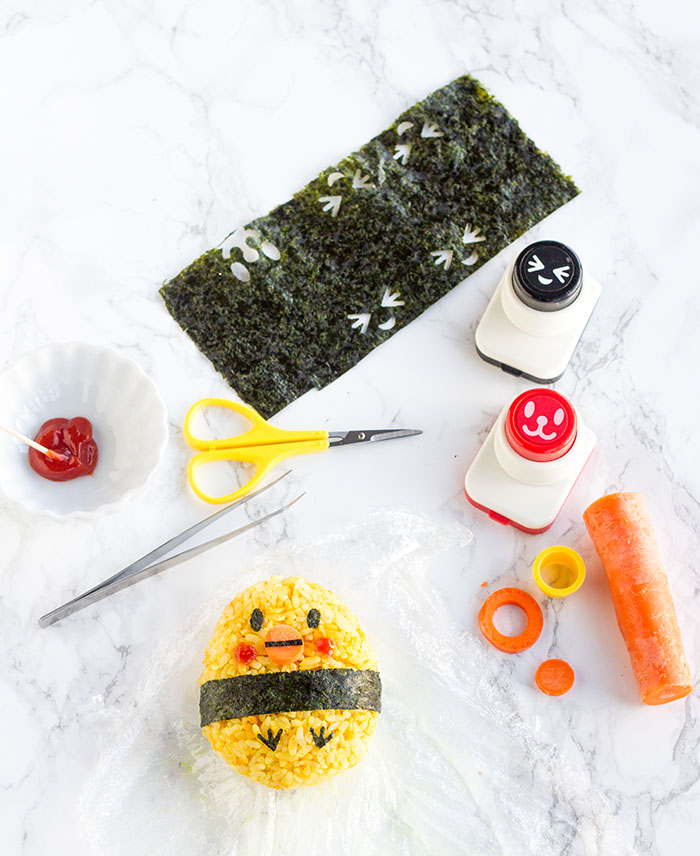 To complete the bento I added a hard-boiled egg shaped like a flower, some berries speared by a variety of Easter and spring-themed food picks, and some sugar snap peas. I think this bento screams Easter, what do you think?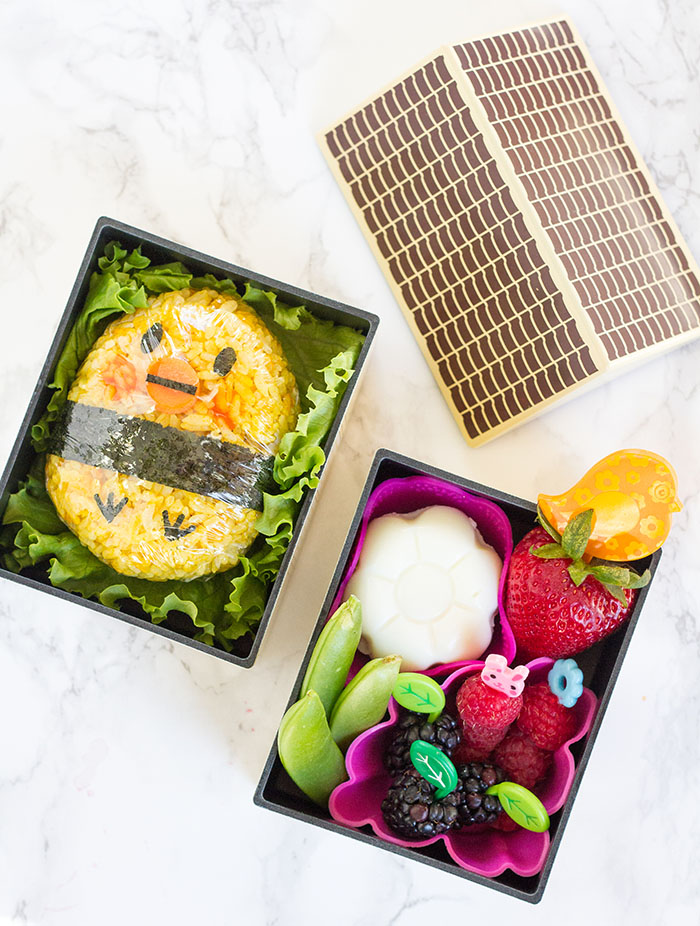 If you are interested in where to find the supplies to make a bento like this, you can purchase all of the equipment and accessories through BentoUSA. There are other retailers that carry some of these items, but I find that BentoUSA has the largest selection, their prices are very reasonable (often cheaper than other retailers), and their shipping is cheap! (I have no affiliation with Bento USA, I just love them!)