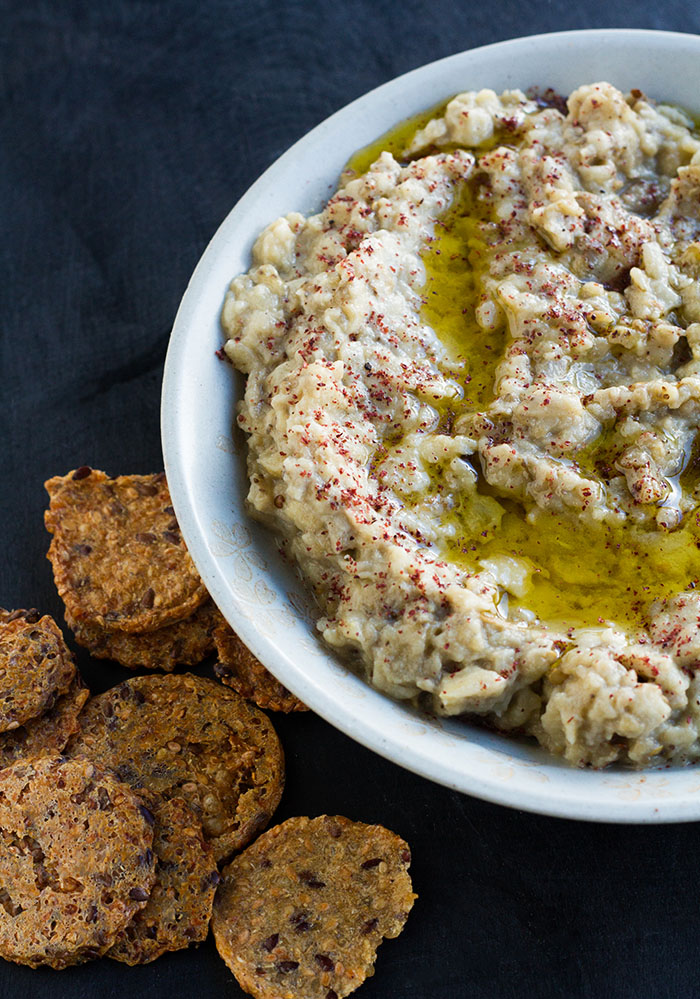 Baba ganoush is a Middle Eastern dish that consists of roasted eggplant mixed with things like tahini, garlic, and lemon juice (the ingredient list varies somewhat from country to country).  It is one of my favorite things to make.  I always make a big batch when I do, then that's what I'll snack on, spreading it on crackers or slices of cucumber and carrot.  When made correctly, it is a creamy dip that tastes like it's got some sort of dairy in it, even though it doesn't.  Over the years I have combined methods and ingredients to come up with a version that is my own.  I am sharing that with you today so that you can do the same!
A general rule is that one eggplant will make enough for about 2 to 2.5 servings.  So the first thing to do is decide how many servings you want, and that will dictate how many eggplants you use.  When buying eggplant, look for ones that have smooth and shiny skin without any wrinkles or bruises, are firm to the touch but not hard, and have a green stem.  I avoid the bigger eggplants as they tend to be more bitter.  After that my basic rule of thumb is to use 1 clove of garlic, 1 tablespoon of tahini, and 1 tablespoon of fresh squeezed lemon juice for each eggplant that I use.  Depending on the flavor of the particular eggplants and my mood I may use more of any one of those ingredients.
Making baba ganoush is easy.  You start out by roasting the eggplants on a rimmed baking sheet until they are soft.  Some people say to pierce the eggplant before roasting it so that it doesn't explode.  I have found that if I roast them at 400 degrees Fahrenheit, this isn't a problem.  You may hear a popping sound while they are roasting, but in my experience, this is just the skin splitting open to allow the steam inside the eggplant to vent out, but the only mess is on the baking sheet.  Once cool enough to handle you peel off the skin and chop off the stem ends, then finely mince the eggplant and let it drain in a colander.  Eggplants are very spongy, so they tend to have a high water content.  You want to get rid of that extra water so that your finished dip will be creamier and have better flavor.  Once it has drained you stir in your ingredients and stick it in the refrigerator to let the flavors develop.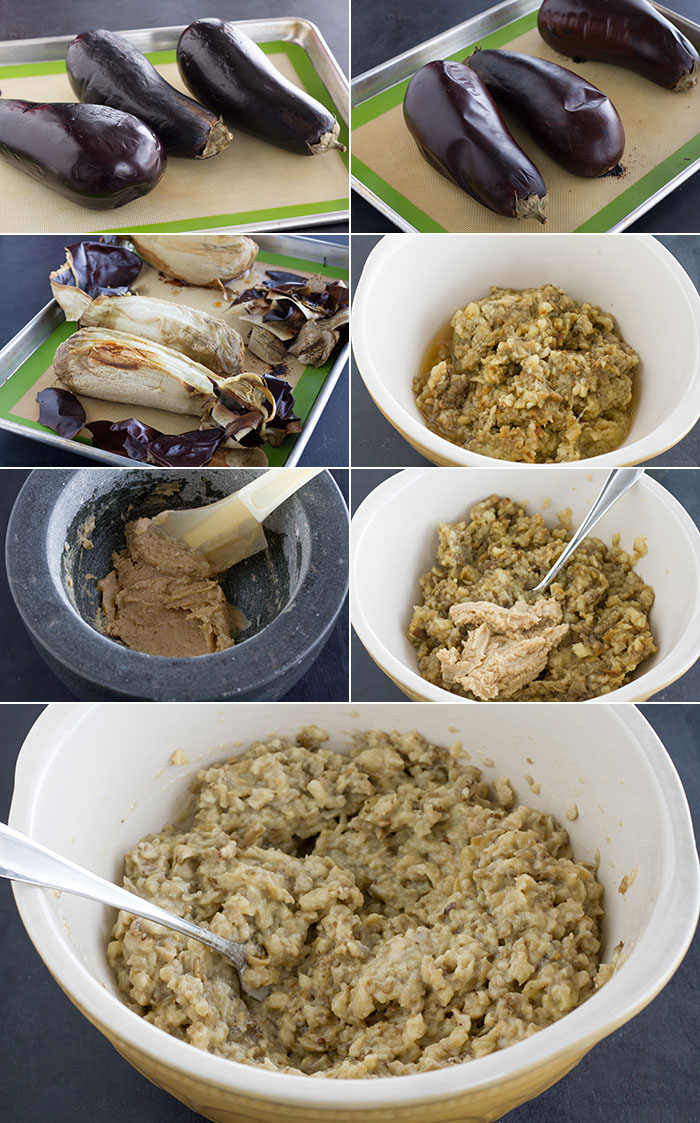 This is not a true recipe—I mean it to be more of a guideline so that when you make it, you can prepare it to suit your tastes and make it your own!  Use the ingredient list and directions below to get you started and then start editing your finished dip until you've got what you want.  Want more of a nutty flavor? Add more tahini!  Want more acidity? Add more lemon juice or ground sumac!  Have you got some fresh herbs growing on your window seal?  Chop some of those up and throw them in!  Since we're not going for true authenticity here (at least I'm not), there are no rules.  Just make it so you love it.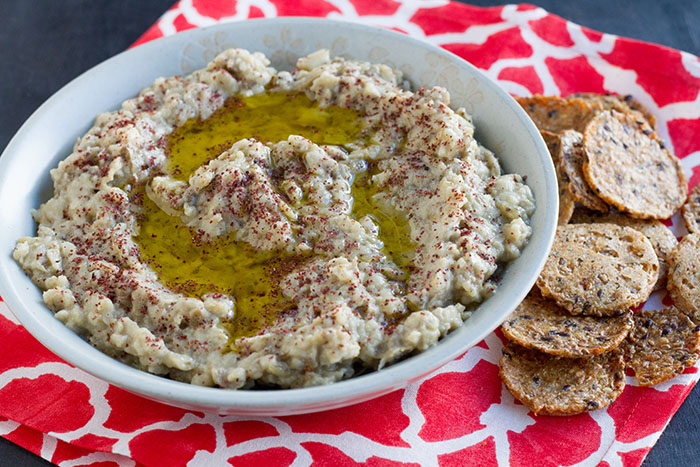 Print This Recipe
Not a Baba Ganoush Recipe
This amount makes 6 to 8 servings.
Ingredients:
3 eggplants
3 cloves of garlic
3 tablespoons of tahini
3 tablespoons fresh squeeze lemon juice
Fine grain sea salt and freshly ground black pepper
Olive oil, for drizzling
Ground sumac, for sprinkling
Other possibilities: chopped tomatoes, chopped onion, ground cumin, chili powder, paprika, za'atar, minced flat leaf parsley, minced cilantro, minced mint, toasted pine nuts, pomegranate molasses, pomegranate arils . . . or anything else that you want!
Directions:
1. Preheat the oven to 400 degrees Fahrenheit. Put the eggplants on a rimmed baking sheet lined with a sheet of parchment paper or a silicone baking mat.
2. Roast the eggplant in the pre-heated oven for about 60 minutes, or until they are soft (a bamboo skewer can be easily inserted into the eggplant).
3. Remove them from the oven and let them cool until they are cool enough to handle, then carefully peel off and discard the skin. Chop off and discard, the stem ends, and then allow the eggplant to finish cooling.
4. Once cooled, finely mince the flesh of the eggplant then place it in a colander for about 20 minutes (up to 1 hour) to drain off excess moisture. (No one wants watery baba ganoush!) You could also let the minced eggplant sit in a bowl and then just drain off the water, but I find it's easier in a colander!
5. While the eggplant is sitting, crush the garlic cloves with a bit of salt (I use a mortar and pestle, which makes this step quick and easy), then mix it together with the tahini and lemon juice.
6. Put the eggplant in a bowl and stir in the tahini mixture, then season it to taste with salt and pepper. Cover the bowl and put it in the refrigerator for at least 1 hour before serving to allow the flavors to meld.
7. When you are ready to serve your baba ganoush, mix in any fresh herbs that you want to include, then drizzle it with a bit of olive oil, and sprinkle it with any spices you want to include.
*Recipe Notes: Add more or less of anything. This is all about making it your own!