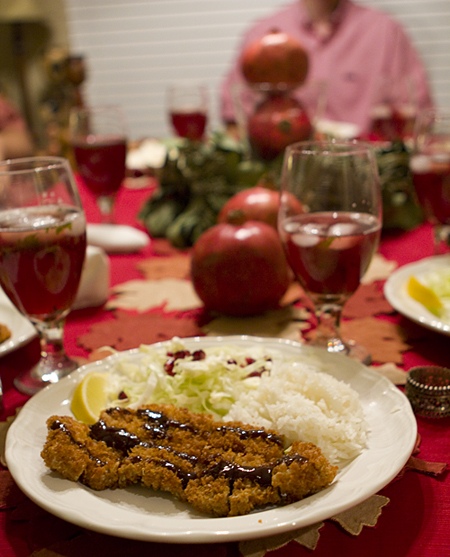 Thin slices of fresh vegetables and shrimp dipped in batter and deep fried until crispy and golden.  Biting into a piece is like biting through a crispy cloud, light and heavenly with enough crunch to remind you it's still there, but never greasy.  I never knew how ethereal tempura could be until I moved to Japan.  My first tempura tryst in Tokyo was eye opening—how did they do that? And then I was introduced to tonkatsu—thin tender pork cutlets breaded and deep fried to golden perfection.  Juicy deep-fried pork?  How can you lose?  And the Japanese seem to agree, because this once European dish is now thoroughly integrated into Japanese cuisine.  It is served with a mound of thinly shredded cabbage and lemon wedges, with a dark sauce that is mildly sweet and fruity and a bit spicy.  It is also a popular sandwich filling, or served on Japanese curry, or even as katsudon (rice bowl topped with tonkatsu, egg, and condiments).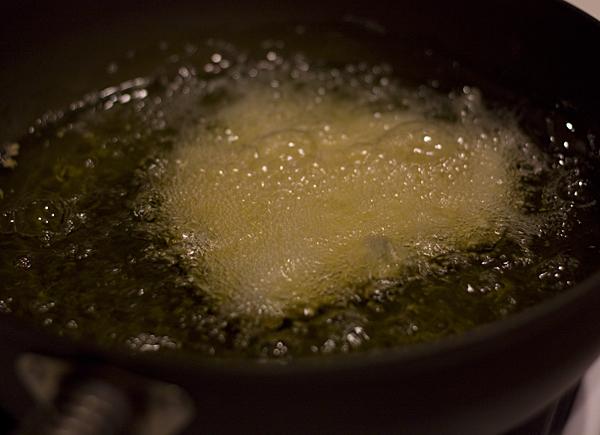 The allure of all of this deep-fried goodness was so strong, that I knew I had to learn to do it at home, because Mr. Fuji would probably eventually refuse to continue paying for my habit.  So I overcame my fear of deep-frying.  Armed with a copy of Elizabeth Andoh's cookbook, At Home With Japanese Cooking
, I faced my fear and attempted some tempura.  I was shocked at how easy it was.  Since that first tempura attempt, I've occasionally made other things.  But I don't deep-fry frequently because it can be kind of a pain.  Getting the oil to maintain its temperature can be difficult and then disposing of the used oil is headache.  Some of my reticence abated recently, with the addition of a new member to my pot and pan community.

Enter the ManPans 12-inch Stir Fry Wok.  You might remember that one of our prizes in the Food Ninja Contest was a ManPans 10-inch Fry Pan.  ManPans had sent me their 12-inch Stir Fry Wok to try out right before we launched the Food Ninja contest, and I knew immediately that we needed one of their pans as a prize!  My wok has been getting a lot of heavy use.  I've made stir-fry, fried rice, and a whole plethora of things that aren't normally made in a wok, just because I love cooking with it.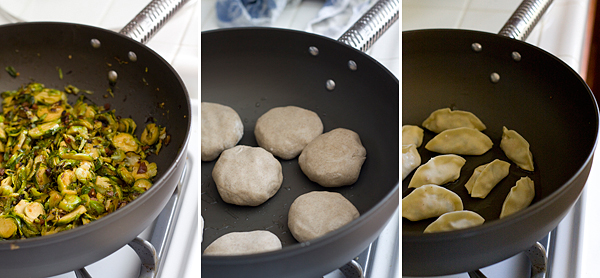 It is light, extremely durable, and heats quickly and evenly.  I love the handle, a special design that never gets hot, no matter how smoking hot the actual pan is.  I also love that it's non-stick coating is durable enough to withstand the use of metal utensils in it, unlike most non-stick products.  A huge added plus is the fact that ManPans has worked hard to make their products green.  Deep-frying in the wok is a dream.  The size of the wok is perfect and the temperature of the oil is easier to maintain than other pots I have used.  (If you want to try one for yourself, head on over to Bell'alimento and Vino Luci who are both running giveaways…but hurry, the giveaways are closing soon!!!)  Now to figure out a way to make oil disposal less of a pain…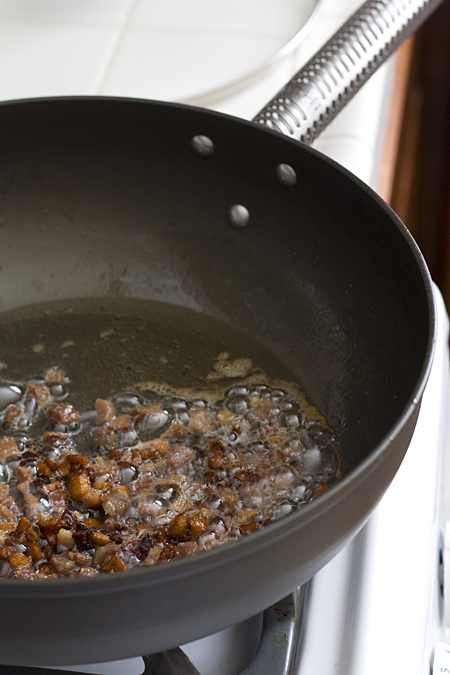 When I was brainstorming what to make for my POM harvest party last month, my friend Jen suggested making tonkatsu.  I immediately thought of my ManPans wok and new that I was definitely adding tonkatsu to my menu.  A chance to deep-fry breaded pork cutlets in my wok?  Oh yeah!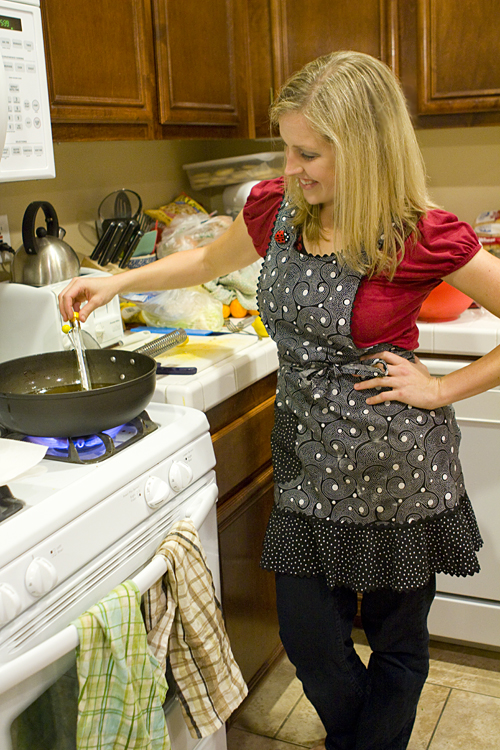 I decided to make homemade tonkatsu sauce using pomegranate molasses.  Tonkatsu sauce already has a bit of a fruity taste, and so I thought that using pomegranate molasses would be a natural addition.  In the spirit of my POM party, I also decided to make my pomegranate molasses from scratch.  This isn't hard to do, just time consuming, as the ingredients have to be slowly simmered until they reduce into a thick syrup.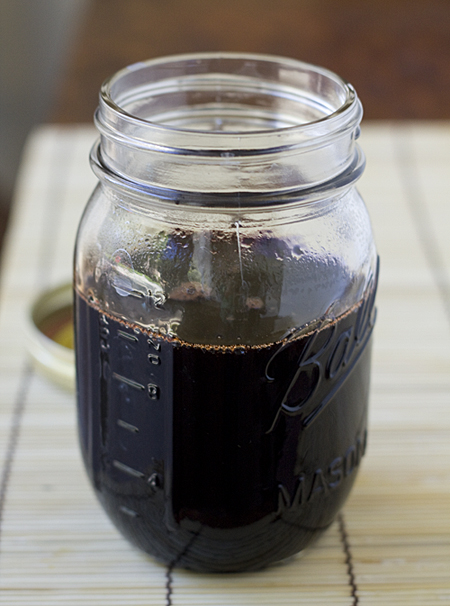 If you don't want to make your own, you can buy it at Middle Eastern markets.  The sauce turned out perfectly.  The pomegranate molasses added a rich tangy fruitiness that heightened the flavors of the other ingredients without overwhelming them. I served the tender breaded pork cutlets with thinly shredded cabbage sprinkled with fresh pomegranate arils, the pomegranate tonkatsu sauce, and a side of steamed rice.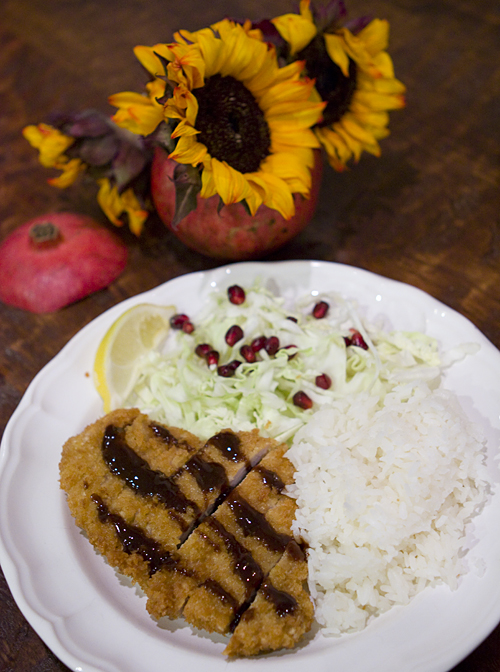 Print This Recipe
Tonkatsu (Breaded Pork Cutlet) with a Pomegranate Molasses Tonkatsu Sauce
Makes 4 servings
Recipe Notes: The tonkatsu sauce should be prepared ahead of time.  If you're worried about the cutlets getting cold after frying them, keep them in an oven preheated to 180 degrees Fahrenheit until you are ready to serve them.  If cooked at the proper temperature, the cutlets should not be oily.
4 boneless pork chops, each about 1-inch thick
Salt and freshly ground black pepper, for seasoning
All-purpose flour for dredging
1 beaten egg, thinned with 2 teaspoons cold water
Panko (Japanese bread crumbs), for coating
vegetable oil, for deep-frying
2 cups very finely shredded cabbage
1/2 cup fresh pomegranate arils
lemon wedges
Pomegranate Molasses Tonkatsu Sauce (recipe below)
Steamed Japanese rice
1. Place a pork chop between two layers of plastic wrap and pound it with the flat side of a meat tenderizer until it is about 1/3 inch thick. Season both sides with salt and pepper. Repeat the process with the remaining pork chops.
2. Heat 2 inches of vegetable oil in a deep-fryer, stockpot, or large wok until the oil reaches 375 degrees Fahrenheit.
3. While the oil is heating, lightly dust the seasoned pork chops in the flour. Dip them, one at a time, in the egg wash, then coat each of them well with the panko.
4. When the oil is at temperature, fry the chops, two at a time, for about 3 minutes. Then turn them and fry them for another 3 or 4 minutes, until they are a deep golden brown and cooked through. Place them on a wire rack to drain and repeat with the remaining chops.
5. Slice the cutlets across their width into 1/2-inch strips. Serve with a mound of shredded cabbage sprinkled with pomegranate arils. Serve with pomegranate tonkatsu sauce and steamed Japanese rice.
Pomegranate Tonkatsu Sauce
Makes about 1 cup
Recipe Notes: This sauce will keep for up to 1 month in the refrigerator and is very versatile.  It's delicious combined with barbecue sauce, or in place of barbecue sauce.  It also makes a fabulous glaze for broiled or grilled foods.  My girls even like dipping steamed veggies in it!
1/3 cup ketchup
1/4 cup pomegranate molasses
2 tablespoons Worcestershire sauce
1 tablespoon soy sauce
2 teaspoons prepared hot mustard
1/4 teaspoon ground black pepper
Whisk together the ingredients in a small bowl and refrigerate until ready to use.
Pomegranate Molasses
Makes about 1 1/2 cups
Recipe Notes: This molasses can be made and stored in the refrigerator for up to 6 months, so it's worth making a larger amount if you're going to go to the work of making it at all!
6 cups 100% pomegranate juice
1/2 cup granulated sugar
1 tablespoon lemon juice
1. In a large saucepan, heat the pomegranate juice, sugar, and lemon juice over medium high heat. Cook, stirring occasionally, until the sugar has completely dissolved and the juice has come to a simmer.
2. Reduce the heat to medium-low (or just high enough to maintain a simmer). Simmer until the juice has a syrupy consistency and has reduced to approximately 1 1/4 cups, about 1 hour.
3. Allow the molasses to cool slightly, then pour into a glass jar and allow it to cool completely before covering it and storing it in the refrigerator.