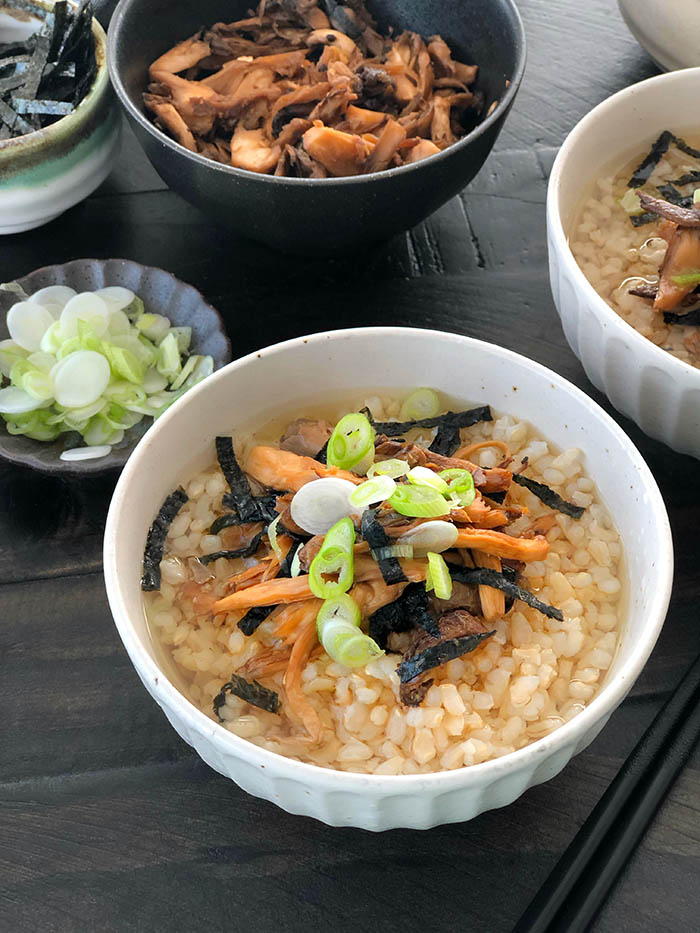 Have you ever heard of ochazuke ("oh-chaw-zoo-kay")?  If you aren't super familiar with Japanese cuisine, probably not, which is so sad!  Ochazuke is a simple, comfort food dish made with rice (often as a way to use up leftover rice) with hot tea (or hot water or broth) poured over it and toppings, whether it be salted, grilled salmon, pickled vegetables, umeboshi (Japanese pickled sour plum), etc.  You can make it with whatever you've got on hand.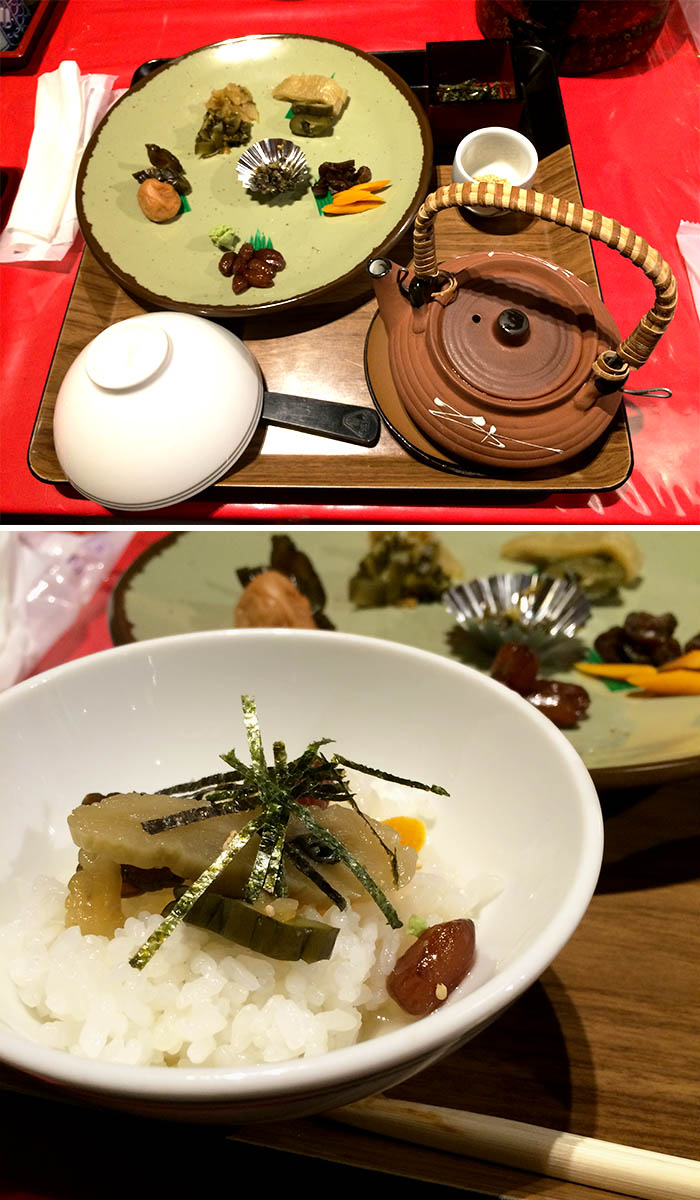 One of my favorite servings of ochazuke was at a restaurant called Ohnoya, in Japan, in the city of Narita.  The restaurant is in an old building that functioned as a ryokan, a traditional Japanese inn, for over 300 years.  I ordered ochazuke with tsukemono (Japanese pickles) as a topping and it was heavenly.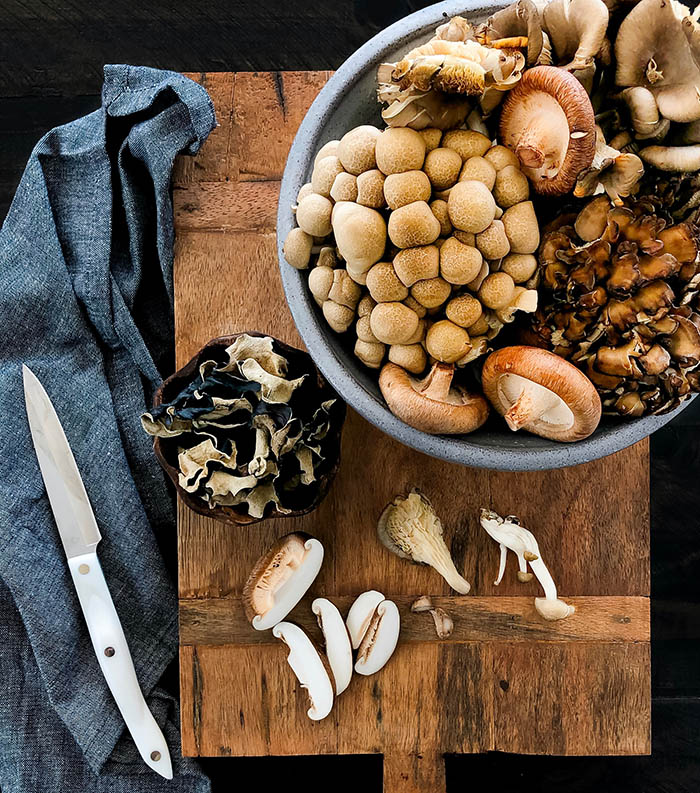 I recently got a variety of mushrooms, including a beautiful bunch of oyster mushrooms.  I decided to turn them into a topping for ochazuke because I had a bit of rice remaining in my rice cooker that needed to used up.  So I shredded the oyster mushrooms, dry sauteed them, then seasoned them with fresh ginger, soy sauce, and rice vinegar.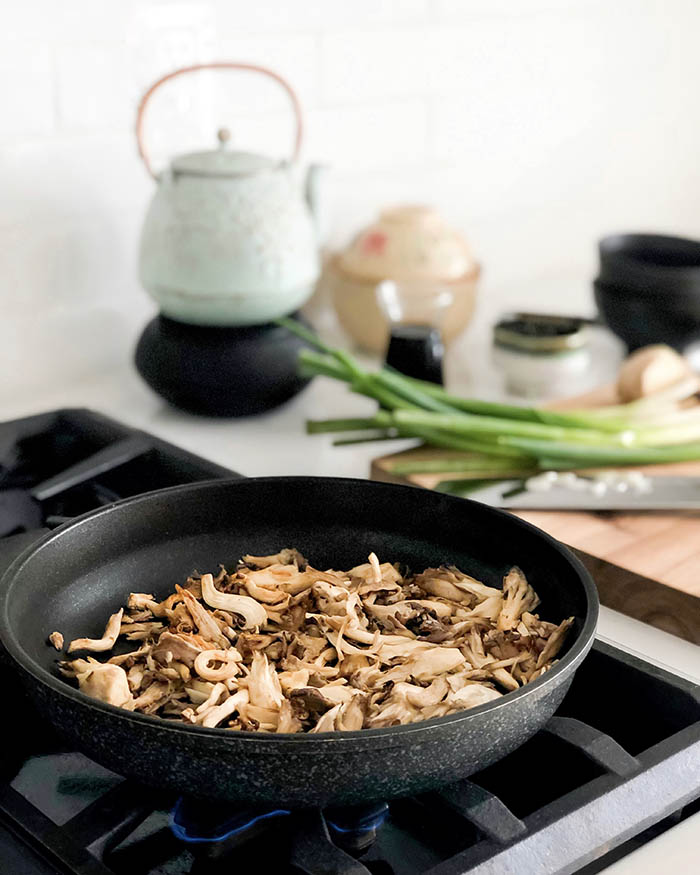 I made some soba cha (roasted buckwheat tea) and used that as the liquid to pour over the rice.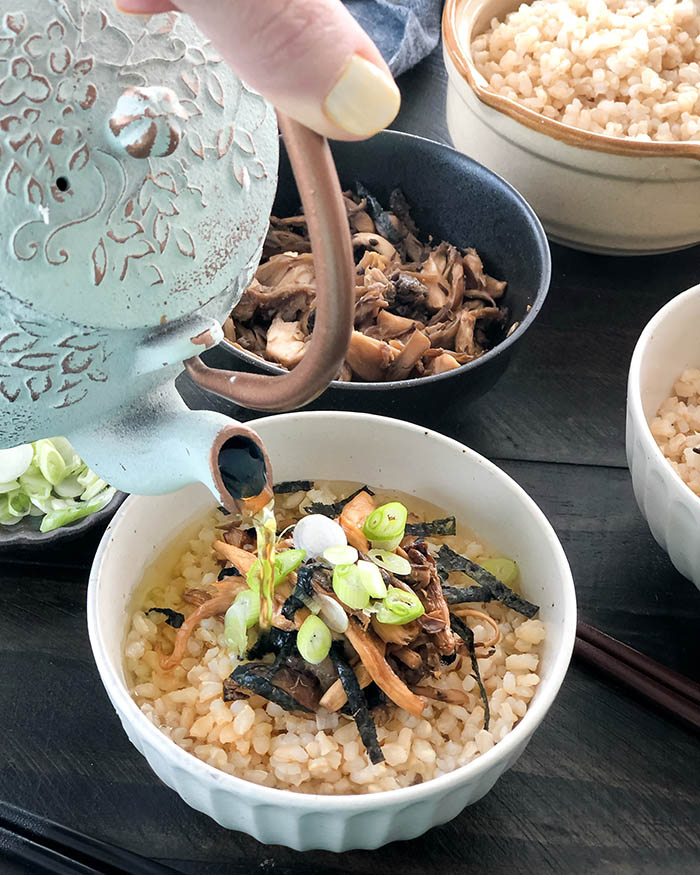 I am definitely making ochazuke again this way because it was amazing!  You could make the mushrooms ahead of time and then reheat them when you are ready to use them, which makes this dish even easier.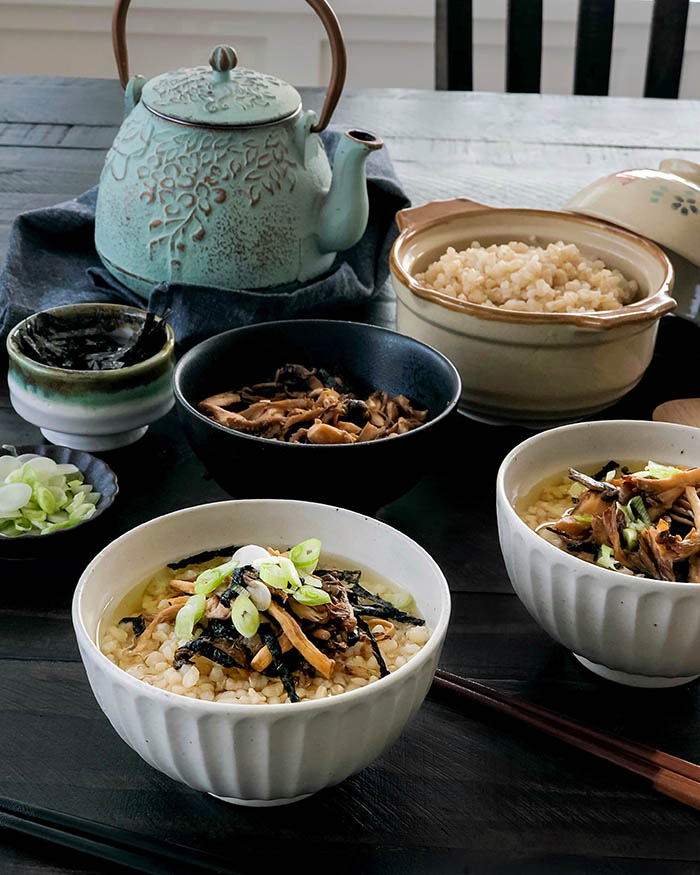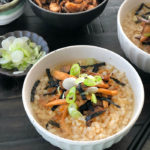 Mushroom Ochazuke (Tea and Rice)
Steamed, short-grain brown rice topped with sauteed oyster mushrooms and steeped in soba cha (roasted buckwheat tea).
Ingredients
For the Brown Rice
1

cup

uncooked, short-grain brown rice

1 3/4

cups

water
For the Sauteed Oyster Mushrooms
8

ounces

oyster mushrooms

1

teaspoon

grated ginger

1

tablespoon

soy sauce (or gluten-free tamari)

1 1/2

teaspoons

unseasoned rice vinegar
For the Ochazuke
2

cups

warm, short-grained brown rice

3

cups

soba cha (roasted buckwheat tea), or tea of choice

3

green onions, finely sliced

1/4

sheet

nori, cut into thin strips (kizami nori)

Optional: toasted sesame seeds, shichimi togarashi (Japanese seven spice)
Instructions
Make the Sauteed Oyster Mushrooms
Shred the oyster mushrooms, using your fingers.

Heat a skillet over high heat. Add the shredded mushrooms, and let them cook, stirring occasionally to prevent them from burning. Once the mushrooms heat to a certain point, they will start releasing their moisture. Monitor the heat. If the mushrooms start to brown too quickly, turn the heat down.

When the mushrooms have given up most of their moisture (about 5 to 10 minutes), add the grated ginger. Stir-fry until the ginger is fragrant, about 30 seconds.

Add the soy sauce and rice vinegar and stir-fry for another minute, then remove the skillet from the heat.
Assemble the Ochazuke
Divide the cooked rice between bowls. Top the rice with the sauteed oyster mushrooms. Pour the soba cha over, then top with green onions, nori, and toasted sesame seeds and/or shichimi togarashi (if using). Serve immediately.