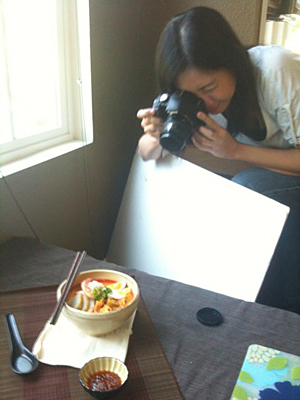 My friend Bee (of Rasa Malaysia) is one of those people who always has a smile on her face.  Happiness radiates from her and it's hard to imagine a negative thought ever occurring in her head.  Bee and I met 2 years ago at an event in New York City and were instant friends.  I'd like to think it's because I'm awesome, but in reality I know it's because anyone who meets Bee loves her and can't imagine not being friends with her!  On top of being one of the nicest people I know, Bee is an amazing cook.
Bee grew up in Penang, Malaysia, surrounded by the flavors of Chinese and Nyonya (local Malaysian) cuisines.  When she left home to attend college, Bee realized that although she had watched her mother cooking for years, this did not translate into her being able to cook as well.  She embarked on a journey of teaching herself to cook so that she would be able to create the dishes of her childhood for those she loves.  Mission accomplished.  I think Bee's mom would be proud.  You can taste the skill in Bee's cooking.  But more than anything, you can taste the love.  A couple of months ago my girls and I went to Bee's house for laksa which she had been working on for 24 hours.  My girls each had multiple bowls of the creamy spicy broth, slurping it down greedily.  I had to restrain myself from eating straight from the pot. Just thinking about it has my mouth watering!
Now some of Bee's love and kitchen wisdom is all packaged up for anyone who loves Chinese food as much as she does.  Bee's book, Easy Chinese Recipes, was just published, and it is nearly as fabulous as Bee is.  I was one of Bee's recipe testers, so I've been eagerly anticipating the publication of the book!  Now that I've finally got my own copy, and it's as amazing as I had hoped, I think you should have a copy too.  Not convinced?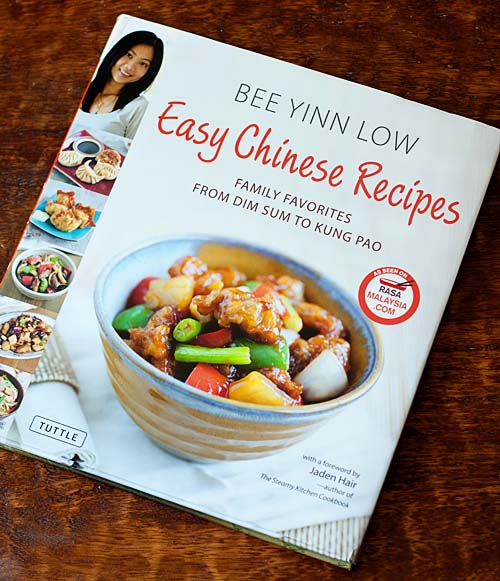 1. The recipes in this book aren't for any old Chinese takeout (although some of your favorites are probably in there…kung pao chicken anyone?).  The recipes are authentic, representing some of the dishes we're more familiar with in the Western world and some of the dishes we should be.  Bee covers everything from appetizers to Dim Sum, and Beef dishes to Desserts.
2. Intimidated by unfamiliar ingredients or techniques in Chinese cooking? No worries! The book is full of information about Chinese ingredients, tools, and cooking techniques, making the recipes unintimidating and easy to understand.
3. Beginning cook? Expert cook? It doesn't matter what kind of skill you might have.  This book features everything from super simple recipes to more complex and everything in between!
4. Feast with your eyes! This book is full of Bee's gorgeous photography that will make your mouth water from page one.
5. The recipe for sweet-and-sour fish on page 102 is worth the price of the book alone. This is one of the recipes I tested, and it's now a family favorite. The fish is crispy and light, and the sauce is the perfect balance of tart and sweet.  You'll be licking your plate, guaranteed!
Enough already! Go buy a copy of Easy Chinese Recipes!  While you're waiting for your book to arrive, check out more of Bee's recipes and delicious photography on her blog, Rasa Malaysia.