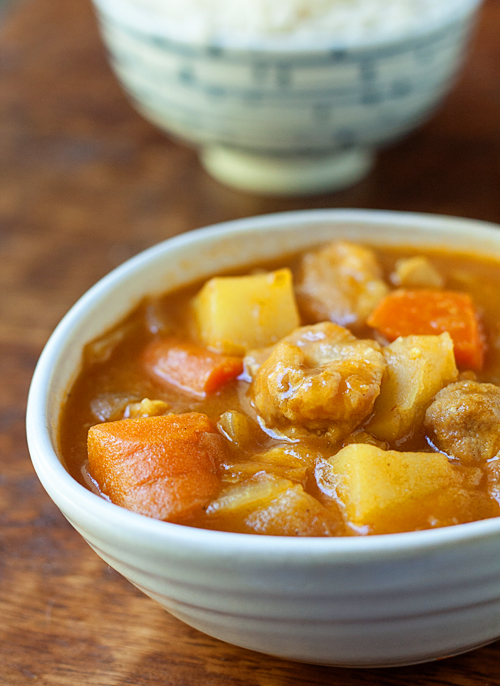 Last time we lived in Japan, I'd have a dinner meeting at work once a week.  The most popular dinner choice was "kare raisu" (カレーライス, i.e., curry rice)—a thick fragrant curry gravy with a hint of sweetness, mixed with a variety of vegetables and some sort of protein, either chicken, beef, or seafood, served over hot steamed rice.  It's no wonder that this simple meal was a favorite.  After a long day at work, a helping of curry rice made for total comfort food.  Japanese curry is milder than many of the curries made in other countries.  In Japan, when made at home, curry is usually made from an instant curry roux that comes in blocks or powder packets.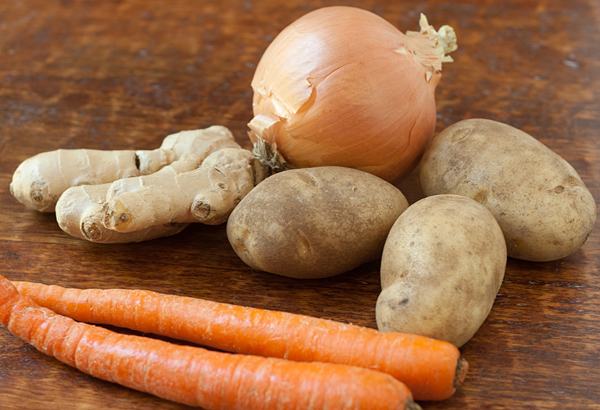 Although this is an easy way to make curry, it also means that you're getting preservatives and MSG that you could avoid by making it from scratch.  Although it takes a few extra minutes to make it from scratch, I think the extra minutes are worth it, because the results are even better!  The curry is more flavorful and very creamy.  In addition, the curry can be made gluten-free—my recipe uses cornstarch as a thickener instead of the wheat flour that is usually present in instant curries.  My method is a mix of methods I've seen and tried.  I made it most recently with chicken thighs and lots of veggies.  By the time I put dinner on the table, my girls had already been tugging the hem of my shirt for 30 minutes asking when they could have their curry.  It was no surprise that we only had a tiny bit left to eat as leftovers the next day!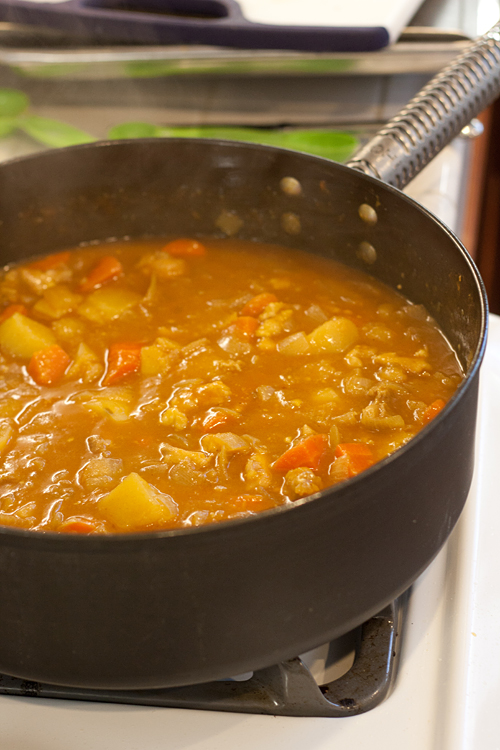 Print This Recipe
Japanese Chicken Curry Rice
Makes 6 to 8 servings
2 pounds boneless skinless chicken thighs with skin on, cut into 1-inch chunks
1/4 cup cornstarch
2 tablespoons vegetable oil
2 large yellow onions, chopped
4 cloves garlic, finely chopped
1 tablespoon grated fresh ginger
4 teaspoons curry powder (I use S&B)
2 teaspoons kosher salt
3 carrots, cut into chunks
2 large potatoes (Russet or Yukon Gold), cut into chunks
2 tablespoons tomato paste
2 tablespoons apricot jam
1 tablespoon rice wine vinegar
2 cups vegetable stock
3 cups water
1 teaspoon honey, if needed
1 tablespoon cornstarch
Hot steamed Japanese rice, for serving
1. Toss the chicken in the 1/4 cup of cornstarch. Heat the vegetable oil in a 12-inch saute pan. over high heat. Place the chicken skin side down in the pan, spread out in an even layer, and sear for 1 1/2 minutes. Flip the pieces over, skin side up, and let them brown for an additional minute.
2. Shake the pan, pushing the chicken to one side, and add the onion. Lower the heat to medium high and saute for about 3 minutes, or until the onions are aromatic and wilted. Add the garlic and ginger, then sprinkle the curry powder and kosher salt over the contents of the pan, then stir to distribute evenly.
3. Add 1/2 cup of the vegetable stock, stirring up any crusty bits that may be clinging to the bottom or sides of the pan. Then add the tomato paste, apricot jam, and rice wine vinegar then stir to combine.
4. Add the carrots, the rest of the vegetable stock, and the water, then bring to a boil. When it comes to a boil, lower the heat to medium and add the potatoes. Cover and simmer for about 30 minutes, or until the potatoes are fork tender. Taste, and if necessary, adjust the sweetness of the curry by adding the honey a few drops at a time.
5. Put the 1 tablespoon of cornstarch in a small bowl then ladle some of the hot curry over it, and whisk to make a thick paste. Whisk the paste into the pan, and continue cooking the curry until it thickens. Remove from the heat and serve over hot steamed Japanese rice.