This past weekend is without question going to rank as one of the highlights of my year.  It was the result of months of hard work and planning.  It was the weekend where Helene (Tartelette) finally came to Southern California to give a group of lucky people a crash course in macaron making, food styling, and food photography.  I got ready, dropped the kids off at a wonderful friend's house, and then drove out to L.A. on Friday afternoon to meet up with Jenny and Helene for lunch and then go out to the location to get set up for the first class.  (L.A. is only an hour away, by the way, but when you have kids, it doesn't matter if something is only 15 minutes away, it's still like you're planning to leave the country.)  We had a macaron class Friday night, followed by a macaron class Saturday morning, and finished up with a food styling and food photography class Saturday afternoon.  Although the weekend was not without glitches (read this hilarious post by Jenny about how NOT to host the Tartelette), it was still fabulous, and I hope that all of our attendees had as much fun and learned as much as I did.
If you have been reading LFM for a while, then you know it is no secret how much I adore Helene and her talent.  She has been putting up with me for a long time—long before I was a food blogger (poor girl).  So you know that she has to be an incredibly patient and sweet person to agree to come to L.A. of her own free will and be subjected to spending a weekend with me.  Luckily she was also surrounded by Jenny, Gaby, and all of the other wonderful people who attended the classes.  Helene was as sweet, wonderful, and amazing as she appears to be online.  If you ever have the chance to meet her or take a class from her—DO NOT MISS OUT.
The classes were held at the Academy of Culinary Education in Woodland Hills.  What a fabulous place!
(Prepped and ready to go for the first class.)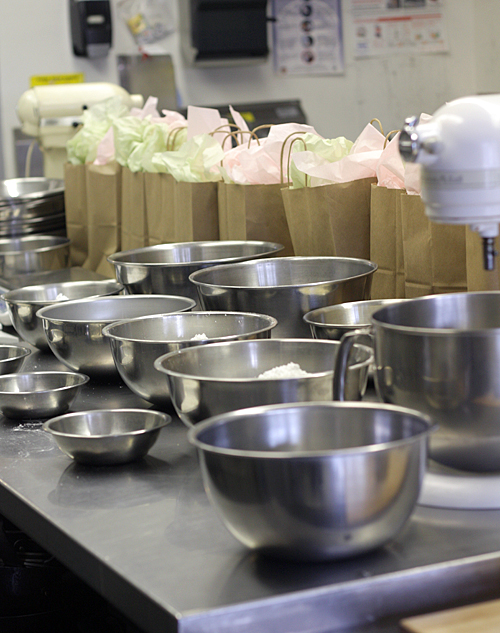 A huge thank you to the owner Chef Cecilia de Castro for her warm hospitality and letting us use her wonderful space.  The location definitely made the classes extra special.
(That's the amazing Cecilia in the background there. Hi Cecilia!)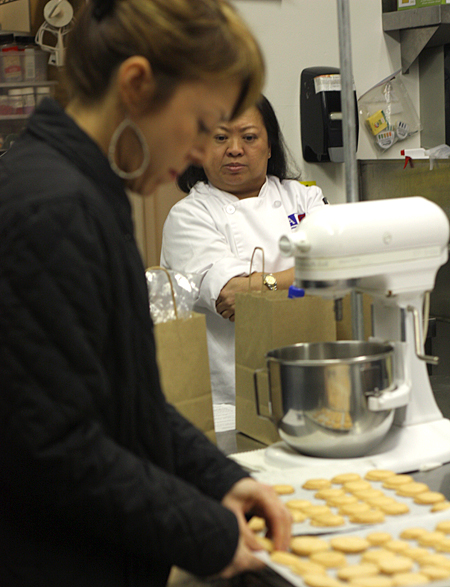 Because I'm guessing there will be several posts about the classes from other attendees, I'm just going to highlight some of my favorite moments and things that I learned from the weekend.  One of the things that stood out to me specifically was that Helene emphasized "Time on tool."  As we learned the wrong way and the right way to use a pastry bag, she explained that spending time with this tool and practicing often, would increase our proficiency and hone our skill.
(Helene explaining the right way to hold a pastry bag.)
The same goes for the macaronnage (the folding of the meringue, confectioners' sugar, and almond flour together to make the final macaron batter), or any other step of macaron making.  She also emphasized the same concept during the food photography/styling class.  Spend time with your camera.  Play with the settings.  Play with the light you have to work with.  Play with your angles.  Play with your setup.  Get to know your tools.  This sounds obvious, but how many of us have learned one setting on our camera and then just stuck with that one setting because we are comfortable with it?  I know I've been guilty of that one!
Another point that stood out for me was Helene's emphasis on doing what works for you.  She explained that all too often we get stuck in the trap of thinking something has to be done a certain way.  For example, just because Chef So-and-so says that a certain kind of dark chocolate is the best, and that you'd be a fool to use anything else, doesn't mean that it's true.  She explained that you should use the chocolate that you love, that works for you, and is in your budget.  She explained that of course she'd like to use the expensive stuff all of the time, but that for the amount of baking she does, it is just not economical.  She admitted to having no problem with using Hershey's chocolate, and that with the climate she lives in (humid Charleston, South Carolina) she gets reliable consistent results with "good old" Hershey's.  (She also admitted to being a lover of milk chocolate, by the way.)
She brought up the same concept in the food photography/styling class.  She talked about how she often uses an f-stop of f/22 because she loves the detail that she gets.
(Donna of Dishy Goodness getting a shot.)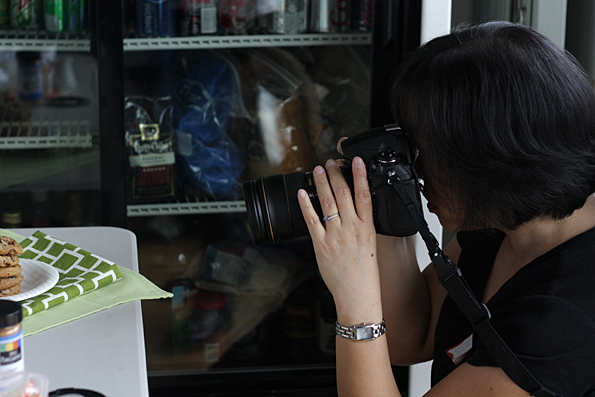 So often in the food blogging/photography world you hear about using f-stops in the f/1.8 to f/2.8 range, and getting that "blur" in photos where one specific point of the photo is in focus and the rest is in an artistic blur. (If you have no clue what I'm talking about, see this great tutorial on Aperture in Digital Photography.)
(Shawn of kitchen fervor getting the perfect shot—aren't those tarts gorgeous?)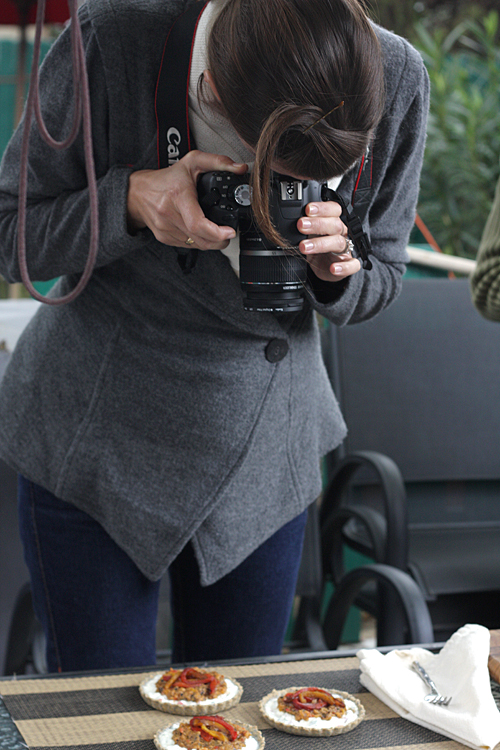 Looking at her photography, you can't really argue with her viewpoint.  If you can get stunning photos by doing what works for you, and not what someone else says is the "right way" to do things, then I'm in!
(I have Tartelette camera envy.)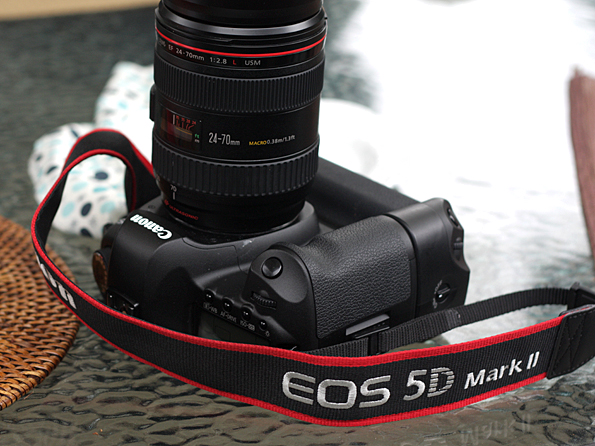 I came away from the weekend feeling more confident, both in macaron making and in approaching my camera.  Not only do I now know that the proper consistency of the meringue for macarons should be similar to shaving cream,
(Robyn of Earthbound Chronicles and Nancy of A Communal Table checking out perfect meringue for macarons.)
but I know what to look for when I'm folding my ingredients together for my macaron batter.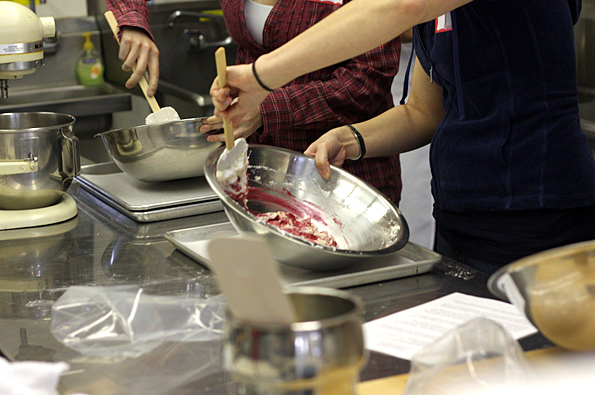 I'm also excited to relax and just play with my camera, get to know it better, and let go of some of my pre-conceived notions of "rules."
(Marla of Family Fresh Cooking figuring out what works for her.)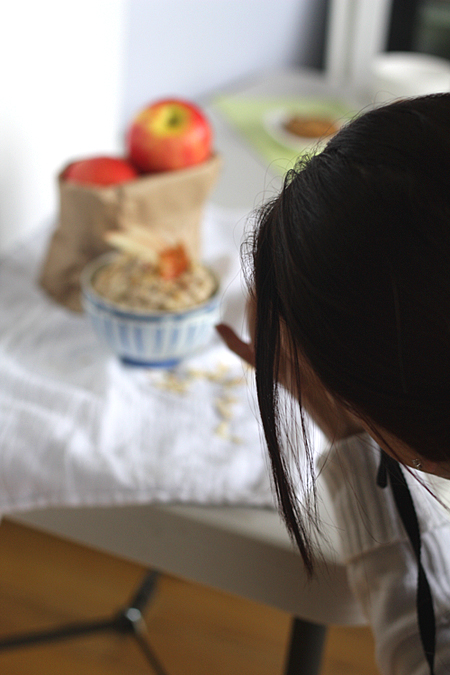 It was a great weekend, full of yummy macarons,
wonderful people,
exciting lessons,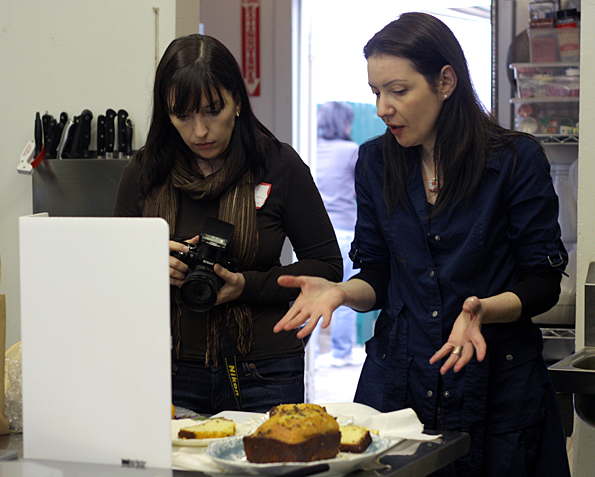 and one amazing teacher.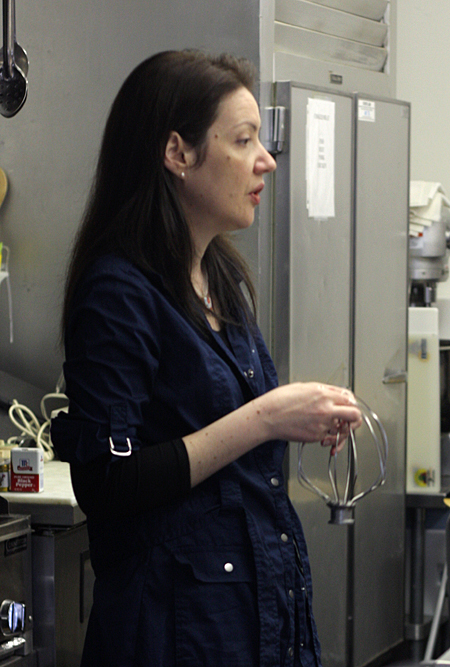 A special thanks to my cohorts in crime for making the weekend possible. Gaby and Jenny, you're the best!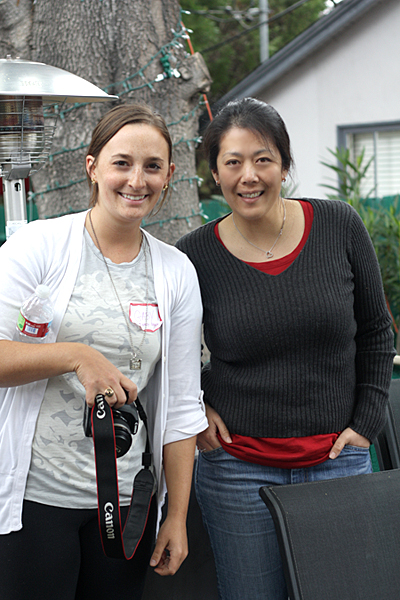 If you'd like to hear more about the fabulous weekend, you can read these posts written by class attendees (I'll be adding posts as they are written!):