This post is brought to you by
Safest Choice Eggs
.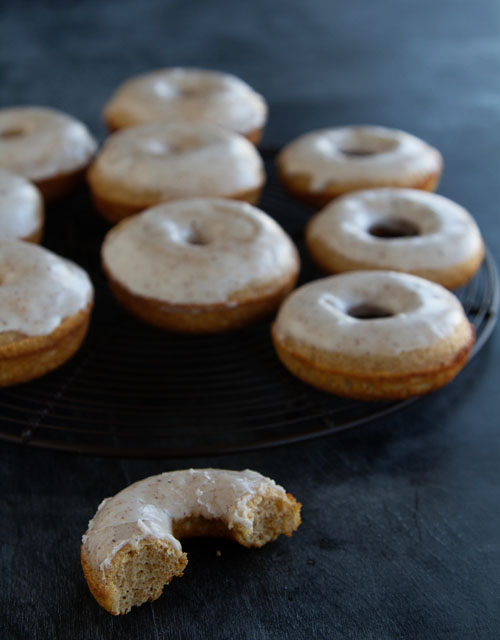 Six more days until Christmas!!  Are your kids as excited as mine are? Well this recipe for baked eggnog doughnuts might help you distract them for a bit.  This month my Darling Dozen challenge for Safest Choice Eggs was to come up with a recipe inspired by eggnog.  I guess I've had doughnuts on the brain, because that was exactly what I thought of first!  All the classic flavors of eggnog—eggs, milk, sugar, rum extract, cinnamon, and nutmeg—come together to make a fantastic holiday treat.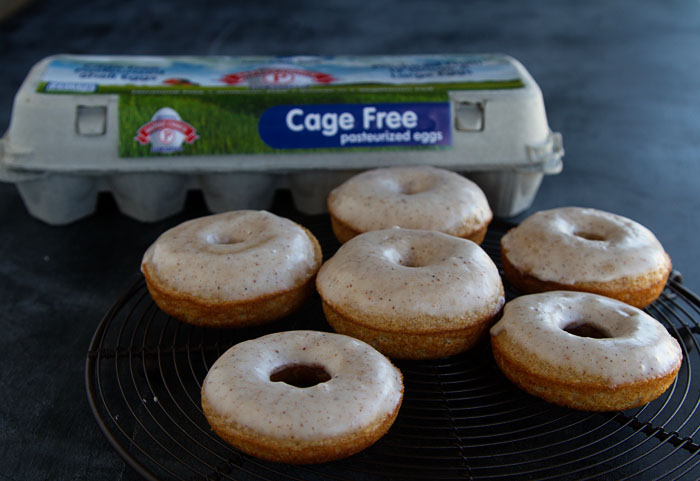 I designed these doughnuts to have a bit of a crispy exterior and a moist, slightly chewy center.  The glaze adds an extra sugary punch of eggnog flavor.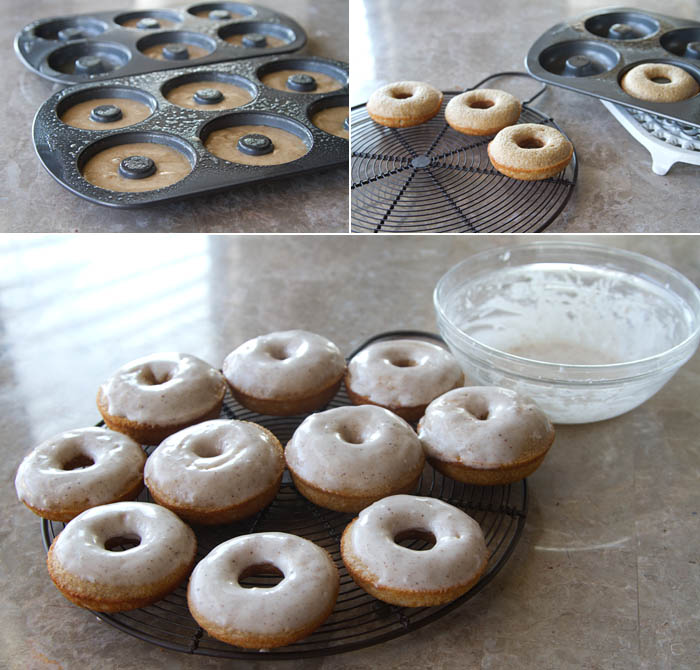 Whip up a batch and eat them while they're fresh, they're not meant to be made ahead!  Then whip up a second batch to set out for Santa so he has something to nibble on when he comes calling.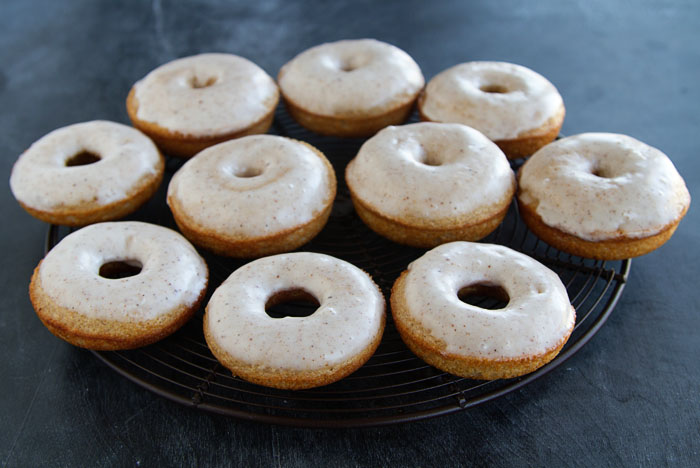 Print This Recipe
Baked Eggnog Doughnuts
Makes 12 doughnuts
For the doughnuts:
1 cup all-purpose flour
1/2 cup granulated sugar
1 teaspoon baking powder
1 teaspoon ground cinnamon
1/4 teaspoon salt
1/8 teaspoon ground nutmeg
2 large eggs
3 tablespoons sour cream
2 tablespoon milk
1/2 teaspoon rum extract
1/4 teaspoon vanilla extract
For the glaze:
1/2 cup confectioner's sugar
1 tablespoon whipping cream
1/2 teaspoon water
1/4 teaspoon rum extract
1/4 teaspoon nutmeg
1/8 teaspoon salt
1. Preheat the oven to 375 degrees Fahrenheit.
2. Make the doughnuts: Whisk together all of the doughnut batter dry ingredients in a medium-sized mixing bowl.
3. In a separate bowl, beat the eggs, sour cream, milk, 1/2 teaspoon rum extract and vanilla extract together until foamy.
4. Pour the liquid ingredients all at once into the dry ingredients and stir until just combined.
5. Grease 2 doughnut pans. Fill each doughnut form half full with batter.
6. Bake the donuts in the preheated oven for 10 to 12 minutes. The doughnuts are done when they are a golden brown on top and spring back when touched lightly.
7. Remove the doughnuts from the oven, then remove them from the pans and set them on a cooling rack and let them cool until they are just barely warm.
8. Make the glaze: Stir together the glaze ingredients until smooth. Stir in a splash of water if needed to thin the glaze.
9. Dip the tops of the doughnuts in the glaze, shaking off any excess, then return them to the cooling rack, glaze side up, to allow the glaze to set.  Eat!!  These doughnuts are best eaten fresh.
=========================================================
* Disclosure: I am a brand ambassador for Safest Choice Eggs and was compensated for recipe development and writing this post. as part of my ambassador work as one of the Darling Dozen for Safest Choice Eggs.  All opinions are my own.