The next couple of weeks are going to be crazy for our family.  On Thursday I'm going to be flying to Tokyo to meet up with Mr. Fuji who has been in Japan for the past week and a half on a business trip.  I am so excited to go, because I haven't been back since we moved back to the US 2 years ago.  But, before I head off to Tokyo, I am taking Squirrel and Bug to NYC tomorrow for a really quick trip.  We're going to be making banana splits with Kelly Ripa on Tuesday to help kick off a new virtual campaign to support the Ovarian Cancer Research Fund.  Stephen Bruce, the "Emperor of Ice Cream," from NYC's famous Serendipity 3, will be there to make sure that we know what we're doing.  To get the girls into the spirit, and to brush up on our banana split making skills, we made some banana splits on Friday.  They were simple, but delicious.  We used bananas (of course) topped with vanilla bean ice cream, salted butter caramel sauce, and sprinkled with thinly sliced candied ginger.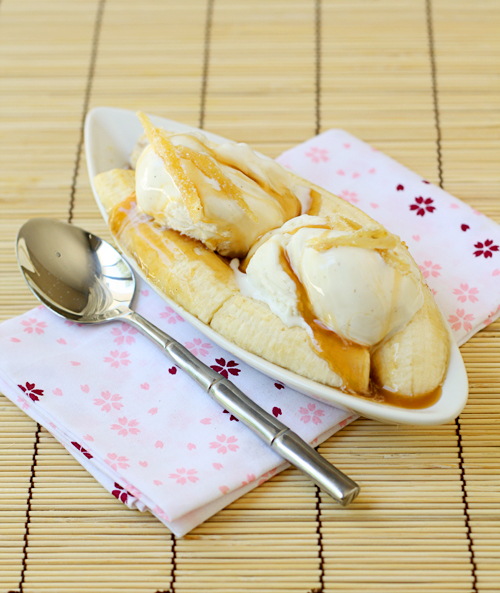 Squirrel really got into it.  Look at this silly face!
I hope Kelly Ripa is prepared for Squirrel.  As for me, I just hope I survive the 5-hour flight to and from NYC.  If you don't hear from me in a few days, send in a rescue team!