I love cream puffs
, but I'm not the only one.  My little brother also loves them.  So the other item that I made to bring to his
graduation party
were little mini cream puffs filled with lemon mascarpone cream.  I made a double batch for the party, and I'm glad I did, because they were eaten quickly.  We did finish the party with a few left over, but if I had only made one batch it wouldn't have been enough!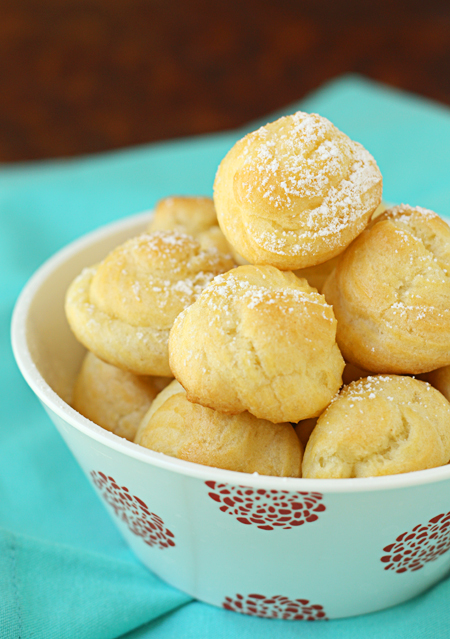 One of the things I love about cream puffs is how impressive they look.  To most people, it looks like you must have spent hours in the kitchen preparing these little masterpieces, when in reality you spent very little active time making them!  As I mentioned in my cream puff post, the dough only takes 5 minutes to make.  Then it takes a couple of minutes to pipe out your puffs, and then you pop them in the oven for about 20 minutes (for the mini size) until they are golden brown.  The filling only takes 5 minutes to whip up, and then filling the puffs is quick!  I made all of the cream puffs the morning of the party, then made the lemon mascarpone cream filling at my parents house and filled cream puffs as we needed them throughout the evening.
When I piped these cream puffs out, I used a star tip with a medium size opening to give the finished cream puffs a bit of a textural design on their surface.  I made the base about 1.25-inches in diameter.
To fill them, I used a narrow tip to poke a hole in the base of each puff, and then piped the cream in using a pastry bag fit with a tip with a slightly larger opening (this helps prevent all the air being pressed out of the cream, keeping it light and fluffy).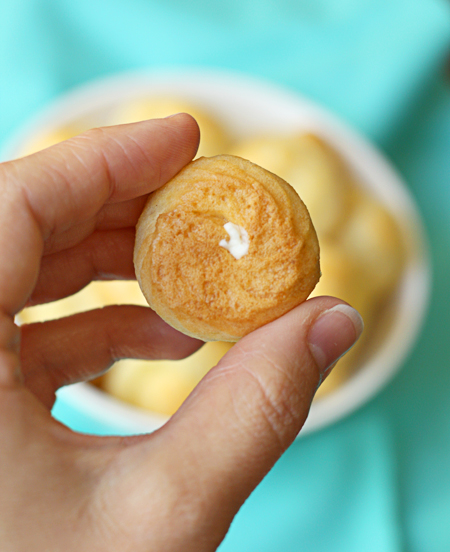 The finished puffs were absolutely delicious.  The creamy sweet and slightly tangy lemon mascarpone cream tastes divine with the light and airy puff pastry.  The only challenge is not eating them all before they ever make it to the table.  An impressive dessert without any headache!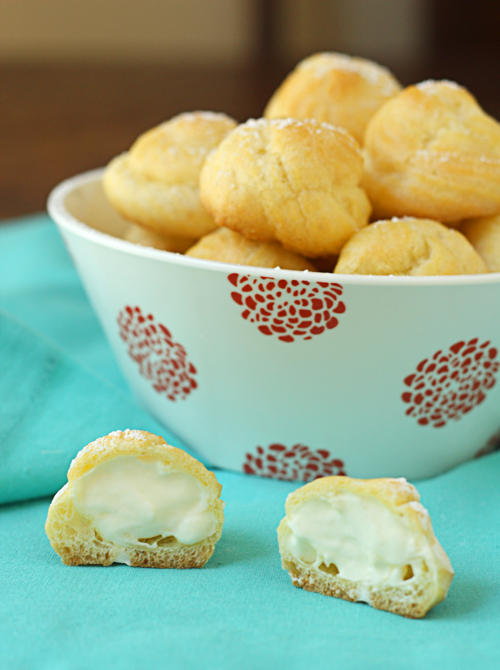 Print This Recipe
Cream Puffs Filled With Lemon Mascarpone Cream
Makes approximately 60 mini cream puffs

1 batch of mini cream puffs
1 1/4 cups (10 ounces) heavy whipping cream
3 tablespoons granulated sugar
8 ounces mascarpone
5 ounces lemon curd

2. Make the cream filling: In a medium-size mixing bowl beat the cream and sugar until soft peaks form.  Place the bowl in the refrigerator.

3. In a second medium-size mixing bowl stir together the mascarpone and the lemon curd until they are well blended.

4. Remove the whipped cream from the refrigerator and gently fold it into the lemon curd mixture until it is smooth and incorporated.  If you accidentally overwork the mixture it will look grainy or like it is separating.  To fix the filling, just stir in about 1 tablespoon of cream with a rubber spatula, and stir just until the mixture has smoothed out again.  Place the finished cream in the refrigerator for about 15 minutes to chill slightly.

5. Fill the cream puffs: When you are ready to serve the cream puffs, transfer the filling to a pastry bag fitted with a 1/4-inch round tip.  Insert the tip of the pastry bag into the base of each puff and fill.

I've already revealed how much