A week and a half ago my youngest brother graduated from
UCLA
with a BA in Art.  This big sister couldn't be prouder.  He is a very talented guy and I can't wait to see where the future takes him.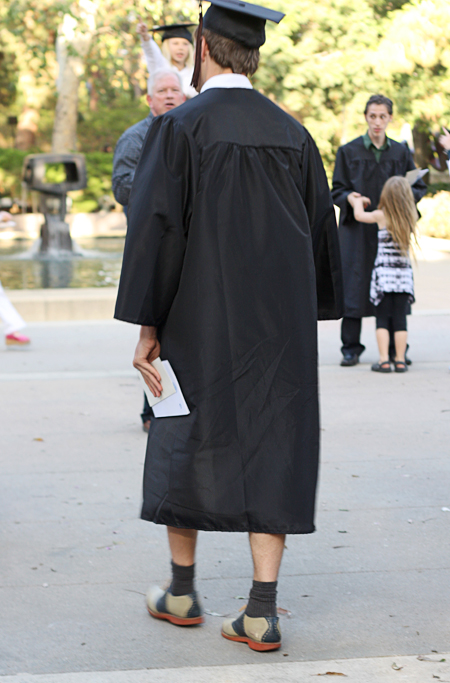 It has been very strange for me to think of my little baby brother being a college grad.  I remember when he came home from the hospital—such a cute baby.  As he grew, he developed a wicked grin, a warm sense of humor, and a passion for life.  I guess he's not so little any more, as he towers over me, and has for quite some time now.  It's amazing how quickly time flies.  Before I know it, one of my little babies will be graduating.  It reminds me how much we need to savor and enjoy each passing day.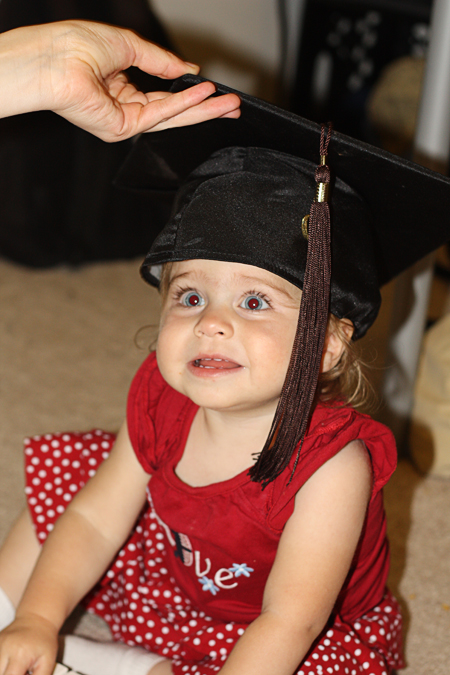 To celebrate his graduation, my parents threw a graduation party at their house.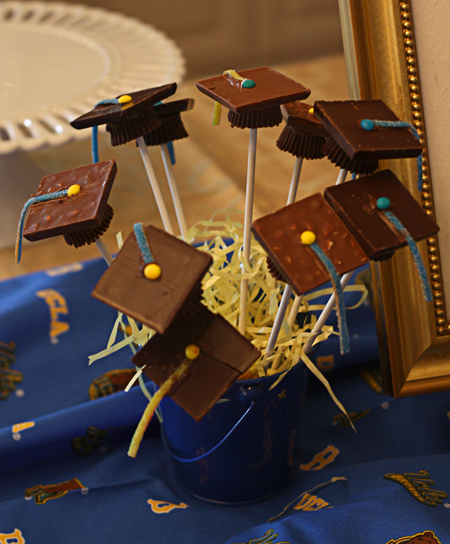 I helped out by bringing some of the food.  (Are you surprised?)  When my mom asked me if I would make some things, I immediately thought of making roasted olives.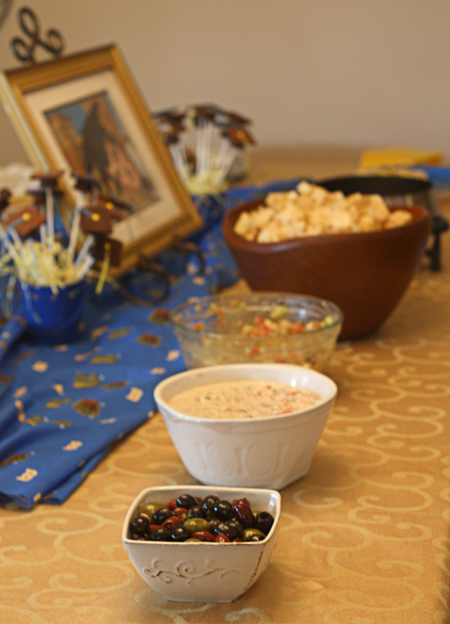 I ate some wonderful roasted olives at Camp Blogaway provided by Lindsay Olives (one of the Camp Blogaway sponsors) and have been dying to make my own ever since.  The best thing about these roasted olives is how quick and easy they are to put together.  They make a wonderful party appetizer because they don't require tons of time spent in the kitchen, which leaves you plenty of time to spend preparing everything else for the party.  All you have to do is spend a couple of minutes mixing the ingredients in a casserole dish (or a dutch oven like I did because I doubled the recipe), and roast them for 20 minutes and then they're done!  We put them in a bowl with a little jar of toothpicks next to them, but they would be delicious with thin slices of toasted baguette or crackers and a selection of cheeses.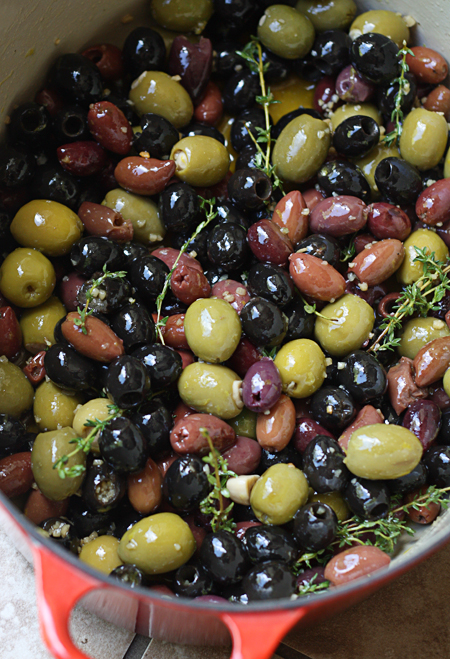 I'm a big fan of Lindsay Olives (I'm a proud Californian, what can I say?), so I used 3 of their varieties to make the olives.  Even Paula Wolfert, a highly respected expert on Mediterranean food, agrees.  In her book Mediterranean Clay Pot Cooking, she wrote, "…I'd ordinarily recommend a Greek or Spanish olive, but lately I've been pleasantly surprised by…Lindsay.  I've found their products top-notch…"  (p.14)  I adapted my recipe from a roasted olive recipe on the Lindsay Olives website, using their suggestion to use black olives, Greek Kalamata olives, and garlic stuffed Spanish olives.  The roasting helps draw out some of the moisture in the olives, making them slightly more dense and even more delicious.  As the olives roast they also soak in the flavors from the aromatics, giving them a bright tangy garlicky flavor.  The lemon in this dish is like adding a cup of sunshine to the mix.  If you close your eyes as you put an olive in your mouth, you can almost believe that you are sitting on a sunny hillside in Tuscany.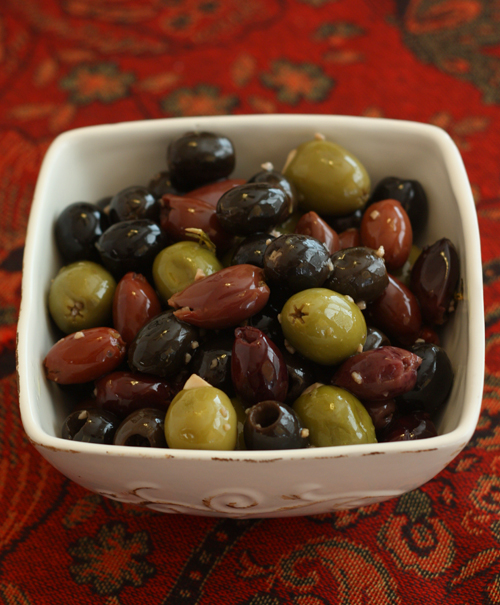 Print This Recipe
Roasted Olives
Adapted from Lindsay Roasted Olives Recipe
6 ounces black pitted olives, drained
6 ounces Greek Kalamata pitted olives, drained
4.5 ounces garlic stuffed Spanish olives, drained
6 large garlic cloves, minced
5 or 6 fresh thyme sprigs
zest of 1/2 lemon, finely shredded
1/4 cup olive oil
juice of 1/2 lemon (about 2 tablespoons)
1/4 teaspoon coarse salt
1. Preheat the oven to 425 degrees Fahrenheit.
2. In a medium bowl, combine all of the ingredients and mix well.  Transfer the olive mixture to a 13×9-inch baking dish.
3. Bake for 20 minutes.  Cool in the baking dish.  Serve at room temperature alone, or with thin toasted slices of baguette or crackers.