Seafood sustainability is an issue that is growing bigger by the minute.  Due to our fishing methods, environmental issues, and pollution, our oceans are in trouble.  Over 90% of the large predatory fish such as shark, swordfish and cod have been fished out of the ocean.  A growing number of marine species are now endangered or threatened, threatening the health of marine ecosystems and our food supply.  Organizations like the Monterey Bay Aquarium and Greenpeace or working to educate the public about these issues and provide information on sustainable options—seafood that is good for human health (low in environmental contaminants and sources of long-chain omega-3 fatty acids) and does not harm the ocean.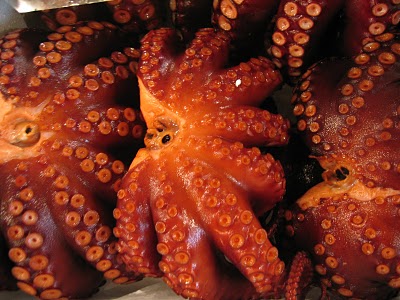 I recently became acquainted with Martin Reed, founder of the recently launched business i love blue sea.  i love blue sea ships sushi-quality fresh sustainable seafood to your door.  Living in Japan opened my eyes to an overwhelming variety of seafood that I had never seen, let alone know existed.  I loved walking through the seafood area of the market just looking at all of the different fish and shellfish.  I also loved the availability of sushi-quality fish.  Most American seafood counters are very boring in comparison.  When we moved back to the US I found it depressing to walk into the seafood area and only see things like salmon, tilapia, shrimp, and oysters.  I missed seeing things like whole mackerel, squid, and uni (sea urchin), and having access to sushi-quality fish.  I am very excited about i love blue sea, as it gives me a virtual seafood counter that gives me back that variety and freshness that I have been missing from Japan, while providing me with sustainable options.  A similar situation led Martin to start his company.  He was born and raised in San Francisco, spoiled by the bountiful fresh seafood of the Bay Area.  Then he moved to Arizona for college and found himself in the middle of the Tucson high dessert without access to the variety that he had taken for granted.  He decided to find a solution to this problem and in the process learned about the issues that face our oceans.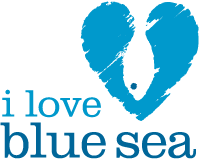 Martin and I have teamed up to teach you more about sustainability by talking about different types of seafood, why they are sustainable, and ideas on how to prepare and serve them.  We're starting out with one of my favorites—sardines.  The first time we moved to Japan I noticed a smaller skinny silver fish, called "iwashi," that was in every market and was very affordable.  When I finally figured out that the fish I had been admiring were sardines, I was surprised.  These beautiful fish were a far cry from the canned sardines I was familiar with.  The taste was even more surprising—when grilled it is full of smoky flavor and not at all fishy.  When served as sushi, it is delicate and absolutely wonderful.  Martin agrees.  He said, "Sardines are a shock for most people that have only ever had them canned.  In fact, I had my first fresh piece of sardine sashimi just this year.  I thought it was a completely different fish.  Mind-blowing how such a delicious creature could be disrespected and shoved in a can like nerds in a locker!  Not only are they super high in Omega-3s but being so low on the food chain, they have almost no mercury.  Also, just three ounces of the fish (not even a full serving) contain more calcium than a glass of milk.   Though Pacific sardine stocks have been shaky in the past, thanks to solid management and an inherent resilience to fishing pressure, the species has recovered and populations are currently very strong."  Sardines are listed as a "Best Choice" by the Monterey Bay Aquarium.  Even Oprah has noticed these little guys, declaring them one of her top 25 superfoods.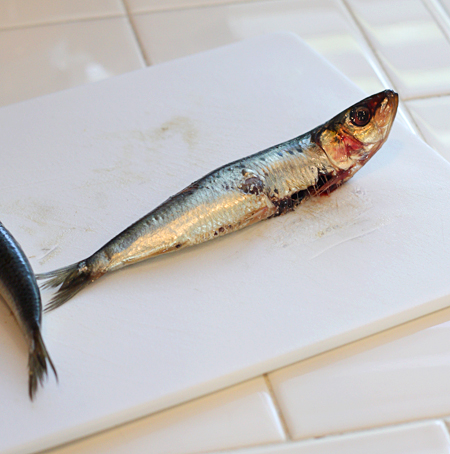 I decided to show you a simple way of preparing sardines that highlights their fabulous flavor and is quick and easy.  I used a Japanese method called "shioyaki" or salt grilling.  This entails sprinkling coarse salt on small whole eviscerated fish or fish steaks and then grilling them over high heat.  The finished fish is then served with lemon wedges and soy sauce which helps bring out and accentuate the subtle flavors in the fish.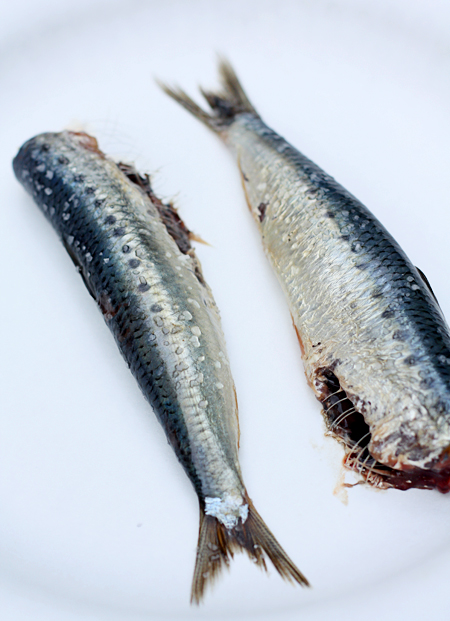 You can cook the sardines with or without their heads, but you don't eat the heads.  Once the sardines are grilled you can eat around the bones, or you can gently split them open along their bellies and then carefully lift out the backbone, which will lift out the rest of the bones with it.  The finished sardines make a perfect light summer meal when served with hot steamed rice and a simple green salad.  I hope you try iwashi—I think you will love them as much as Martin and I do!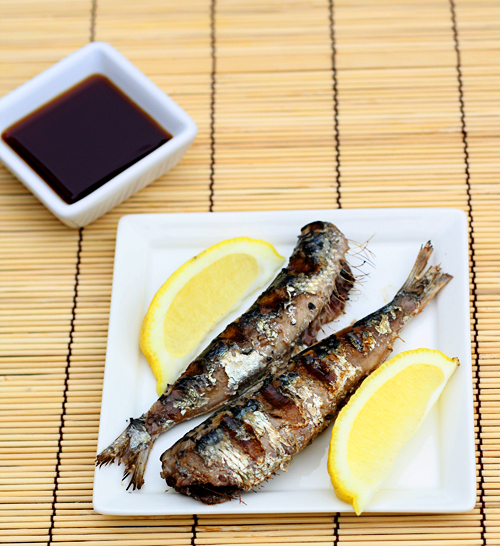 Print This Recipe
Iwashi no Shioyaki—Salt Grilled Sardines
Makes 4 servings
Eight 6-inch iwashi (sardines)
1 1/2 tablespoons fine sea salt
1 1/2 tablespoons coarse salt
soy sauce
lemon wedges
1. Rinse the sardines under cold running water, and pat dry.  Cut open the bottom 1/4 of the belly on a cutting board, and remove the gills and intestines.    Cut the head off the head and pull away with your knife (or leave the head on).  Rinse the inside of the belly with cold water.  Make a brine by mixing 1 quart of cold water with 1 1/2 tablespoons of fine sea salt.  Rinse the fish in the brine.  Pat the fish completely dry.
2. Take 1/4 teaspoon or more of salt between your thumb and forefinger and press it onto the tail, gill flaps, and fins, and work the salt in with your fingers.  This will protect these parts and give them a nice white crust when they cook.  Now lightly salt the entire fish.
3. Preheat the grill for high heat (this prevents the fish from sticking to the rack).  Once it has heated, lightly oil the grill grate.
4. Place the fish on the grill presentation side down.  Grill until the skin is browned and crispy, about 3 — 4 minutes.  With chopsticks and a rubber or wood spatula if necessary (tongs will tear the fish apart), gently turn the fish over and grill the other side until done, which will take about the same amount of time.  Serve immediately with lemon wedges and soy sauce.