As I mentioned in my last post, I took Squirrel and Bug to New York City to attend a special event to help kick off a new virtual campaign to support the Ovarian Cancer Research Fund (OCRF). I am so glad that I said yes when Foodbuzz contacted me and asked me if I would be willing to go, because not only did we have a fabulous time, but it was for a great cause, and now I get to encourage you to get involved too!  Yesterday the new virtual campaign was launched on Kelly Confidential.  If you go to the site, you can build your ultimate banana split.  For each banana split created on the site, Electrolux will donate $1 to the OCRF.  To sweeten the deal, everyone who logs on to the site and builds a banana split will be automatically entered for a chance to win the daily prize ($50 towards sweet summer treats) and the grand prize (the new stand-alone refrigerator and freezer from Electrolux).
Why would a mom knowingly and willingly go on a 5-hour flight cross country with 2 very young children all by herself, subjecting herself to tantrums thrown by tired children and rude comments from annoyed fellow passengers, then stay in a hotel with those children by herself, sharing a bed with the 3-year old who does kung fu in her sleep, all to do the same 5-hour flight the next day to return home?  Either she is insane, or she is supporting a really good cause, like spreading the word to help in the fight against ovarian cancer.  I'm hoping that I only qualify for the latter, but realistically I probably qualify for both!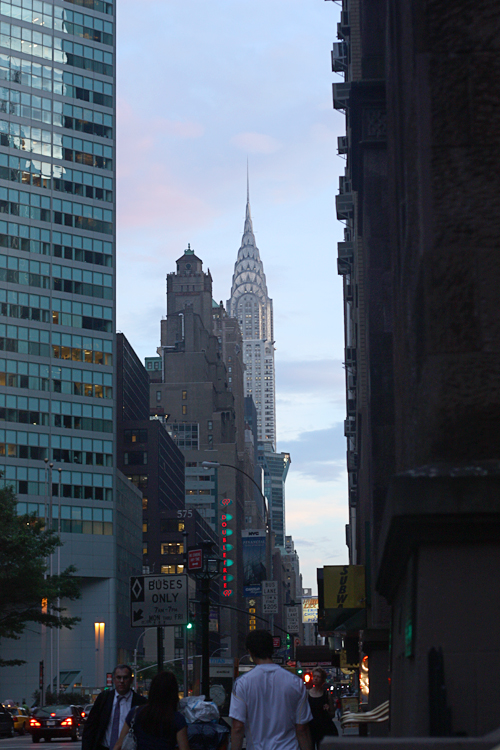 Somehow we survived the flight there, got settled into our hotel, and then met up with Kate (Our Best Bites) and her two kids and Maggy (Three Many Cooks) for a lovely dinner at La Bonne Soupe.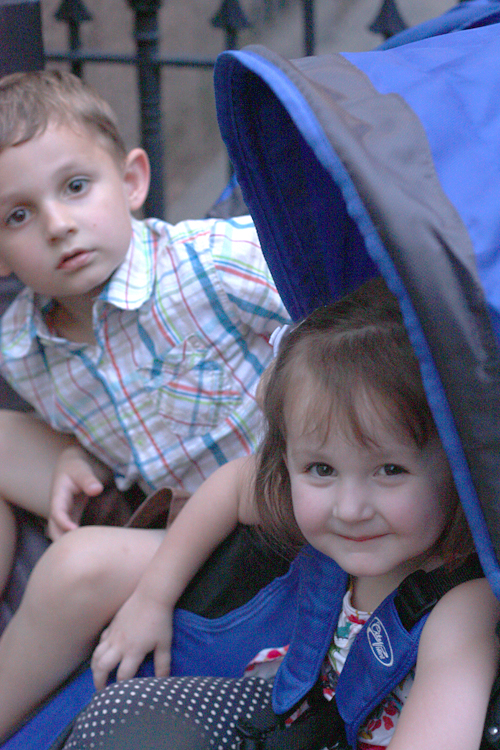 Thankfully the staff was incredibly gracious, despite a slightly crabby Bug who hadn't had a nap.  The food was delicious (the salad dressing was swoon worthy) and the company was even better.  After a night of Squirrel practicing some special roundhouse kicks on my back and head (I have a couple of bruises to prove it), we woke up excited and ready to go.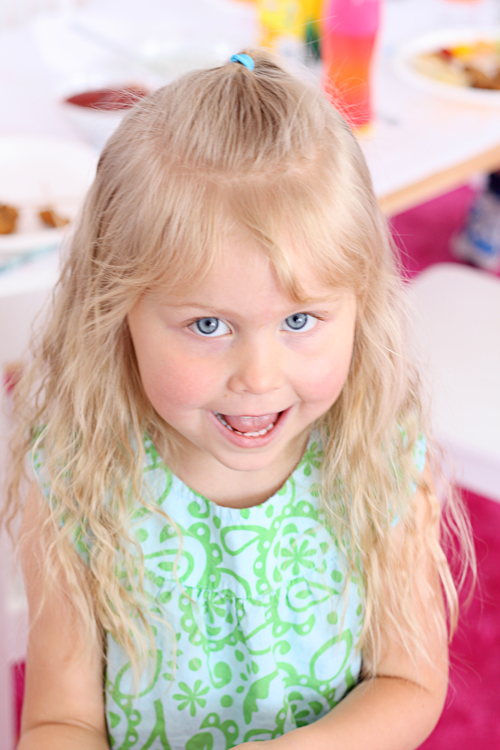 When we arrived at the location of the event, Studio 450, an absolutely gorgeous space, lunch was waiting for us, along with all kinds of fun things for the kids to do.
The kid's lunch tables were covered in white butcher paper and boxes of crayons were on the tables so that they could all tap into their inner artist.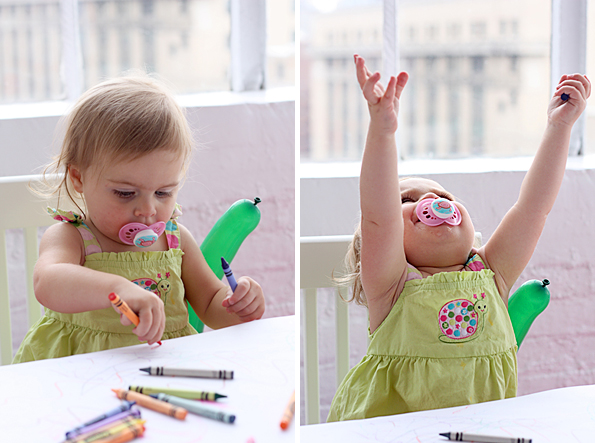 There was someone making balloon sculptures who was hilarious and had all of the kids giggling.  Bug spent quite a bit of her time pilfering other people's balloon sculptures.
If there had been nothing but balloons, I think she would have been incredibly happy.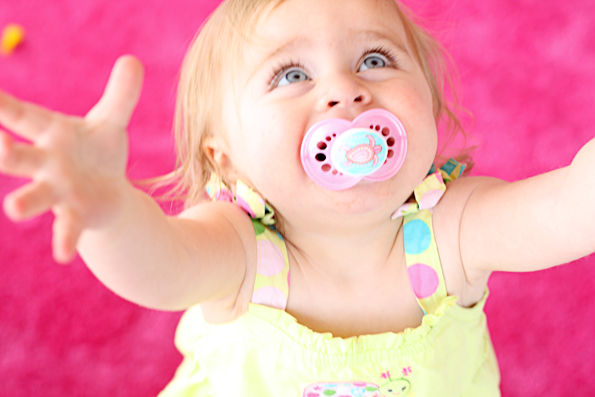 There was also someone doing amazing face painting.  Squirrel fulfilled her heart's desire and became a butterfly.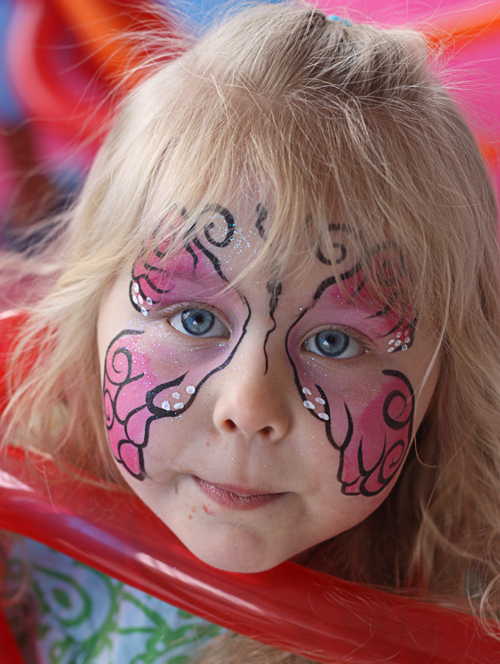 It was so fun to spend time with fellow bloggers, like Kate of Our Best Bites, Kelsey of The Naptime Chef, Jaden of Steamy Kitchen, and Joslyn of Simple Lovely (and Raising Foodies).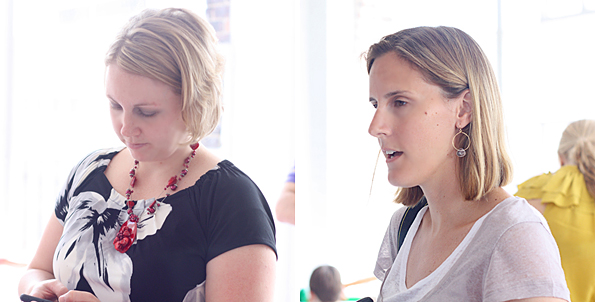 It was also really fun to meet everyone's kids.  It was an extraordinarily cute group of kids.  Jaden's (Steamy Kitchen) boys grudgingly agreed to be in some pictures with Squirrel for Jaden and me, even managing not to say, "Eeew! Girls are gross!"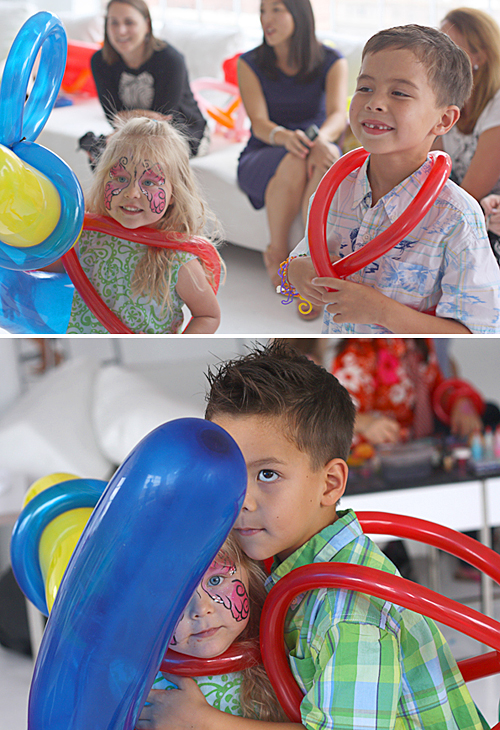 Then we were ushered into an adjacent room to get started on the main activity, and the reason that we had traveled so far.
To be continued . . . . (While you're waiting for the second half of the story, how about going and making a banana split?)