180 days—the typical number of days our children attend school each year in the US, and therefore, also the approximate number of lunches they will eat away from home each year.  That means that school lunch makes up approximately 16% of our children's nutritional intake each year.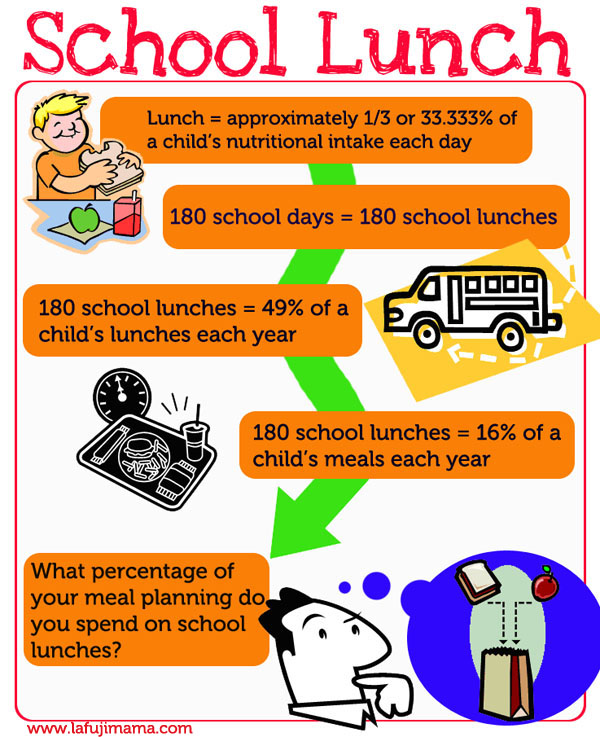 How much of our time spent meal planning is dedicated to thinking about what our kids are eating for lunch at school?
My own experience with preparing school lunches began a couple of years ago when Squirrel started preschool.  Her favorite food is onigiri (Japanese rice balls), and so when she started taking a lunch to preschool, I started making onigiri to include in them, and it made sense for me to start learning to pack a whole bento for them to go into.  (A bento is a Japanese boxed lunch or meal, and a concept that I fell in love with while living in Japan.)  But as time has passed, life has gotten busier, and she has grown bigger, I have gotten into a rut, and the time I spend thinking about what goes into her bento has decreased.  I was recently talking to my friend Noriko, who has been experiencing the same problem, and she suggested that we start sending each other pictures of the bento we pack for our daughters, to help keep each other honest, and to help inspire each other.  We started posting our photos on Instagram, with the hashtag #bentobuddy as an easy way of cataloging our efforts.  I still have many areas where I can improve, but the project has definitely helped me make small changes and to be a bit more excited about the school lunch process.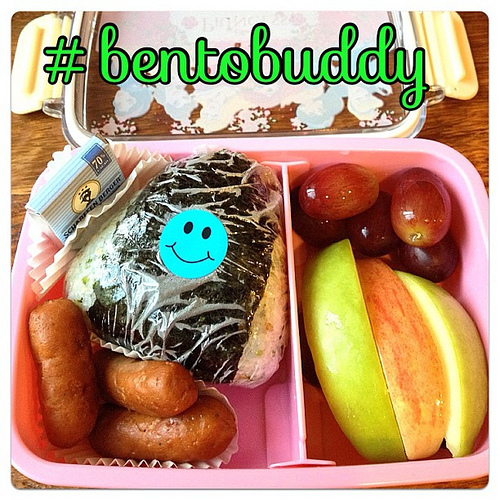 In addition, the project has reminded me that making my daughter's lunch each day for school is more than just a chore—it's something I do because I love her and because I care about what she puts into her body each day.  Harumi Kurihara wrote, in her book Harumi's Japanese Home Cooking, "I feel that making a bento is something rather special, it is almost like a little love letter that is opened when someone is away from home.  It reminds you of home, of the person who made it for you.  It is more than just food!"
I know that Noriko and I aren't alone.  I've talked to many friends who have gotten into ruts, or who dread the daily chore of packing their kids' lunches.  Knowing that, I have a pretty good guess that there are many of you experiencing similar issues, and so I'm starting a new series here on La Fuji Mama called Bento Buddy.  I'll be talking about basics, sharing tips and tricks, talking about supplies, and sharing recipes.  Oh, and of course I'll be including some giveaways!  (Hint: check back tomorrow . . . .)
But for this series to be a success, I need you to participate!  This series is all about motivating each other and bringing lots of ideas to the table.  If you're on Instagram or Twitter, start sharing pictures of the bento you prepare, and make sure to use the hashtag #bentobuddy.  I've also started a Bento Buddy Flickr group, so please join and share your pictures there as well if you're on Flickr.  If you don't have kids, but you're packing a lunch for yourself or someone else to take to work, or for some other reason, we need you too!
Why pack a bento instead of an ordinary packed lunch?
Even a simple bento can be visually appealing.
Bento box compartments help with portion control.
Bento boxes are reusable, which helps reduce waste! (According to the EPA, the typical child generates 67 pounds of trash from school lunch packaging each year, which adds up to over 40,000 pounds for one average-size middle school per year!)
Packing a bento can help save money. (See the comparison done by Waste Free Lunches between a regular packed lunch and a reusable lunch.)
It's more than just food!  Remind yourself, and the person you're preparing the bento for, that you care for them!
Let's help each other take back school lunch with the buddy system!