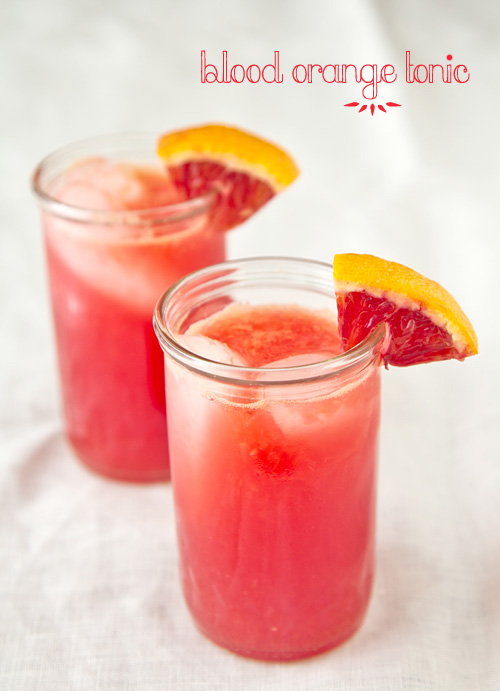 Indulge in the flavors of the season with a blood orange tonic!  As a non-alcohol drinker, the typical options when I'm at a restaurant or an event can get a bit boring—soda, juice, sparkling water . . . .  Am I alone in feeling like it would be nice to have a few more options that have the glitz of an alcoholic drink, but without the alcohol?  As my friend Krista said to me as we were discussing this topic last week, "I want a special fruity drink too!"  People don't drink alcohol for a whole host of reasons, whether it be religious reasons, like me, because you are pregnant (congrats!!), made a New Years resolution to cut back or slim down, you're the designated driver for the night, etc.  Just because you aren't drinking alcohol shouldn't mean you don't have more options.  In light of this topic being frequently raised by friends, family, and readers over the past year, I'm launching a new ongoing series, Fuji Happy Hour, to give you some alternatives to serve to party guests who prefer not to drink alcohol, or to whip up as a treat for yourself.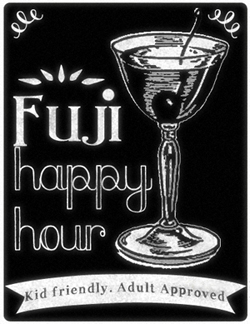 To start, I've come up with a few pointers to keep in mind:
5 Tips for creating your own signature non-alcoholic drinks:
Use fresh ingredients.  Take a cue from what's in season when thinking of what to include in your drinks.
Balance, balance, balance: A good cocktail is about balance—not overly sweet, overly bitter, or overly sour.  The tendency is for non-alcoholic drinks to be a bit on the sweet side.  Don't go too sweet.  If you use too much sugar, the sweetness in the drink will take over, and you'll lose the opportunity to have more complex flavors in your drink.  Don't be afraid to tap into savory, sweet, and sour notes.  There are many cocktails that use bitters, however most bitters have some alcohol in them.  But there are other ingredients that can be used instead to add great bitter flavors to your drinks.  One such ingredient is tonic water, a sparkling water which includes quinine which has a distinct bitter flavor.  Citrus peel can also be used to add a bit of bitterness and wonderful bright flavor.
Use great garnishes:  Garnishes add visual appeal and can help add more flavor to your drink.
Equipment: Making special drinks doesn't require any special tools, but using pretty cocktail glasses dress up drinks and will make those you are serving them to feel special.
Have fun!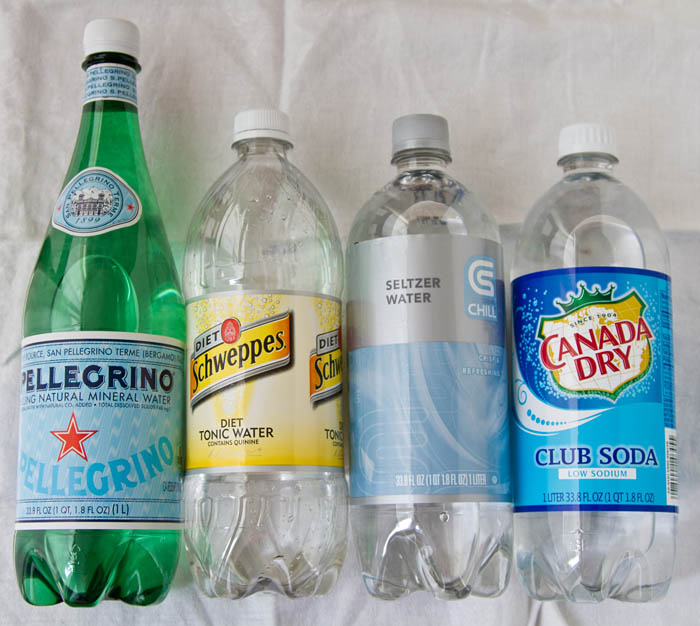 A Note About Fizzy Waters:
Different carbonated water options are not made equal.  There are several different options out there, and what you choose can make a difference.  Here is some basic info on what you will find on your supermarket shelves and what the differences are:
Sparkling Water/Mineral Water: This is water that has naturally occurring minerals in it, like San Pellegrino.  From what I've read, most mixologists don't like using mineral water, because the minerals tend to dominate the flavor and the carbonation levels aren't consistent. (And they're usually more expensive!)
Seltzer Water: Seltzer is just carbonated water and nothing else.
Club Soda: Club soda is like seltzer, except with added minerals, which give it a subtle flavor difference, which can be especially nice when paired with different fresh fruit juices.
Tonic Water: As I mentioned earlier, tonic water has quinine in it, which gives it a bitter flavor that can add an extra special dimension to a non-alcoholic drink.
To kick off the series I'm celebrating one of my favorite varieties of citrus that is currently in season: blood oranges.
I look forward to their appearance ever year.  With their ruby red flesh that tastes like an orange that's been kissed by a berry, they are nature's candy.  You can usually find them from around December to March . . . so get them while you can!!  Although one of my favorite ways to indulge in these beautiful citrus is to get them into wedges and eat until my lips are stained red, they also make fantastic drinks.  My favorite way to serve them up is in a non-alcoholic cocktail that is sweet and tangy with a hint of bitterness and consists of only two ingredients: blood orange juice and tonic water.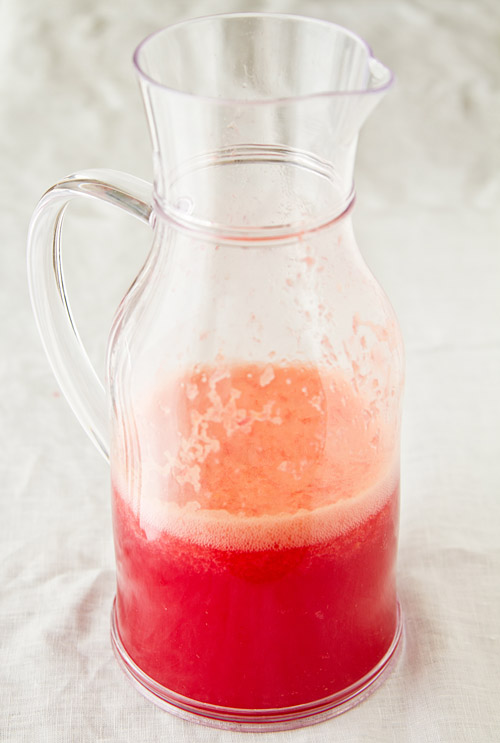 The tonic water gives the drink a hint of bitterness, which makes the sweet and tang of the blood orange juice even more pronounced, and the juice gives the drink beautiful natural color.  Cheers!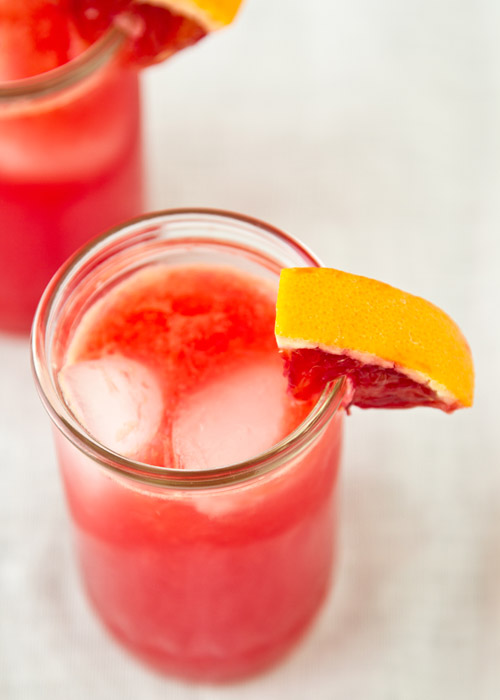 Print This Recipe
Blood Orange Tonic
Makes 3 1/4 cups (approximately 4 servings)
14 ounces (1 3/4 cups) freshly squeezed blood orange juice
12 ounces (1 1/2 cups) tonic water
Ice cubes
Blood orange wedges for garnish
1. Stir the blood orange juice and tonic water together in a pitcher.
2. Fill 4 glasses with ice and top with the cocktail mixture.  Garnish each glass with a blood orange wedge and serve.