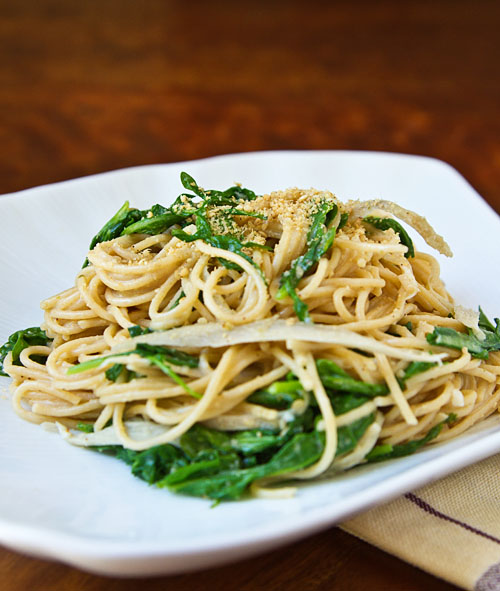 Whole wheat angel hair pasta, baby arugula, and burdock root in a yuzu kosho cream sauce is enough to get me daydreaming.  When I was typing up the recipe to share this fabulous dish with you, it got me to thinking.  I've been writing this blog now for a few years (it will actually be 6 years as of February 7th), and writing about food specifically since about the fall of 2008.  In that time I've learned so many things and worked on new skill sets that I never would have imagined tackling before writing a blog.  To be truthful, blogging kind of freaks me out if I think to much about it.  I love to share, but in sharing I am also making myself vulnerable.  Add the new skills needed to write a blog about food and it's enough to send a person to bed with a tummy ache and a bottle of antacids.  Recipe writing?  I would have laughed 6 years ago to think of posting my recipes for all to see.  Coming up with my own recipes is something I've loved doing for years, but it's whole new bag of worms to actually put them down into words in a way that will enable someone to reproduce the dish in their own kitchens without calling me up on the phone to ask questions.  I still have a lot to learn, but I've definitely come a long way.
The "tech" aspect of blogging has probably been the hardest—my brain just isn't wired for it.  Yet somehow I've even managed to learn a bit about that as well.  I still dread things going wrong.  Take for instance the recent realization that a large percentage of my responses to your comments over the years had "magically" vanished.  Aaaargh!  I spent an hour of futile digging around the back end of my site, then made a desperate plea for help on Twitter and was rescued by a reply from my friend Barb (let's call her my "tech angel") who told me the likely cause of my problem and where to look to fix it.  (*Side note: Some of my responses have been restored, but not all, so if there's info that you're looking for, speak up!)  Phew!
As I was writing up the recipe to post today, struggling with the best way to explain one of the steps (see, still so much to learn about recipe writing!), I contemplated all of the stuff I've learned and the frustrations and struggles I've gone through in the process of writing this blog.  The parts of blogging that I love make all of the other stuff worth it.  I love getting to share and talk about life and food with you, and have been surprised at how many of you I've gotten to know and even meet over the years.  For me, food is about community and nourishing each other, and this blog has enabled me to find a larger community to belong to.  So here's to 2013 being a fantastic addition to all of that!
So back to this recipe (I know, you thought I'd never stop rambling!)—at the end of our Tokyo trip this past summer, a friend gave me a bottle of yuzu kosho made in her husband's hometown and a few recipes to try.  One of the recipes was a pasta recipe from a book called うーらのオーガニックレシピ手帖 ("Ura's Organic Recipe Notebook") by Tomoko Shoji (the author writes a blog by the same name: うーらのオーガニックレシピ手帖).   The recipe called for three of my favorite things: komatsuna, gobo (burdock root), and yuzu kosho.  Komatsuna is a leafy freen vegetable commonly eaten in Japan that is a bit like a cross between spinach and mustard greens.  Gobo, or burdock root as it is called in English, is a root vegetable with a fabulously earthy taste.  And finally, yuzu kosho—a Japanese citrus pepper paste that is my all-time favorite condiment.  It is made with only three ingredients: salt, hot peppers, and grated yuzu zest (a highly fragrant Japanese citrus fruit that is like a cross between grapefruit, lemon, and lime).  The combination produces a rough paste that is bursting with a salty citrusy heat that isn't too spicy and extraordinarily addicting.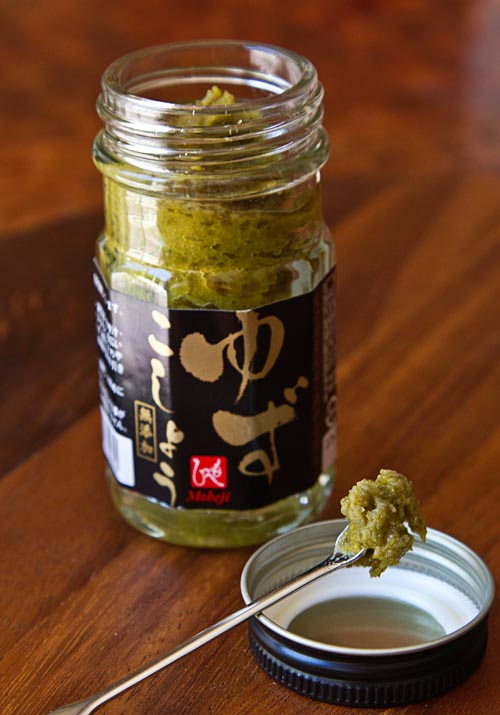 The recipe was calling my name.  The burdock root and yuzu kosho are both easy for me to find (you can find yuzu kosho in the condiment section in an Asian market), but komatsuna requires a special trip to a Japanese grocery store, so I decided to substitute another one of my favorite greens instead.  I used baby arugula (regular arugula would work fine as well, but I would chop it up a bit first), which also provides its own peppery bite, is full of good things like iron and vitamins A & C, and sautes beautifully.
To prepare the burdock root I used a traditional Japanese knife cut—sasagaki, which entails cutting slivers from the root, much like whittling the end of a pencil, and then soaking the slivers in cool water.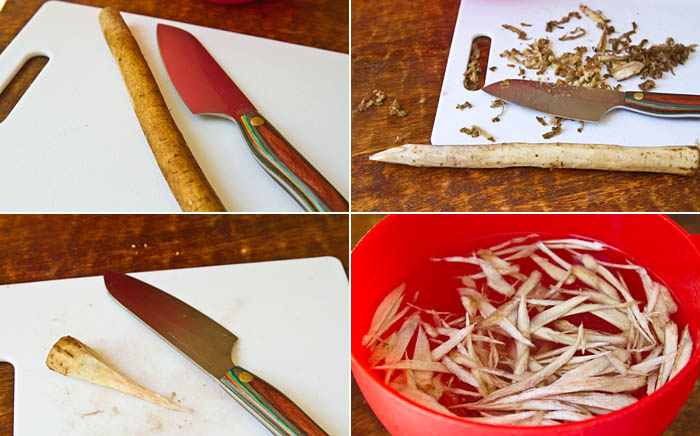 The dish couldn't be easier to make.  All you do is cook up the vegetables in a bit of oil, then stir in some soymilk, yuzu kosho, and ground toasted sesame seeds to make the cream sauce and then add the pasta and toss it all together.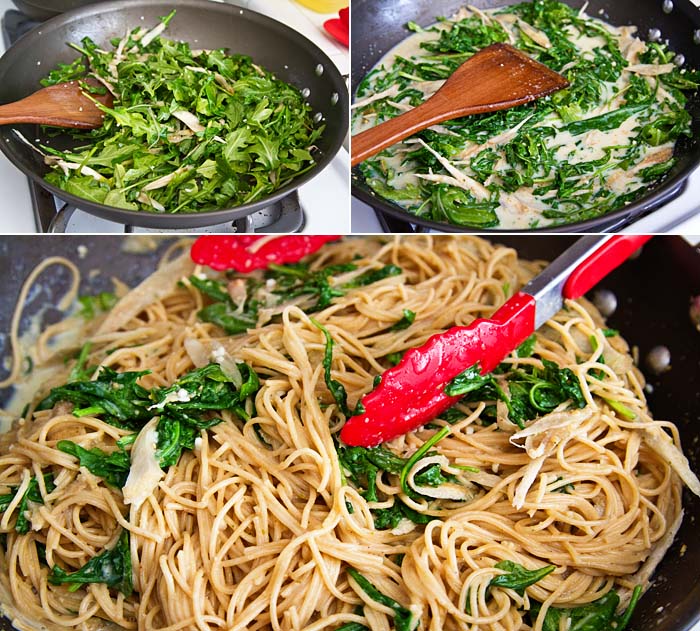 Nutty whole wheat angel hair pasta tossed with peppery baby arugula and earthy slivers of gobo (burdock root), dressed with a yuzu kosho cream sauce with a hint of nuttiness from the toasted sesame seeds is a beautiful thing.  A wonderful way to tantalize your tastebuds and fill your belly!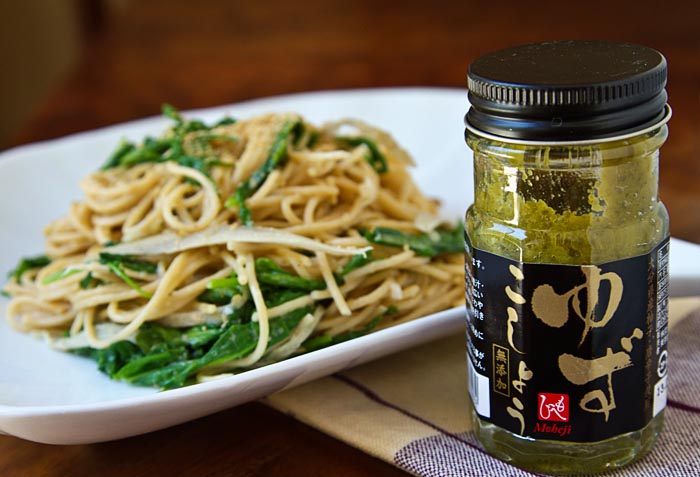 Print This Recipe
Arugula & Burdock Root Yuzu Kosho Cream Pasta
Adapted from  うーらのオーガニックレシピ手帖 by Tomoko Shoji
Makes approximately 5 servings
1 piece (approximately 10 inches in length) gobo (burdock root)
10 ounces whole wheat angel hair pasta
1 1/4 cups (10 ounces) plain soymilk
2 tablespoons toasted white sesame seeds
2 teaspoons yuzu koshou
1 tablespoon olive oil
4 cloves garlic, minced
4 ounces baby arugula
Salt and pepper to taste
Toasted white sesame seeds, to garnish
1. Prepare the burdock root: If the burdock root is fresh, simply scrub the surface with a vegetable brush under cool running water.  If the piece of root is a bit older and the surface has hardened slightly, then gently scrape the surface using the blunt edge of a knife to clean away the toughened skin.  Fill a medium-size bowl with cold water.  Using a sharp knife, shave thin slivers off one end of the root, rotating the burdock as you cut, like you are sharpening a pencil. (This technique is called sasagaki in Japan.)  Cut the slivers into the bowl of water and allow them to soak for 5 to 10 minutes (this removes any harsh flavors, but don't oversoak which will extract too much flavor).
2. Prepare the sesame seeds: Grind the toasted sesame seeds into a coarse powder with a mortar and pestle, then set aside.
3. Prepare the pasta: Cook the pasta, until al dente, according to the directions on the package.
4. Whisk the soymilk, ground sesame seeds, and yuzu kosho together in a bowl and set aside.
5. Heat the olive oil and garlic together in a large frying pan over low heat.  When the garlic becomes fragrant, add the burdock root and baby arugula and toss to coat, then stir in the soymilk mixture.  Raise the heat to medium-low and continue cooking until the mixture comes to a simmer (slow boil), then turn off the heat.
6. Add the pasta and toss to coat.  Season with salt and pepper to taste.  Divide the pasta among four plates and garnish with toasted sesame seeds.