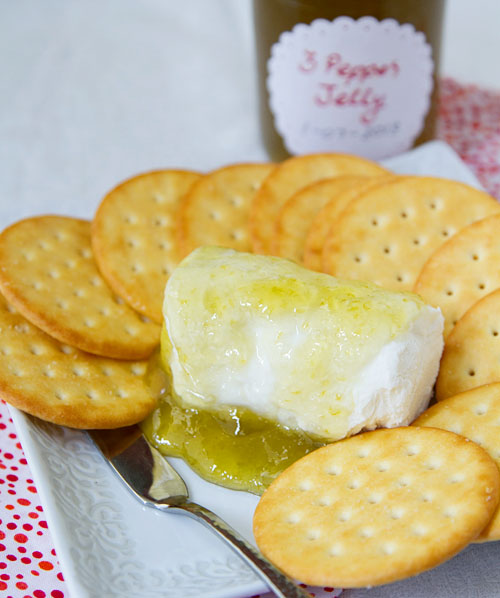 Three pepper jelly and goat cheese served with crackers makes my list of perfect party foods.  All of the work on this appetizer is done ahead of time, making it perfect for a stress-free party lineup.  When it comes to entertaining, I am all about easy.  Yes, I want the food to be good, but I also don't want to be so stressed out about the food that I don't enjoy myself.  With Super Bowl Sunday, the second biggest eating day of the year (beat only by Thanksgiving), I'm already thinking ahead so that when game day rolls around, the food is already taken care of.  Three pepper jelly and goat cheese served with crackers is a dressed-up twist on a favorite appetizer of mine growing up—pepper jelly and cream cheese.    You whip up a big batch of pepper jelly ahead of time, and then can it so that you've got extra jars in the pantry, or a delicious gift to give to someone who needs a pick-me-up.  That's a winning play in my book!  And one that we can give
Napoleon Bonaparte
 for—go figure.  According to the
Canned Food Alliance
, Napoleon Bonaparte offered a cash prize to the person who could develop an efficient way to preserve food.  A French cook named Nicholas Appert invented canning, a method of heating and sealing food.  A method which, if done properly, preserves food for more than two years.  So Monsieur Appert won Napoleon's prize, and the world got a new food-preservation technique.  So do we call Bonaparte or Appert the quarterback on this play?  I'm going to leave that one up to all of you football fanatics.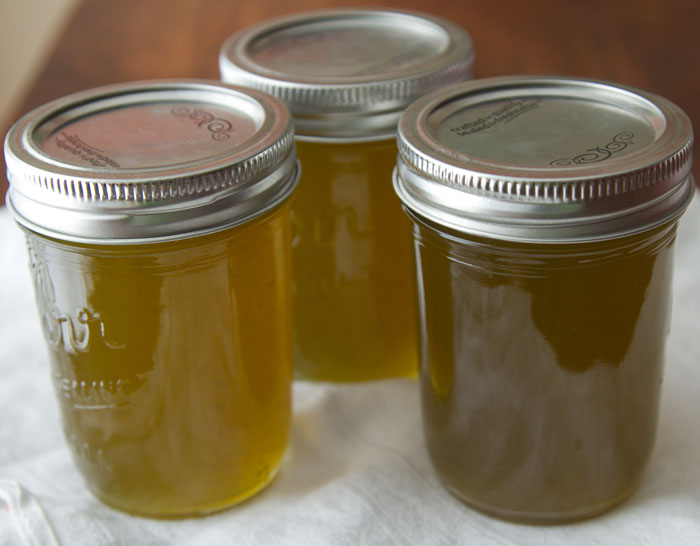 One thing I 
do 
know, is that this three pepper jelly is a touchdown.  I fell in love with it when I tasted it at my mother-in-law's house over the holidays, and she was kind enough to share the recipe.  It uses three different kinds of peppers: green bell peppers, Anaheim peppers, and jalapeno peppers, which gives the jelly a wonderful complex flavor.  You can make it as mild or spicy as you want by including as many jalapeno pepper seeds as your heart desires.  I'm a total chilihead, so I love going with heat, but I tend to only use a few so that others will enjoy the jelly as well.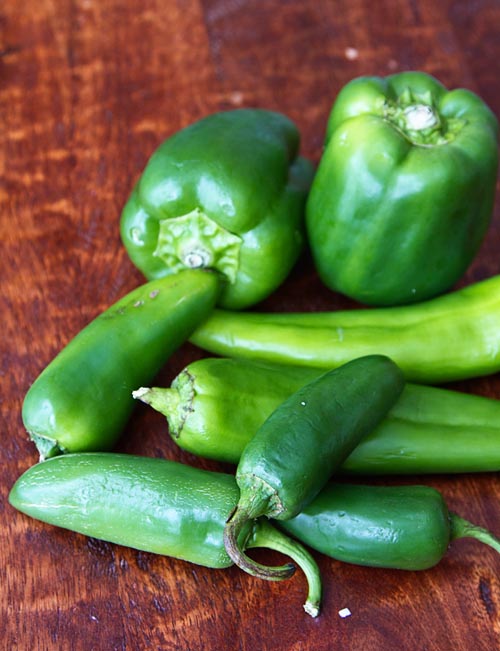 If you're intimidated by jelly making or canning, don't be.  Both are CRAZY easy, and there are lots of tools out there to help if you are nervous or confused.  Ball, the maker of the glass mason jars that you can find in most supermarkets, provides a bunch of
free tools on their website
, including step-by-step guides to canning.  I have their book,
Ball Complete Book of Home Preserving
, which is jam packed full of information and recipes, which is kind of like the bible of canning in my mind.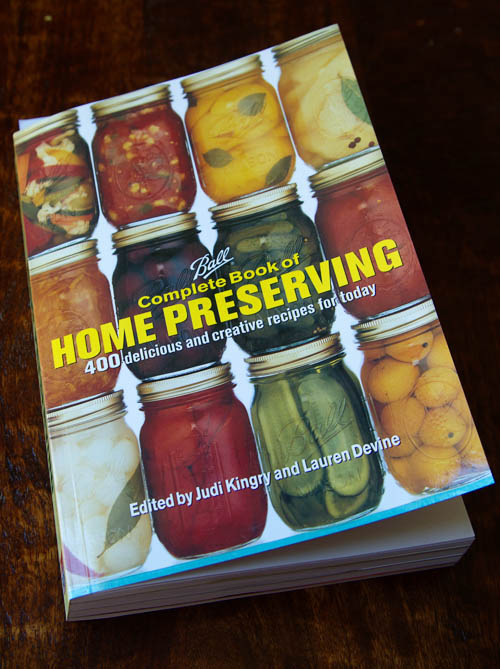 Okay, so now about that jelly.  Get your canning gear going first, so that your jars and lids can be sterilizing while you're making the jelly and ready to go once the jelly is done.  Then whip up the jelly!  Once the jelly is finished, pour it into your sterilized jars and process them in your canner.  The hardest part about this whole process is letting the processed jars sit for 24 hours to make sure they seal properly and cool.  Of course, you can always put some of the jelly straight into a container in the refrigerator and enjoy it once it has chilled!
Once your jelly is made, you can enjoy it served with a log of goat cheese and variety of crackers. (But don't worry, you're not stuck eating pepper jelly with cheese and crackers.  
There are all kinds of ways to enjoy it!
)  Here's to Bonaparte and Appert!  Touchdown!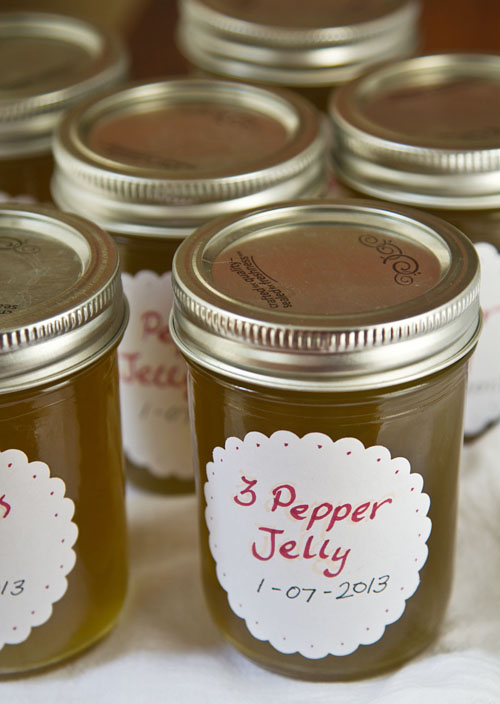 Print This Recipe
Three Pepper Jelly
Makes about six 8-ounce (250 mL) jars
Adapted from Fuji Mother-in-law's recipe; Canning methods from Ball Complete Book of Home Preserving
Recipe Notes: Make sure to wear rubber gloves when cutting and seeding the peppers so that you do not… If you want your jelly to have a bit more heat, include some of the jalapeno seeds in the pepper mixture. If you want a brighter green jelly, you can add a few drops of green food coloring, right after you skim the foam off of the jelly in step 3.  Want red jelly instead of green?  Substitute red peppers for the green!  Higher altitude affects canning recipes, requiring longer processing times (step 5). Altitudes of 1001–6000 feet (305–1829 meters), increase the processing time to 15 minutes. Altitudes of 6001+ feet (1829+ meters), increase the processing time to 20 minutes.
Ingredients:
2 cups green bell peppers (stems, membranes and seeds removed), chopped (about 10 ounces chopped, or 2 1/2 large peppers)
1/2 cup Anaheim peppers (stem, membranes and seeds removed), chopped (about 3/15 ounces chopped, or 1 1/2 large peppers)
1/2 cup green jalapeno peppers (stems, membranes, and seeds removed), chopped (about 3.3 ounces chopped, or 1 1/2 large peppers)
1 1/2 cups (12 fluid ounces) white vinegar
6 cups granulated sugar
1/2 teaspoon salt
2 pouches (each 3-ounces) liquid pectin
1. Sterilize the jars: Place 6 clean 8-ounce mason jars on a rack in a boiling-water canner. Fill the jars and the canner with cool water that reaches the top of the jars. Cover the canner and bring the water to a simmer over medium heat, but do not boil.
2. Sterilize the lids: Set the screw bands aside, place the lids in a small saucepan, and cover with water. Heat just to a simmer over medium heat, but do n ot boil. Keep the lids warm until ready to use. (Do not heat the screw bands.)
3. Prepare the jelly mixture: Put all the peppers and vinegar in a blender or food processor and blend well. Process until smooth for smooth jelly, or leave some small chunks of pepper remaining for a more textured jelly. Pour the mixture into a large pot on the stove. Add the granulated sugar and salt and stir to combine.
4. Make the jelly: Bring the mixture to a boil over high heat and boil, stirring constantly, for 8 minutes. Stir in the liquid pectin. Let the mixture return to a vigorous boil, and let boil, stirring constantly, for 1 minute. Remove the pot from the heat and quickly skim off the foam on the surface of the jelly.
5. Fill the jars: Remove one of the jars from the canner and empty the hot water back into the canner, being careful not to burn yourself. (Do not dry the jar.) Place the jar on a tray or towel-covered counter and place a canning funnel in it. Quickly pour hot jelly into the hot jar, leaving 1/4-inch headspace. Then with a clean, damp paper towel, wip the jar rim and threads clean. Using a magnetic or nonmetallic utensil, lift a hot lid from the water and center it on the jar. Place a screw band on the jar and screw it down evenly, just until resistance is met, and then increase to fingertip-tight. Return the jar to the canner rack and repeat until all the jelly is used.  Pour any remaining jelly into a container and place in the refrigerator.
6. Process the jars: Make sure all the jars are completely covered by at least 1 inch of hot water. Cover the canner and bring the water to a full rolling boil over high heat. Process (continue boiling rapidly) for 10 minutes, starting the timer only when the water reaches a full rolling boil. At the end of the processing time, turn the heat off and remove the canner lid. Wait 5 minutes, then remove the jars, without tilting, and place them upright on a towel in a draft-free place and let cool for 24 hours.
7. Check the jars for proper seal: After 24 hours, check the lids to make sure they are sealed. If any jars have not sealed properly, then they must be refrigerated immediately or reprocessed. For those that have sealed properly, remove the screw bands, then rinse and dry them. Wipe the jars clean then loosely reapply the screw bands. Label the jars (include what is inside and the processing date), then store them in a cool, dry, dark place. Refrigerate after opening.