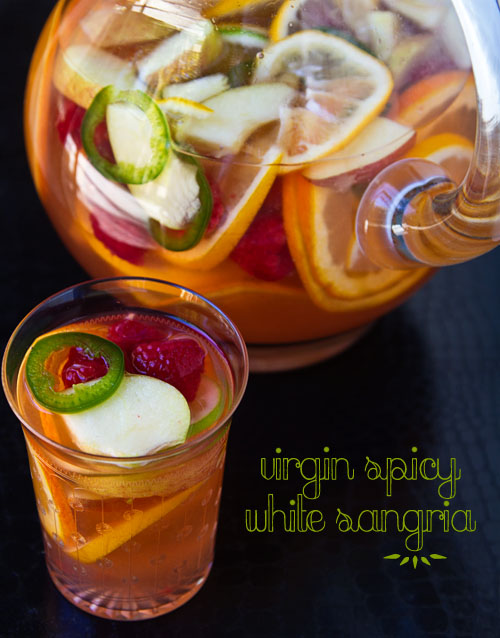 For Fuji Happy Hour this week, a virgin version of a white sangria with a bit of heat to warm you up on a cold winter afternoon makes a wonderful treat to whip up for yourself, or serve at a party!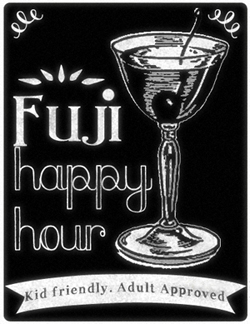 Today's drink takes inspiration from across the pond, specifically Spain.  Sangria is a typical party drink in Spain, made with wine, chopped fruit, sweetener, brandy or something like seltzer water.  There are many variations of sangria, one of which is made with white wine, instead of red, and called sangria blanca, or white sangria.  I used white grape juice as my base and grabbed the fruit that was on sale at my local Sprouts market—lemons, oranges, limes, apples, and raspberries (score!).  I also added a jalapeno to my basket . . . I seem to have a jalapeno thing going on at my house lately!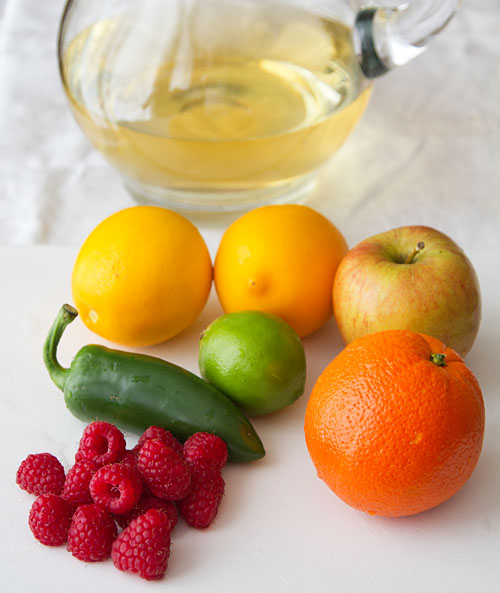 This has got to be about the easiest drink on the planet to make.  All you have to do is slice and chop up your fruit and jalapeno pepper, juice a lemon, then stir everything into some white grape juice in a pitcher, and put it in the refrigerator to chill so that the flavors of the ingredients infuse themselves into the grape juice.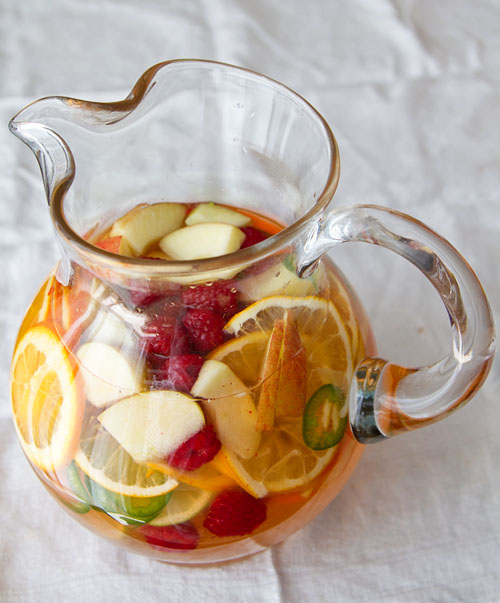 It's even easier if you have a sharp knife (my Shun chef's knife is my baby) and a good juicer (I adore my KitchenAid Citrus Juice Stand Mixer Attachment), both of which will make quick work of prepping your ingredients.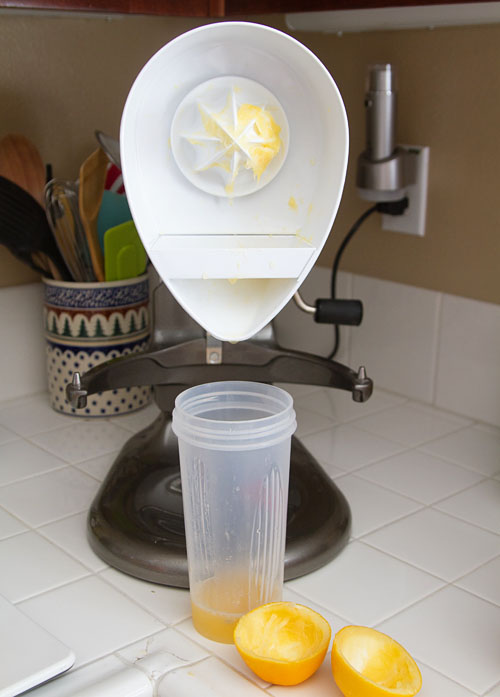 This has also got to be one of the prettiest drinks you can make—the fruit looks like little jewels floating in the juice!  The jalapeno pepper helps cut through the sweetness of all of the fruit in this concoction, giving it a nice balance, as well as adding a bit of heat.  My sweet friend, Mrs. Tiki, best summed it up when she said, "You're expecting something totally fruity, and then you get a little bit of something else, which is a nice surprise."  Salud!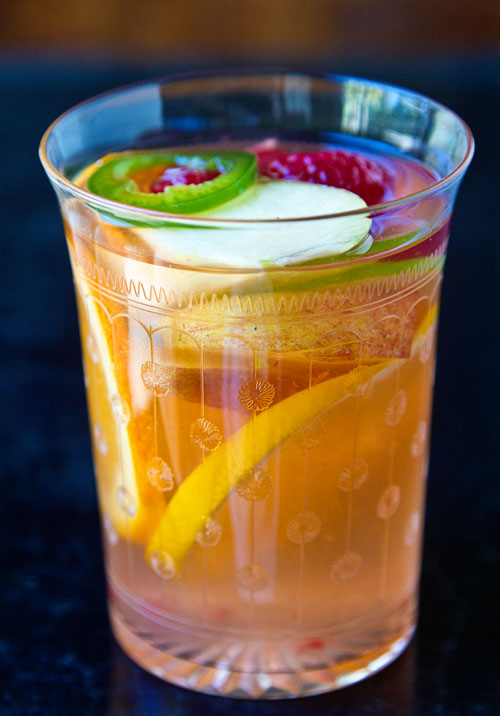 Print This Recipe
Virgin Spicy White Spicy Sangria
Makes about 8 servings
6 cups white grape juice
1/4 cup freshly squeezed lemon juice
6 ounces fresh raspberries (approximately 1 cup)
1 medium orange, sliced (skin on)
1 medium lemon, sliced (skin on)
1 medium lime, sliced (skin on)
1 medium apple, cored and cut into slices, then halved (skin on)
1 medium green jalapeno, deseeded and sliced into thin rings
1. Add all the ingredients to a large pitcher.
2. Stir to combine and place the pitcher in the refrigerator to infuse flavors and chill for at least one hour.
3. Serve over ice if desired.
*Disclosure:
Neither KitchenAid, nor Shun, sponsored this post.  I just love to mention products that I love and use on a regular basis!