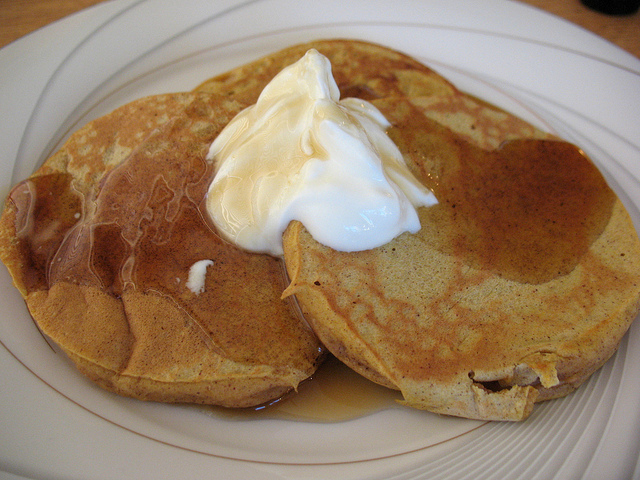 When the lovely Karen (aka, Scattered Mom of Chasing Tomatoes and Notes From the Cookie Jar) mentioned pumpkin pie pancakes, her favorite pancakes, on Twitter, I knew I had to convince her to come share them here with us!  And what better way to celebrate Fat Tuesday, aka International Pancake Day, than with dessert for breakfast (or dinner, if you like pancakes for dinner like the members of my family do)?  I asked Karen a bit about these pumpkin pie pancakes, as well as pancakes and general.  She said, "Every Thanksgiving I bake 2 pies for my little family of 3 because we are such pumpkin pie fanatics. When I found this recipe I just had to try it, and we pretty much wolfed them down. Unlike actual pumpkin pie, we didn't wrestle each other for our share because we had more than enough to go around.  When topped with whipped cream and maple syrup, they really do taste like pumpkin pie, which is a favorite in our house. They are delicious with a hint of naughty decadence. Plus the pumpkin is healthy."  When asked about her favorite pancake toppings, she said,"On the pumpkin ones they must be topped with whipped cream and maple syrup, but I love fruit toppings like blueberries, sliced bananas, or Greek yogurt and maple syrup."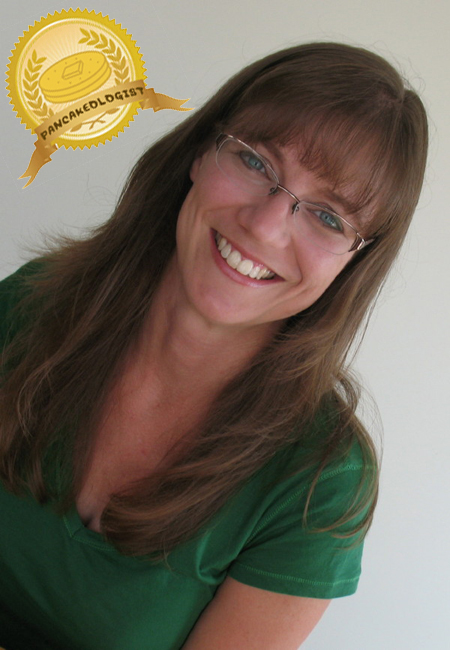 Karen's family is a pancake dinner family like mine.  She told me that her teenager loves them, and that they were one of his favorite snacks when he was little.  She said that he especially loved them cold, smeared with peanut butter, sandwiched together, and cut into fingers.  Her trick to good pancakes is not over-stirring the batter.  She says, "It's suppsoed to be a bit lumpy!"  When they're done, "keep them warm in the oven on low, sitting on a cookie sheet in a single layer.  That way the weight of pancakes stack on top doesn't make the bottom ones as flat as a . . . pancake."
After you've drooled over these pumpkin pie pancakes, go check out these blueberry buttermilk pancakes and Multigrain Apple Cinnamon pancakes on Karen's site. YUM!!  If you're on Twitter, Karen's handle is @scatteredmom!


Print This Recipe
Pumpkin Pie Pancakes
Adapted from Crepes of Wrath
Makes 10 pancakes
1 1/4 cups all-purpose flour
3 tablespoons granulated sugar
2 teaspoons baking powder
1/4 teaspoon salt
1 cup milk (you may need a little more to thin it out)
1/2 cup pureed pumpkin (the real stuff, not the pumpkin pie filling stuff)
1 teaspoon ground cinnamon
1/2 teaspoon ground ginger
1/8 teaspoon ground nutmeg
1/8 teaspoon ground cloves
2 tablespoons vegetable oil
1 large egg, room temperature (you can put the egg in a dish of warm water to warm it up quicker)
1. Pre-heat your oven to about 175 degrees Fahrenheit and set a cookie sheet inside on the middle rack.
2. In a large bowl, whisk together the flour, sugar, baking powder, cinnamon, ginger, nutmeg, salt, and cloves.  Set aside.
3. Using a medium sized bowl, whisk together the milk, pumpkin puree, oil, and egg.  Pour into the bowl with the flour mixture and give it a good stir.  You may need to add a little more milk if it's too thick—I usually add a couple more tablespoons.
4. Heat up a skillet and give it a wipe with some butter.  You don't want a lot of butter or oil on your skillet, or your pancakes might be a bit soggy.  When the skillet is hot enough (medium heat is good), spoon about 1/4 cup batter in and smooth out with the back of a spoon.  Let cook until you see bubbles forming on the surface and the bottom is golden, then flip and cook the other side.
5. Remove from skillet and place on cookie sheet in the oven to keep them warm.  Continue with the rest of the batter.
6. Serve with whipped cream and maple syrup, or Greek yogurt, sliced bananas, and maple syrup.