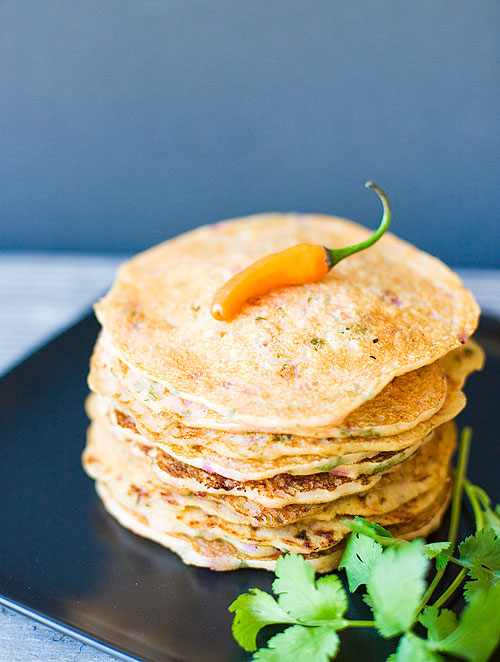 Indian food is one of my favorite world cuisines.  It doesn't matter what region of India the food is from—North, South, East, West . . . I love it all!  When I was in labor with Squirrel and knew that we would be heading to the hospital soon, I decided I needed one last good meal, so we ordered takeout from our favorite Indian restaurant in Tokyo, called Moti.  Squirrel's last meal in utero was fiery hot curry.  So I knew that we just had to have an Indian pancake for Pancake Week!  I begged the amazing Prerna of Indian Simmer if she would share a favorite pancake with us, and she agreed!  Prerna's recipes are amazing, and it doesn't hurt that her photography makes you want to lick your computer screen!  I'm just hoping that someone gets smart and offers her a book deal.  I want to buy that book!  I can't wait for you to see the treat that Prerna is sharing with us today.  After you've feasted on her guest post, head on over to her site, Indian Simmer, and check out her other amazing creations.  If you're on Twitter, her handle is @indiansimmer!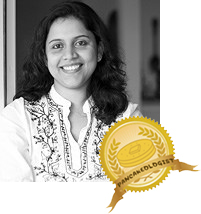 ——————————————————————————————————————————————-
I was really excited when Rachael asked me to make something Indian for her Pancake Week event.  But very soon that excitement turned into anxiety when she gave me the liberty to choose any Indian pancake that I like. I gave it some thought and then had to go back to my childhood to bring back a flavor of pancakes that we used to eat a lot growing up. I'm sure this was my mom's trick to sneak in some (ok, a lot!) veggies into something we loved to eat as breakfast – I now do the same with my little one!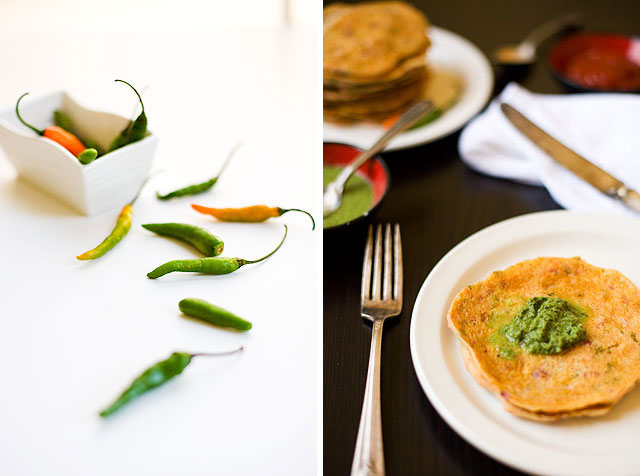 Our family breakfast has to be simple but at the same time hearty to keep us going through the day and this pancake perfectly meets those criteria. Not that Indian cuisine doesn't have any sweet pancakes but we just love the savory ones more, so there are tons of savory Indian pancakes that we make at home.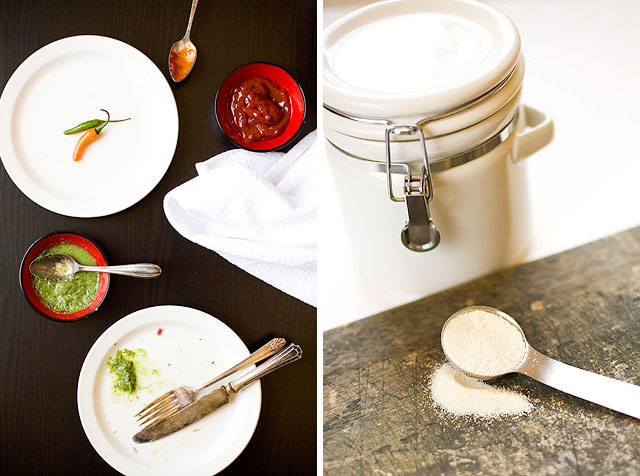 Indian pancakes are mostly made with some kind of lentil or beans being soaked overnight, then ground to make a smooth batter and left to ferment before actually hitting the griddle. But this recipe is a little different since the batter doesn't need any resting and is used right away. Semolina (cream of wheat) and yogurt are the two basic ingredients and then you can add any kind of vegetables you want or none at all if you like. Then the ingredients that give these pancakes a kick are cumin seeds, cilantro and green chilies. I try to use the Thai green chili which is the closest it can get to the traditional Indian chilies and you sure would know the difference as soon as you taste them.


Print This Recipe
Indian Savory Pancakes (Semolina and Yogurt Pancakes)
Makes 12 pancakes
Recipes Notes: Typical Indian savory pancakes are not fluffy like the usual pancakes. Instead, they are dense and have most flavors when enjoyed right out the griddle with some hot green chutney or a sweet tomato chutney.
1 ½ cups Semolina (Cream of Wheat)
1 ¼ cups nonfat yogurt (you can also use low fat or full fat, if you prefer)
½ cup finely chopped red onions
½ cup grated carrots (You can use any vegetable you like)
¼ cup finely chopped cilantro
1 tsp whole cumin seeds
1 tsp minced thai green chili peppers (De-seed the peppers if you don't like them hot)
Approximately ½ cup water
Salt to taste
Oil spray (I use oil spray to oil my non stick griddle because these pancakes need little to none oil )
1. Mix all the ingredients together except for oil. The batter should be of same consistency as of the usual pancake batter, so add water slowly while mixing thoroughly.
2. Heat a pancake griddle. Griddle should not be extremely hot otherwise pancakes will burn very quickly, so I start with high heat for a few minutes and then turn it to medium.
3. Start by nicely oiling the griddle with the spray when pouring batter for the first time.
4. Pour a ¼ cup of batter. With the back of a flat spoon spread the batter and veggies forming a circle. Cover with a lid.
5. Let it cook for about 10-15 seconds. When the top of the poured batter is all dry, spray a little oil on top and flip.
6. Press the pancakes with the help of a spatula and moving them in circles for a few seconds while it cooks slowly. A well-cooked Pancake should be golden brown from both sides.
7. Second time on the griddle doesn't really need any oiling, especially if it's a nonstick one so I omit that step after a couple batches, but it really depends on the type of griddle you use. So use oil accordingly but see that the pancakes don't look oily or else they won't come out soft.