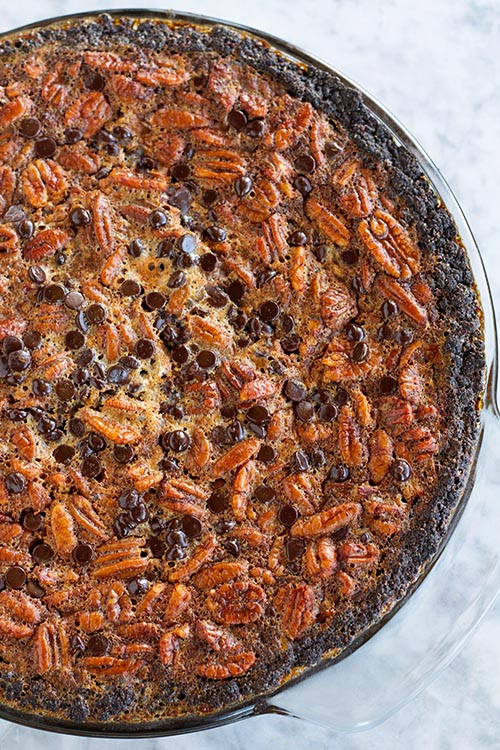 It's Pi(e) Day, one of my favorite days of the year!  Please tell me that you're celebrating?  I whipped up a version of a pecan pie for our celebrations today using a combination that has been swirling around in my head for months—a chocolate almond crust that gets brownie-like as it soaks up some of the sweet liquid from the filling, a light custard, a crunchy pecan top, and a handful of mini chocolate chips sprinkled over everything to finish it off.  After I baked it and it had been sitting on the kitchen table cooling for about an hour, Mr. Fuji found me in my office and asked, "So, when are you cutting the pie?"  He wanted a piece so badly that he could hardly stand it!  When I finally did cut it (pecan pie requires some patience as you can't cut into it right away, it has to cool completely to be at its best), I slipped the first piece onto a plate and went to find Mr. Fuji.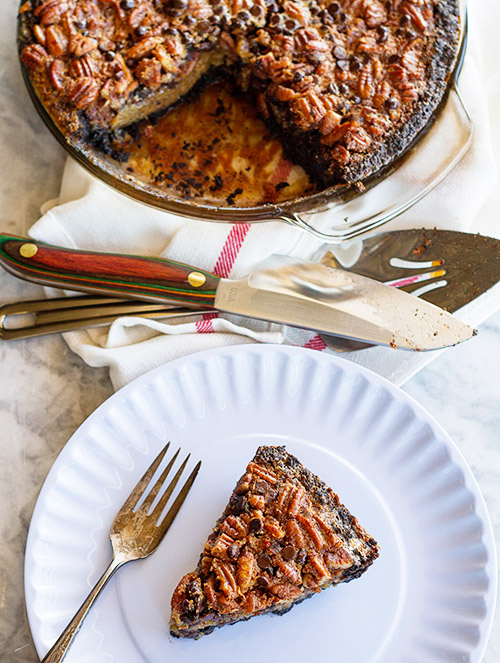 I about had a heart attack when he popped up from laying on the couch.  He was so anxious to have that first bite that he had decided to get a seat as close to the action as possible.  Luckily all I heard were sounds of his fork hitting the plate as he ate every last bite.  If Mr. Fuji's reaction is any indication, I think you're going to like this one.  Although it's not the quickest pie to make, there is very little actual work that goes into making it, and that work is dead easy.  If you've got little ones underfoot, this is a great pie to have them help with.  Happy Pi(e) Day!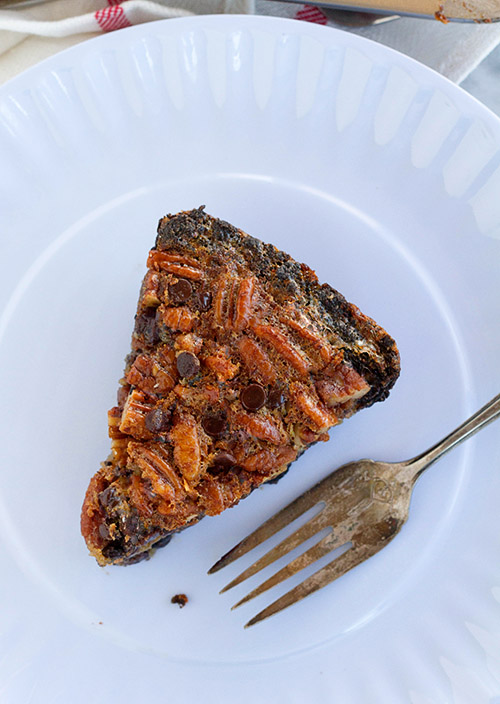 Print This Recipe
Chocolate Chip Pecan Brownie Pie
Makes one 9-inch pie
For the "brownie" crust:
1 2/3 cup blanched almond flour
1/3 cup unsweetened cocoa powder
1/4 cup granulated sugar (or coconut palm sugar)
1 large egg
1 tablespoon grapeseed oil
For the chocolate chip pecan filling:
3/4 cup honey
1/2 cup pure maple syrup
5 large eggs, lightly beaten
4 tablespoons butter, melted and cooled so that it is warm and not hot
1 1/2 teaspoons vanilla extract
1 1/2 cups pecan halves
1 pinch ground nutmeg
1/2 teaspoon fine grain sea salt
1/2 cup mini semisweet chocolate chips
Directions:
1. Make the "brownie" crust: Preheat the oven to 325 degrees Fahrenheit.
2. Whisk the almond flour, cocoa powder, and sugar together in a medium bowl. Add the egg and grapeseed oil to the bowl and beat everything together, using a mixer, until a moist, crumbly dough forms.
3. Press the dough into a 9-inch pie plate. Bake in the preheated oven for 10 minutes, then let the pie crust cool completely before making the chocolate chip pecan filling.
4. Make the chocolate chip pecan filling: Leave the oven at 325 degrees Fahrenheit (or reheat the oven if necessary). Line a rimmed baking sheet with parchment paper, and place the cooled pie crust on the baking sheet.
5. Warm the honey and maple syrup together briefly (on the stove or in the microwave), to make the honey thinner and easier to mix. Stir the honey, maple syrup, eggs, melted butter, vanilla extract, nutmeg, and salt together in a medium bowl. When everything is well combined, stir in the pecan halves, then pour the filling into the cool pie crust. Sprinkle the chocolate chips over the top of the pie filling.
6. Bake the pie: Bake the pie in the preheated oven for approximately 1 hour, or until the pie is firm around the edges and just a bit loose in the center. The pie filling will puff up at the end, but will settle as it cools.
7. Remove the pie from the oven and let it cool completely before slicing.