*This post is brought to you by the Idaho Potato Commission.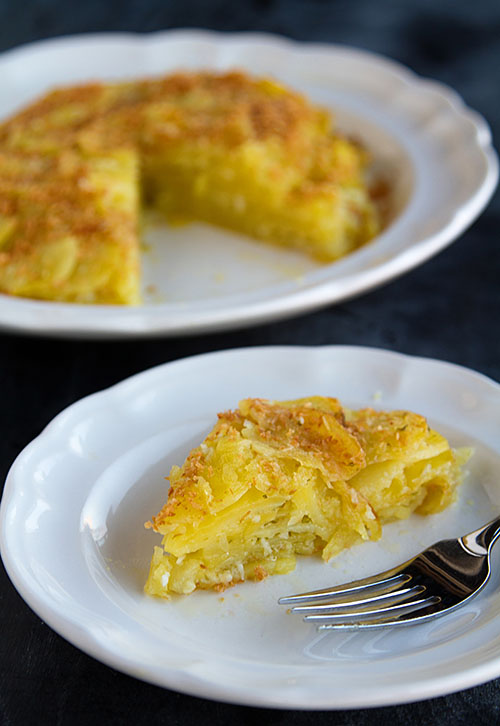 Did you know that it's Potato Lover's Month?  (It's also Great American Pie Month.  I'm not sure how February could get any better.  But I digress.)  Last month I was approached by the Idaho Potato Commission about participating in a potato challenge to help celebrate Potato Lover's Month.  I was challenged, along with 5 other bloggers, to a create a tantalizing side dish recipe featuring Idaho® potatoes.  The day I received the email I had the Coconut song in my head by Harry Nilsson.  You know the one, don't you? "She put de lime in de coconut, she drank 'em bot up, She put de lime in de coconut…"
Anyways, I took it as a sign, especially considering how much I love coconut and lime, and even more when they are together.  I decided to make a twist on a classic French dish, Pommes Anna, a potato cake made of thinly sliced potatoes brushed with lots of butter.  I stuck with the butter, but added some unsweetened coconut and lime zest in between the layered potatoes as well.  I used Idaho® Yukon gold potatoes because they are nice moist potatoes with great buttery texture and flavor.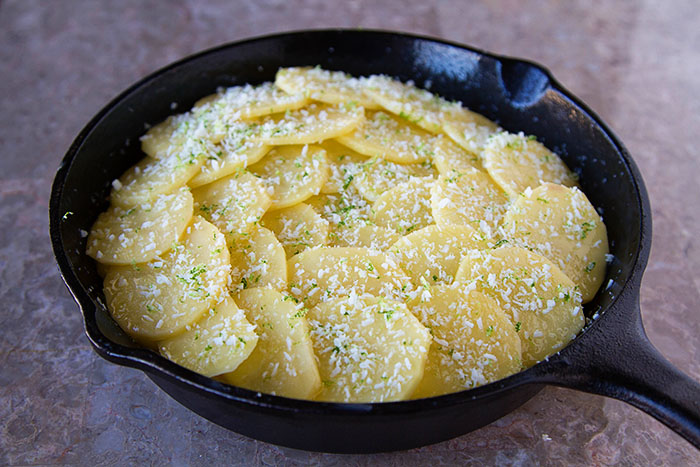 When the potatoes came out of the oven, and were still very hot, I drizzled the top of the potato cake with some fresh squeezed lime juice and then finished it off with some toasted coconut.  The finished dish is creamy and buttery.  The coconut adds a subtle nuttiness to the potatoes and the lime zest and juice make everything pop.  Cut into wedges, these potatoes are divine served with just about everything from fish, to steak, or chicken.  The secret to this dish is making sure your cast iron skillet is well seasoned, otherwise the bottom layer (which becomes the top layer when you flip the potato cake out after cooking) will stick to the pan!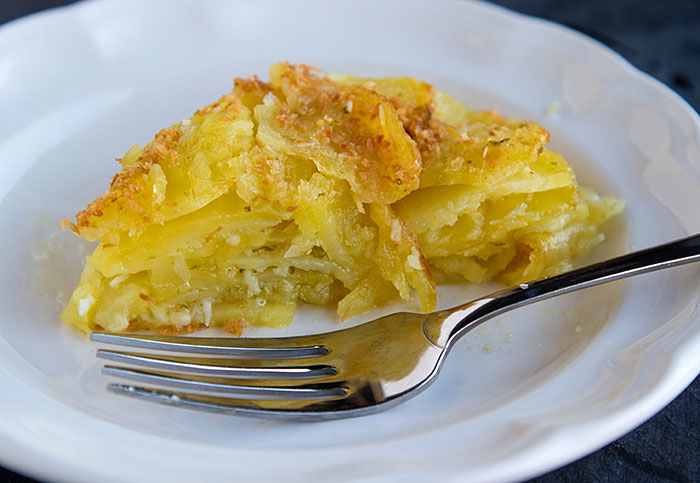 The thing I love most about this challenge is that the Idaho Potato Commission will donate $5,000 to the Meals on Wheels program in the winning blogger's hometown, with the donation made in the blogger's name!  Now that you've seen my dish, head on over to the Idaho Potato page to vote for my recipe!  You can vote once a day all month long!  Happy Potato Lover's Month!
*Disclosure: The Idaho Potato Commission provided me with potatoes to use in developing this recipe, as well as compensating me for my time in recipe development and writing this post.  All opinions and experiences are my own.