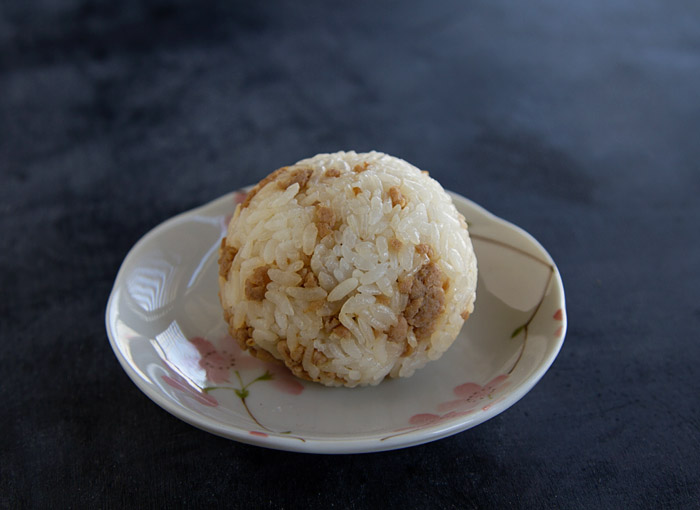 As I mentioned yesterday, I filmed a segment for Studio 5 that was all about onigiri.  I had an absolute blast.  Brooke Walker, the host, is a doll, and was a great sport making onigiri with me.  The first time you make an onigiri, it usually falls apart (it takes one or two to learn how much pressure to use!), and hers was about the best first time onigiri I've ever seen.  You can watch the segment on Studio 5's website here.  (I love that they titled my segment, "The Anti-Sandwich Lunch."  Hilarious.)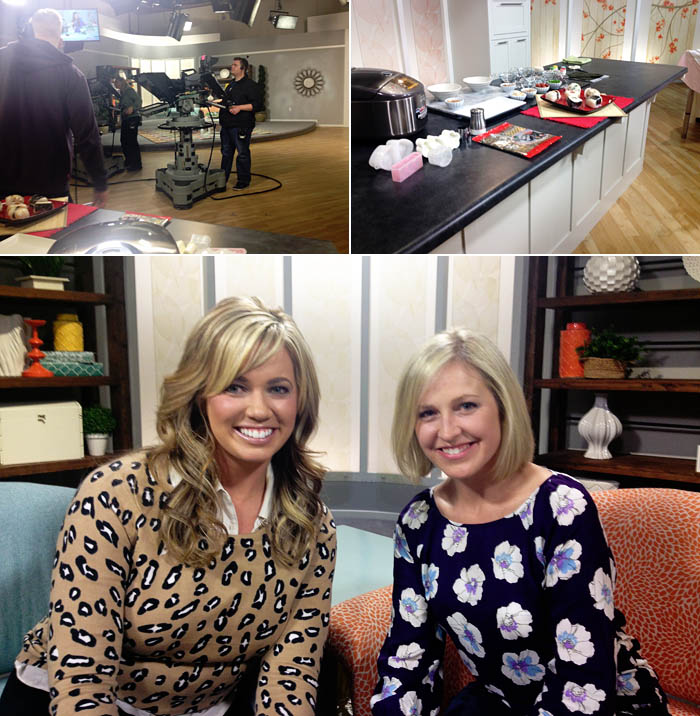 The first onigiri we made used chicken soboro, a season ground chicken mixture.  The second onigiri we made was filled with tuna, a recipe that I posted 5 years ago. (Holy guacamole! How does time pass so quickly?)  So I thought I'd share the recipe for my Honey Ginger Chicken Soboro with you today, along with how to make it into onigiri to pack into a bento or eat as an afternoon snack.  The chicken soboro is super easy to make.  All you have to do is mix all the ingredients together in a skillet, and cook it over medium heat until the meat is cooked and most of the moisture has evaporated.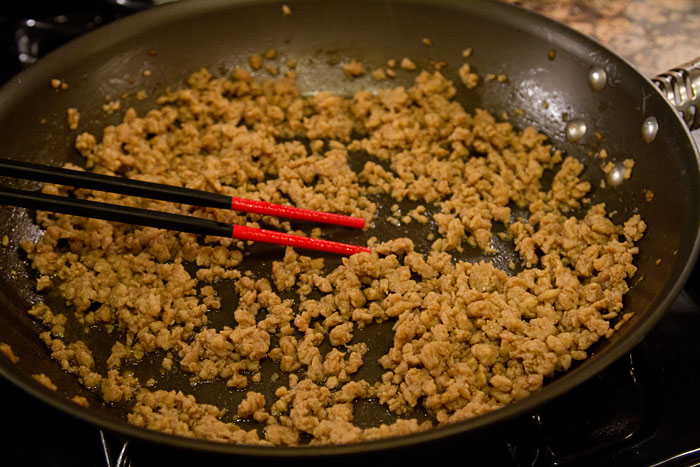 When I make it, I let it cool to room temperature, then I divide the meat into 2 tablespoon portions which I then seal in ziploc baggies, mark for future reference and store in the freezer, so that I can just pull one out the night before I need it and let it thaw in the refrigerator.  Easy peasy!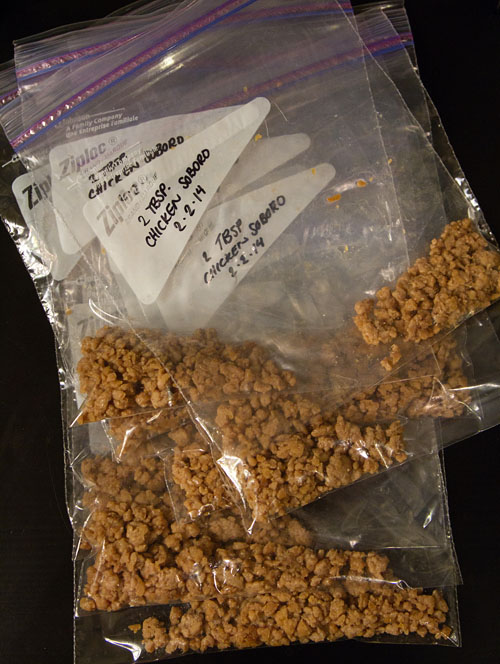 Then all that's left to do is toss the chicken soboro with some hot, lightly salted, cooked Japanese white rice, and then form the rice mixture into balls, and bam! You've got onigiri!  One of Squirrel's current favorite bento combos is an onigiri packed along with mandarin orange segments and green olives.  Go check out my Studio 5 onigiri segment, and then come back and whip up some Honey Ginger Chicken Soboro Onigiri!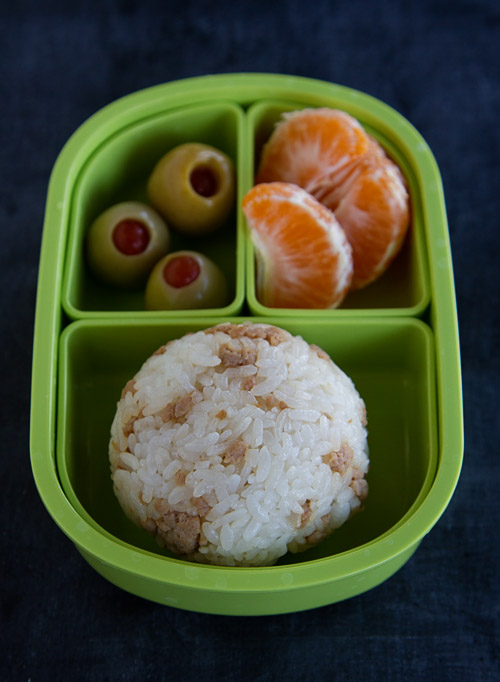 Print This Recipe
Honey Ginger Chicken Soboro
Makes 9 portions as a stuffing (2 tablespoons each)
8 ounces ground chicken
1 1/2 tablespoons soy sauce
1 tablespoon honey
2 teaspoons water
1 1/2 teaspoons mirin
1 teaspoon finely grated ginger
1. Put all of the ingredients in a skillet and stir together, separating the clumps of meat as you mix. Place the skillet over medium heat and cook, stirring the meat as it cooks so that it continues to break down into smaller bits.
2. Continue cooking and stirring until almost the meat is cooked and almost all of the liquid is gone (about 5 1/2 minutes). Remove the skillet from the heat and let the chicken cool to room temperature. Divide the cooled chicken into 2 tablespoon amounts and place in ziploc bags, and refrigerate or freeze, or use to make onigiri.
3. The chicken will last in an airtight container in the refrigerator for up to 3 days, or in the freezer for 1 month.
===========================================
Honey Ginger Chicken Soboro Onigiri
Makes 4 onigiri
3 cups cooked Japanese white rice, freshly cooked and hot
1 teaspoon finely ground sea salt
4 portions (8 tablespoons) honey ginger chicken soboro filling
1. Place the rice in a large, shallow bowl and sprinkle with the salt evenly over it. Using a rice paddle or broad wooden spatula, toss lightly to mix the salt into the rice, being careful not to mash the rice. It is important to salt the rice while it is still hot, because the salt acts as a preservative.
2. Add the honey ginger chicken soboro and toss to mix it evenly with the rice.
3. Line a small bowl with plastic wrap. Divide the rice into 4 portions. Put 1 portion of the rice into the plastic wrap-lined bowl. Gather the ends of the plastic wrap around the rice and twist them tight.
4. Shape the rice into a round shape, using gentle pressure to mold the rice. Remove the rice from the plastic. Repeat with the remaining rice. Let the onigiri cool and then serve or pack into a bento. The onigiri will keep fresh at room temperature for 6 hours.