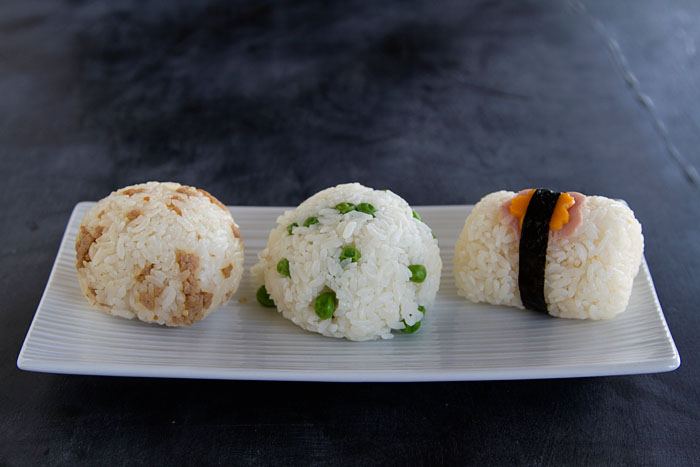 Yesterday I spent part of the day filming another segment for an episode of Studio 5 which airs today.  My segment was all about onigiri ("oh-nee-gee-ree"). (My recipe for Honey Ginger Chicken Soboro Onigiri, which I made in the segment, is posted here!)  Since TV time is short, I only got to make the briefest of introductions, so I thought I would give more information on all things onigiri.  I've written about onigiri on many occasions before, and have touched on some of the basics here and there, but thought it would be helpful to pull some of them together under the roof of a single post.  So here we go!
Onigiri is a Japanese rice ball.  The word onigiri in Japanese means to "compress or squeeze."  Onigiri are also often referred to as omusubi, which means to "connect" or "bring together."  In its simplest form, it is steamed Japanese rice, tossed with a little bit of salt, then molded into a shape.  In our grocery stores here in the US, this rice is commonly sold as either Calrose rice, or sushi rice.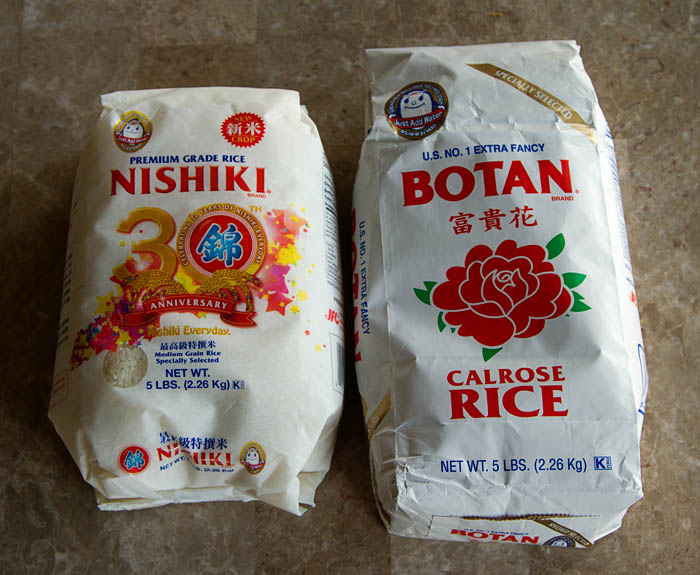 Some of the most common shapes are triangles, balls (or slightly flattened balls), and barrels/cylinders.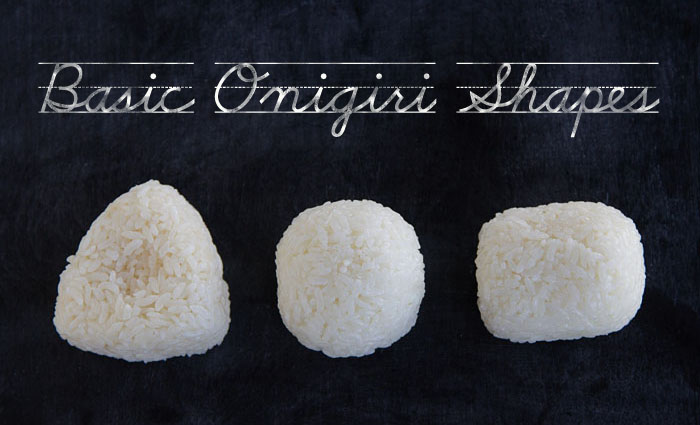 But there are many molds on the market that can be used to make onigiri in all sorts of other shapes and sizes.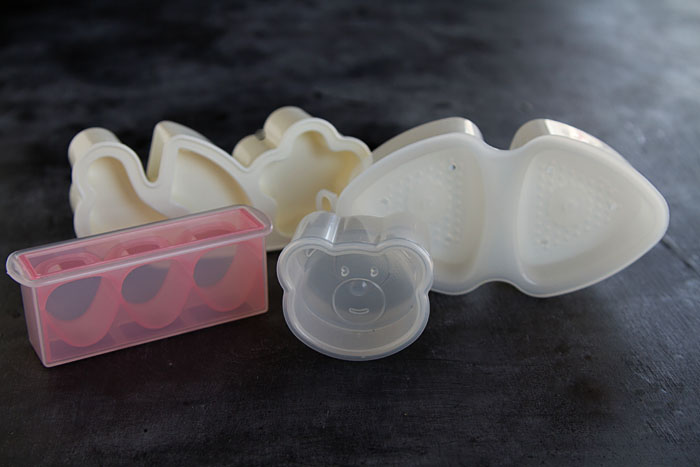 Onigiri can be wrapped in seaweed, or any other material, whether it be a shiso leaf, or a thin egg crepe.  The rice is sometimes tossed with a filling like cooked mukimame (individual green soybeans) or furikake (Squirrel's favorite), or the filling is stuffed inside the rice ball, like tuna salad or umeboshi (Japanese pickled plum).  One of the things I love about onigiri is that they are incredibly flexible.  You can make them with whatever ingredients you like, and decorate them to suit whatever mood you are in.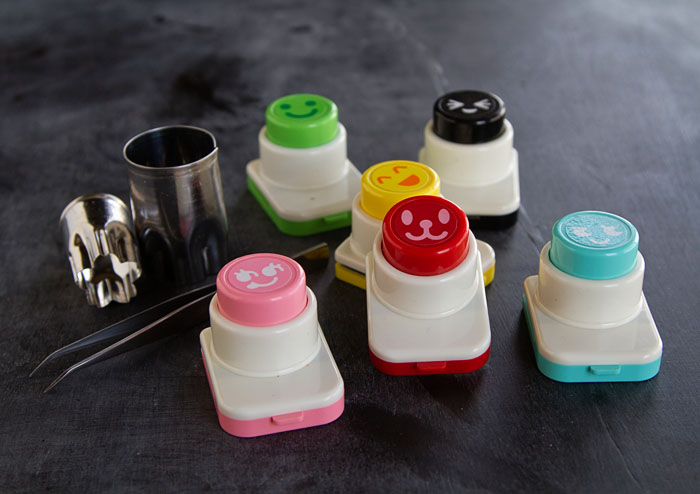 These are the onigiri that I made to have on display for my Studio 5 segment.  These three onigiri show a few ideas of what you can do with a triangle.  The first is wrapped with a strip of nori (seaweed) and has a face made from nori as well.  It is filled with tuna mixed with a bit of mayonnaise and a couple drops of lemon juice.  The second is plain salted rice, wrapped in a strip of nori.  The third is plain salted rice, whose edges were rolled in toasted sesame seeds, and then topped with an umeboshi (Japanese pickled plum).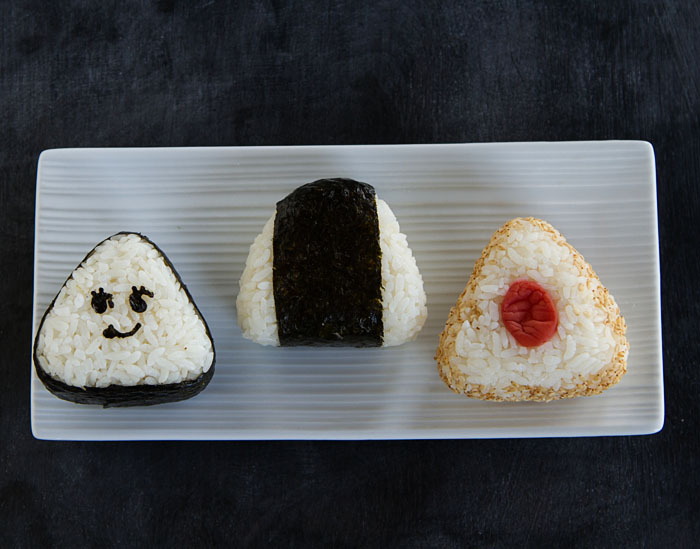 The first ball is rice mixed with some honey ginger chicken soboro (ground chicken).  (Recipe can be found here!)  The second ball is lightly salted rice mixed with some cooked peas.  The third, barrel-shaped onigiri is made with plain salted rice and topped with a piece of thinly sliced ham and cheddar cheese, cut into flower shapes, and held on with a strip of nori.
Although some onigiri look a lot like sushi, onigiri is not sushi.  Sushi always uses a rice tossed with a seasoned rice vinegar, which is not used in making onigiri.  Only plain steamed rice, seasoned with a bit of salt is used in onigiri.
The history of onigiri goes way back.  There are references in an 11th century text to rice balls.  This traditional Japanese food is now available at every convenience store in Japan, as it makes a fantastic food to grab and eat on the go.  Where people in other countries might grab a sandwich for lunch, the Japanese eat onigiri.  Because they are so portable, last for several hours after being made, and can be eaten without plates or utensils, they are also perfect for picnics and barbecues.
My first meal in Japan was an onigiri, and it's now one of the things I make most often for my kids lunches and for myself as an afternoon snack.  All you need to get started is some Japanese rice and salt.  But if you want any other tools, here are some resources to get you started: