At the end of this month I'm going to be hosting a little get together at my house with a pink theme, as one of the 1,000 Cooks for the Cure—part of KitchenAid's nationwide Cook for the Cure event, a partnership with Susan G. Komen to help support the fight against breast cancer.  I love that KitchenAid does this. October is National Breast Cancer Awareness Month, but KitchenAid wants to help remind us that we should be helping fight the fight year round.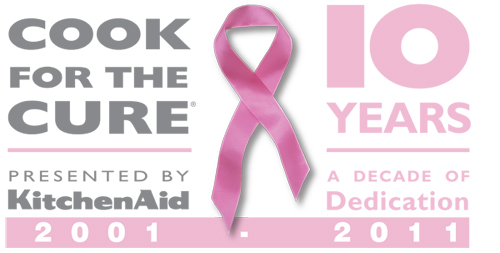 This year marks the 10-year anniversary of the event, and I'm hoping to get you involved!  I want you to go sign up to be one of the 1,000 cooks!  This is seriously easy people.  All you have to do is go sign up to host a party, and then have some kind of get-together between July 15 and 24th, 2011.  It doesn't have to be anything big!  My party will consist of a few friends and some simple nibbles.  KitchenAid is hoping that you'll use the opportunity to encourage your guests to make a small donation to the cause.  If you can raise $50 or more at your get-together, KitchenAid will send you a special Villeroy & Boch "Pass the Plate" serving platter, which is gorgeous (artwork designed by one of my culinary idols, Jacques Pépin).  Then, if you make a goodie and deliver it to someone on that plate, and that person registers the plate online at CookfortheCure.com, KitchenAid will make a $5 donation to Komen!
As additional motivation, KitchenAid has put together a little package to help one of you get your party started! (Really wishing I could win my own giveaway here….)  If you sign up to be one of the 1,000 cooks, then come back here and leave me a comment letting me know you've done so!  I will use random.org to pick one of you to receive the package.  The giveaway is open through Saturday, July 9th, at 10pm EST.