I wrote about
Jamie Oliver's Food Revolution
in a post about two weeks ago.  My post just barely scratched the tip of the iceberg.  We can get involved on so many levels.  The problem isn't just a school lunch problem.  It's a multi-level problem.  Our relationship with food has become an unhealthy one.  On his website,
Jamie writes
,
"You can start a food revolution in your own home, all you need to do is cook something.  From scratch.  With fresh and raw ingredients—no packets, no cheating!

If you know how to cook—pass on your skills and keep them alive for future generations.  If your kids and their families don't learn, their only option will be a diet of processed and fast food.
If you don't know how to cook—start now, it could change your life and improve your health prospects!

Pledge to do it once a week with your family or friends.  God luck and have fun!"
Like I said in my last post on the topic, I know that in writing this I am most likely preaching to the choir.  In the food blogging world most of us are already cooking at home from scratch.  But I still think there is more that we can do, even in our own homes.  Over the past year I have made more of an effort to get Squirrel involved in the kitchen.  One of the things I have done is to try and have an ongoing dialogue with her about different aspects of our food—whether it be actual ingredients, tools, skills, etc.  We talk about color, texture, taste, and smell.  One of her favorite activities is tasting each ingredient that goes into a dish.  A few days ago she helped me make the fruit scones that are in Jamie's Food Revolution.  I decided to make them using dried cranberries and dried apricots.
First she tasted the cranberries and apricots, then the orange juice that they were to be soaked in.  Then she moved on to tasting the flour, the butter, etc.  After she tasted each item, we'd talk about it.  Her favorite part about making the scones was brushing the tops of the scones with milk before they went into the oven.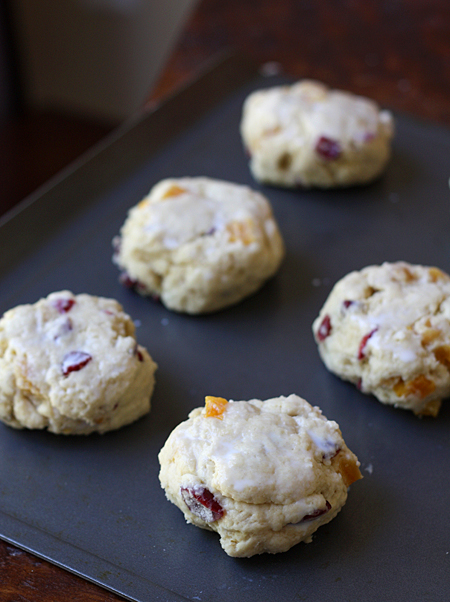 I decided to forgo rolling out the dough and cutting the scones out with a biscuit cutter, because Squirrel and I had recently made buttermilk biscuits.  Instead, I made them more rustic looking by dividing the dough into 10 pieces and shaping them into rough balls of dough (Squirrel liked that part a lot too).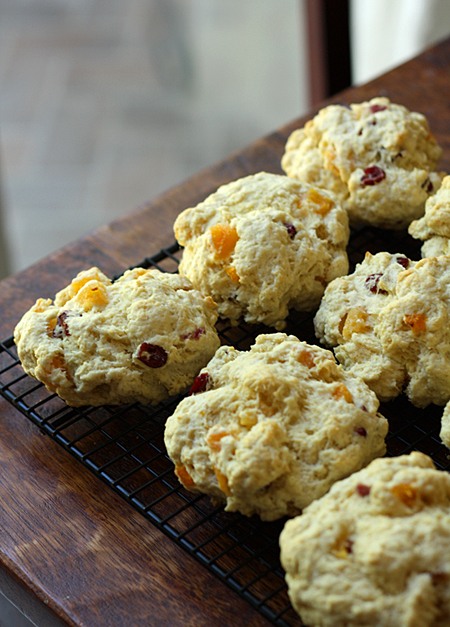 When the scones came out of the oven, we cut them in half and topped them with some homemade raspberry jam and a bit of whipped cream.  They made for a wonderful treat–they were moist and buttery, with good tang from the dried fruit. (Giveaway details are after the recipe!)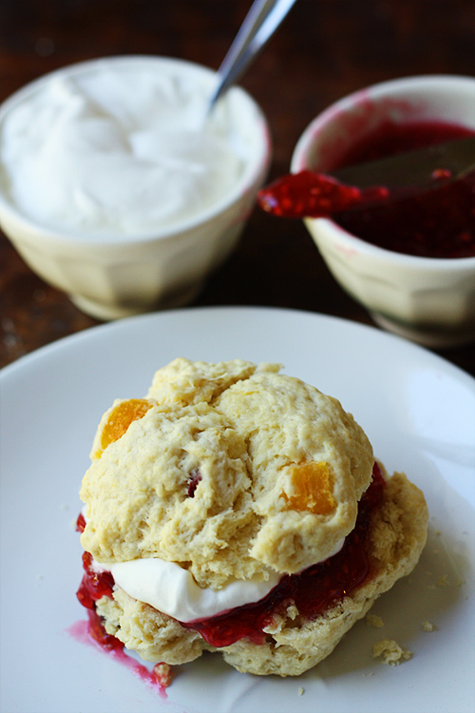 Print This Recipe
Cranberry Apricot Scones
Adapted from Fruit Scones, p. 331, Jamie's Food Revolution
Makes 10 scones
1/2 cup dried cranberries
1/2 cup dried apricots, cut into small pieces
orange juice, for soaking
4 cups self-rising flour
1/2 cup butter
2 teaspoons baking powder
2 large eggs
1/3 cup milk, plus a little extra for brushing
pinch of salt
1. Preheat the oven to 400 degrees Fahrenheit.  Put the dried cranberries and apricots in a little bowl and pour orange juice over them until they are just covered.
2. While the fruit is soaking, cut the butter into the flour and the baking powder (this can be done by pulsing three ingredients in a food processor, or by hand in a bowl with a pastry blender), until the mixture starts to look like breadcrumbs (don't over mix!).  Transfer the mixture to a mixing bowl and make a well in the middle.  In a separate bowl, beat the eggs and milk together with a fork.  Drain the soaking fruit and add it to the egg mixture along with a pinch of salt.  Then pour this mixture into the well in the flour mixture, and stir until you have a soft, dry dough.  Add a bit more milk of necessary if the dough is too dry and doesn't come together.
3. Divide the dough into 10 equal pieces, shape the pieces into slightly flattened balls, and the place them on a non-stick cookie sheet.  Brush the top of each scone with a bit of milk.  Bake the scones in the preheated oven for 12 to 15 minutes, until they have risen and are a light golden brown.  Take them out of the oven and transfer them to a wire rack to cool.  To serve: slice them in half and top them with jam and whipped cream/clotted cream.
============================================================
Giveaway!
I want to help you get involved in the revolution!  I am giving away a copy of Jamie's Food Revolution (donated by the publishers), plus a little grab bag of goodies to help you out with some of the recipes.  Mezzetta is throwing in a jar of pesto, a jar of artichoke hearts, and a jar of roasted red bell peppers.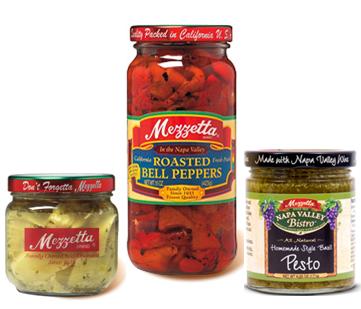 Nudo (an awesome little adopt-an-olive tree company with groves in the Marche region of Italy) is throwing in a tin of extra virgin olive oil.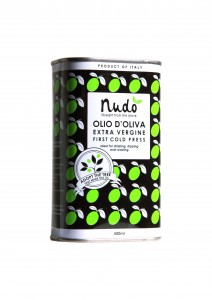 To enter the giveaway:
– Go and sign Jamie's Food Petition, and then come back and tell me that you did (we're on the honor system here)!
– If you have a blog and have posted about the petition (or do so before the end of the giveaway), come back and let me know in a separate comment (and include a link to your post) for a second entry!
I will keep the comments open until Thursday, April 15th, 10 PM PST, and announce the winner (using a random number generator) on Friday, April 16th.  This giveaway is open to US addresses only.  GOOD LUCK!!