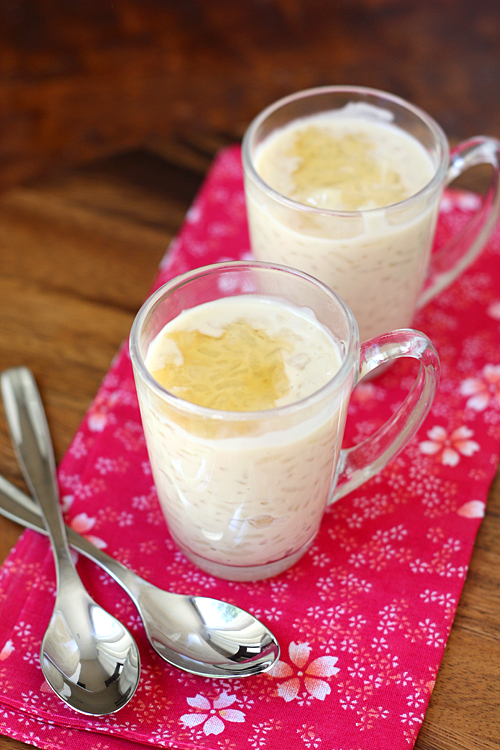 Although I haven't lived at home for quite a few years, sometimes it's hard to be the mom and not have my own mom around to cook for me, ask me about my day, and tuck me in at night.  Steve Dublanica wrote, on his blog Waiter Rant, "I once read cooking is something you do for your family.  But when you're alone you sometimes have to treat yourself like family.  And now that my apartment's redolent with the smell of food it feels more like a home than a box where I hang my hat."  I obviously don't live alone, but I recently had a day where the girls were both miraculously taking naps at the same time, the house was quiet, and I had one of those moments where I wished I could walk in the door from a day at school to find my mom waiting for me with an after-school snack.  I decided to do as Dublanica suggests and treat myself like family by cooking myself a treat.  I find rice pudding immensely comforting and so whipped up a batch with an Asian twist.  I used Japanese rice and replaced milk with coconut milk and soy milk.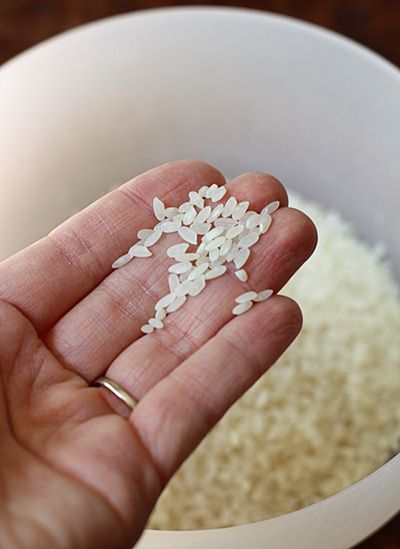 (As noted in my Slow Cooker Chicken Gohan Stew post, Japanese rice (japonica), a shorter grained rice.  It is often labeled as medium-grain rice, sushi rice, or Calrose rice at the store.)  To sweeten the mixture I used a combination of honey and sugar.  The grains of rice get delightfully plump, creamy, and flavorful.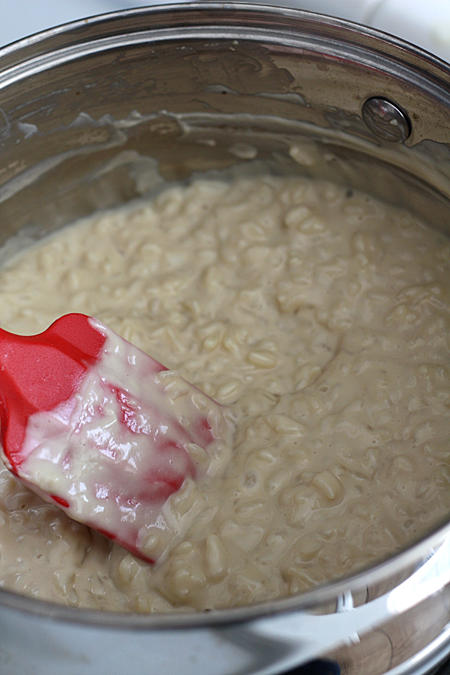 This pudding is not overly sweet and is rich with the flavors of coconut and honey.  After a few bites I could almost close my eyes and imagine my mom was there asking me how I did on that Algebra test in Mrs. Alexander's class.  I maximized my feelings of comfort with two slightly overindulgent servings.  I may have eaten more, but was saved from caloric overdose by a phone call from Mr. Fuji breaking me from my reverie and reminding me I should probably save some for him.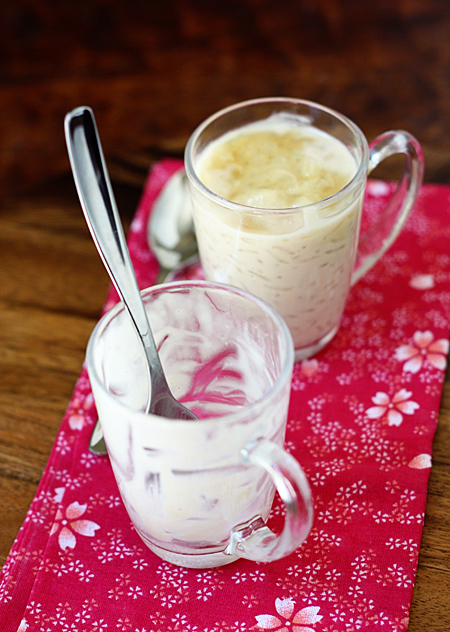 Print This Recipe
Coconut Honey Rice Pudding
Makes 4 servings
1 3/4 cups coconut milk
1 1/2 cups soy milk
1/2 cup Japanese rice
2 tablespoons granulated sugar
1 1/2 teaspoons vanilla extract
1 pinch of sea salt
3 tablespoons clover honey, plus more for drizzling
1. Mix together the coconut milk, soy milk, rice, sugar, vanilla, and salt in a heavy-bottomed medium size saucepan.
2. Heat the mixture over medium-high heat.  When it begins to boil, reduce the heat, and simmer, stirring often, until the rice is tender and the liquid has been absorbed (about 20 to 25 minutes).
3. Remove the saucepan from the heat and stir in the honey.  Let the pudding stand for 5 minutes and then divide it among bowls and drizzle with honey and serve.
==========================================================