*News: The past week has been a busy one for this little blog!  Last week I was interviewed on Tasty Kitchen.  If you'd like to hear about some of the strange things I've eaten, or read the story about one of my kitchen disasters, go read the interview.  Yesterday CNN's Eatocracy featured La Fuji Mama.  To learn more about me and my taste buds, go check out my spotlight.  Thank you Tasty Kitchen and Eatocracy!
==========================================================
"There was never a good Knife made of bad Steel." — Benjamin Franklin, 'Poor Richard's Almanac'
I recently told you that I would occasionally be including a post on the topic of knives and knife skills.  This is the next post in that series!  Over the past few months I've been looking at a variety of knives online and in stores, and I began to wonder how various knives in a similar price range would compare to one another.  If you are going to shell out between $100 and $150 of your hard earned cash for a good knife, how are you going to decide which one to get out of the many options out there?  I decided to conduct a practical experiment to see how a variety of knives compared to each other and what my opinions about them were and why.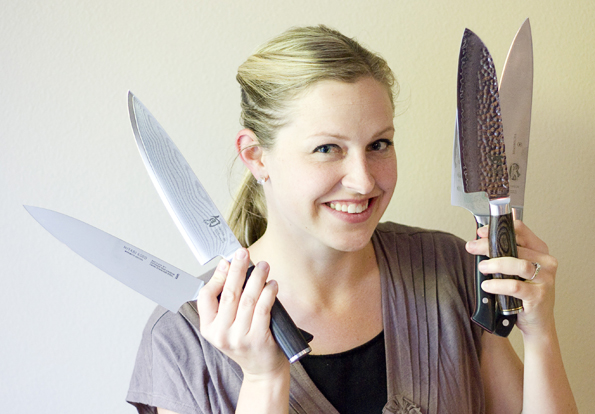 Sur La Table was kind enough to loan me 5 different knives for my experiment, and my dear friend Josie (Daydreamer Desserts) came over to help out.  We were working with the workhorses of the kitchen knife world: 3 chef's knives and 2 santoku knives.
The Knife Lineup: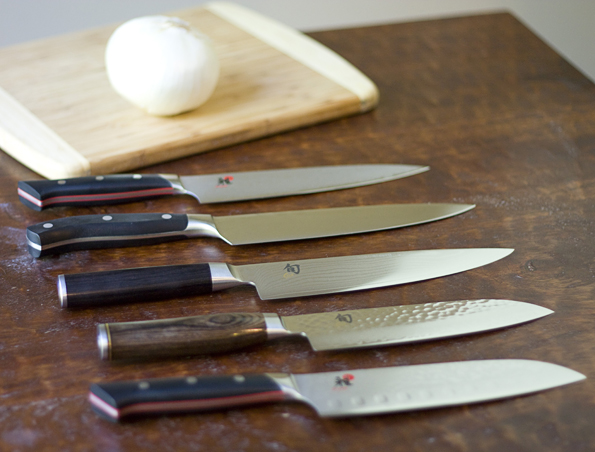 The bad thing about having a fellow food blogger around with a camera, is the fact that they can catch your excitement over getting to play with cool knives on camera . . . which in my case means me acting like a total dork.  Just in case Josie was tempted to post these herself, I'll just own up to being goofy right now.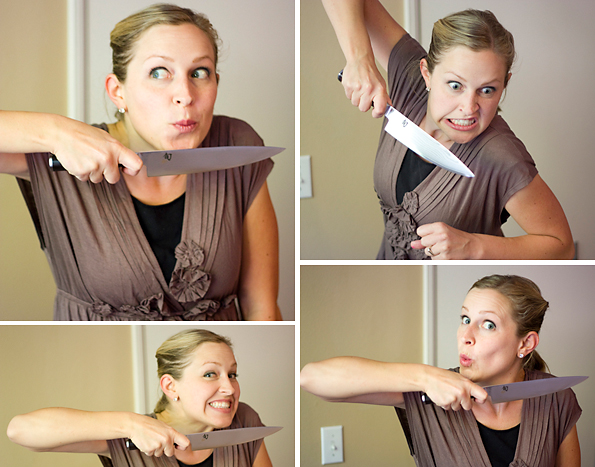 Once I was able to settle down a bit, we got down to business.  We used each knife to chop up part of an onion, testing and retesting them against one another.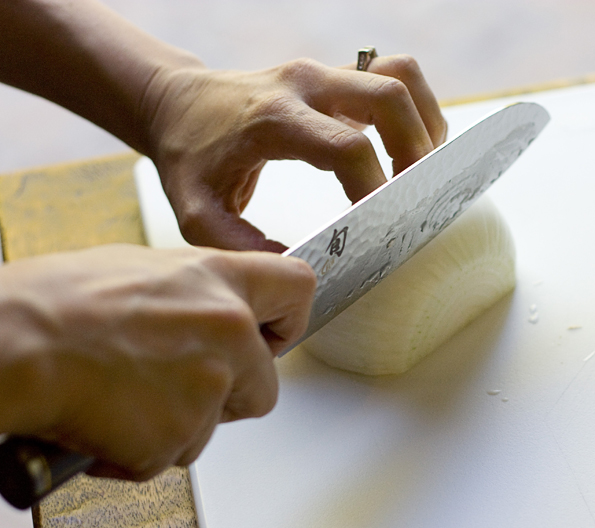 The results?  Here are our thoughts on the different knives, starting with the cheapest knife and ending with the most expensive (based on the price tag on each box):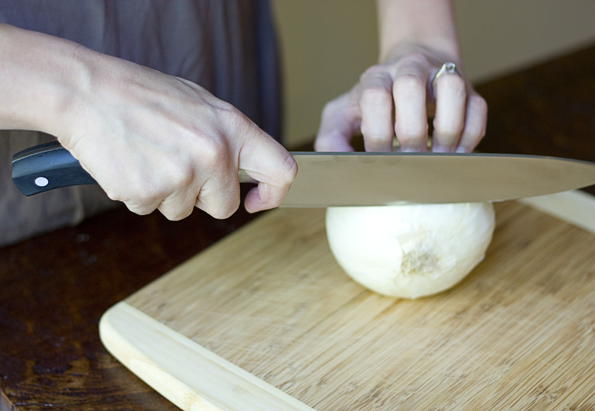 Price: $109.95
Weight: approximately 271 grams
This knife had the smallest price tag out of the five, and was the heaviest out of the five.  We definitely felt the weight difference, though the balance of the knife was nice, and the weight seemed to help guide the cut as opposed to hindering it.  The knife was pretty comfortable to hold, though it would get tiring to continually hold it if you had to do a lot of chopping.  The price is a great selling point, although the weight could be a drawback.  This was our third favorite knife.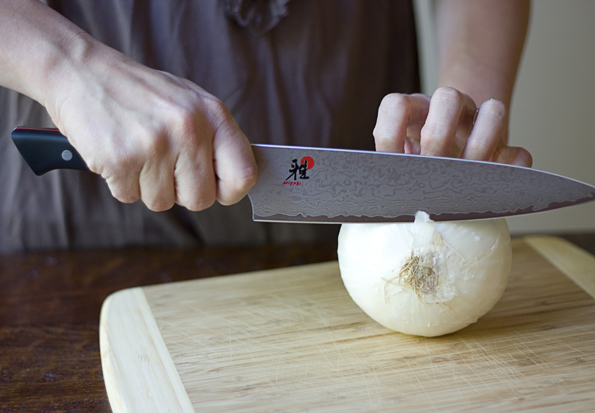 Price: $129.95
Weight: approximately 212 grams
This knife was in the middle range for price and was the 2nd lightest out of the five.  This knife wasn't as comfortable to hold and we found that it took more focus to make the cuts we wanted to make.  We felt it could do some damage if you weren't paying close attention, or didn't have very good knife skills.  Although it is a beautiful knife, it was the most awkward out of the five to use and our least favorite.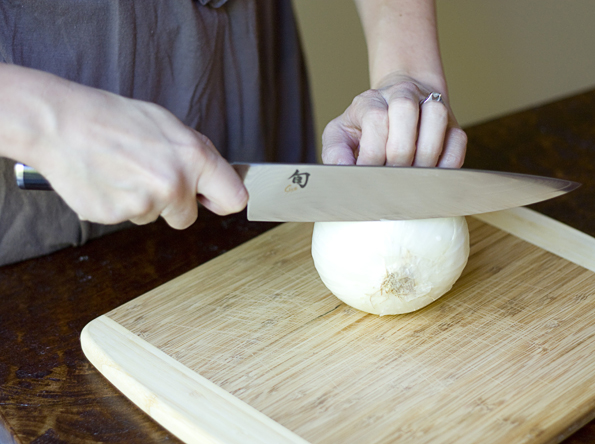 Price: $129.95
Weight: approximately 207 grams
This was also in the middle range for price and was the lightest out of the five.  This knife was easy to use and cut easily through everything that we tried it on.  This was Josie's first pick out of the five and my second pick.

Price: $129.95
Weight: approximately 215 grams
This knife also fell into the middle range for price, and was the second heaviest out of the five, though still considerably lighter (56 grams) than the Victorinox Chef's Knife.  This knife was also awkward to use, like the Miyabi Fusion Chef's Knife, though slightly less so.  It was our second least favorite.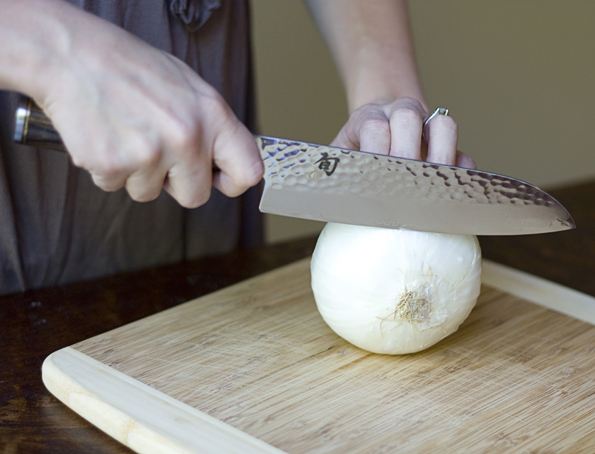 Price: $149.95
Weight: approximately 213 grams
This knife was the most expensive and was the third heaviest out of the five.  Josie and I both agreed that this was the most beautiful out of the five and has an extremely comfortable handle.  It cut easily, making some of the other knives seem almost dull in comparison.  This was my first pick and Josie's second pick.
Concluding thoughts: The issues that seemed to matter when comparing these knives were the feel of the knife in our hands, the balance of the knife, the ease of cutting through things, and the ease of getting precision in cutting.  Josie and I both loved the Shun knives the most, but she liked the Chef's knife slightly more than the santoku, and I liked the santoku slightly more than the Chef's knife.  For me this means that I always need to make an effort to try out a few knives in a side-by-side comparison when I am purchasing a new one (you can do this at Sur La Table stores).
– Make a list of your priorities.  What are the most important things for you?  Consider the type of knife you need, your price range, how long you are hoping the knife will last, how much care you normally give your knives, storage system, whether or not you sharpen your knives yourself. (p.46)
– Use the Internet to do your preliminary research, but then actually go out and get your hands on the knives.  "Head to a dedicated cutlery store or serious cookware shop, or any place that offers a wide selection of high-quality products and knowledgeable staff." (p.46)
– If the store allows it, bring along some fresh produce (or bread if you are buying a bread knife) and actually cut with the knives  you are considering purchasing. (p.46)
– "Buying a knife is a little like buying shoes: You have to try it out to know how it fits . . . . Above all, trust yourself: If you don't like something—how the knife feels in your hand or how it rocks on the board—it doesn't matter how sleek it looks, or how much someone else is raving about it.  When you pick up a knife and it feels utterly natural, almost like it's always been there, you know you've found the one for you." (p.47)
– Don't buy purely based on the reputation that a brand has.  What is most important is how that knife feels in your hand when you are using it. (p.50)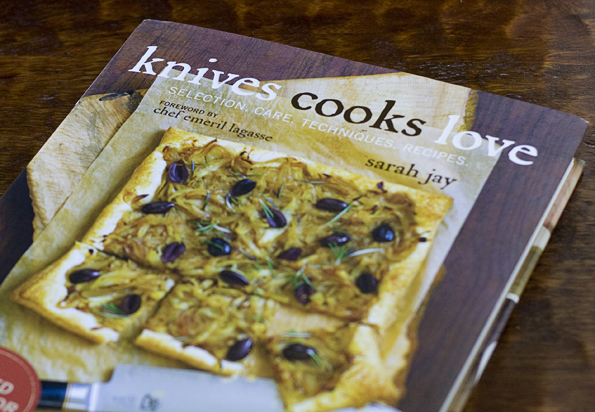 ** A big thank you to Sur La Table for making this experiment possible!