When Josie (
Daydreamer Desserts
) came over to help me
try out knives last week
, she brought a treasure with her.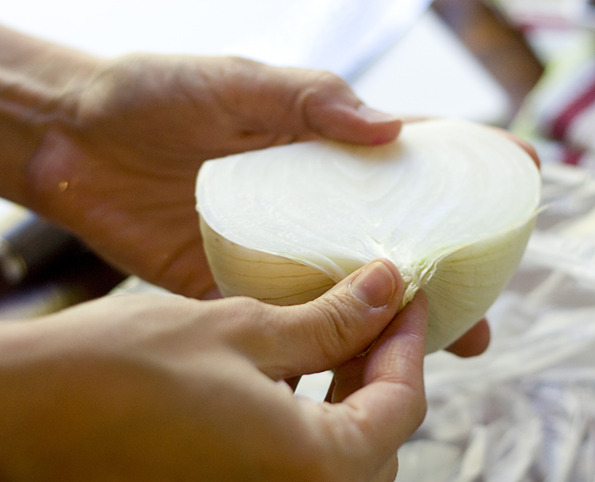 We had talked about making some kind of salsa with all of the ingredients that we would be chopping up, so that they wouldn't go to waste.  Josie brought a recipe for us to try, in a book of handwritten family recipes.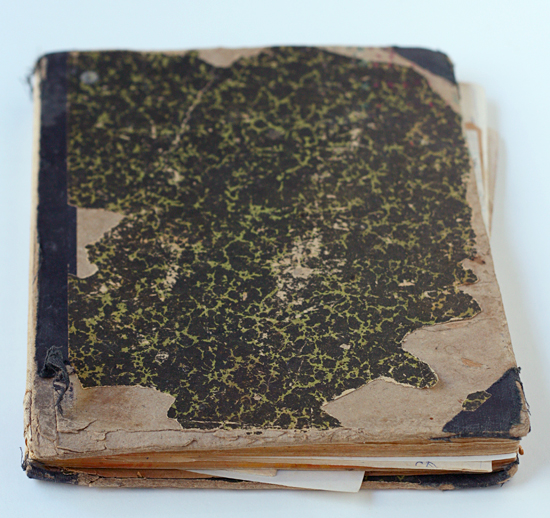 What a treasure, and what a story this book tells!  The book originally belonged to Josie's aunt, one of her mother's sister-in-laws.  The recipe book contains the recipes that Josie's aunt used when running a hotel in Mexico.  When Josie's grandmother passed away, her aunt gave the book to Josie's mother.  Josie's mother was about 20 years old at the time, and as the story is told, she basically didn't know how to even boil water.  So Josie's aunt gave her the book so that she could learn to cook.  When Josie's mother received it, she started adding to it, trying to write down the recipes that she remembered Josie's grandmother preparing for her.  The book is worn and tattered, and the pages are yellowing, but the neat handwriting is still legible (although Josie was the only one doing any real reading, since everything was written in Spanish).  The recipes are numbered and the book represents a wealth of family culture and history.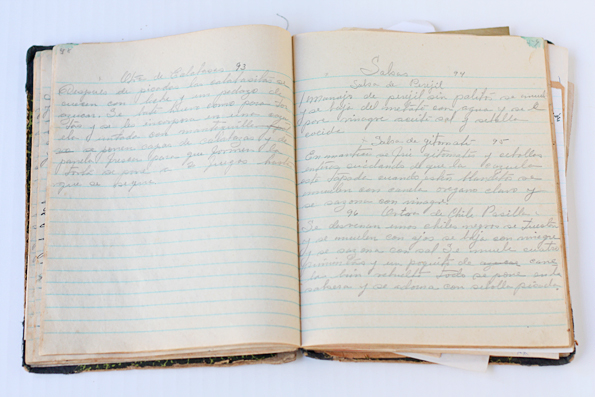 She opened the book up to recipe #95, a unique tomato salsa, for us to try.  The challenge in using the recipe, is that none of the recipes have ingredient amounts, just a list of ingredients and the basic recipe method.  So we put our chef hats on and got down to the business of blending and balancing flavors until we reached a result that we both agreed was delicious.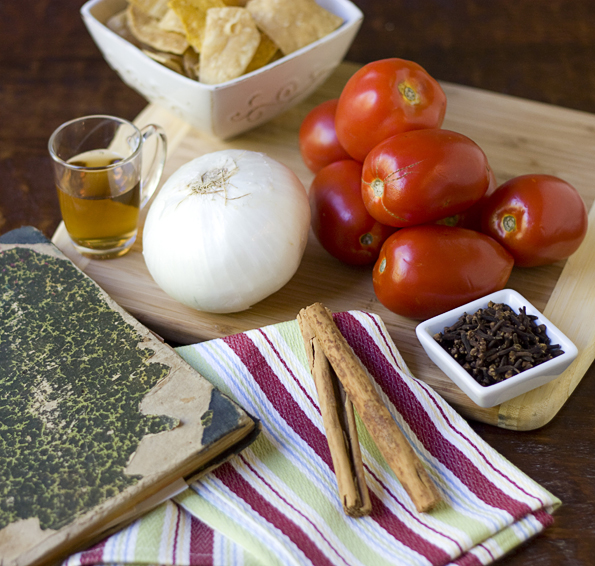 The salsa was simple to make.  First we chopped tomatoes and onions (thank you awesome knives!), then sauteed them in some grape seed oil (the original recipe calls for lard) until they had softened.
Then we put them into a food processor with some apple cider vinegar, oregano, ground cloves, ground cinnamon, and salt and blended everything together until all the ingredients were incorporated, but the salsa still had some texture to it.  Then we dug in with some delicious thick tortilla chips that Josie had brought along and enjoyed the wonderful result of our efforts.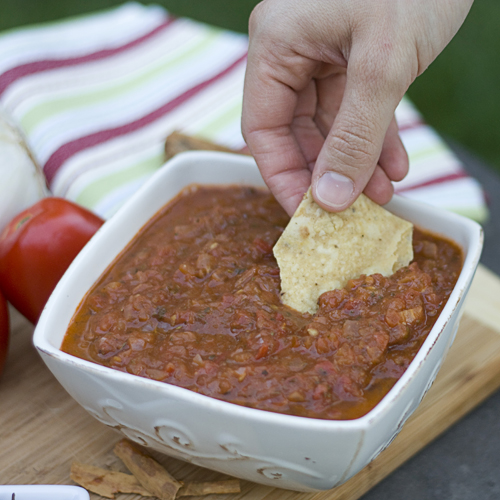 In making this salsa, I was reminded of one of my favorite quotes, which I've used before.  "Recipes are simply a kind of memory: an attempt to re-create the taste of some familiar dish . . . a way of passing along a particular method for preparing pie dough or gravy . . . an experiment in recapturing some experience remembered from travels or childhood.  A recipe is a memory made indelible." (Michael Rosen, Introduction of Cooking from the Heart)  I felt honored that Josie shared her family memories with me, and that I got to help her preserve one of those recipes in a more usable form by working on this recipe with her.  Although I'm sure that this recipe is attached to very different memories for her and for her family, for me whenever I take a bite of this tangy aromatic salsa, I will always think of the day we spent pouring over the fabulous recipe book and me being a total goofball as we tried out knives.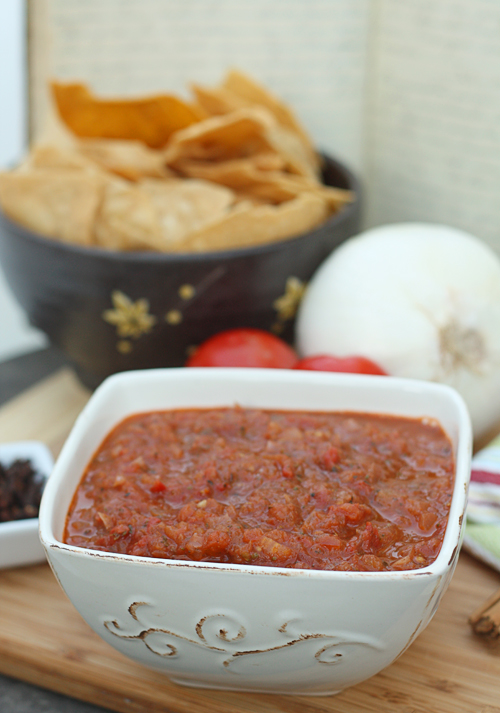 Print This Recipe
Tomato Salsa #95
Makes approximately 2 1/2 cups salsa
4 large roma tomatoes, diced
1/2 large white onion, diced
3 tablespoons grape seed oil
3 tablespoons apple cider vinegar
1 tablespoon dried oregano
1 teaspoon salt
1/2 teaspoon ground cloves
1/2 teaspoon ground cinnamon
1. Heat the grape seed oil in a large pan over medium-high heat.  Add the tomatoes and onions, and sautee them until they have softened (a couple of minutes).
2. Pour the tomatoes and onions into a blender or food processor and add the vinegar, oregano, salt, cloves, and cinnamon.  Pulse several times until all the ingredients have been incorporated, but there is still some texture to the mixture.
3. Pour the salsa into an airtight container and refrigerator for at least one hour before serving.