Squirrel just started preschool again, and although I love having the time while she's at school to spend with Bug, preschool also means I have to pack Squirrel a lunch.  A few months ago I started thinking about the lunch conundrum.  Mornings tend to be hectic in our house.  Both of the girls get up at about the same time, and then I'm frantically trying to feed them, get them dressed, and comb unruly hair.  On a school day, I also throw packing a lunch for Squirrel into the mix, and I have to admit that  I tend to get into a rut.  I have a few staples that I know I can throw together quickly.  While this isn't a bad thing, it also means that Squirrel starts to get the same things over and over again in her bento box.  So I decided that I needed to shake things up a bit, and pull together a bunch of new quick and easy lunchbox ideas so that when Squirrel returned to school, I could send her with a bit more variety in her bento.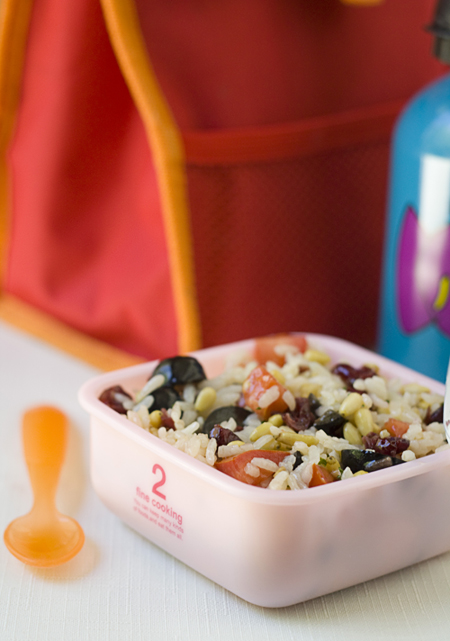 Then I discovered that Lindsay Olives had launched a new product—Re-closeables, cans of olives that come with a tight fitting lid so that you can close them up after opening them.  Am I the only one who has had a can of olives tip over and spill all over the inside of the refrigerator because I was too lazy to transfer the olives to a new container once I had opened them?  My family loves olives, but I have to say that I tend to avoid opening up a can if I don't think I can use the whole thing in one go.  The Re-closeables fix this problem.  I love that I can grab a couple of olives to give to the girls as a snack, then just pop the lid back on, and throw the can back into the refrigerator!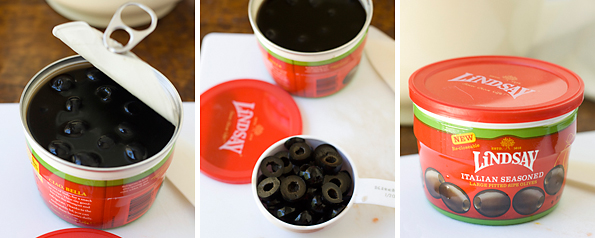 This discovery sparked the idea for a Back-to-School Olive Challenge that Lindsay Olives was kind enough to get on board with.  For the challenge, the participating bloggers had to develop one fun and healthy lunchbox recipe using olives sent to them by Lindsay Olives.  For my recipe, I decided to think of something that would put leftover rice to use.  We always have a batch of rice in the rice cooker, but I find that I am invariably left with a bit leftover that isn't enough to turn into much of a meal, but enough that I don't want to throw it out.  I decided to use the rice and turn it into a salad.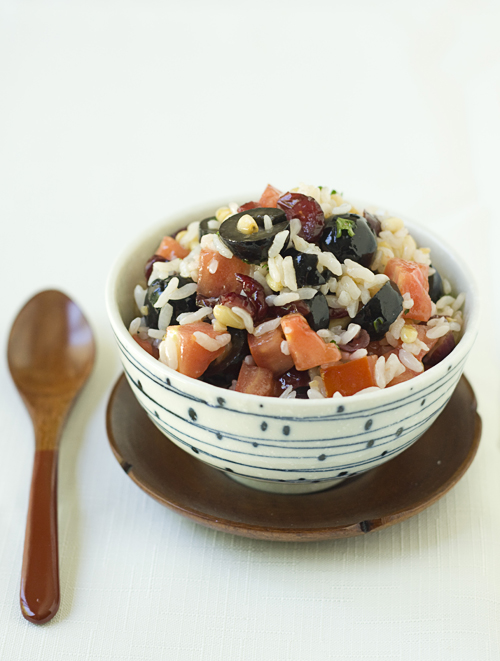 The great thing about this salad recipe is that you can make it the night before and store it in the refrigerator, or you can make it five minutes before your child has to leave for school.  Either way it will taste fabulous and keep well in an airtight container until your child is ready to open it up at lunchtime.  All you have to do is throw some ingredients into a bowl with your leftover rice, whisk together the ingredients for the vinaigrette, and then toss everything together.  It literally takes 5 minutes from start to finish.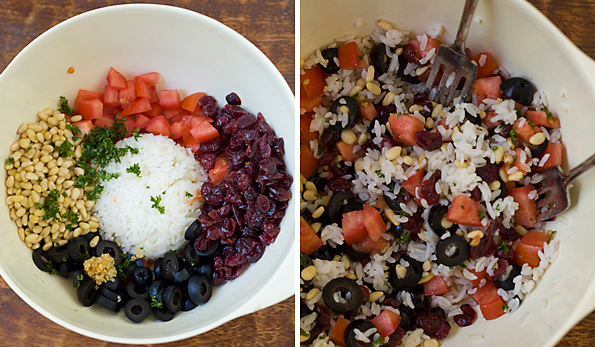 Another thing that I love about this salad is that you can add all of the things that your kids love to eat.  The first time I made it, I added some dried cranberries that I re-hydrated briefly in water, olives (of course!), pine nuts, tomatoes, a bit of garlic, and some finely chopped parsley for color.  The mix of savory and sweet was delicious with the light and tangy vinaigrette, and the girls inhaled it.  After the success of the first go, I made the salad again a few days later and this time omitted the dried cranberries and added crumbled feta cheese for more of a Greek flavor.  Both variations were equally delicious and equally popular with my family.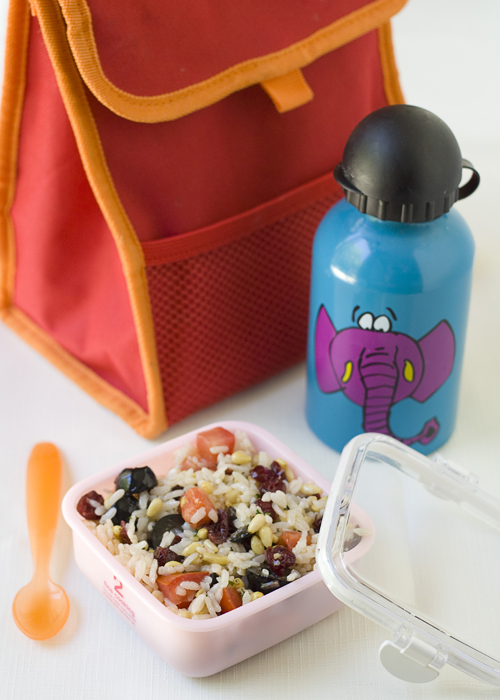 Print This Recipe
Rice & Olive Salad
4 servings
1/2 cup dried cranberries
1 cup leftover steamed rice (I used Japanese white medium-grain)
1/2 cup Lindsay Large Pitted Black Ripe Olives, halved
1/3 cup pine nuts
1 large Roma tomato, diced
1 clove garlic, finely chopped
1 teaspoon finely chopped parsley
For the vinaigrette:
1 1/2 tablespoons olive oil
1 tablespoon toasted sesame oil
1 tablespoon seasoned rice vinegar
2 teaspoons freshly squeezed lime juice
pinch of salt
1. Put the dried cranberries in a bowl, add enough water to cover them, and let them soke for 10 minutes.  Put the rice into a mixing bowl, and add the olives, pine nuts, tomatoes, garlic, and parsley.  Drain the cranberries and add them to the bowl, then toss everything together.
2. Make the vinaigrette: Put all of the vinaigrette ingredients into a small bowl and whisk them together until all the ingredients are well-combined.
3. Pour the vinaigrette over the salad and toss to coat.  Refrigerate until ready to be put into an airtight container in a lunchbox.
* Variations: You can use whatever ingredients you have on hand.  This would be equally delicious made with fresh basil or cilantro.  You could also soak the dried cranberries in orange juice to give them a bit of extra tang.  Use the ingredients that your child loves best!  Possible additions might be nuts (pecans, slivered almonds, etc.), cheese (crumbled feta, shredded cheddar, etc.), a bit of toasted coconut, etc.
** Make sure to go and check out all of the amazing recipes from the participants in the
Back-to-School Olive Challenge
!