Fuji bites and nibbles from the past week:
1. I can tell that spring is here.  The light is changing and I find myself wanting to spend the evenings outside, rather than hibernating inside with a book, like I tend to do during the winter.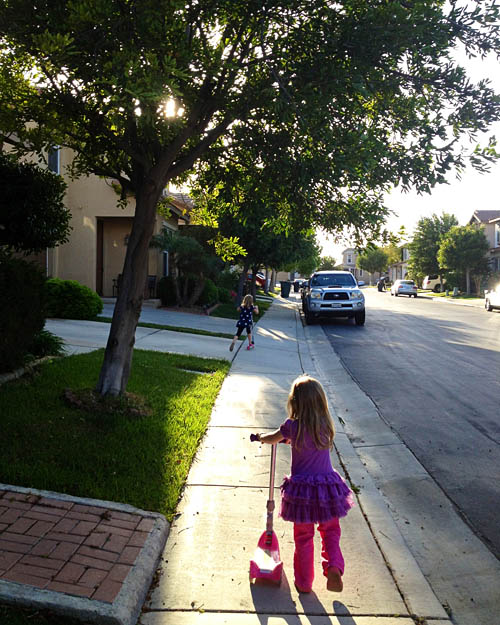 2. Spring may be here, but Mother Nature keeps playing tricks on us here in Southern California.  One day it will be a blissful 70 degrees Fahrenheit, the next day 90 degrees, and then we'll have a day like this morning, where it's 48 degrees and gloomy.  It was good my daffodils bloomed last night, otherwise I may have called Spring's bluff.  No matter.  I pulled out my mug and brewed myself a cup of Crio Bru.  Theobromine is my drug of choice.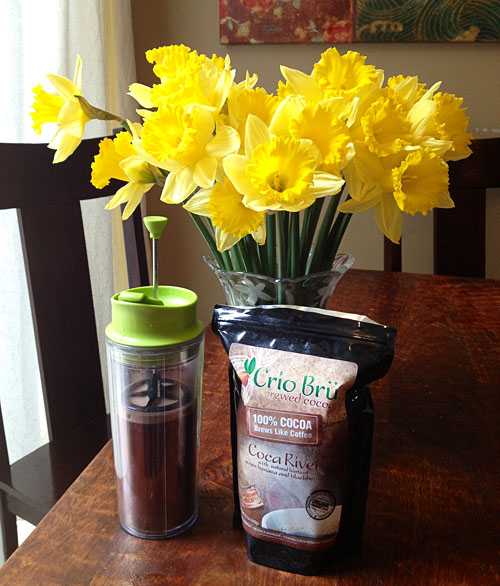 3. Last week we were in Utah for Spring Break and saw baby cows TWICE!  The first time was during a visit with my childhood best friend, Krista of Budget Gourmet Mom, and her boys.  We paid a visit to her family's cows and counted 5 new calves.  The second time was visiting my sister-in-law in Logan, Utah when we went to the American West Heritage Center for Baby Animal Days.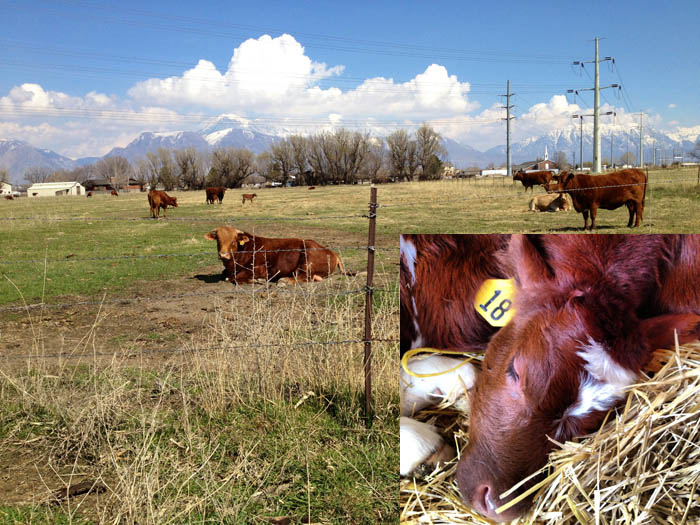 4. Last Saturday, while still in Utah, I went out to dinner with my mother-in-law, sister-in-law, and the Fujilings.  We ate at a place called Blue Lemon.  Blue Lemon is a bistro concept with the goal of offering pure, clean food with a twist in an urban-chic environment.  They use only biodegradable materials and only organic and fresh ingredients from local providers.  The restaurant, started in 2009 in Salt Lake City, now has 3 locations.  I had their Fresh Mediterranean Salad, which lived up to its name, with lots of fresh veggies and a light vinaigrette.  The Fujilings each got one of their super affordable kids meals, which they loved.  I loved them as well, because they were kids meals in the way that I think kids should eat—kid appropriate portions of regular, real food.  I hope we see more restaurant concepts like this!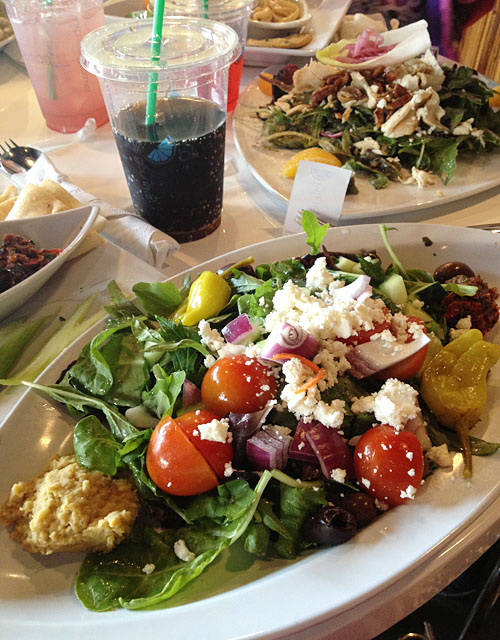 5. The other thing I did last Saturday was to add a butterfly to the playroom at my in-laws house.  My mother-in-law has been asking me for several years to paint the exterior of the playroom that's under their basement stairs to give it a bit of a whimsical cottage look.  I did quite a bit of it when we visited them during Christmas.  This time she asked me to add a butterfly.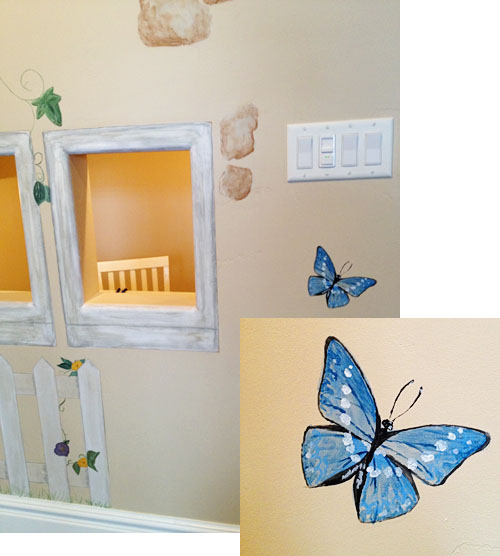 6. Mr. Fuji has had a super stressful work week, so I have been single parenting for most of the week.  To cope we have spent copious amounts of time at our little community park.  It's amazing what slides and climbing walls do for a child's disposition.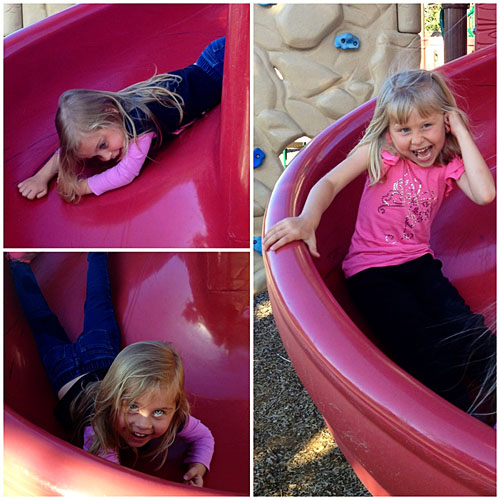 While they're "at work," I entertain myself with a bit of good reading.  This week I was devouring Pati Jinich's incredible new cookbook, Pati's Mexican Table.  My book bag of choice is this great canvas bag from Lilly's Hummus.  Even when I'm not in the kitchen I'm surrounded by food stuff.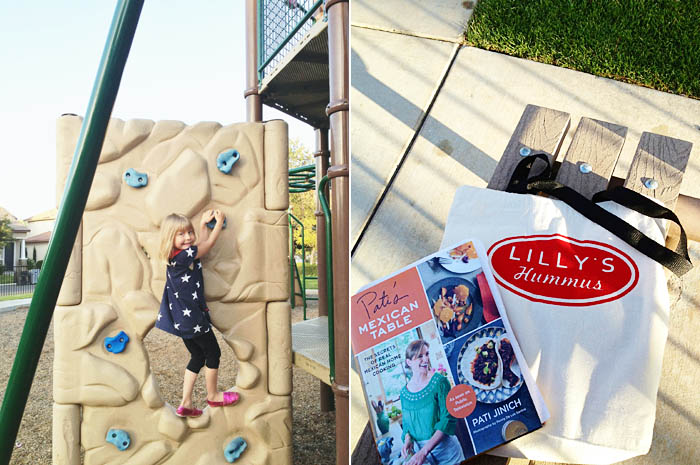 7. The "official" olive oil (i.e., the olive oil that I should be buying by the case because I burn through it so fast) of the Fuji household is California Olive Ranch's Extra Virgin Olive Oil.  This week when I went to buy a new bottle at the grocery store, I saw that the store was now carrying California Olive Ranch's Arbequina Extra Virgin Olive Oil and couldn't resist buying a bottle.  I'm so glad I did, because it is delicious.  It's got a fruity flavor on the front end (kind of reminds me a bit of bananas), with a spicy bite on the back end.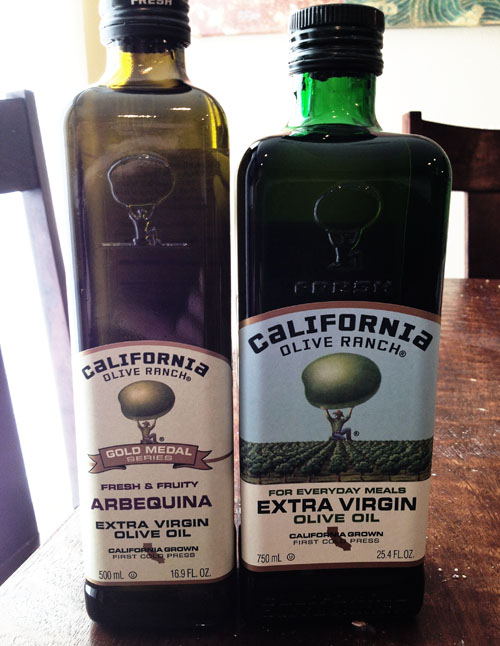 Happy Friday!  I hope everyone has a fabulous weekend!