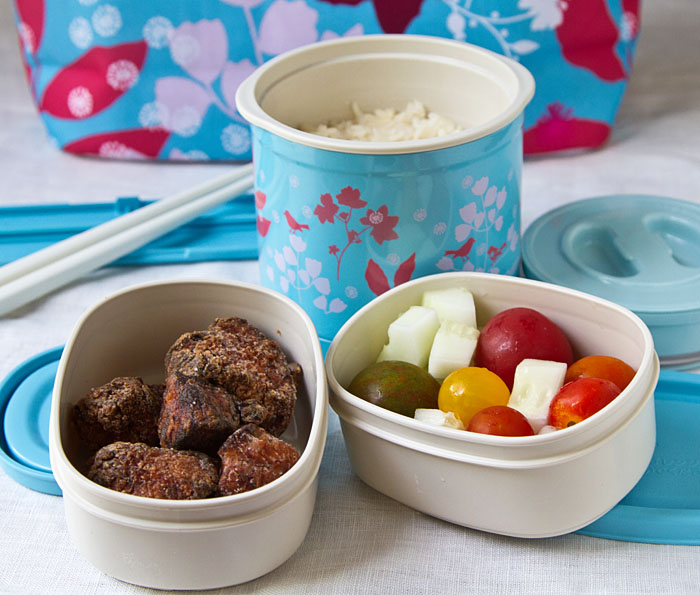 Japanese style fried chicken, tori no karaage, or chicken karaage as I like to call it, is my favorite version of fried chicken, with the exception of Gus's Fried Chicken in Memphis, Tennessee, which I became hopelessly addicted to while in law school.  Chicken karaage has a light crispy outside and a moist, tender inside, rendering me incapable of self-control after my first piece.  This particular version of chicken karaage turns a rich mahogony color when fried due to a secret ingredient—shio koji.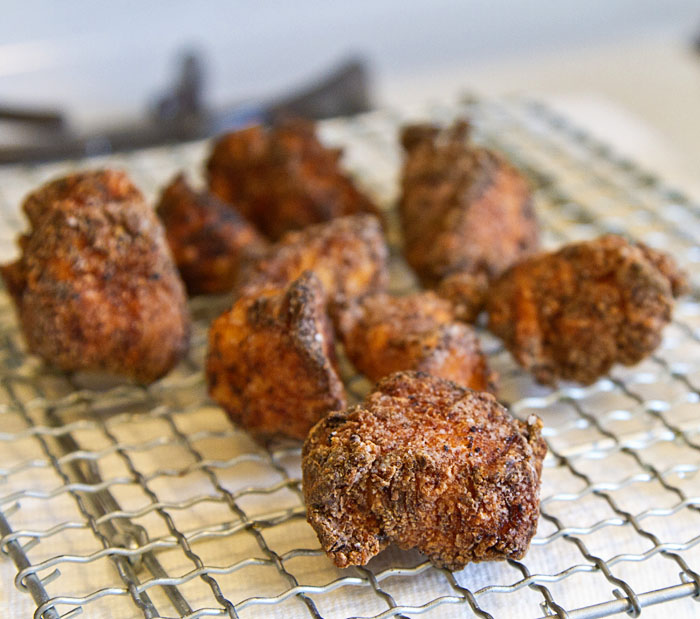 I wrote briefly about shio koji in my post about Baked Shio Koji French Toast last December.  It's a nonalcoholic fermented mixture of koji (rice inoculated with the special mold Aspergillus oryzae), shio (sea salt) and water.  Last summer during our trip to Tokyo, my friend Noriko excitedly told me all about it, making sure that I was taking home a jar to start experimenting with.  Shio koji has taken the home cooking world by storm in Japan over the past year and a half, due to the umami punch that it gives to dishes.  You can use it in place of salt in any recipe, getting the seasoning benefit you would have gotten from salt but with an added umami boost.  Another reason for its popularity is that it's also nutritious.  Through the fermentation process, shio koji develops an abundance of active enzymes that help the body break down proteins, fats and complex carbohydrates into simple amino acids, fatty acids and simple sweet sugars, thus helping digestion.  The fermentation process also increases the amount of vitamins B1, B2, B6, and H.  When used in a marinade for meat, it also helps tenderize the meat.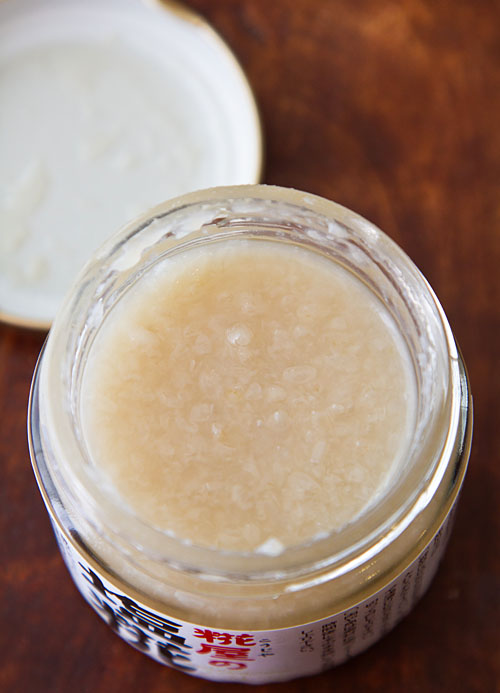 I've been experimenting with shio koji ever since we got home from Tokyo, even making several batches of my own, using it in sweet and savory applications, and I understand why it has caught on like wildfire in Japan.  It is awesome stuff.  It is finally making its way to the US.  Mitsuwa, my absolute favorite Japanese grocery store here in the US, just let me know that they are carrying several varieties and sent me some to sample—Kanekichi Koujiya Shio Kouji and Kanekichi Koujiya Shoyu Kouji (this is made with soy sauce instead of salt).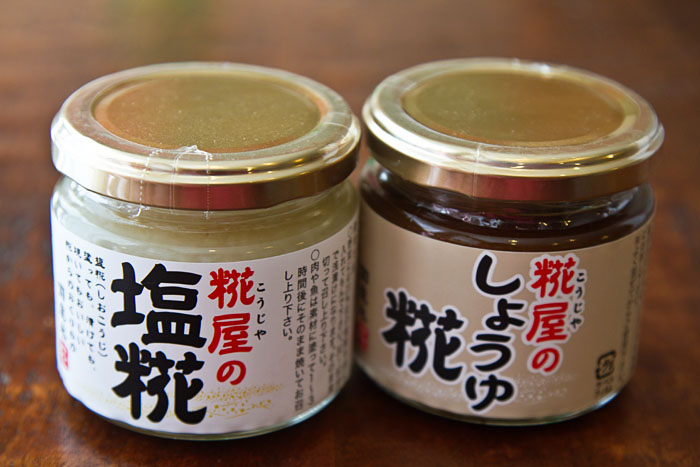 I immediately opened the shio koji and whipped up a batch of shio koji chicken karaage.  I made a mixture using shio koji, garlic, and ginger which I marinated pieces of chicken in over night.  The next day I removed the chicken from the marinade, patted the excess off with a paper towel, dusted the pieces with some potato starch and then deep fried them.  The enzymes in the marinade penetrate the surface of the pieces of chicken, which cause them to turn a rich reddish brown when deep fried—beautiful and chock full of flavor!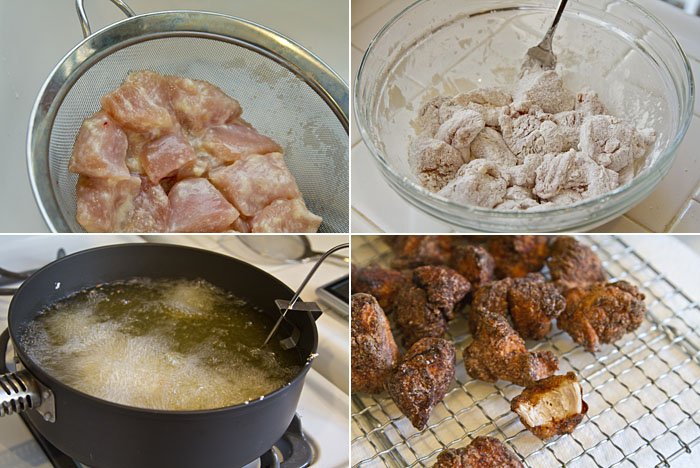 I made extra so that I could pack some of it up in a bento for Squirrel.  She loves it when I made karaage, because those bentos are usually her favorite!  Just be sure that you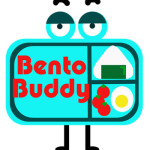 let everything cool to room temperature after you pack a bento, but before you secure the lid, unless you are using a thermal lunch container, like our favorite Zojirushi Mini Bento Stainless Lunch Jar set pictured here. (See other bento food safety tips.)  If you have a Mitsuwa store near you, head on over and pick up a jar of shio koji, or order one online.  Then head home to your kitchen and whip up a batch of super addictive shio koji chicken karaage!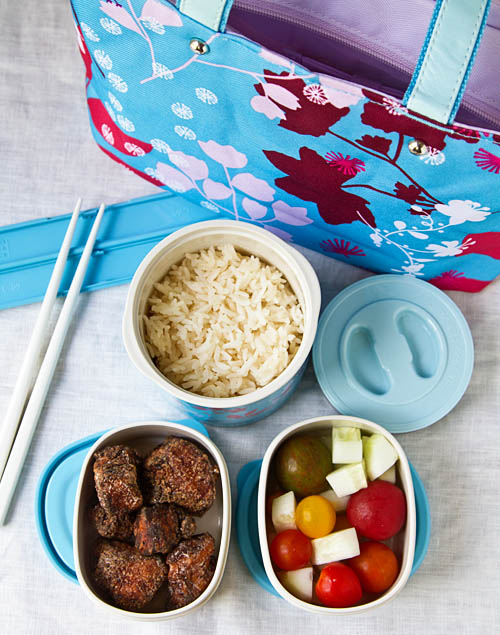 Print This Recipe
Shio Koji Chicken Karaage
Makes 2 to 3 servings
2 chicken breasts (about 1 pound), cut into 2-inch pieces
2 tablespoons shio koji (or 1 tablespoon fine grain sea salt)
1 teaspoon minced fresh ginger
1 clove garlic, minced
1/3 cup potato starch (or cornstarch)
Canola oil for frying
1. Stir the shio koji, garlic, and ginger together in a small mixing bowl. Add the pieces of chicken and toss to coat. Cover the bowl and refrigerate. Let the chicken marinate for a minimum of 12 hours, or up to one day.
2. When you are ready to cook, remove the chicken from the marinate and pat each piece with a paper towel to remove the excess marinade. Then toss the pieces of chicken in the cornstarch, shaking off the excess to avoid lumps.
3. Heat the canola oil in a saucepan to 340 degrees Fahrenheit. When the oil is at temperature, drop the prepared pieces of chicken into the oil and fry them for 4 to 5 minutes. Carefully remove one piece of chicken and open it up to make sure it is cooked through (no longer pink in the middle). When the chicken is cooked through, remove the pieces from the hot oil with a slotted spoon and place them on a paper towel lined rack to allow the excess oil to drain.
=======================================
* Disclosure: Mitsuwa sent me samples to experiment with, but all opinions are my own.